My visit to the culinary side of Cinco de Mayo is going to be brief. I'm a big fan of Mexican food (thanks mostly to my Hispanic grandparents), but I can almost never get the food to last long enough to photograph. I have a weak spot for anything that includes chilies or chorizo but it looks like my better half and his mini me both prefer the Americanized version of the cuisine. This cilantro lime rice is now a family favorite and oh-so easy to whip up.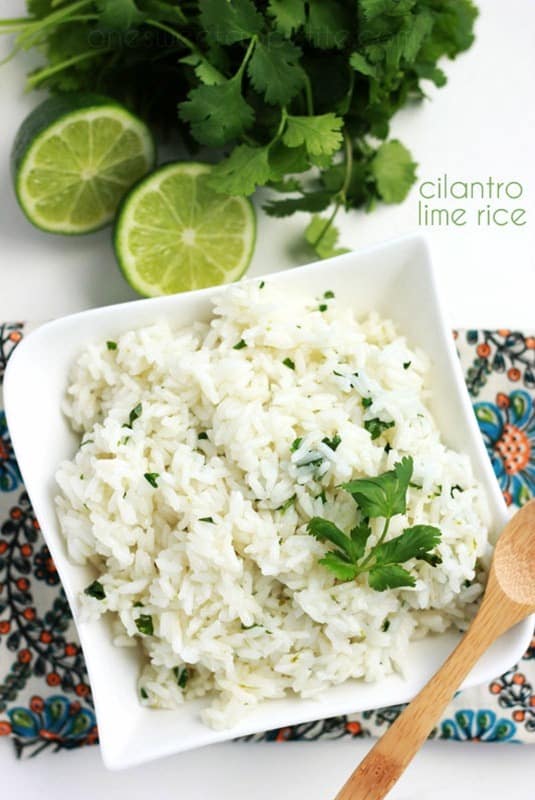 The citrus flavor really shines through which means it's almost necessary to enjoy this WITH something and not alone. I suggest some semi-homemade refried beans (coming soon) or the sweet pork salads I posted a while back.

All of the magic happens with just a bit of rice. I cut the recipe in half because it's just me and the little eating this meal, but for a bigger family you might want to double the portions.
Boil 2 cups of water, stir in the uncooked rice and some butter, and cook all of that goodness for about 20 minutes, covered.
Remove the lid and voila! Fluffy cooked rice ready to be eaten. Except…
We are going to add a few more flavors to really give it that WOW factor. Like this lime zest…
… and some lemon juice
… and cilantro!
Take a look at that! Is your mouth watering yet? Throw some of this into your next enchilada or taquitos. There are just so many possibilities. You can even use it as a side dish mixed maybe with some beans, salsa, or guacamole.
Cilantro Lime Rice
Ingredients
2

cups

water

1

cup

long grain rice

1

tablespoon

butter

1

teaspoon

lime zest

1-2

tablespoons

fresh lime juice

2

tablespoons

finely chopped cilantro
Instructions
Bring your water to a full boil. Stir in the uncooked rice and butter. Cover and simmer on low for 20 minutes.

Stir in the lime zest, juice, and cilantro. Serve immediately.
(Visited 1,702 times, 1 visits today)
3