This cookie design has been HIGH on my bucket list. I saw a cake version done back in October and fell head over heals in love with the simple decorating technique. Of course, my Easter egg water colored cookies do not look nearly as perfect but they are still pretty cute and the wonderful family activity.
We always boil and decorate a dozen or so eggs around this time of year. How many do we eat? Maybe two. The rest sit, beautifully colored, in our refrigerator until they spoil and I realize that I left them in there… That's normally around May. Er… Just kidding. I would absolutely never leave food in the fridge that long. Ever. Maybe.
I knew that these sugar cookie Easter eggs wouldn't last quite as long. They seem to disappear quicker then I can get them decorated, but if you can manage to make it through the entire tutorial without eating them you will be left with a fantastic display of watercolor beauties, especially if you use this spring time Wilton Neon Gel Food Color Set
.
First things first (I'm a realist), you need to make some cookies. I like to use this super soft sugar cookie recipe. The addition of lemon extract really adds a hint of spring which combines great with a simple vanilla frosting.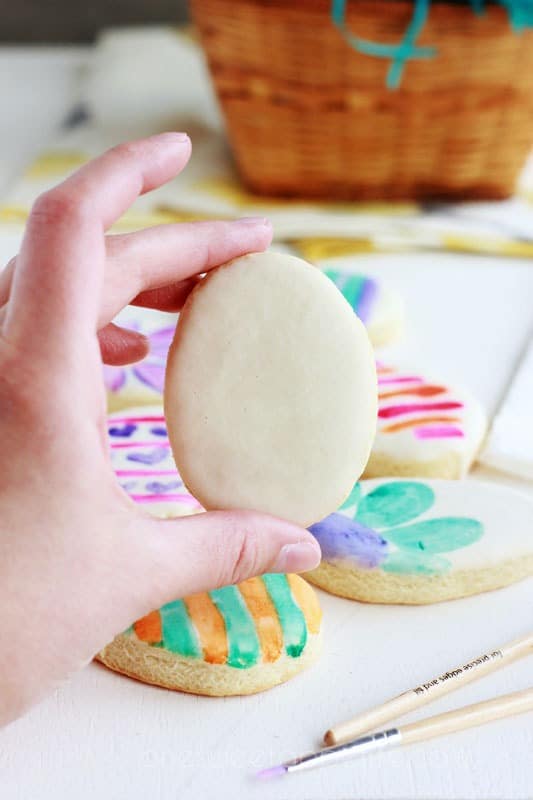 Next, grab a can of frosting or whip up your favorite vanilla. Heat it up for a few seconds until it's almost liquid. Dip your cookies, let them sit overnight, and in the morning you're left with a perfect canvas.
Bust out those Gel Food Colors
, add a bit of water, and paint away. All of the fun cookies you see here were from an afternoon art session with my five year old. He whipped up some pretty impressive abstract designs. I'm sure all of the ones you see and love are from his creative little mind.
AND if you need more inspiration you can hop over to my friend Melissa's blog, The Sweet Escape. She did something similar for valentines day and her hearts are almost too cute for words!
So break the tradition this year and make some cookies instead of hard boiled eggs. Hand out your edible art to friends and family or keep them all for yourself!
Easter Egg Water Color Cookies
Ingredients
1 batch of sugar cookies. Cut with an egg shaped cutter, baked, and cooled
Vanilla frosting, homemade or store bought
Gel Food color
Water
New clean paint brushes
Instructions
Heat your frosting in the microwave for 10-12 seconds or until liquid. Dip each cookie until covered. Let sit at room temperature for 1-2 hours or until the surface is firm and dry to the touch.
Mix one or two drops of food coloring with two teaspoons of water. You can add more water or color to achieve the right shade. Mix with a toothpick until no clumps remain.
Paint your cookies. Let them dry and enjoy!