This easy Greek cucumber salad is a delicious and refreshing dish that's perfect for summertime. Made with crisp cucumbers, juicy tomatoes, tangy feta cheese, and a simple yet flavorful dressing, this salad is bursting with Mediterranean flavors. It's also incredibly easy to make and can be served as a side dish or a light and healthy main course.
Try serving this as a side dish to your favorite grilled recipes like my Grilled Chicken, Cheeseburgers, or my famous Turkey Wraps!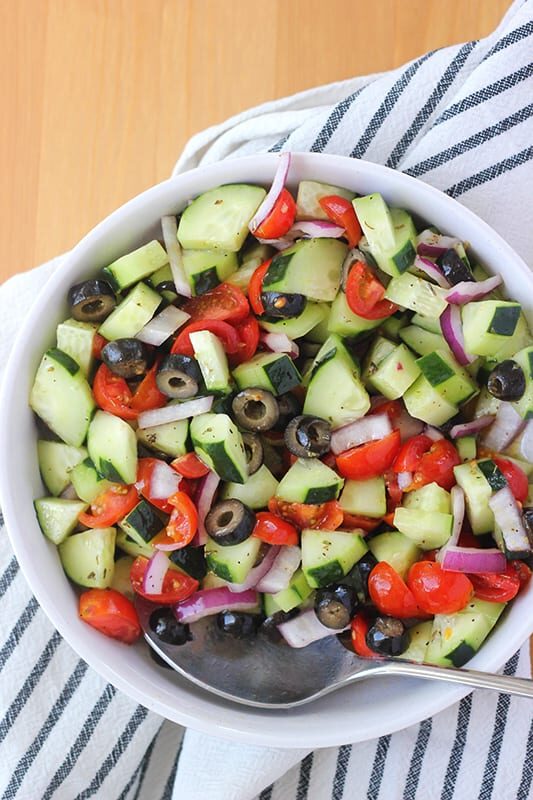 This post was originally published June 21, 2016. It has since been updated to include fresh photos and helpful recipe tips.
Why You'll Love This Greek Tomato Cucumber Salad
Fresh Recipe: This recipe is loaded with fresh ingredients and bold flavors.
Quick Side Dish: From start to finish, this dish is prepared and ready to serve in under 20 minutes!
Easy to Customize: While we LOVE it written as is, it's super simple to add more fresh veggies into this dish.
This simple salad is the star of any table. Inspired by Horiatiki, which is an insanely delicious, refreshing and healthy salad that's popular in Greece and around the Mediterranean region. The dish typically consists of fresh cucumbers, ripe tomatoes, red onions, green peppers, kalamata olives, and feta cheese, all tossed in a simple dressing of olive oil, lemon juice, salt, and oregano.
Our version follows a similar profile with a few simple modifications. So good and loved even by my picky eater!
Cucumber Salad Ingredients
While we decided to take this in a Greek style salad you could easily adapt to fit any vegetables you have on hand. Here is what we used for our favorite variation:
Vegetables: To keep on point with the traditional dish, I used cucumber, red onion, tomatoes, and olives. We opted to skip the peppers you typically see due to a sensitivity, but a diced bell pepper addition would be absolutely delicious.
Olive oil: Specifically, extra virgin olive oil. This oil is made for raw salads and dressings with a slight peppery flavor that pairs perfectly with the produce called for.
Lemon juice: A splash of fresh citrus can elevate almost any fresh salad recipe.
Red wine vinegar: Adds a little tang and slight sweet finish that pulls all of the flavors together.
Oregano: If you can find Greek oregano I highly suggest giving it a try. It has a deeper flavor that is absolutely delicious.
Salt and pepper: Ready for my favorite salad making secret? Using salt and pepper on fresh produce can actually help to crisp them and maximize flavor!
Feta cheese: Salty, creamy and absolutely delicious. You can substitute goat cheese or parmesan in a pinch.
The big punch of flavor you get from this dish really comes from the dressing. It is just a few simple ingredients, but when you combine them all together you get a beautiful blend of salty and tartness which compliments the cucumbers in just the perfect way.
How To Make A Healthy Greek Cucumber Salad
This easy cucumber salad is seriously the star of summer. It is so quick to make, loved by all, and a great way to use homegrown produce! We grow most of these items in our tiny backyard garden making it extra appealing to whip this up on a weekly basis!
VEGGIES: To prepare the salad, start by washing and chopping the vegetables into bite-sized pieces. Slice the cucumbers into rounds or half-moons, and the tomatoes into wedges or chunks. Thinly slice the red onion and chop the green pepper. Add the vegetables to a large mixing bowl, along with some pitted olives. kalamata are traditional, but we prefer black olives.
DRESSING: In a small bowl, whisk together extra-virgin olive oil, fresh lemon juice, salt and pepper, and dried oregano to make the dressing. Drizzle the dressing over the salad, and toss everything together until the vegetables are evenly coated.
ENJOY: Greek cucumber salad is best served chilled, so you can refrigerate it for an hour or two before serving. You can also garnish the salad with some fresh parsley or additional oregano, if you like. Enjoy as a light and flavorful side dish, or add some grilled chicken or shrimp to make it a complete meal.
Helpful Tools
Mixing Bowls: You need a large mixing bowl to get this pulled together. I really love this set (affiliate). It comes with a few sizes and they all have secure lids, which means you can store the pasta salad in the same bowl you stir it in!
Airtight Container: This salad will stay fresh longer if stored inside a quality food container (affiliate).
Cutting Board: This calls for a lot of chopped veggies. I suggest picking up this cutting board set (affiliate). It comes with three sizes and is fairly inexpensive.
Recipe Notes:
Do I need to peel the cucumbers before adding them to the salad?
In Greek cuisine, cucumbers are typically peeled before using them in salads. However, if you enjoy the taste and texture of cucumber skin, or if you have organic cucumbers with thin, tender skins, you can choose to leave them unpeeled. It ultimately depends on your personal preference and the specific characteristics of the cucumbers you have.
How long does the Greek cucumber salad need to marinate before serving?
Greek cucumber salad typically doesn't require an extensive marinating time. The flavors can come together relatively quickly, but allowing some time for the ingredients to blend and the flavors to develop can enhance the overall taste. A suggested marinating time for this salad is at least 30 minutes to 1 hour in the refrigerator.
What other ingredients can I add to this salad?
While basic, this salad is loaded with flavor. It als is super simple to customize. Try adding garlic, avocado, bell pepper, or substituting the black olives with the more traditional kalamata.
How long is cucumber salad good for?
I would suggest only keeping this salad for 48 hours. After that your vegetables will start to get soggy. 
That being said, if you mix this together and store it in the refrigerator, the flavors really start to shine right around the 24 hour mark. We make this a day in advance if we plan on serving it at a party or gathering. 
What is the best olive oil to use in a salad dressing?
extra virgin olive oil. This oil is made for raw salads and dressings with a slight peppery flavor that pairs perfectly with the produce called for.
Sign up for your potlucks, request to bring a side to that pool party! Or get healthy with your lunch this week. This cucumber salad is about to jump to the top of your must-make list.
The dressing on this salad is simple and made of olive oil, lemon juice, and Greek seasonings. But the real star is the vinegar. Don't skip it! The longer this salad sits, the better it tastes. The vinegar is what takes it to an entirely new level.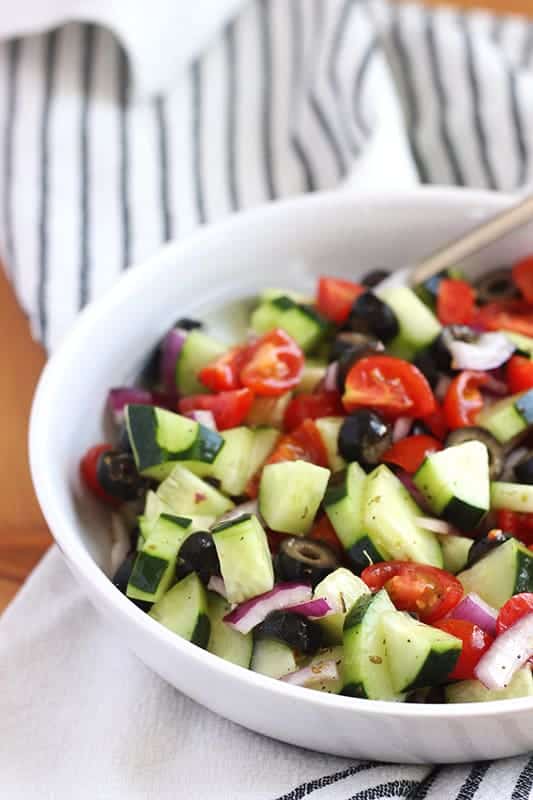 More Salad Recipes:
Still Hungry? Follow One Sweet Appetite on Instagram, Pinterest, and Facebook!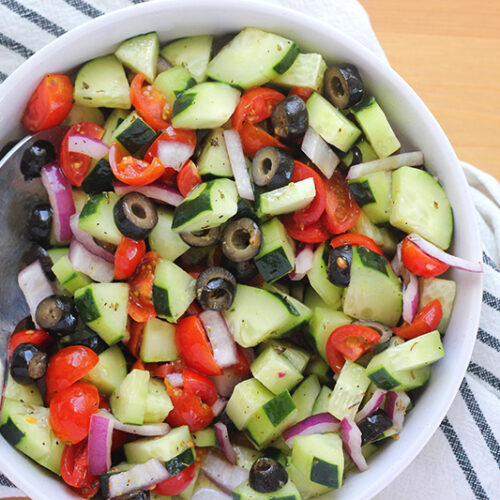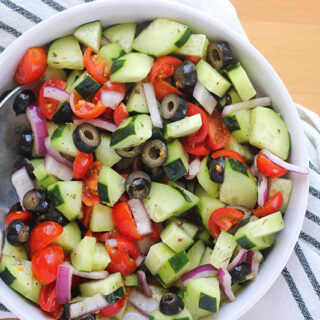 Cucumber Greek Salad
This cool cucumber salad is tossed in a quick Greek seasoned dressing making it a quick side dish recipe! Ready in under ten minutes and one of our favorite light side dish recipes!  
Ingredients
2 large cucumbers peeled and chopped
1 small red onion sliced thin
1 cup cherry or grape tomatoes sliced in half
1 cup Greek or black olives
1/4 cup Extra Virgin Olive Oil
3 tablespoons lemon juice
1 tablespoon red wine vinegar
1 teaspoon oregano
1/2 teaspoon salt
1/4 teaspoon pepper
1 cup feta cheese optional
Instructions
Combine your cucumbers, red onion, tomatoes, and olives in a large bowl. Set aside.

Whisk together the Smooth Extra Virgin Olive Oil, lemon juice, vinegar, oregano, salt and pepper in a measuring cup. Drizzle over your bowl of vegetables. Toss lightly to coat.

Sprinkle with feta and serve immediately.
Nutrition
Serving: 1Servings
Reader Interactions