This post was updated on by Jesseca
Classic M&M Cookie Recipe. These super soft cookies are packed with M&M candies making them the ultimate cookie recipe!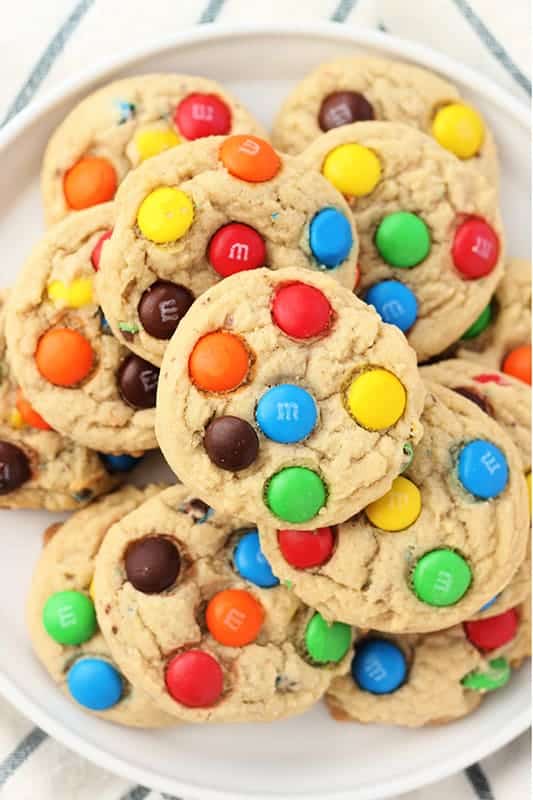 You guys.
I really hate to brag, but I have officially found the BEST
Classic M&M Cookie Recipe
It has everything. Soft and chewy center… Slightly crisp exterior… Colorful candies. They practically melt in your mouth. Get ready to pour a tall glass of milk and dive head first into this incredible cookie recipe!
I should also mention, this is an incredible base recipe. Substitute the M&M candies with chocolate chips. Mix in some crushed cookies. Or even try a spoon full of peanut butter. You can not go wrong with any addition!
Ingredients for the BEST M&M cookies:
The best part about this cookie recipe are the simple ingredients. Most are pantry staples which means you won't need to run to the store!
Flour
Baking soda
Salt
Granulated sugar
Brown sugar
Butter
Eggs
Vanilla
Candy coated chocolate candies
Tips for making soft and chewy cookies:
Slow down. You want to keep your mixer on low speed. I know it can be tempting to speed things up but you do not want to heat the butter too much.
Try to use room temperature ingredients. For this recipe, specifically, you need to make sure that the butter and eggs are left out of the refrigerator for at least 20 minutes.
Chill your dough. All of that mixing can cause the butter to spread. Giving the dough a little time to relax and firm up helps hold things together.
How to freeze M&M cookie dough:
Yes! This tip is probably one of my all-time favorites. We are a family of three, which means we wouldn't be able to eat 24 cookies before they go bad.
Ok, so maybe we could eat them, but we shouldn't.
SO I freeze the dough! My favorite method is to scoop and roll the dough into 1″ rounds. Place them onto a cookie tray and flash freeze for 20 minutes.
From there, I transfer them into a labeled freezer safe zip top bag. When we are ready to enjoy, I simply bake as directed in a preheated oven!
Like this recipe? You will love my:
How to make soft and chewy M&M cookies:
Classic M&M Cookies
Yield: 24 cookies

Prep Time: 15 minutes

Cook Time: 30 minutes

Total Time: 45 minutes
Ingredients
2 -3/4 cup all-purpose flour
1 teaspoon baking soda
1/2 teaspoon salt
1 cup brown sugar
1/2 cup granulated sugar
1 cup butter, room temperature
2 large eggs
2 teaspoons pure vanilla extract
1-1/2 cups M&M candies, divided
Instructions
Whisk together the flour, baking powder, and salt in a medium sized bowl. Set aside. 
Combine the two sugars and butter in the bowl of an electric mixer. Mix on low until fully incorporated and fluffy. Stir in your eggs and vanilla.
Add your dry ingredients to the bowl of wet ingredients. Mix until your dough starts to form. Fold in 3/4 cups of your candies. 
Chill dough for 30 minutes.
Preheat your oven to 350 degrees and line cookie sheets with parchment paper. 
Roll your dough into 1" rounds. Place 2 inches apart on your prepared baking trays. Press additional candies onto the tops of each cookie.
Bake 8-10 minutes or just until the edges start to lightly brown. 
Recommended Products
As an Amazon Associate and member of other affiliate programs, I earn from qualifying purchases.

Pin for later: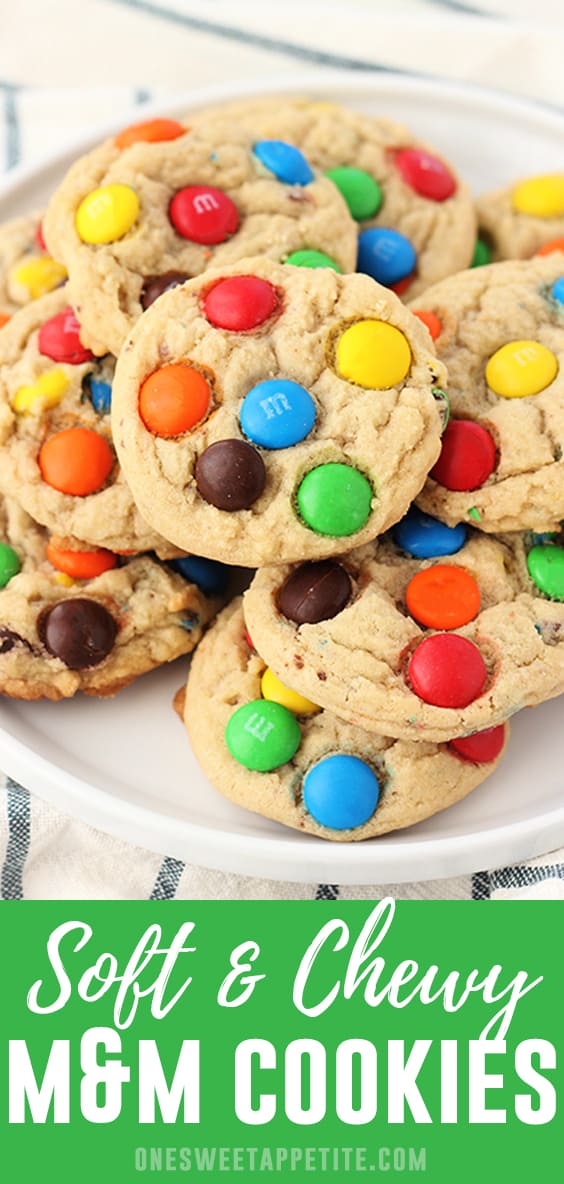 Still hungry? Follow One Sweet Appetite on Facebook, Instagram and Pinterest for more great recipe ideas!
(Visited 754 times, 1 visits today)
11