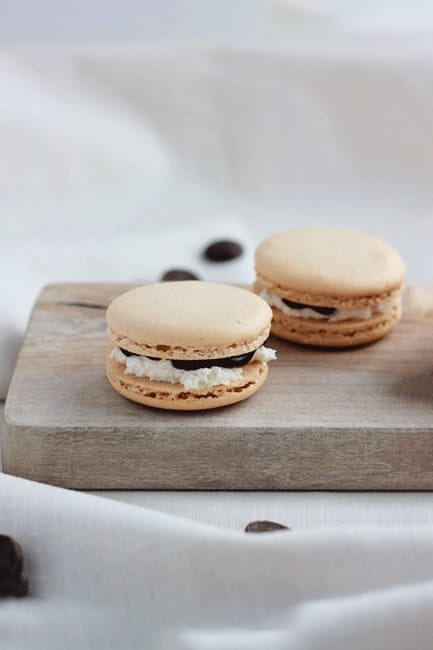 Classic French Macaron Cookies are filled with homemade chocolate ganache and marshmallow frosting for the perfect summer flavor! These S'more Macarons are every cookie lovers dream.
Show of hands, who has made French macarons at home?? I used to be so intimidated. I'd heard they can be a challenge, but it turns out they just need a little extra love! I have worked hard to perfect my recipe and have quickly adapted it to incorporate some of my favorite flavors, like S'MORES!
French Macaron Recipe
What do you need to make macarons?
The list is surprisingly simple. Most of the ingredients for homemade macarons are already in your refrigerator or pantry!
Egg whites
Granulated sugar
Powdered sugar
Almond flour
Salt
That list is specifically for the cookies. You will need additional items for the frosting or fillings. For this recipe I made a simple chocolate ganache and marshmallow frosting. The frosting is one of my all-time favorites. We make it for EVERYTHING.
Are macarons really that hard to make?
Yes and no. Macarons are notoriously known for being delicate and finicky. I have made 5 batches in a row that turn out gorgeous and 5 batches that were a complete waste. Getting the right consistency in your batter is an art form. After lots of practice I can confidently say that more times than not mine form perfectly. It takes patience. If I rush through the recipe I will fail. So take your time and practice, practice, practice!
Can you use regular flour to make macarons?
The short answer is no. The base of these cookies is the almond flour. It provides the flavor, texture, and beautiful feet that macarons are known for. All-purpose flour will give you an almond cookie with a dense and crunchy texture.
Tips for making French macarons at home:
Use a macaron mat like this one here. It will help keep your cookies uniform in size.
Shift all of your ingredients. Remove any large pieces of the almond meal/flour.
Buy a round pipping tip and pipping bags.
Use food color PASTE if you are going to color your cookies.
Use a flexible spatula to fold the batter
*Links above are affiliate links to my favorite products.
Like this recipe? You will love my:
Ghirardelli S'more French Macarons
Yield:
24 Cookie Sandwiches
Classic French Macaron Cookies are filled with homemade chocolate ganache and marshmallow frosting for the perfect summer flavor! These S'more Macarons are every cookie lovers dream.
Ingredients
Cookies:
3 egg whites room temperature
¼ cup sugar
2 cups powdered sugar
1 cup almond flour
pinch of salt
Ganache:
1/2 cup 60% cacao bittersweet chocolate baking chips or pieces
1/4 cup heavy cream
Marshmallow Frosting:
1/2 cup butter, softened
1/2 cup powdered sugar
1/2 teaspoon vanilla extract
1/2 7oz jar marshmallow fluff
Instructions
Cookies:
1. Start by shifting the powdered sugar and almond flour together. I do this twice to make sure all of the large almond chunks are removed.
2. Whisk your egg whites until foamy. Add the salt and 1/4 cup sugar. Continue to beat until stiff peaks form.
3. Fold your flour mixture into your eggs, turning 65 times. Make sure you do this by hand to avoid over mixing.
4. Place your batter into piping bags and pipe 1 inch rounds onto two parchment lined baking trays. Tap each tray 4-5 times onto the counter to remove any air bubbles.
5. Allow the cookies to sit for at least 30 minutes.
6. Preheat your oven to 300 degrees and bake exactly 20 minutes. Allow to cool on a wire rack.
Ganache:
1. Heat the heavy cream until just boiling.
2. While that is warming pour the baking chips into a glass bowl.
3. Pour the cream over the chocolates and allow to sit for 5 minutes. Stir until smooth and allow to slightly set up (5-10 minutes).
Frosting:
1. Whip the butter until light and fluffy. Stir in the powdered sugar and vanilla until combined.
2. Add the marshmallow fluff and mix until incorporated.
3. Match your macaron cookies with fitting sized partners.
4. Spread the marshmallow frosting on one side. Dab a bit of chocolate ganache on the other.
5. Gently press together and serve.
Recommended Products
As an Amazon Associate and member of other affiliate programs, I earn from qualifying purchases.
Pin for later:
Still hungry? Follow One Sweet Appetite on Facebook, Instagram and Pinterest for more great recipe ideas!