This is the BEST Spinach Artichoke Dip recipe. Filled with spinach, artichoke hearts, and FOUR different cheeses! The ultimate dip for parties.
Try serving this incredible dip with chips, toasted bread, Pretzel Bites and even on top of grilled chicken!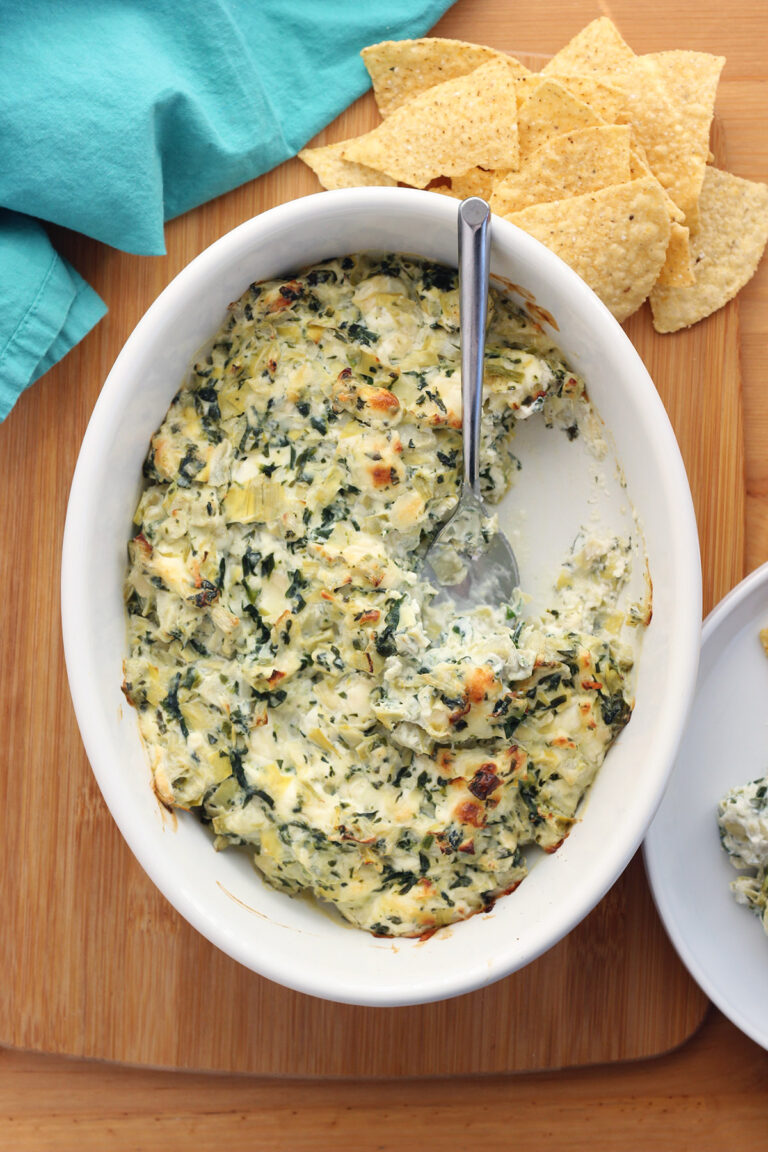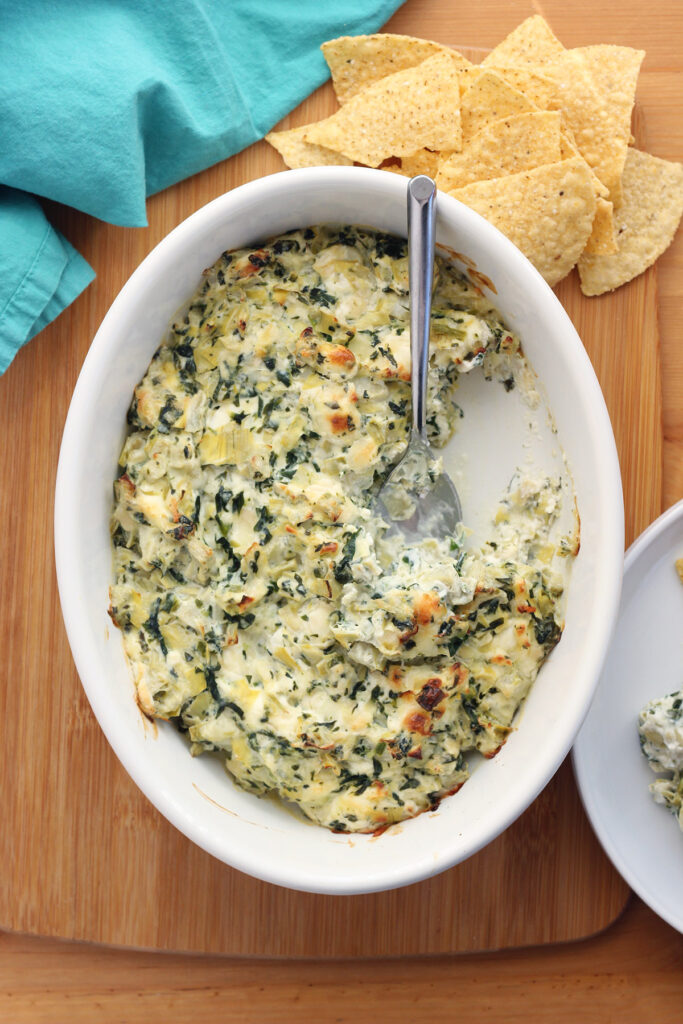 RECIPE FEATURES
Quick and Easy: Toss all of the ingredients into a dish and bake until bubbly. Easy peasy.
Appetizer OR Dinner: Use this dip as a quick appetizer or easy dinner by baking on top of chicken!
Personal Favorite: I make this every year for Christmas and New Years.
I love appetizers. In fact, I frequently request dips for dinner. Healthy? No. Delicious? Heck YES.
My poor husband goes along with my shenanigans and occasionally lets me add it to our menu. Top of the list every single time? This spinach and artichoke dip recipe.
It's rich, creamy, and full of cheesy goodness. And SO easy. Like, so easy that you will want to make it all of the time. For every single family gathering or party that you attend. It also tastes AMAZING. With chopped spinach, artichoke hearts, and FOUR different types of cheese… It is dreamy.
In fact, at our last family party my 18 year old niece (who eats like a bird) inhaled half of the pan! I consider that a win.
WHAT IS IN SPINACH ARTICHOKE DIP?
Here's the deal with this recipe, it's not as traditional. I wanted an artichoke spinach dip without mayonnaise, and that's exactly what this is. Bold flavor with a list of ingredients that's doable.
Cream Cheese: Embrace that this is not a low calorie dish and go for the full fat. I promise it makes a difference in the finished flavor.
Sour Cream: Sour cream gives this a slight tang that pairs perfectly with the cheese and spinach. My secret ingredient.
Cheeses: I used three different shredded cheeses, each adding their own element to the finished dip. Pick up Parmesan, Romano and Mozzarella. Opt for a block of Parm that you can shred yourself. Don't get grated.
Garlic: My brother and I joke that garlic should always be measured with your heart. I balanced this recipe almost perfectly, but if you like a more bold flavor don't be afraid to add more.
Spinach: I always have a bag of frozen spinach on hand. Let it thaw and roughly chop before mixing in.
Artichoke hearts: Pick up a container, or can, of these. Roughly chop using a sharp knife.
Looking for more cheese filled appetizers? Try my Ranch Cheese Ball or Cheese ball Bites. Super delicious fan favorites that always win.
HOW TO BAKE SPINACH ARTICHOKE DIP
PREP: Preheat the oven to 350 degrees and mist a 9 inch baking pan with cooking spray. Set aside.
MIX: Add all of the ingredients into a mixing bowl. Stir until fully combined and transfer to the prepared pan. Spread into an even layer.
BAKE: Bake in the preheated oven for 25 minutes, or until warm and bubbly.
SERVE: Serve warm with chips or crackers.
HELPFUL TOOLS
Baking Dish: I use a 9 inch baking pan (affiliate) for this recipe. The one linked here is especially awesome and comes with a tight fitting lid.
Spatulas: Using a silicone spatula (affiliate) to mix and spread helps to keep things even and make sure you are able to scrape every last bit of the dip into the pan.
Oven Mitt: Take it from someone that has burned herself more times than I can count… Get a good pair of oven mitts (affiliate).
Recipe Notes:
How do you make the best artichoke dip?
Make sure you finely chop the spinach and the artichoke hearts. The smaller the better. This will ensure your dip gets the perfect amount of everything in each bite.
Mist your pan with a quality cooking spray before cooking to help it from sticking to the sides as it bakes.
Can you make this spinach dip in a slow cooker?
Yes! This makes an excellent slow cooker spinach artichoke dip! Here is how:
Mix all of the ingredients until fully combined. 
Lightly mist a slow cooker with cooking spray. 
Spread the dip in in the prepared cooker. Heat on medium for 1 hour, being sure to stir as needed. 
Switch to low/warm and keep heated until serving. 
What do you serve artichoke dip with?
You can serve this easy appetizer dip with almost anything. Here are a few of our favorites.
Tortilla chips
Toasted baguette pieces 
Vegetables 
Crackers
How do you keep food warm while traveling?
This recipe is the ultimate party appetizer. Which means you will want to take it EVERYWHERE. Follow the tips below to help keep the dip warm while traveling. 
Line a cooler (we like this one for 9 inch pans and this one for 9×13) with a clean towel.
Cover your baking dish securely with a lid or foil.
Place in the cooler, close the lid, and head off to your destination. Pull the dish out when ready to serve using hot pads.
Still Hungry? Follow One Sweet Appetite on Instagram, Pinterest, and Facebook!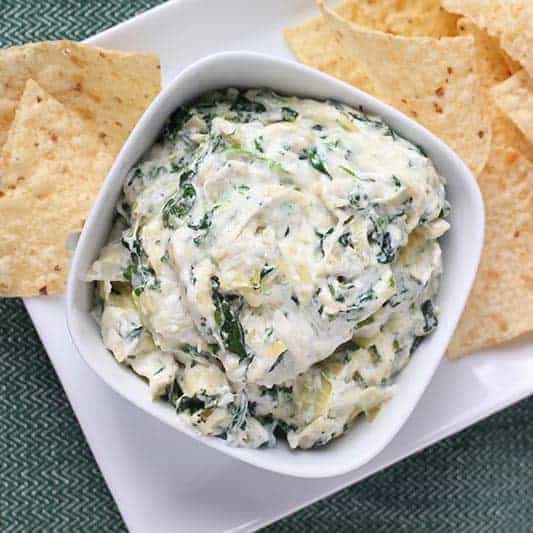 The BEST Spinach Artichoke Dip Recipe
The BEST Spinach Artichoke Dip Recipe! This delicious dip has 1 can of chopped artichoke hearts, spinach, and 4 different cheeses! Kid and husband approved and the perfect appetizer recipe!
Ingredients
1 8oz package cream cheese, softened
1/4 cup sour cream
1/4 cup Parmesan cheese
1/4 cup Romano cheese
1/4 cup mozzarella
2 cloves garlic minced
1/4 teaspoon garlic salt
1/2 cup frozen spinach chopped, thawed, and drained
1 14oz can artichoke hearts, drained and chopped
salt and pepper to taste
Instructions
Preheat your oven to 350 degrees.

Lightly mist a 9 inch pan with Pompeian Organic Extra Virgin Olive Oil Cooking Spray. Set aside,

Combine all of your ingredients in a large bowl. Mix until fully combined. Transfer to your prepared pan.

Bake 25 minutes or until bubbly. Serve with chips or crackers.
Notes
*Make sure you finely chop the spinach and artichoke hearts. This will ensure a smooth and extra tasty dip! *Try this in your slow cooker! Heat on low 4-6 hours
Nutrition
Serving: 1/2 cup | Calories: 67kcal | Carbohydrates: 2g | Protein: 4g | Fat: 5g | Saturated Fat: 3g | Polyunsaturated Fat: 2g | Cholesterol: 16mg | Sodium: 228mg | Fiber: 1g | Sugar: 1g
Equipment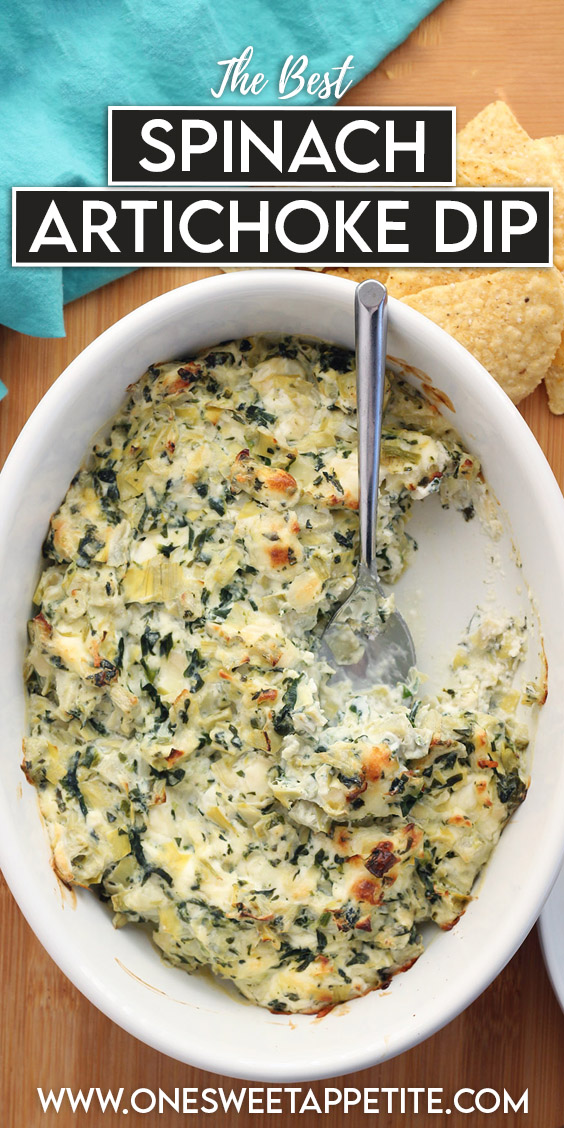 Reader Interactions