The BEST Spinach Artichoke Dip Recipe! This delicious dip has 1 can of chopped artichoke hearts, spinach, and 4 different cheeses! Kid and husband approved and the perfect appetizer recipe! 
Thank you to my friends at pompeian for sponsoring this post. #trendinginthekitchen #ad
It's the most wonderful time of the year which means I am on the hunt for some good share worthy recipes. We, most likely similar to all of you, are invited to a handful of holiday parties. Finding a tasty, and easy, recipe is top priority.
There were a few things I knew I wanted in our winning recipe. It had to be:
A dip. Dips are always a crowd favorite and super simple to add a creative flair.
Savory. We wanted something with lots and lots of cheese.
A cheese ball was briefly considered but a quick look in the freezer, and the discovery of a bag of spinach, lead me to:
The BEST Spinach Artichoke Dip Recipe
This recipe is EASY.
Like, so easy that you will want to make it all of the time. For every single family gathering or party that you attend.
It also tastes AMAZING. With chopped spinach, artichoke hearts, and FOUR different types of cheese… It is dreamy.
In fact, my 18 year old niece (who eats like a bird) inhaled half of the pan! I consider that a win.
A few tips to consider before you dive right in:
Make sure you finely chop the spinach and the artichoke hearts. The smaller the better. This will ensure your dip gets the perfect amount of everything in each bite.
Mist your pan with a quality cooking spray, like Pompeian's organic extra virgin olive oil cooking spray!
Ideal for salads, pasta and drizzling, this spray uses olives that are grown under conditions that protect the environment as well as the fruit and its natural antioxidants.
I use a lot of cooking spray. This one is my fave for multiple reasons. The top of the list is the genius spray nozzle! It never clogs. EVER. The mist also happens to come out in the most perfect angle making it super simple to cover the entire pan! The spray uses a powerful pouch system to dispense the oil without any artificial additives or propellants which is amazing, in my opinion!
How to keep food warm while traveling:
Line a cooler (we like this one for 9 inch pans and this one for 9×13) with a clean towel.
Cover your baking dish securely with a lid or foil.
Place in the cooler, close the lid, and head off to your destination. Pull the dish out when ready to serve using hot pads.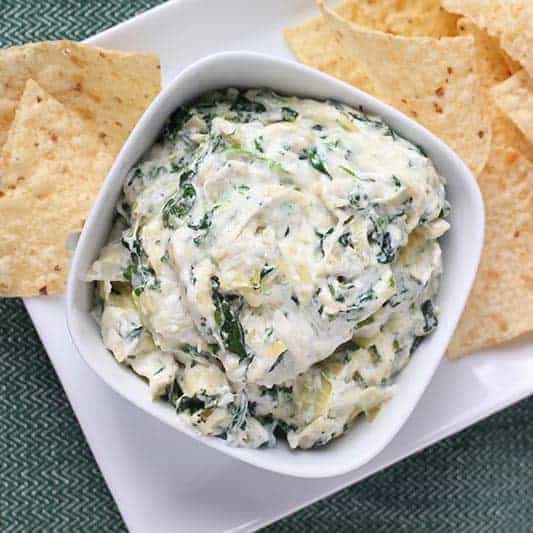 Like this recipe? You will love my Easy Homemade Hummus, Taco Dip, and Cheeseball Bites!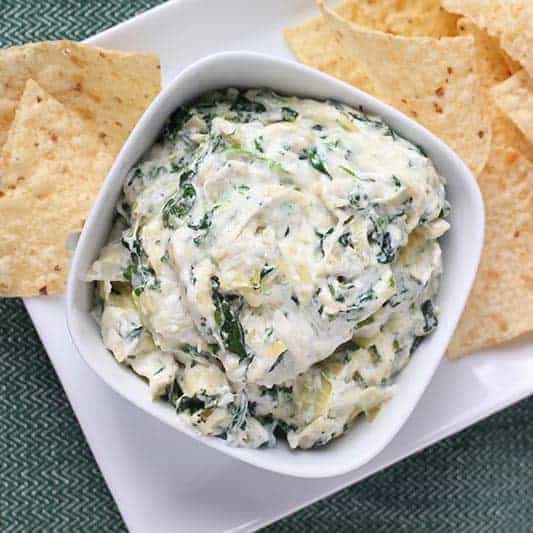 The BEST Spinach Artichoke Dip Recipe
Ingredients
1

(8oz)

package cream cheese, softened

1/4

cup

sour cream

1/4

cup

Parmesan cheese

1/4

cup

Romano cheese

1/4

cup

mozzarella

2

cloves

garlic, minced

1/4

teaspoon

garlic salt

1/2

cup

frozen spinach, chopped, thawed, and drained

1

(14oz)

can artichoke hearts, drained and chopped

salt and pepper to taste
Instructions
Preheat your oven to 350 degrees.

Lightly mist a 9 inch pan with Pompeian Organic Extra Virgin Olive Oil Cooking Spray. Set aside,

Combine all of your ingredients in a large bowl. Mix until fully combined. Transfer to your prepared pan.

Bake 25 minutes or until bubbly. Serve with chips or crackers.
Recipe Notes
*Make sure you finely chop the spinach and artichoke hearts. This will ensure a smooth and extra tasty dip!
(Visited 334 times, 1 visits today)
5