This post is brought to you by OXO. I received product in exchange for this post. All opinions (and recipes) are my own.

When I teamed up with OXO for this campaign I had every intention of whipping up a butter pecan or peach cobbler ice cream. Both flavors sounded divine, but the idea of a homemade orange sherbet kept creeping into my thoughts. I had a fresh pile of oranges on my table that needed to be used and I decided to just go for it. I am so glad that I did because this is easily one of our favorite summer treats!
Before we jump into the recipe details, let's take a second and talk orange juice. Fresh squeezed is my preference, but I'm sure you could get away with using a good store bought. Just make sure that you pick a higher quality with pulp. This is where a lot of your sherbet flavor is going to come from. You also want to make sure you use a liquid measuring cup (like this angled one). I never thought it was too much of a difference and always used my metal cups, but it turns out those are better suited for dry ingredients.
Easy Orange Sherbet
Ingredients
3/4 cup sugar
1/4 teaspoon salt
2 cups fresh squeezed orange juice
1 tablespoon lemon juice
1 teaspoon vanilla extract
1½ cups whole milk cold
Instructions
Combine your sugar, salt, orange juice, lemon juice, and vanilla in a good quality blender or food processor. Blend until all of the ingredients are fully combined. Stir in the milk and pour into your air tight container.

Place in your freezer. Pull it out and whisk every 30 minutes for 4 hours. Freeze solid and enjoy.
Nutrition
Serving: 1Servings
A great air tight container is a must. This recipe fits perfectly into the OXO Medium Square LockTop Container that is pictured above. The lid pushes and seals down tight enough to keep the air out and stop pesky freezer burn. Not that we let the recipe sit around long enough to let it get freezer burn… I took it with me to a girls night and we all enjoyed a bowl full during an episode of Bachelorette. Everyone licked their bowls clean and were excited at how closely it tastes to an Orange Julius.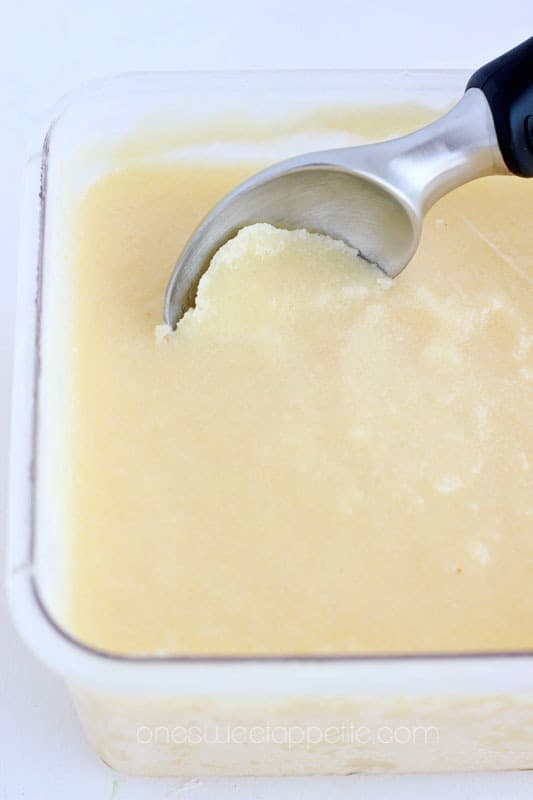 We don't have an ice cream machine out in North Carolina, so this recipe is perfect. It comes together quickly and the flavor is outstanding. Use the OXO Solid Stainless Steel Ice Cream Scoop (love that it won't fall apart or rust in the dish washer) to get perfect scoops!
Check out a few of the other fun OXO product I used:
Small Silicone Spatula (Raspberry)
4 Piece Mini Measuring Beaker Set
Sugar Dispenser
Related Recipes:
Reader Interactions