Looking for the best camping cocktail? Look no further! This easy camping sangria recipe has been made dozens of times and is always met with rave reviews. Made with simple ingredients like fresh fruit, vodka, and wine and with the added bonus of being able to make it in advance!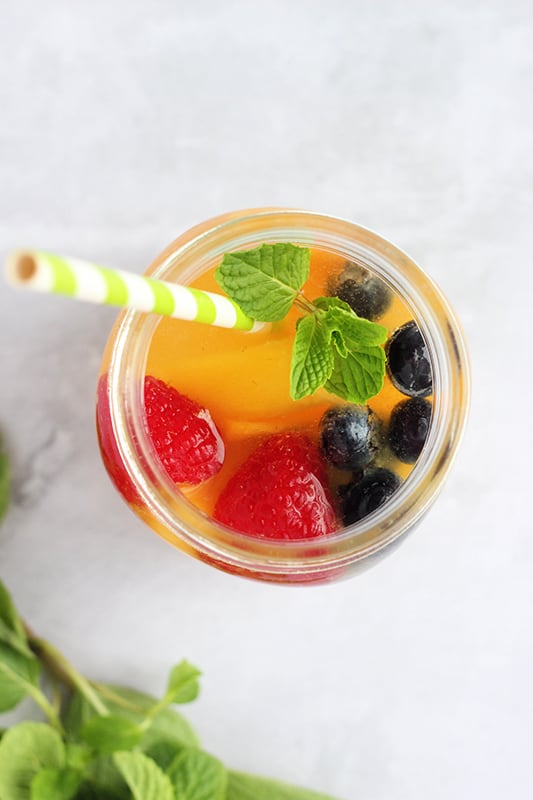 This post includes a recipe for alcohol. Drink responsibly. One Sweet Appetite and it's authors are not responsible for the actions of our readers should they choose to make this recipe and consume it. Please drink responsibly.
One of the most popular categories on my website is camping recipes. You guys love them and I love giving you what you want. So when someone requested a camping cocktail, I couldn't help but provide.
This make-ahead cocktail is smooth. It has fresh fruit, vodka, wine, and is oh-so-tasty. Be warned, fair reader, that it goes down easy and the fruit soaks up a lot of that alcohol- making it a bonus boozy treat. One serving is sure to get you more than a little tipsy.
The beauty with this sangria recipe is that you can make it before you leave for your trip. The longer it sits, stored chilled, the better it tastes! Double or triple the recipe if you plan on more than 2 people or a long weekend.
Recipe Features:
Quick and Easy- Ready to go in just about 10 minutes.
Easy to Customize
Difficulty Level: EASY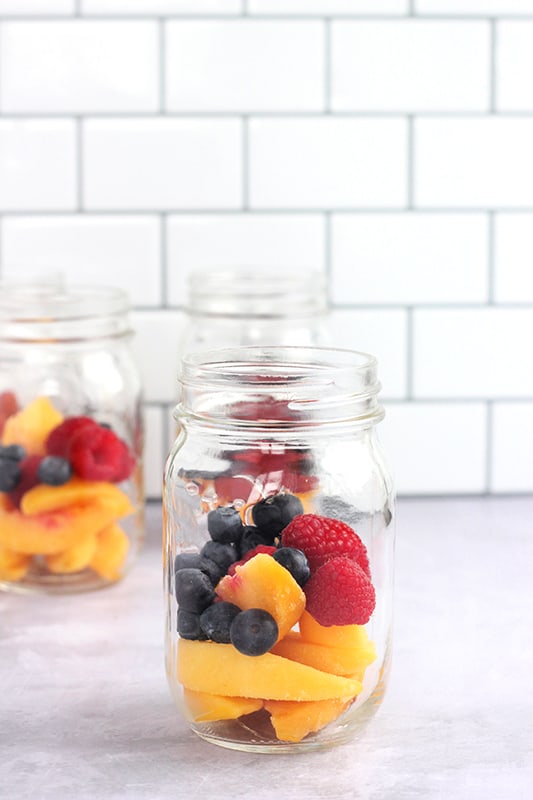 What Is Sangria?
Sangria is a Spanish alcoholic punch. You traditionally see it made with red wine, fresh fruit, and brandy. The mixture is sweetened with simple syrup and sits overnight to blend the flavors.
Since I am not much of a brandy lover, I opted for a Moscato wine and vodka. The beauty with sangria is you can really customize it to any flavor or taste. I like mine on the sweet side with a slight tang. I followed the same concept as the classic version and made my sangria the day before we planned to drink it. Letting it sit in the refrigerator overnight, blending the flavors to perfection.
Camping Sangria Ingredients
I briefly touched on this above, but this is a little bit lighter than your classic brandy sangria. I wanted a recipe that really captured the sweet fruit flavor but also balanced out to not overload you with sugar. Here is what you will need:
Fruit
Vodka
Peach Nectar
Lemonade Concentrate
Sugar
Wine
Soda
What Is The Best Fruit For Sangria?
The beauty about this camping drink is that it is extremely versatile. No need to limit yourself with the fruit you add. Here are a few of our favorite sangria fruit mix-ins:
Peaches
Blueberries
Pineapple
Apples
Strawberries
Raspberries
Pears
limes
lemons
TIP: Buy frozen fruit to make this EVEN EASIER. It is all pre-cut and washed which saves you that much time in the kitchen!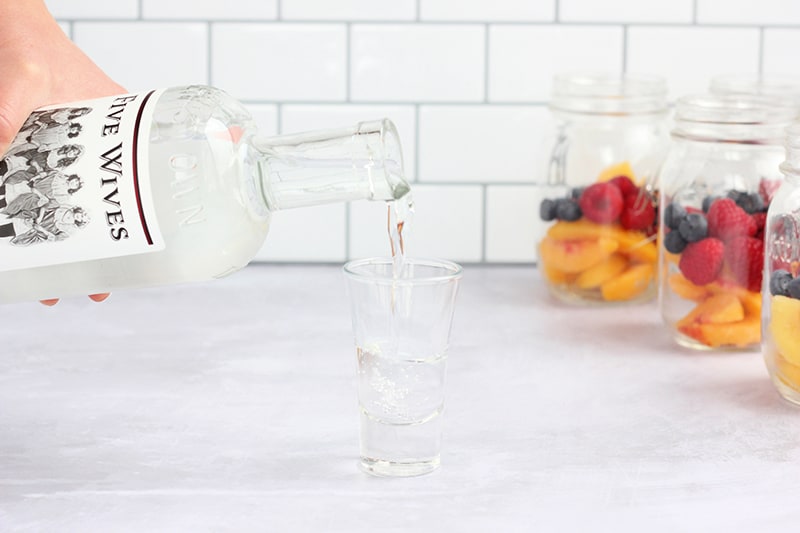 How to Make Sangria in a Mason Jar:
NOTE: I do suggest using a better vodka. This recipe is super delicious and easy to drink too fast. Splurging for a better alcohol will help avoid that nasty next day hangover and that burning vodka flavor. I once reached for the cheap stuff and almost immediately regretted it. We like Five Wives (a Utah distillery) or anything you can find on the middle shelf.
Fill 4 mason jars with fresh or frozen fruit. For this recipe we used peaches, raspberries, and blueberries.
Top each of with 1 shot of vodka and wine.
Stir in sugar, a dash of lemonade concentrate and nectar.
Screw on the lid, give it a quick shake, and let the jars sit in the refrigerator for 4 hours or overnight.
Top off with chilled club soda and enjoy!
The recipe makes 4 single serve sangria cups in mason jars, which is perfect for on the go OR for a quick at home "glamping" party. It also makes a beautiful display or party drink recipe! Fill a large ice bucket and set the fruit filled jars on top. Perfect for birthday parties, bridal showers, or any celebration!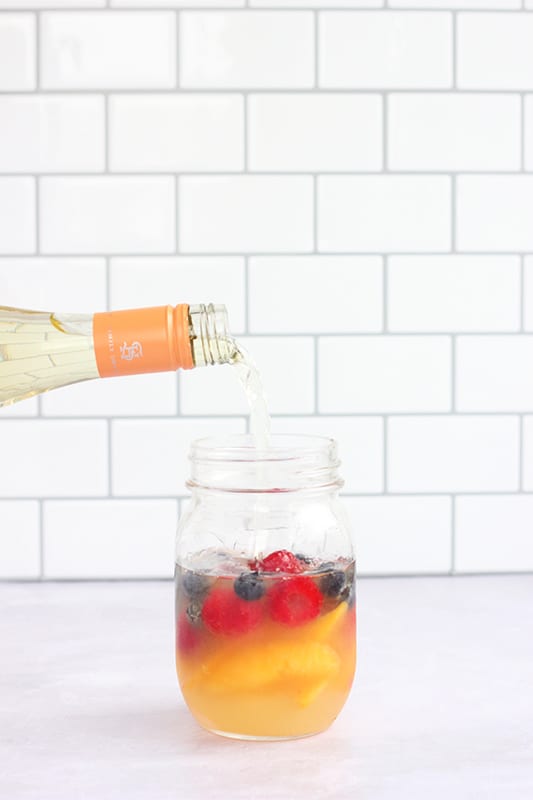 How long do you let the fruit sit in sangria?
Fruit can be soaked in sangria for up to three days. I would suggest finishing your drink by the end of the third day. While wine will typically stay good longer, the fresh fruit will start to go sour and ruin your drink.
IF you think you'll take longer than the three days, make your sangria at the campsite!
Can you eat the fruit?
Yes! You can eat the fruit in sangria. The soaked alcohol could adjust the flavor slightly but the fruit is totally fine to eat! I have even heard it serves as a daily fruit serving, but don't quote me on that.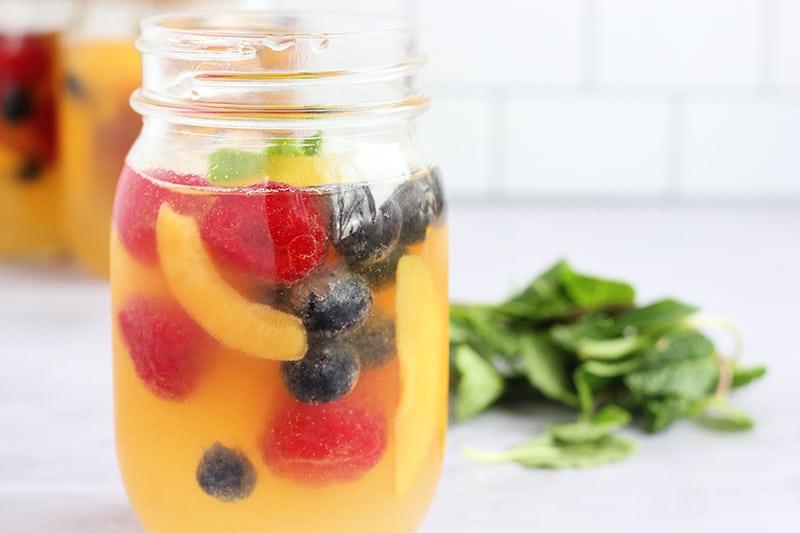 The Best Way to Store Cocktails for Camping:
Ok, ya'll. This is super important. While mason jars are so beautiful and fun, they aren't super practical when camping. The last thing you want to do is drop that glass and have it shatter all over the place. Here are a few other options:
Glass mason jars. If you can be careful, and don't plan on getting too crazy, go with the classic glass mason jar.
Plastic Mason Jars. Still adorable but less likely to break if dropped.
Travel tumblers. Another adorable option that can be reused over and over!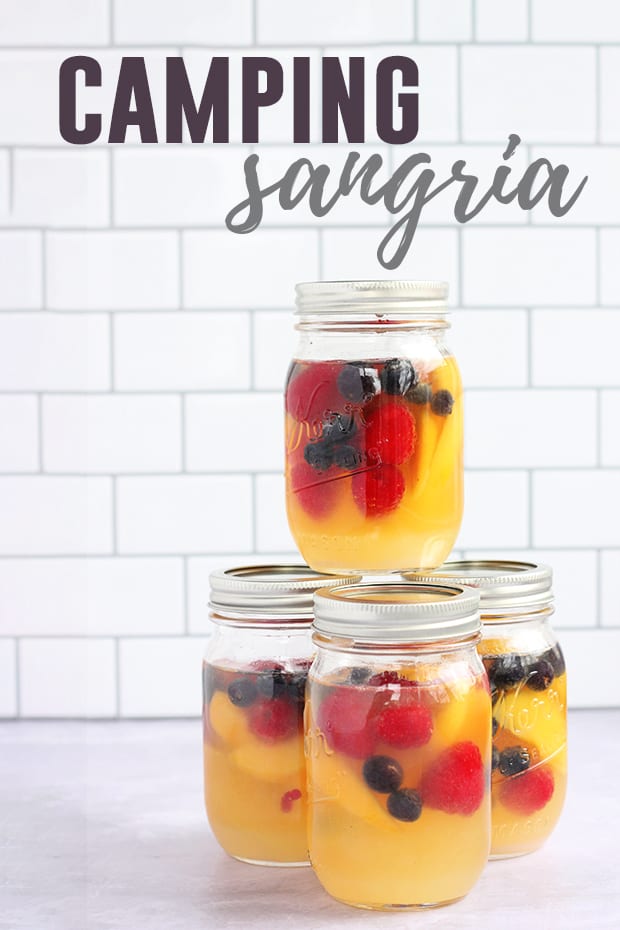 More Cocktail Recipes you Might Like:
Like this recipe? You will love my: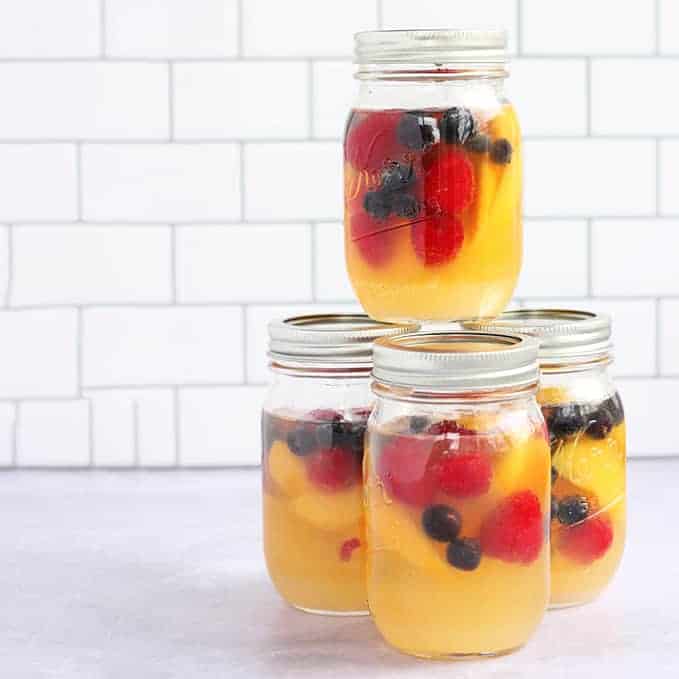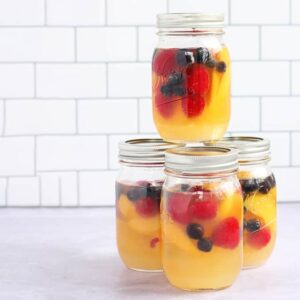 Camping Sangria Recipe
This easy camping sangria recipe is made in a mason jar! Fresh fruit, vodka, and wine combing giving you a perfect camping cocktail!
Ingredients
3 cups fruit*
3/4 cup vodka
1/2 can peach nectar
1/2 cup lemonade concentrate
4 teaspoons sugar
1 bottle moscato wine
2 cups club soda
4 pint sized mason jars
Instructions
Divide your fruit into your mason jars. 

Add 1.5 oz each vodka, nectar, and lemonade concentrate to each jar.

Sprinkle 1 teaspoon sugar into each jar.

Top with 1/2 cup wine. Refrigerate at least 4 hours.

Serve topped with chilled club soda. 
Notes
For this recipe we use frozen or fresh peaches, raspberries, and blueberries. 
Nutrition
Serving: 1drink | Calories: 290kcal | Carbohydrates: 43g | Protein: 2g | Sodium: 7mg | Fiber: 3g | Sugar: 30g
Pin for later: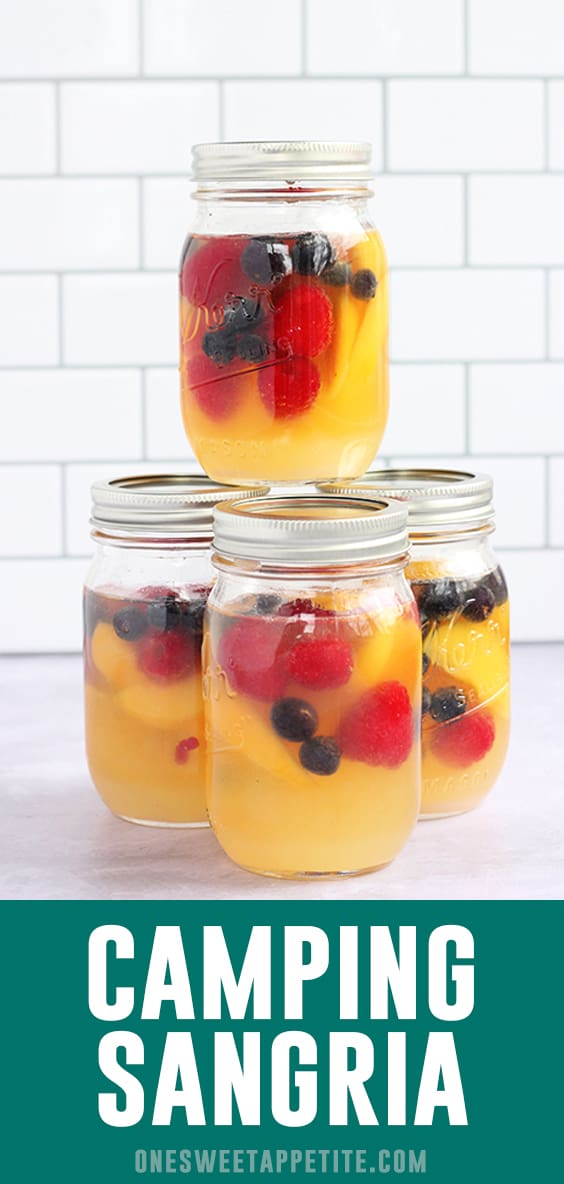 Still hungry? Follow One Sweet Appetite on Facebook, Instagram and Pinterest for more great recipe ideas!
Reader Interactions