Get ready to elevate your grilled cheese game to epic proportions! Today we're giving the classic comfort food a mouthwatering twist by slathering it with garlic butter. Forget that sad, plain grilled cheese; this is the melty, garlicky masterpiece you never knew you needed.
Looking for more easy recipes to give a try? Check out my Slow Cooker French Dip Sandwich, Gourmet Breakfast Sandwich, and Easy Broccoli Cheese Soup. All family favorites and perfect for a super quick dinner.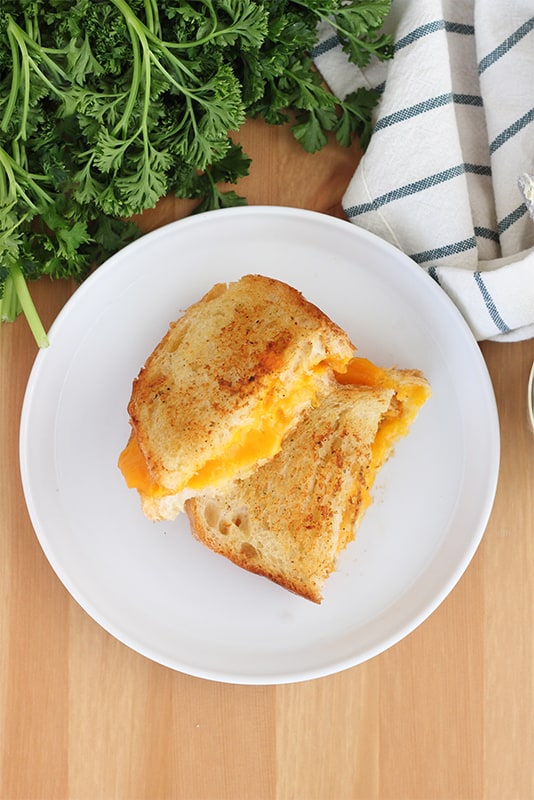 Why You'll Love This Cheese Sandwich
Quick and Easy Dinner: Ready in 10 minutes.
Cheap Dinner Idea: In total, this costs under $1 per serving!
Easy to Customize: Add sliced deli meat or your favorite vegetables for a more filling option.
My nine year old came up with this grilled cheese sandwich recipe. His genius idea to replace the butter with a garlic butter was mind blowing. Why in the world have I never thought to do this?? He was so casual about his idea too. I think it went something like… "We should try garlic butter grilled cheese." followed by a shoulder shrug.
Imagine your classic grilled cheese, but it's just returned from a year abroad, and now it's cultured, sophisticated, and has a bit of a sassy edge. The bread is crisp but not just any crisp—it's rich and buttery, with a whisper of garlic that's like a secret only you're in on. The cheese? It's melty and gooey but tastes like it's been to a garlic party and brought back all the fun. Each bite is a perfect harmony of crunchy, creamy, and garlicky. This isn't just a grilled cheese; it's a grilled cheese that went to finishing school and came back with a PhD in Deliciousness.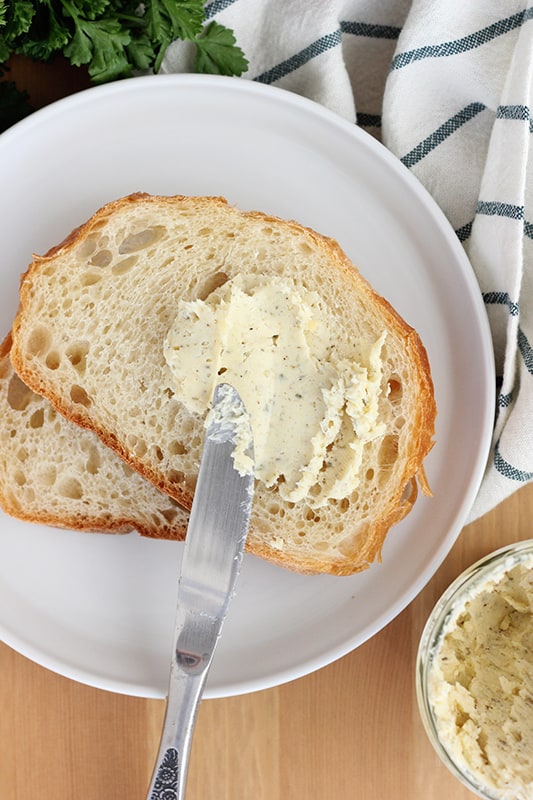 What's The Best Cheese For Grilled Cheese?
Since this best-ever grilled cheese calls for minimal ingredients, it is important that you pick quality products. We find the best bread for grilled cheese to be French bread and a good cheese. Homemade garlic butter is key to the flavor explosion. Here's an idea of cheeses to use and what they'll bring to your sandwich:
American Cheese: The OG, known for its ultra-melty texture. It's like the comfort food of comfort food—no frills, just thrills.
Cheddar: Sharp and tangy. Think of it as the cheese that wakes you up and says, "Hey, I'm here, and I'm fabulous!"
Gruyere: Nutty and slightly sweet. This is the cheese you bring home to meet your parents. It's sophisticated but not stuck-up.
Provolone: Mild and buttery. Provolone is like the best supporting actor of cheeses—always makes the star shine brighter.
Havarti: Creamy and smooth. Imagine a cheese that gives your sandwich a hug; that's Havarti.
Monterey Jack: Mild but with great meltability. This is the cheese equivalent of that friend who gets along with everyone at the party.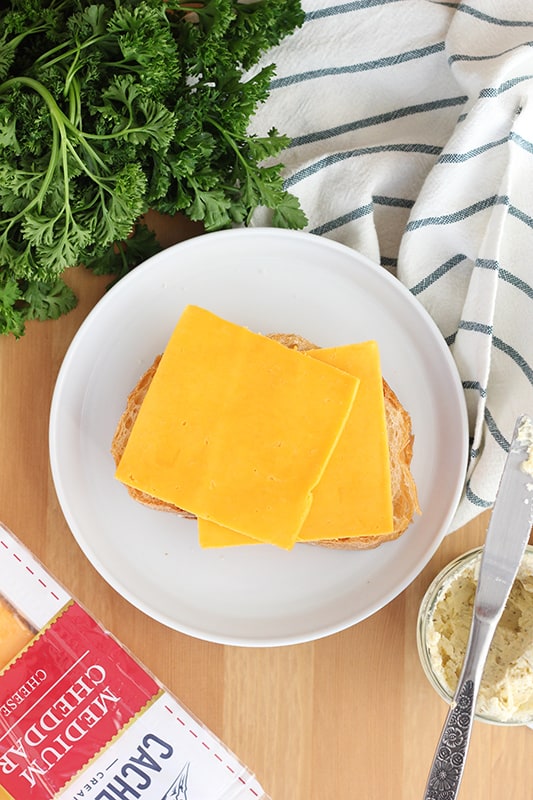 What Is The Best Way To Cook A Grilled Cheese?
Cooking the perfect grilled cheese is like a rite of passage for any self-respecting foodie. Turns out it's super simple if you have the write game plan!
Bread Choice: Go for something sturdy but not too dense. Sourdough or a nice rustic loaf is a solid bet.
Pre-Buttering: Apply that garlic butter (or plain, if you're keeping it OG) evenly on each slice. Don't skimp, but don't drown it either. Balance is key.
Heat: A medium-low flame is your friend. It allows the cheese to melt fully without turning the bread into charcoal.
Flipping: The first flip is crucial; it's basically the sandwich's debutante ball. Be gentle and use a spatula.
Cheese Check: Peek inside. If the cheese isn't melty enough but the bread is at risk of burning, low and slow is the way to go.
Finishing Touch: For that gourmet flair, a sprinkle of sea salt on the crust adds texture and flavor.
You also want to consider any toppings you will be adding. Turkey pairs well with pepper jack or Swiss, while ham is more of a cheddar. Go ahead and mix and match your cheese varieties too. Place a slice of pepper jack with cheddar. That's my favorite.
Helpful Tools
Spatula: Go for a wide, flat one. It'll give you the leverage you need for that high-stakes flip.
Cast-Iron Skillet: It distributes heat evenly, ensuring that golden-brown crust we all crave. Plus, it adds a touch of rustic charm to your cooking game.
Cheese Slicer: Because evenly sliced cheese melts uniformly. Trust me, you don't want a lopsided melt—it's just awkward for everyone.
Pastry Brush: For that garlic butter, baby! It helps you get a nice, even coat without making the bread soggy.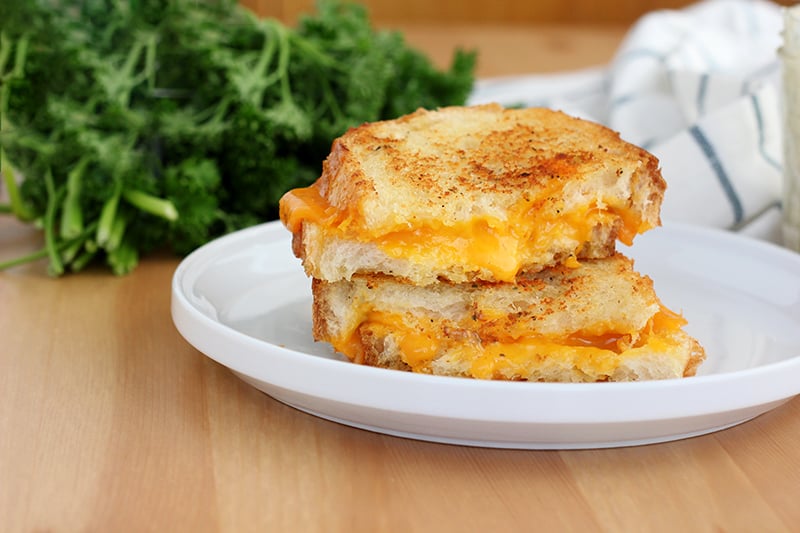 Recipe Notes:
What's the best bread to use?
Go for something sturdy like sourdough or a rustic loaf. Flimsy bread is a no-go; you need something that can stand up to the cheese.
How much butter is too much butter?
If your bread starts to swim, you've gone overboard. Aim for a light, even spread.
What heat setting should I use?
Medium-low heat wins the race. It ensures your cheese gets melty without incinerating the bread.
Can I add extras like bacon or tomato?
Absolutely, live your best life! Just don't overload it; you want the cheese to be the star. Try serving along side tomato soup!
How do I store leftovers?
Leftover grilled cheese? Really? If you insist, wrap it in foil and store it in the fridge, but it's best enjoyed fresh.
Is garlic butter mandatory?
No, but why miss out on a chance to level up your grilled cheese game?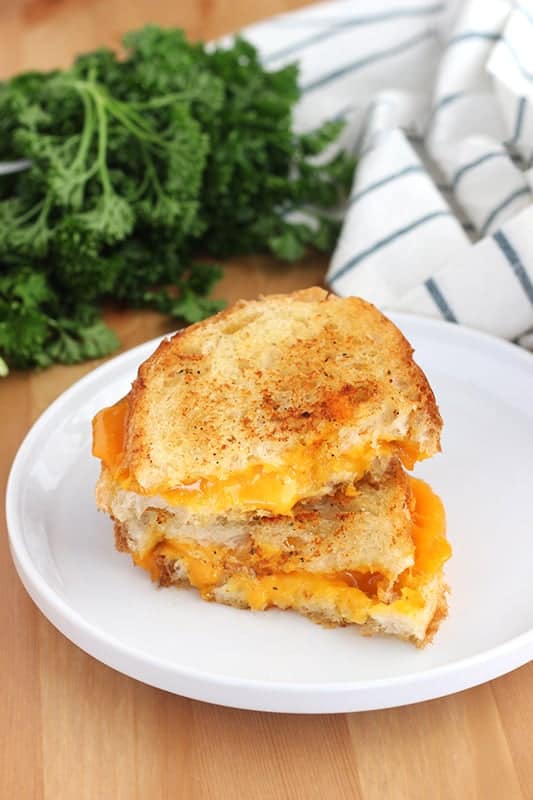 Still Hungry? Follow One Sweet Appetite on Instagram, Pinterest, and Facebook!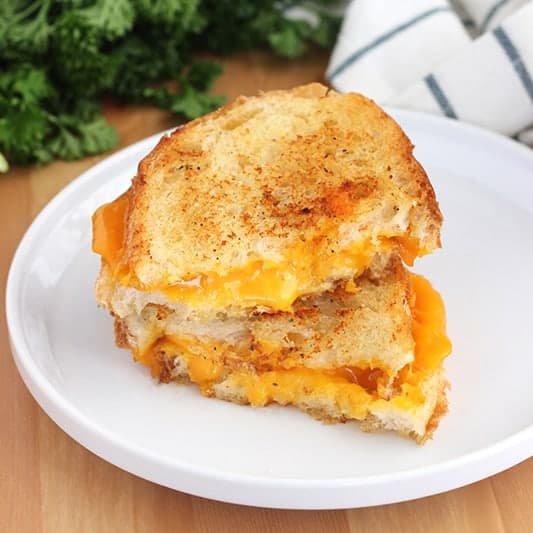 The BEST Grilled Cheese Recipe
The BEST Grilled Cheese Recipe – and only one you will want to make again! French bread, garlic butter, and medium cheddar gives you the perfect melted cheese sandwich!
Ingredients
4 slices French bread*
3 tablespoons garlic butter
6 slices medium cheddar cheese
Instructions
Spread 1/2 of a tablespoon onto one side of each of your bread slices. 

Build your sandwich. Layer bread slice (butter side down), three slices of cheese, and bread slice (butter side up). Repeat with the remaining bread and cheese.

Heat a skillet over medium heat. Place one of your sandwiches onto the heated surface. Cook 2 minutes on each side, or until golden brown and the cheese is melted. 

Repeat with the second sandwich. 
Notes
Use any bread or cheese variety with this recipe. 
Nutrition
Serving: 1sandwich | Calories: 374kcal | Carbohydrates: 97g | Protein: 39g | Fat: 48g | Saturated Fat: 27g | Polyunsaturated Fat: 16g | Trans Fat: 1g | Cholesterol: 126mg | Sodium: 1837mg | Fiber: 4g | Sugar: 9g
Equipment
Pin for later: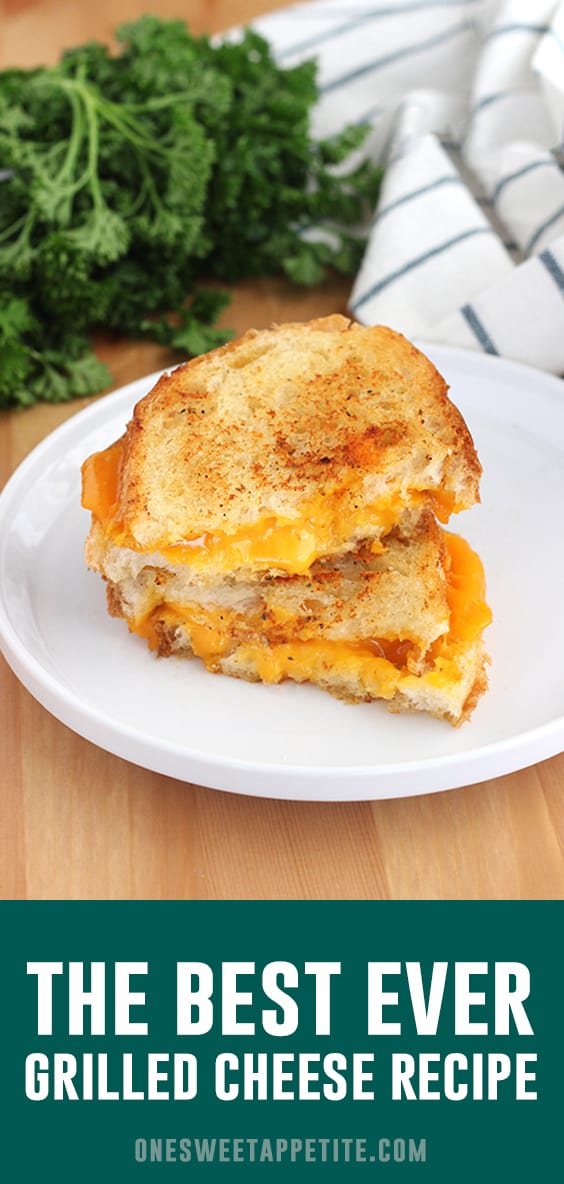 Reader Interactions