These adorable Melted Snowman Cookies are the perfect winter treat! Easy to decorate and insanely delicious. Start with a soft sugar cookie for the base and top with melted chocolate for the finishing look. Easy peasy.
Love Holiday cookies? Me too! Be sure to try my Grinch Cookies, Wreath Cookies, Copycat Christmas Tree Cakes and adorable Reindeer Cookies! All incredibly easy and perfect for your cookie tray.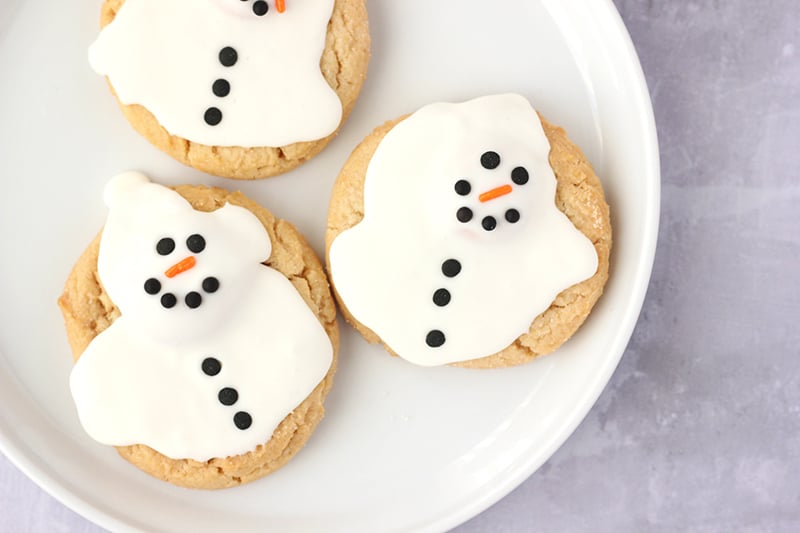 Recipe Features
EASY: This recipe is perfect for beginners. No-fail cookie decorating. Mistakes only add character, making them even cuter than they originally were!
Minimal Ingredients: I used store bought sugar cookies to cut back on even more baking!
Party Perfect: Nothing adds to a dessert table quite like an adorable dessert!
Truth be told, this recipe was one of the very first I had on my blog. I take no credit, I saw the idea at a cookie exchange years ago, but love the simplicity in the decorating. So quick and easy to make and perfect for little hands. Definitely the cutest, and tastiest, Melted Snowman Cookies I've ever seen.
These snowmen cookies are almost too cute to eat! Almost. They also happen to be a fun family baking project! My ten year old has been making these for years every holiday season and looks forward to the day we get to decorate!
Snowman Cookie Ingredients
You don't need many ingredients to whip up this easy recipe! We usually pick up a dozen cookies from our local grocer and raid our baking stash for the rest of the items. Easy peasy.
Sugar cookies: Or really, any flat round cookie. I like to pick up pre baked cookies from the store, but you definitely can make your own sugar cookies. Try switching up the cookie flavor and use gingerbread, peanut butter, or even peppermint!
Mini vanilla wafer cookies: This is key to getting that perfectly round snowman head with the added bonus of tasting delicious. You opt for regular sized if you're looking for a bigger snowman face.
Sprinkles: I used round black sprinkles, that I found during halloween season, and orange jimmies from the rainbow sprinkle jars.
Chocolate or frosting: Here's the secret, you can use melted white chocolate OR melted canned frosting for the white snow. Both work, but chocolate will give you a slightly thicker coating.
Are these not the cutest things you have ever seen? They are amazing for more than one reason. Super easy and hard to mess up are two of the most important aspects.
You literally drizzle chocolate all over a pre-baked cookie and make it look messy. The messier the better. It is so much fun.
How To Make Melted Snowman Cookies
PREP: Gather all of your ingredients. Melt the chocolate according to the package directions, adding a small spoonful of shortening if you notice it's too thick for spreading.
WAFER: To start, use a small amount of melted chocolate to attach a mini wafer cookie onto the top of the sugar cookie, placing more to one side.
DRIZZLE: Drizzle, or spoon, a bit of melted chocolate over the top of the cookie, covering the wafer cookie completely.
FACE: Working quickly, place an orange jimmy sprinkle for the nose onto the wafer cookie along with black sprinkles in the shapes of eyes and mouth.
Pro Tip: These cookies set quickly. I like to attach all of the vanilla wafer cookies first. From there I decorate one cookie at a time, starting with spreading melted chocolate over the top.
Helpful Tools
Recipe Notes:
How long are snowman cookies good for?
These cookies are best stored at room temperature, inside an airtight container, for 3 to 4 days. That makes them the perfect make ahead dessert.
Can I use vanilla frosting in place of chocolate?
Yes. Microwave a can of frosting, with the lid removed, for 15 to 20 seconds, or until it is melted completely. Use it in place of the chocolate in the recipe.
Can I use other cookie flavors?
You can use any cookie flavor! We like sugar cookies, gingerbread cookies, peanut butter, and chocolate.
What is the best way to store these snowman cookies?
The best way to store these cookies is to let the chocolate set completely. From there, transfer to an airtight container and cover.
We have SO many fun cookies for the holidays. A few other favorites are my Gingerbread Man Cookies and Candy Cane Biscotti.
More Must-Try Cookie Recipes
Still Hungry? Follow One Sweet Appetite on Instagram, Pinterest, and Facebook!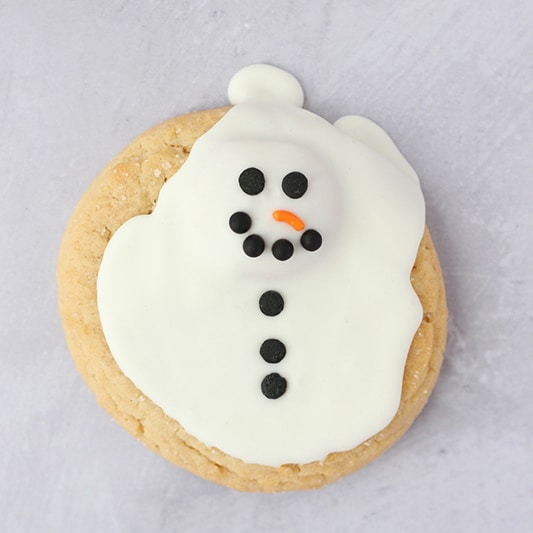 Melted Snowman Cookies
Melted Snowman Cookies. These easy Christmas cookies start with a sugar cookie base. Melted chocolate and a vanilla wafer give it a fun cute melted snowman design! 
Ingredients
12 round sugar cookies
12 mini vanilla wafers
12 orange jimmies picked out of a rainbow container
Black round sprinkles *
almond bark or white chocolate melted OR Canned vanilla frosting *
Instructions
1. Start by using a bit of melted chocolate or frosting to secure the mini vanilla wafer onto your sugar cookie. You don't want it in the middle, so aim for the top half of your cookie.

2. Next you are going to take a big spoonful of chocolate (or heated frosting, see note) and drop it right onto the middle of your cookie. Holding the cookie in your hand, rotate it to get the chocolate to drip over the edges. The other option is to use the back of a spoon to spread it across the top of the cookie.

3. Immediately place an orange jimmy onto the face portion of your cookie. Allow the chocolate to set.

4. Use the black icing to create the eyes, mouth, and buttons. Allow to set and enjoy!
Notes
* I found black sprinkles in a Halloween sprinkle collection * We have made these cookies with melted chocolate as well as canned frosting. If opting for the frosting, spoon a small amount into a heat safe bowl. Microwave 10-20 seconds until liquid. proceed with decorating.
Nutrition
Serving: 1cookie | Calories: 288kcal | Carbohydrates: 47g | Protein: 3g | Fat: 11g | Saturated Fat: 3g | Polyunsaturated Fat: 7g | Cholesterol: 11mg | Sodium: 138mg | Fiber: 3g | Sugar: 32g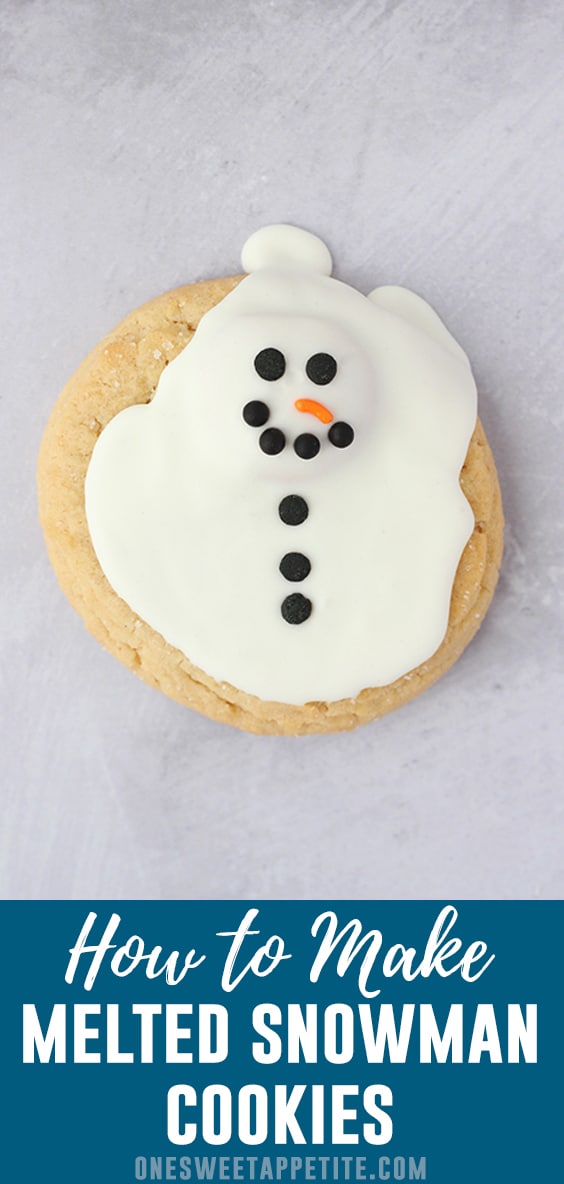 Reader Interactions