This is the ultimate Pumpkin Chocolate Chip Cookie recipe! Better than store bought and simple to make! All you need is a can of pumpkin puree and you're ready to get started!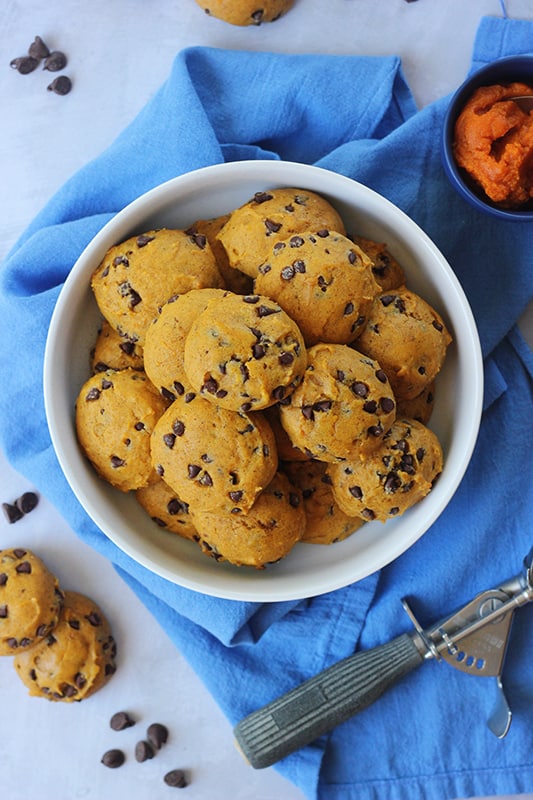 Pumpkin Chocolate Chip Cookies
It's fall ya'll. And that means we have officially stocked out house with all things pumpkin. I have been counting down to this day. My husband is super strict about few things in our home. It really only falls down to two things:
Christmas decorations WILL NOT go up before Thanksgiving has ended.
Pumpkin waits for fall.
So here it is. The first pumpkin recipe of the season, and one of our favorites!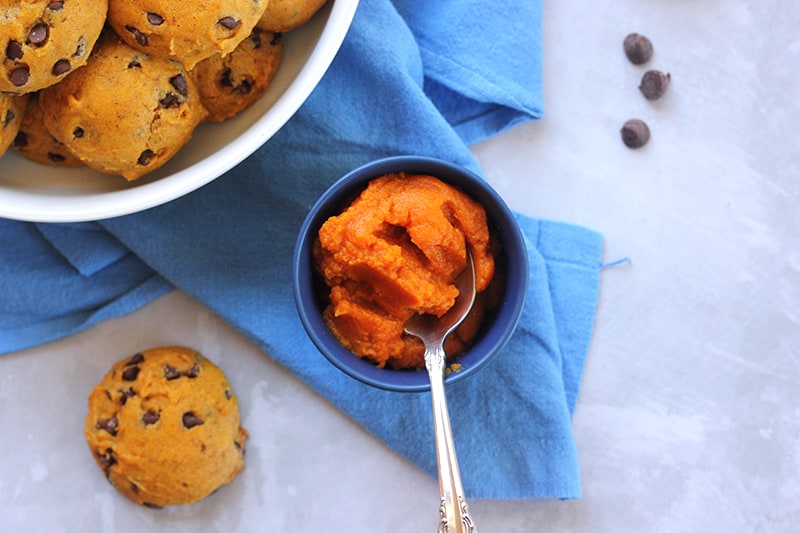 Ingredients for pumpkin chocolate chip cookies:
Flour
Baking powder
Baking soda
Salt
Cinnamon
Pumpkin pie spice
Nutmeg
Pumpkin Puree
Sugar
Oil
Egg
Vanilla
Chocolate Chips
The difference between pumpkin puree and pumpkin pie filling:
When shopping for ingredients be mindful of which can of pumpkin you add to your cart. Most grocery stores keep canned pumpkin in the baking aisle. You will see two different varieties; Pumpkin Puree and Pumpkin Pie Filling. So, what exactly is the difference between the two?
Pumpkin Puree: This is pumpkin that has been cooked and mashed. No added ingredients.
Pumpkin Pie Filling: This is pumpkin puree that has been sweetened and contains added spices.
For baking purposes, I always use pumpkin puree.
PS- Did you know you can add pumpkin to your furry friends treats? Check out the recipe here.
How long do pumpkin cookies last?
This is a GREAT question, and one I have gotten frequently. How long do pumpkin cookies really last? The answer will vary depending on how you store them, but ideally you should finish them within 1 week.
These are more of a cake like textured cookie, so we like to store them in an air tight container with wax paper between each cookie layer. I also opt for putting them in the refrigerator for a little longer freshness.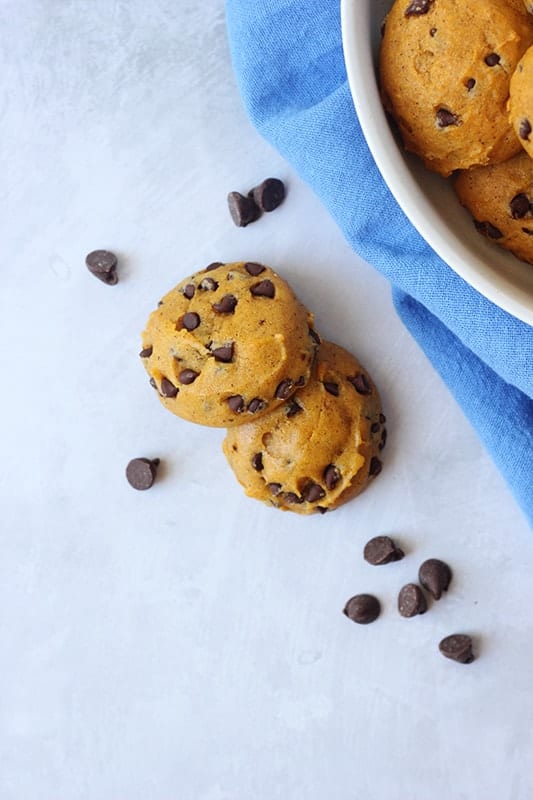 How to make pumpkin chocolate chip cookies:
Preheat your oven to 350 degrees. Line a two cookie sheets with parchment paper and set aside.
Combine the flour, baking powder, baking soda, salt, cinnamon, pumpkin pie spice, and nutmeg in a large measuring cup. Gently whisk to combine. Set aside.
Add the pumpkin puree with the sugar and oil in a large measuring bowl. Whisk to combine. Stir in the egg and vanilla extract. Fold in the dry ingredients until fully incorporated.
Fold in the chocolate chips. Scoop the batter onto your prepared trays using a cookie scoop or dropping by heaping spoonful.
Bake ten minutes or just until the edges start to lightly brown.

Like this recipe? You will love my:

Pumpkin Chocolate Chip Cookies




This is the ultimate Pumpkin Chocolate Chip Cookie recipe! Better than store bought and simple to make! All you need is a can of pumpkin puree and you're ready to get started!

Ingredients

2 cups all-purpose flour
2 teaspoons baking powder
1 teaspoon baking soda
1/2 teaspoon salt
1 teaspoon cinnamon
1 teaspoon pumpkin pie spice
1/4 teaspoon nutmeg
1 cup pumpkin puree
1 cup granulated sugar
1/2 cup oil (we use vegetable)
1 large egg
2 teaspoons pure vanilla extract
2 cups semi sweet chocolate chips (we like mini chocolate chips)

Instructions

Preheat your oven to 350 degrees. Line a two cookie sheets with parchment paper and set aside.

Combine the flour, baking powder, baking soda, salt, cinnamon, pumpkin pie spice, and nutmeg in a large measuring cup. Gently whisk to combine. Set aside.

Add the pumpkin puree with the sugar and oil in a large measuring bowl. Whisk to combine. Stir in the egg and vanilla extract. Fold in the dry ingredients until fully incorporated.

Fold in the chocolate chips. Scoop the batter onto your prepared trays using a cookie scoop or dropping by heaping spoonful.

Bake ten minutes or just until the edges start to lightly brown.

Nutrition

Serving: 24cookies | Calories: 202kcal

Still hungry? Follow One Sweet Appetite on Facebook, Instagram and Pinterest for more great recipe ideas!

Reader Interactions