These Cherry Shortbread Cookies are simple to make and full of buttery flavor. Minimal ingredients and a no-fail cookie recipe.
Looking for more incredibly simple and delicious cookie recipes? Be sure to try my Red Velvet Cake Mix Cookies, Coconut Lime Sugar Cookie Recipe, and my Lemon Ricotta Cookies.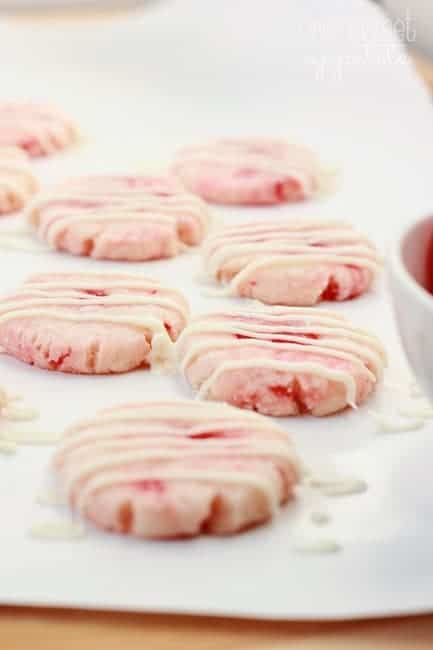 RECIPE FEATURES
Easy To Make: Shortbread cookies are THE easiest cookies on the planet to make.
Minimal Ingredients: They have hardly any ingredients and are easily changeable.
No-Fail: You can slightly undercook them (you know… since they don't have egg) and they will come out of the oven soft and chewy… Just the way I like em!
I LOVE cookies. They are by far my favorite treat to bake, and even easier for me to eat. With almost 100 different cookie recipes on the site, it's almost too hard to pick a favorite. Almost.
These Christmas maraschino cherry shortbread cookies are high on the list. There is something so addicting about the soft buttery cookie and light cherry flavor. You can make them ahead and they are PERFECT for cookie trays. Want to take things over the top? Dip or drizzle in white chocolate and you will have a cookie that is worthy of a bakery display!
MARASCHINO CHERRY SHORTBREAD COOKIE INGREDIENTS
The ingredient list is short. Shortbread cookies happen to be one of the easiest to make, can be made in advance, and even frozen. Let's break down what you will need to get started.
Cherries: Specifically, maraschino cherries. These are fresh cherries that are preserved and sweetened and sold in jars. Found most likely in the ice cream aisle of most grocers.
Flour: All-purpose flour is best for a shortbread.
Sugar: Granulated, or classic white sugar, gives you the best balance of sweetness.
Butter: I like to use salted butter, however unsalted butter will give you a delicious cookie.
Vanilla: I recommend using pure vanilla extract. Imitation can leave a slightly chemical aftertaste that isn't ideal.
Chocolate: Optional, but a great addition and finishing touch to the top of baked cookies.
Pro Tip: Searching for an easy way to play with flavors? Add 1/8 teaspoon almond extract for irresistible cherry almond shortbread cookies.
HOW TO MAKE COOKIES WITH MARASCHINO CHERRIES
How easy are these? SO easy. Add them to your holiday cookie baking list along with my Peanut Butter Cookie Recipe and these adorable Christmas Wreath Cookies.
PREP: Preheat the oven to 325 degrees and line two baking sheets with parchment paper and set aside. Measure out the cherries and pat dry with a clean towel.
MIX: Create the dough by whisking the flour and sugar in a mixing bowl. Cut the butter into the dry ingredients using a pastry cutter or forks. Once it resembles crumbs, stir in the vanilla and cherries. Knead by hand until the dough forms a solid ball.
SCOOP: Using a spoon, or cookie scoop, form the dough into 1 inch balls. Place on the prepared baking trays and gently press flat using the bottom of a glass dipped in sugar, about 1/2 inch thickness.
BAKE: Bake the flattened cookies for 10 to 12 minutes, or until the cookies have slightly risen and the edges are pulling from the sides.
ENJOY: Serve the cookies straight from the oven or dip in chocolate for a fun finish!
HELPFUL TOOLS
Cookie Scoop: I LOVE my cookie scoop (affiliate). It gives you perfect cookies every single time.
Pastry Cutter: Not required, but a night and day difference when you are trying to cut butter into a dough. This pastry cutter (affiliate) is used for pies and getting a perfect pie crust.
Silicone Baking Mats: Ditch the parchment and reach for these reusable Silicone Baking Mats (affiliate). They are game changers for your cookie making game.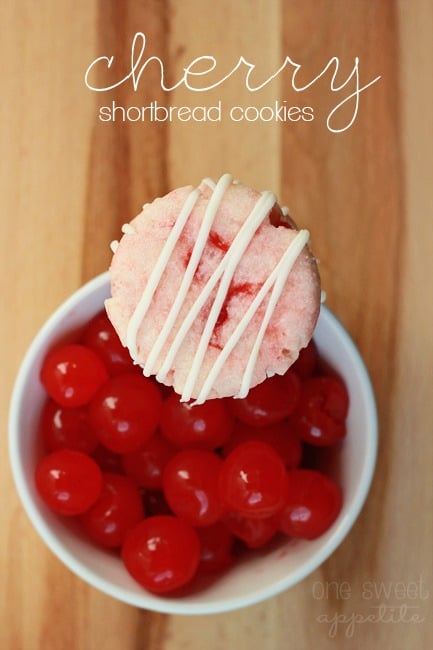 Recipe Notes:
Can I use fresh cherries?
I have only tried this recipe with maraschino cherries. I could not confidently say you would get the same flavor with fresh cherries.
Can these shortbread cookies be made in advance?
The dough can be made and stored, covered, inside the refrigerator for up to 3 days. Let the dough sit on the counter for 30 minutes before rolling into balls and baking as directed.
How long do cherry cookies last?
These cookies will last up to five days after they have been baked.
What is the best way to store these cookies for later?
The best way to store cookies is in an airtight container at room temperature.
How many cookies will this recipe make?
I like to make these slightly smaller. Because of this, you will get roughly 50 bite sized cookies from one batch of dough.
MORE MUST-TRY COOKIE RECIPES
Still Hungry? Follow One Sweet Appetite on Instagram, Pinterest, and Facebook!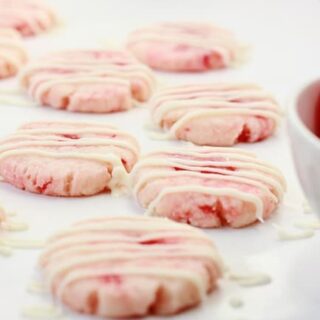 Cherry Shortbread Cookies
Cherry Shortbread Cookies- This is the easiest holiday cookie recipe and full of cherry flavor! Minimal ingredients and no-fail!
Ingredients
1/2 cup maraschino cherries drained and chopped
2-1/2 cups all-purpose flour
1/2 cup granulated sugar
1 cup of cold salted butter cut into pieces
1/2 teaspoon vanilla extract
chocolate for drizzling optional
Instructions
Pat the cherries with a paper towel to help absorb the moisture. They should be fairly dry before adding them to the batter.

Set the cherries aside and preheat the oven to 325 degrees.

Whisk the flour and sugar briefly to combine. Using a pastry cutter, or two forks, cut in the cold butter until it resembles coarse crumbs.

Stir in the vanilla extract and the cherries. The dough should look crumbly but not combined.

Knead that dough, with clean hands, until it forms a solid ball.

Form 1 inch balls, I suggest using a 

cookie scoop

 (affiliate) for this, and place on a parchment lined cookie sheet.

Dip the bottom of a drinking glass into sugar and gently press each cookie until it is 1/2 inch thick.

Bake for 10-12 minutes. Remove from the cookie tray immediately and place on a cooling rack.

Drizzle with melted chocolate if desired.
Notes
This recipe makes a lot of cookies. You will get roughly 50 bite sized cookies.
Cookie dough can be made up to three days in advance.
For a softer cookie, bake 10 minutes. If you would like a more crunchy cookie, bake the full 12 minutes.
Nutrition
Serving: 4cookies | Calories: 239kcal | Carbohydrates: 25g | Protein: 2g | Fat: 15g | Saturated Fat: 9g | Polyunsaturated Fat: 4g | Trans Fat: 1g | Cholesterol: 38mg | Sodium: 113mg | Fiber: 1g | Sugar: 10g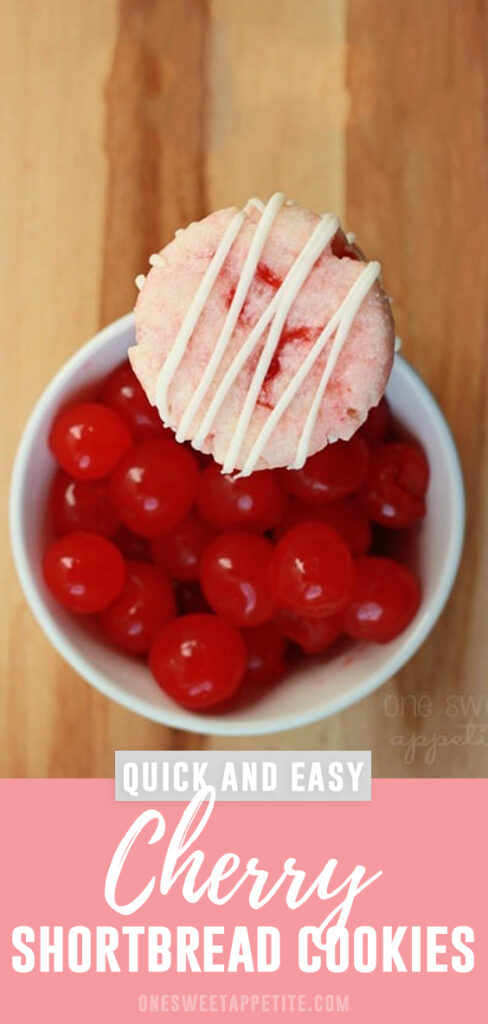 Reader Interactions