This post has been compensated as part of an opportunity with Kraft Foods. All thoughts and opinions of the recipe provided are my own. #ProudOfIt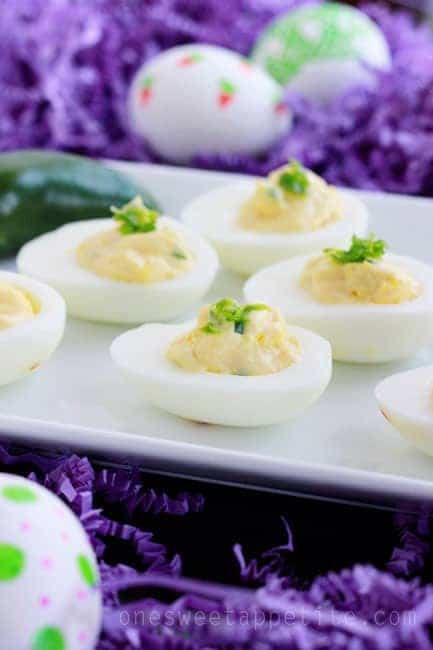 Let's talk Easter, eggs, and MIRACLE WHIP. That sweet and tangy dressing is more than just a sandwich topping. We've always used the spread in recipes around our house growing up, but it wasn't until I met my husband that I saw how little it was utilized everywhere else! It's time to share a few great recipes that really showcase what this stuff can do. Let's start with a classic but add a little bit of a kick. This recipe for spicy deviled eggs couldn't be simpler and is a great way to use up leftover Easter eggs!
You need to start with a good hard boiled egg. How about a few quick tips for the perfect hard boiled egg straight from the MIRACLE WHIP kitchens?
Place eggs in single layer in saucepan; add enough water to completely cover eggs by at least 1 inch. Bring water to a boil; cover. Remove saucepan from heat; let stand 15 min. Drain eggs; immediately place in bowl of ice water. Let stand until completely cooled, changing water if necessary. Perfectly hard-cooked eggs will have a firm yellow center with no greenish tinge.
Once you've got your eggs cooked, cooled, and peeled it's time to start this party. Use a spoon to empty the yolk centers into a small bowl. Gather your remaining ingredients starting with…
This little treasure. People… I'm MIRACLE WHIP and Proud Of It.
Back to the recipe. Stir your yolks, MIRACLE WHIP DRESSING, dijon mustard, and some chopped jalapenos for the perfect filling. Make sure you scrape those pepper seeds and wash your hands before you touch anything. Those spicy peppers can heat things up quick!
Now, you can either spoon the filling directly into the egg cups OR you can use a small resealable bag, snip the corner, and pipe to perfection. Top with a little shredded jalapeno for garnish and serve!
Miracle Whip Spicy Deviled Eggs
Ingredients
12 hard cooked eggs
2/3 cup MIRACLE WHIP DRESSING
2 tsp. GREY POUPON Dijon Mustard
1 jalapeño peppers, seeded & finely diced
Instructions
Cut your eggs in half lengthwise. Scoop out the yolks and place them into a small bowl.
Stir in the remaining ingredients and mix to combine.
Top with a little jalapeno for garnish and sprinkle with paprika. Enjoy!
Find this
Spicy Deviled Egg Recipe
and others at www.MiracleWhip.com. Keep up to date with them on Facebook and Twitter!