This easy maple brown sugar oatmeal recipe is simple and delicious. So much better than packets and a family favorite breakfast recipe. Made with quick oats, maple syrup, brown sugar and toasted pecans.
Breakfast is my FAVORITE meal of the day. With 100+ Sweet and Savory Breakfast Ideas on the site, you are sure to find a dish that fuels you for the day!
What's to love about this Brown Sugar Oatmeal
Quick and Easy: This quick and easy breakfast recipe takes less than 10 minutes!
5-Ingredient Recipe: The base is only 5 pantry staple ingredients.
Easy to Customize: You can customize this recipe easily to fit your tastes by substituting ingredients or adding mix-in's!
Did anyone else grow up on individually packaged oatmeal? My mom would always buy a variety box and I would fight my sisters for the Quaker Instant Maple and Brown Sugar packets.
To this day it is one of my favorite flavors. However, we've moved on from the instant packs. Making homemade maple brown sugar oatmeal is super simple. All you need is quick oats, water, a dash of brown sugar, maple syrup, cinnamon, and ten minutes of your time.
That's right, I said TEN MINUTES. That is all you need for this easy breakfast recipe. It is filling, family approved, and perfect for busy weekday mornings.
Brown Sugar Cinnamon Oatmeal Ingredients
This oatmeal with maple and brown sugar is speedy to make thanks to the quick oats. One minute of cooking in the boiling water and you are ready to go. We love to top ours with fresh blueberries, pecans, almonds, and even peanut butter!
Oats: I use quick oats. See notes below for maple brown sugar oatmeal with old fashioned oats.
Water: While water works best for us, you can always substitute this with milk for a more creamy finished dish.
Brown Sugar: The star of the show. Light brown or dark brown sugar works in this easy breakfast recipe.
Maple Syrup: Grab pure maple syrup and not the processed pancake topping (which I still absolutely love, just not for this recipe).
Cinnamon- Optional, but a tasty way to spice things up.
How to make Brown Sugar Oatmeal
Making this recipe is simple, quick, and tasty. Not surprisingly, all of the items required by my ten year old when he is starving in the mornings. We love how easy it is to customize and add in toppings.
Bring water to a boil in a small pan.
Stir in your oats and cook for 1 minute.
Remove from the heat and stir in brown sugar, maple syrup, and cinnamon.
Serve immediately.
How to make Brown Sugar Oatmeal ahead of time
Place the individual portions of brown sugar oatmeal in the freezer. If using resealable bags, remove excess air before sealing. Label the containers or bags with the date to keep track of their freshness.
When you're ready to enjoy the oatmeal, simply remove a portion from the freezer and let it thaw in the refrigerator overnight. Once thawed, reheat the oatmeal in the microwave or on the stovetop, stirring occasionally, until it reaches the desired temperature. Add a splash of milk or water if needed to adjust the consistency.
Tips for making Maple Oatmeal
What is the difference between Old Fashioned Oatmeal and Quick Cooking Oats?
All oats begin as groats, or kernels of grain that are later processed into different varieties. Meaning that they each provide the same health benefits. What makes each oat variety different is the way they are processed.
Old Fashioned Oatmeal – This version of oatmeal is flat and flaky in appearance and often referred to as rolled oats. They typically take five minutes to cook and tend to soak up more water than quick cooking oats. Old fashioned is the variety I reach for when making granola, cookies, or muffins.
Quick Cooking Oats – Quick cooking oatmeal are rolled oats that have been coarsely chopped. By breaking them down into smaller pieces, you have a quicker cooking oatmeal with a slightly finer texture.
Can you switch old fashioned oats for quick oats in this recipe?
Yes. You definitely can. However, I suggest adding slightly more water and cooking for 5 minutes instead of 1.
Healthy alternatives to sugar in oatmeal:
While this recipe calls for brown sugar, I know that many of you are on the hunt for more healthy alternatives.
Maple Syrup
Ripe Mashed Bananas
Honey
Agave
Dates
Coconut Sugar
What can I add to oatmeal?
Sometimes you need a little extra to help with either filling you up or flavor. Here are our go-to oatmeal mix-in's for our morning oats:
Fresh fruit of any kind. Banana's, blueberries, strawberries, raspberries. A handful of any of these will go a long way.
Nuts: Toasted pecans, walnuts, or walnuts give a little added protein as well as a nice texture.
Dried Fruit: We have dried banana chips, mangos, and blueberries in our pantry almost always. These are a great way to add in some extra nutrition.
Nut Butters: A spoonful of nut butter goes a long way in flavor and protein. Try peanut butter with chopped bananas.
More Oatmeal Recipes to Try:
More Filling Breakfast Ideas:
Still Hungry? Follow One Sweet Appetite on Instagram, Pinterest, and Facebook!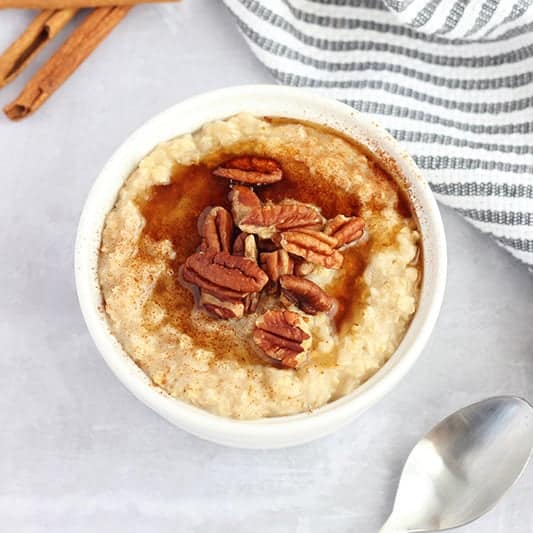 Cinnamon Brown Sugar Oatmeal with Maple
This maple brown sugar oatmeal recipe is simple and delicious. So much better than packets and a family favorite breakfast recipe!
Ingredients
1¼ cup water
3/4 cup quick cooking oats
1 tablespoon brown sugar
1 tablespoon maple syrup
1/4 teaspoon ground cinnamon
Instructions
Bring water to a boil in a small pan.

Stir in your oats and continue to cook for one minute. 

Remove from the heat and stir in sugar, syrup, and cinnamon. 

Serve immediately. 
Nutrition
Serving: 2people | Calories: 166kcal
Equipment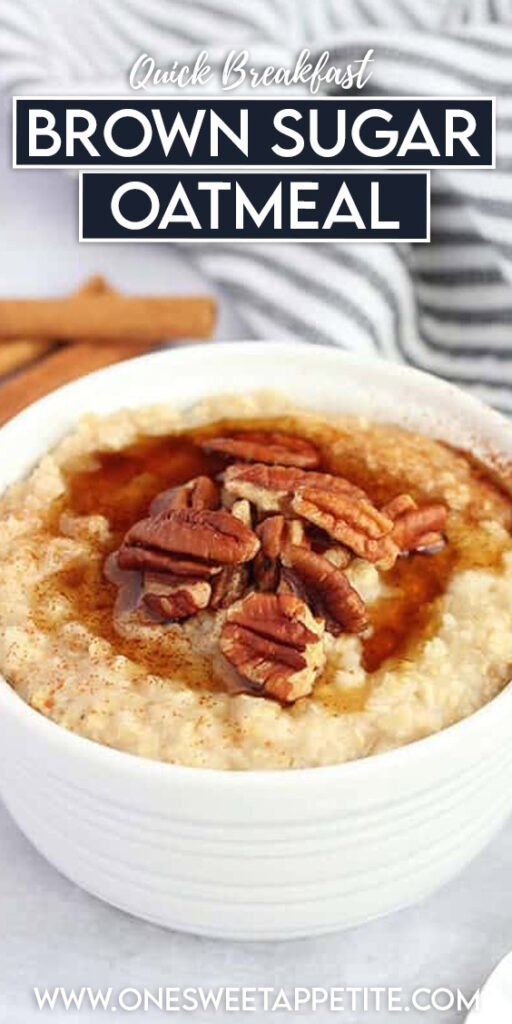 Reader Interactions