This post was updated on by Jesseca
Slow Cooker Stuffing. Stir together your ingredients and let this Thanksgiving side dish cook all on its own.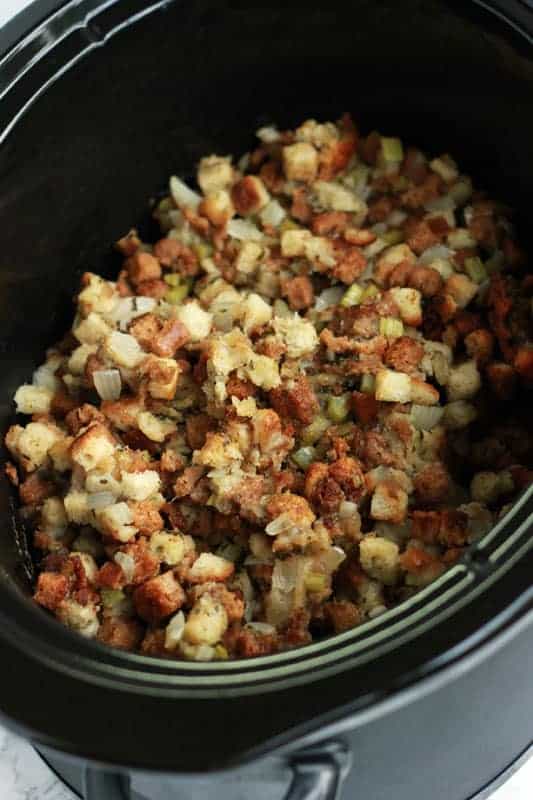 A few weeks ago I got a little eager and posted a quick video on my YouTube channel for a slow cooker stuffing. The idea seemed genius. Add all of your typical stuffing ingredients to a slow cooker, set the timer, and walk away. It frees up your oven for other recipes and produces PERFECT stuffing. Or at least that was the idea. While the one featured in the video is good, it wasn't great. So I set out to create the best slow cooked stuffing I could.
Slow Cooker Stuffing
When I normally make stuffing I use day old bread that's a little dried out. That version is great in the oven but not so amazing in the slow cooker. I spent some time wandering around the grocery store for a new option and stumbled upon these little gems (in the soup aisle of all places). How is it that I've lived my entire life and NEVER realized there was such a thing as bread cubes?? That removes ONE extremely time consuming step from the recipe! It's about this point that I feel like I should mention this is NOT a sponsored post. Just a product that I've found works well. If you have another brand please let me know in the comments!

Like this recipe?  You will love my Perfect Mashed Potatoes // Sausage & Herb Stuffing // Green Bean Casserole
So down to the nitty gritty… Prepare yourselves for this life changing recipe. You are literally going to add ALL of the ingredients to your slow cooker, give it a little stir, turn it on, and walk away. When you're ready to serve just remove the lid and voila! There were actually several different varieties of the bread cubes so I'm sure you could make it even easier by using a seasoned bread and eliminating the spices from the instructions below. Play around with it and adjust flavors according to your tastes. Be sure to let me know what you think!
Slow Cooker Stuffing
Ingredients
1

12 oz bag plain cubed bread

1

cup

diced onion

1

cup

diced celery

1

tablespoon

dried parsley

1/4

teaspoon

dried sage

1/2

teaspoon

dried thyme

1/4

teaspoon

Marjoram

3/4

teaspoon

salt

1/4

teaspoon

pepper

2

cups

chicken broth
Instructions
Place all of your ingredients in your slow cooker. Stir until combined. Place the lid on and cook on high for 3-4 hours.

Check halfway through, stir, and add additional liquid as necessary.
(Visited 113,508 times, 2 visits today)
911