The best and easiest southwest chicken salad and creamy cilantro dressing. Loaded with chicken, black beans, corn and lentils! The secret ingredient? A freezer veggie you'll want to keep on hand ALWAYS.
This post was originally published June 22, 2015. It has since been updated to include new photos and helpful information.
Recipe Features:
Quick and Easy: We use leftover grilled chicken for this recipe, but even when we make it fresh this dinner is on the table in less than 30 minutes!
Filling Salad Recipe: Thanks to the extra protein of chicken, black beans, and lentils you get (and stay) full!
Kid Approved: Thanks to the creamy cilantro dressing everyone will love this easy dinner idea!
Ok, this is where I admit to you that when I very first wrote this post, all the way back in 2015, it was sponsored. While I only post recipes we love, even if someone is paying me, this was one that we have continued to make over the years. In fact, it's requested monthly!
And I don't mind that one bit. It's quick, easy, and the perfect way to use up leftovers. Plus my picky eater will clean his plate! I consider that a win.
THIS POST IS NO LONGER SPONSORED. I just genuinely love their product.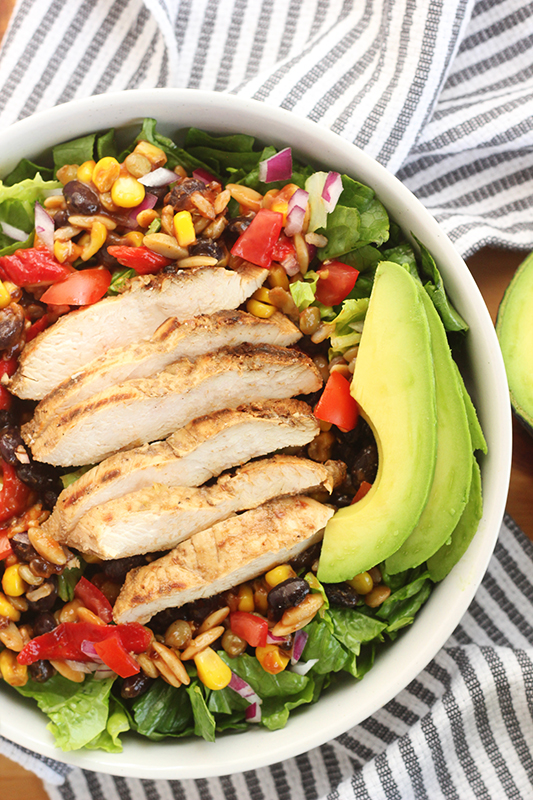 Ingredients in Southwest Salad
Ready for the super short list of ingredients you need for this southwest avocado chicken salad? It makes the most fresh and flavor packed meal and is 100x better than take-out.
Grilled Chicken- You can buy those pre-cooked strips OR grill your own. We reach for my grilled fajita recipe and it adds the perfect flavor.
Birds Eye Southwestern Protein side- The secret ingredient. It takes the prep out of the toppings and is so dang good. Delicious on this salad, in tacos, quesadillas, burritos, or on its own. It is also loaded with 16 grams of protein per serving.
Lettuce- I opt for romaine. It's easy to chop and tends to have a more sturdy crunch.
Other toppings, like tomatoes, red onion, and avocado
Salad Dressing for Southwest Salad
I am a sucker for cilantro ranch and this one could not be easier. Helpful tip: make it ahead of time. It tastes better the longer it sits. Grab all of these ingredients, toss them in a blender, and enjoy on EVERYTHING! Seriously. It's insane on pizza.
Ranch Dressing Mix- Just the powder. Don't mix the ingredients called for.
Mayonnaise- I've tried light and regular. Both work well.
Milk- Nothing under 2%
Limes
Garlic
Green Salsa- Trader Joe's Hatch Chili is a must try!
Cilantro
How to Make a Southwest Grilled Chicken Salad:
The directions below walk you through salad assembly. If you are looking to use a fresh grilled chicken, see the recipe card below. If the chicken is precooked, simple heat as directed on the package or microwave for a minute or two.
Heat the Birds Eye vegetables according to the package directions.
Divide the lettuce between two serving bowls.
Divide the Birds Eye vegetables between the two along with 1/2 a chicken breast each.
Add additional toppings, toss, and enjoy.
Recipe Tips and FAQs
This recipe is fairly easy, and once you have made it a few times you will feel like a salad building pro! Here are a few tips to help give you some inspiration.
Topping suggestions: Avocado, tomato, cilantro, red onion, cheese. You can't go wrong with anything that sounds tasty.
Switch up your dressing. This would taste incredible with a honey mustard or Catalina dressing.
Why is it called southwest salad?
The flavor combination of grilled chicken, black beans, and corn is considered a southwestern US flavor combination.
Is Southwest salad healthy?
Depending on the toppings you decide to add to your salad, this could definitely be considered a healthy recipe. The Birds Eye veggies are high in sodium, so be sure to always check the label.
What is southwest salad dressing made of?
The dressing for this recipe is mayonnaise based. It also uses the bold flavor of cilantro and ranch to add a little punch of southwestern flavor.
More Salad Recipes:
More Chicken Recipes:
Still hungry? Follow One Sweet Appetite on Facebook, Instagram and Pinterest for more great recipe ideas!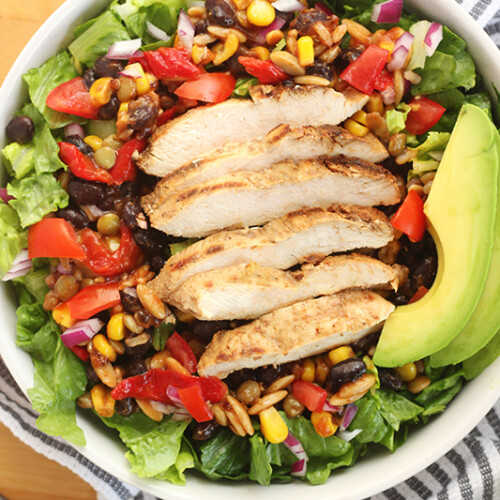 Southwestern Chicken Salad
Ingredients
For the Salad:
2 Grilled Chicken Breast* see notes
1 bag Birds Eye Southwestern Protein side
1 head of romaine lettuce
Additional toppings like fresh tomatoes cilantro, limes avocado cheese, and red onion
For the Dressing:
1- ounce package ranch dressing powder mix
1 cup mayonnaise
2/3 cup milk
2 tablespoons lime juice
2 cloves garlic minced
1/4 cup green salsa
1/4 cup chopped cilantro
Instructions
For the Salad:
Heat the Birds Eye vegetables according to the package directions.

Divide the lettuce between two serving bowls.

Divide the Birds Eye vegetables between the two along with 1/2 a chicken breast each.

Add additional toppings, toss, and enjoy.
For the Dressing:
Add all of the ingredients to a blender.

Pulse until smooth.

Keep in the refrigerator for up to one week.
Notes
Grilled Chicken Recipe:
1 chicken breast, sliced in half lengthwise
2 tablespoons oil
2 cloves garlic, minced
zest of 1 lime
1 tablespoon fajita or taco seasoning
Mix the oil, garlic, lime zest, and seasoning in a large zip top bag or shallow pan. Marinade the chicken for at least 2 hours or up to 8 hours.
Heat the grill to medium heat.
Remove the chicken from the marinade. Cook on the preheated grill for 3 minutes per side, o runtil the internal temperature of the chicken reaches 165 degrees.
Remove and rest 10 minutes before slicing.
Nutrition
Serving: 1Servings
Reader Interactions