This easy Flatbread Pizza is the perfect appetizer or quick dinner idea! Made with premade flatbread or naan bread for the crust and nearly endless topping ideas!
Try making your own flatbread and serve these mini pizzas with my Italian Chopped Salad and Garlic Knots for a full meal everyone will love!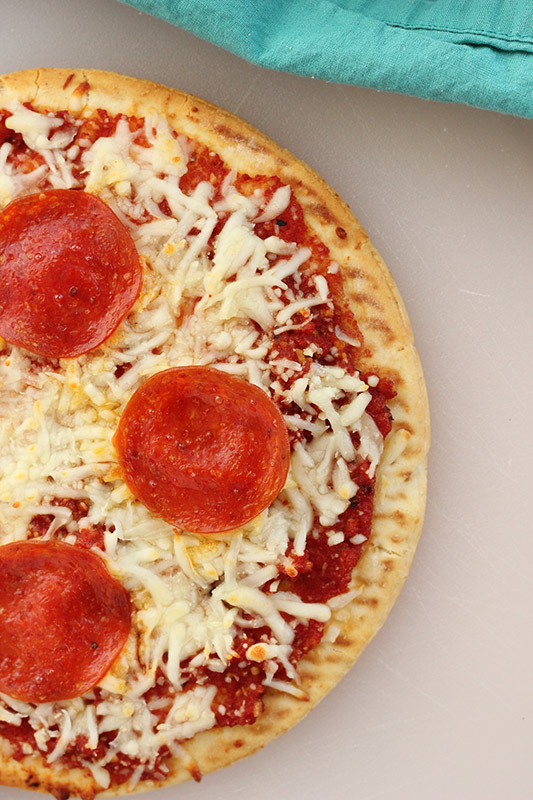 RECIPE FEATURES
Easy Dinner: This could not be simpler. Spread on some sauce, top with cheese, and bake for just a few minutes.
5-Ingredient Recipe, or less: Using premade flatbread as a pizza crust means you have less ingredients and still end up with a delicious dinner!
Freezer Friendly: Prep pizza kits and keep them stored in the freezer for an even faster dinner prep!
Flatbread pizza is not new to our household. I've been making pizzas this way for years and we love the ease. Almost zero prep, little cleanup, and it is always a hit with the family. In fact, my nephew was here the last time we served these and he went wild for the idea of building his own toppings.
In as little as 15 minutes you can have pizza ready to serve.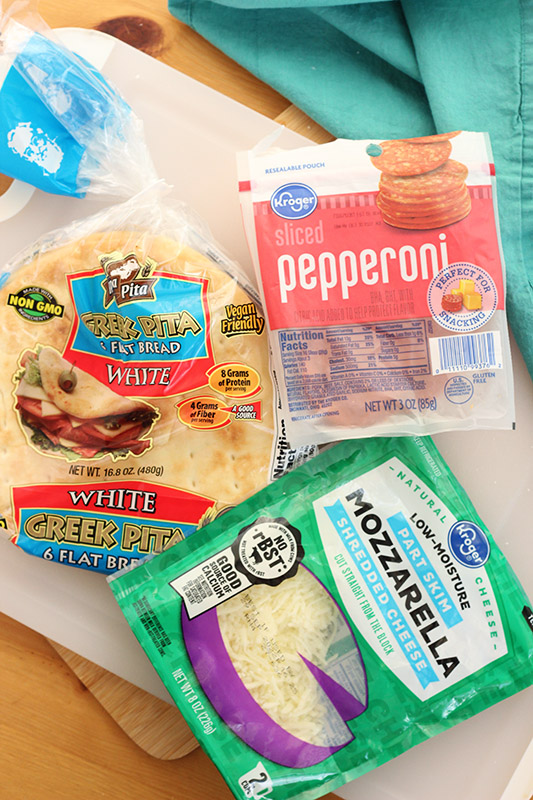 WHAT IS FLATBREAD PIZZA MADE OF?
Let me say, I do love a homemade pizza dough. It's delicious and worth the effort. BUT, not much can beat skipping that step when you're starving and want dinner now.
Flatbread: You can use flatbread, we really like Papa Pita, Naan or even homemade pizza dough.
Pizza Sauce: If we're buying a pizza sauce, we reach for Rao's. It's delicious and one jar lasts us a while. You can also opt to make my homemade pizza sauce! It's a family favorite recipe that took years to perfect.
Cheese: Here's my secret, buy blocked cheese and shred it yourself. Pre shredded cheese has added preservatives that makes it less melty. We use both mozzarella and parmesan.
Toppings: Here is where you can get really creative. Stick with plain cheese, toss in some garlic, add pepperoni. The options are nearly endless!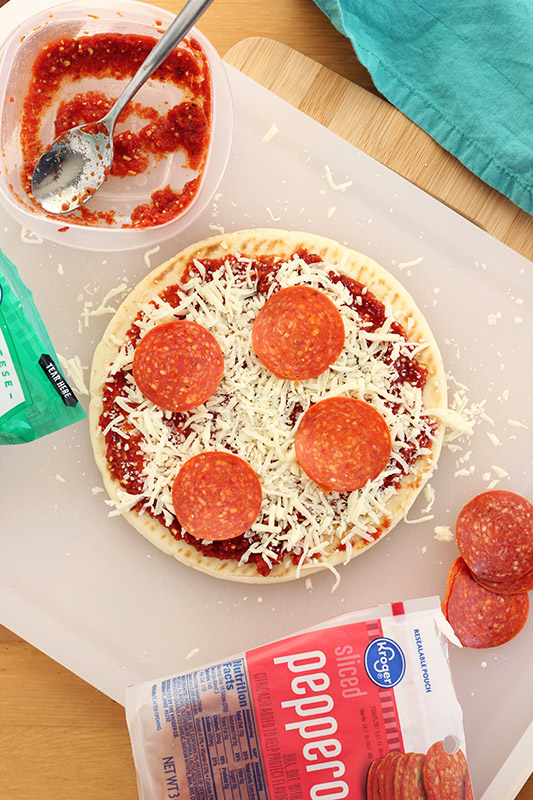 HOW TO MAKE FLATBREAD PIZZA
These pizzas can be made with naan bread or flatbread. In fact, you can actually find premade flatbread pizza crusts in some stores! They are typically smaller, about 6-7 inches, which makes it ideal for a personal pizza. Consider laying out the ingredients and make a pizza station for a party. SO fun and everyone loves to get creative with their pizza creations.
PREP: Preheat the oven to 425 degrees. If you want to use homemade sauce, now is a great time to make that. In fact, if you make it the day before the flavor will be even better. The longer it sits the better the flavors meld together.
ASSEMBLE: Lay out your flatbread in a single layer on a baking tray. Spoon about 2-3 tablespoons of sauce onto each round and spread to cover the surface. Top with cheese and any toppings you enjoy.
BAKE: Bake for 8-10 minutes, or until the cheese has melted and the crust is warmed.
HELPFUL TOOLS
Baking Trays: Having a quality set of baking trays (affiliate) is a life saver in the kitchen. They are a tad thicker and help heat everything evenly.
Silicone Baking Mats: Not technically something you need, but silicone baking mats (affiliate) are used almost daily in our home. They keep almost anything from sticking to a baking tray AND are reusable so cut back on waste from foil and parchment.
Pizza Cutter: Hear me out, I actually use my pizza cutter (affiliate) for EVERYTHING. Quesadillas? Pizza cutter. Grilled cheese? Pizza cutter. Pancakes? Pizza cutter!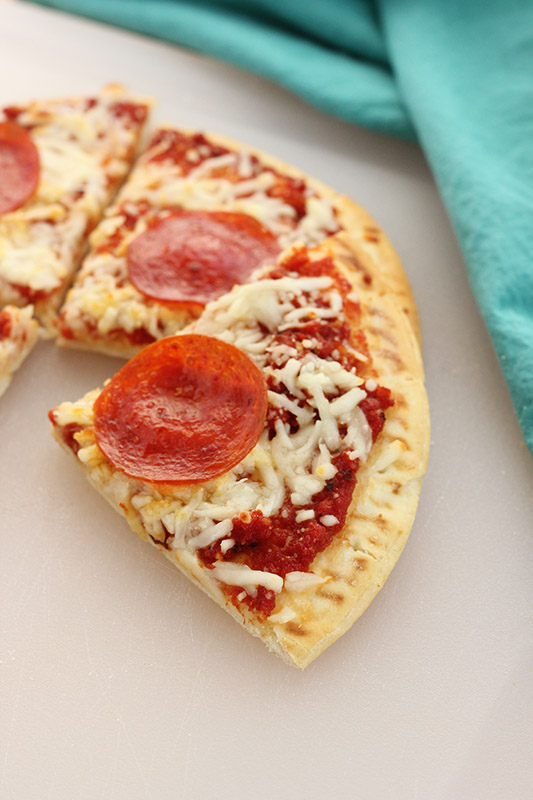 MINI PIZZA RECIPE MAKING TIPS
What's the difference between flatbread pizza and regular pizza?
The ONLY difference between flatbread pizza and regular pizza is the crust. Typically, a traditional yeast based dough is used for pizza making. With this recipe, we swapped pizza dough for the sturdy structure of flatbread. Sauce and toppings are layered on top and baked to perfection.
Are flatbread and naan the same?
The biggest difference between flatbread and naan is that the latter uses an egg an dyogurt base that gives it a slightly more chewy texture with a bit of a tang in flavor.
What can I use besides flatbread as a crust?
No flatbread? No problem! Try a tortilla for a thin crust, garlic toast (the ones found in the freezer section), or even a loaf of french bread.
What are some other pizza flavor variations?
– Classic cheese and pepperoni.
– Ham and pineapple
– Peppers, onions and mushrooms
– Fresh mozzarella, basil and garlic
– Sausage, pepperoni, and bacon
What is the best way to store and reheat leftovers?
Keep any leftovers stored in an airtight container inside the refrigerator for up to 4 days. When you are ready to enjoy, reheat in a 375 degree oven for 5 minutes.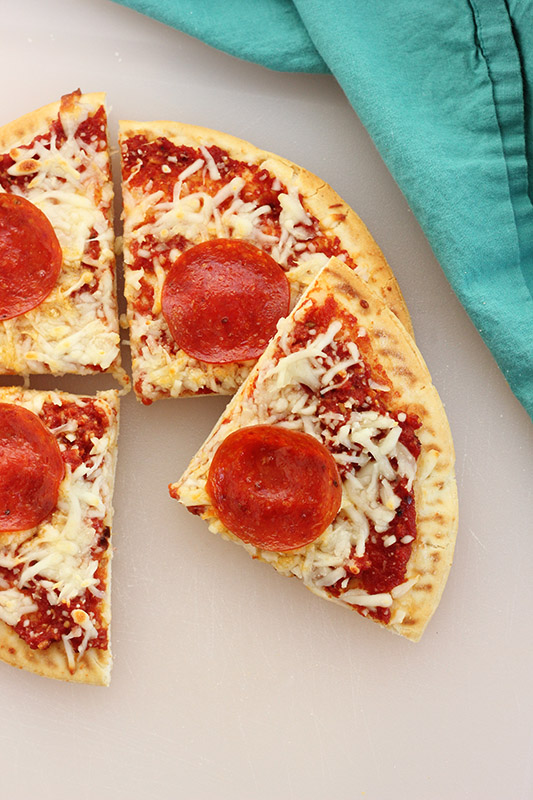 MORE MUST-TRY PIZZA RECIPES
Still Hungry? Follow One Sweet Appetite on Instagram, Pinterest, and Facebook!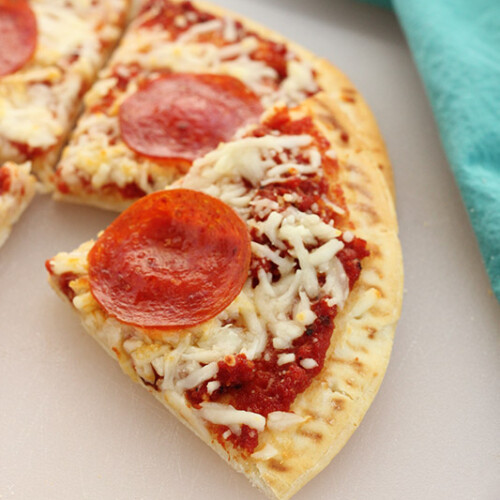 Easy Flatbread Pizza
This easy Flatbread Pizza is the perfect appetizer or quick dinner idea! Made with premade flatbread or naan bread for the crust and nearly endless topping ideas!
Ingredients
1 round flatbread or pita
1/4 cup pizza sauce
1/2 cup shredded mozzarella cheese
Additional toppings
Instructions
Preheat the oven to 425 degrees. Line a cookie sheet with foil for easy clean up and set aside.

Place the flatbread onto the foil lined tray top side down.

Spread a thin layer of sauce up to the edge, leaving a 1/2 inch gap.

Sprinkle cheese evenly over the top of the pizza.

Add any additional toppings like pepperoni, sausage, or veggies.

Bake for 8-10 minutes or until the cheese is melted and your pizza is heated through.
Notes
Some favorite flavor combinations:
– Classic cheese and pepperoni.
– Ham and pineapple
– Peppers, onions and mushrooms
– Fresh mozzarella, basil and garlic
– Sausage, pepperoni, and bacon
Nutrition
Serving: 1g | Calories: 264kcal | Carbohydrates: 90g | Protein: 25g | Fat: 11g | Saturated Fat: 5g | Polyunsaturated Fat: 4g | Cholesterol: 28mg | Sodium: 1290mg | Fiber: 4g | Sugar: 5g
Reader Interactions