This Easy Sweet Potato Pie has so much flavor and a beautiful balance of spices. A southern favorite made with simple ingredients and easily my personal favorite pie recipe.
This pie is the perfect addition to your Thanksgiving menu! Serve along other favorites like turkey, stuffing, and green bean casserole.
RECIPE FEATURES
No Canned Ingredients: This recipe uses fresh sweet potatoes that are boiled to soft perfection. Hand mixed with butter, sugar, milk, egg and a blend of spices that elevates the flavor to give you the best sweet potato pie.
Make-Ahead: You can make this pie up to 2 to 4 days in advance, making it a go-to dessert for holidays and parties.
Easy to Customize: I prefer a traditional pie crust, however this one would be delicious with a graham cracker crust as well. Top with marshmallows or serve with whipped cream. You can't go wrong any way you decide to serve this dish.
I first tried sweet potato pie when we lived in Dallas. It was such a popular flavor throughout the holidays, and our local pie shop had the best. Filled with sweet potato flavor with the most silky texture. It quickly became one of my all-time favorite pie recipes. A southern classic, as I was told by the pie shop owner, that everyone should have on their Thanksgiving dessert table.
Since moving back to Utah, I knew I needed to recreate this staple pie recipe. It is so simple to make and perfect for fall. I guarantee you will see this at all of our holiday parties this year.
SWEET POTATO PIE RECIPE INGREDIENTS
What exactly do you need to make a homemade sweet potato pie? Turns out, not much! Take a look at the ingredients and potential substitutions before you get started:
Sweet Potato: For this pie recipe, pick a sweet potato with orange or red skin. These have the orange inside and tend to bake a little more moist. I know I was confused when I went to the grocery store for the first time. When in doubt, find the produce manager and ask them to help guide you towards the best for baking.
Butter: A little soft butter helps to mash the potatoes while also providing just a touch of fat to the recipe, giving you the perfect moist filling.
Sugars: I like to use a mixture of both white and brown sugar. The slight molasses flavor added by the brown sugar pairs perfectly with the sweet potato without sending it over the top.
Milk: Always opt for 2% milk or higher, whole milk is best but I don't always have that on hand and hate to buy a half gallon for one recipe. Which means I've tested this recipe with both and you get equally delicious results.
Eggs: Large eggs, preferably at room temperature. When you let the eggs sit on the counter for 20ish minutes, it takes away the chill and allows the eggs to mix into the batter evenly without overmixing.
Flour: Just a touch of flour helps to thicken the filling as it cooks, giving you that photo worthy slice when you are ready to serve.
Spices: Nutmeg, cinnamon, and vanilla extract. These three act as a flavor boost while still letting the sweet potato flavor shine.
Pie Crust: You have two options for your crust. I prefer a traditional pie crust, however you can definitely make this with a graham cracker crust. Short on time? Check the freezer section of your local grocer for a premade pie crust. No need to roll it out and it comes in a tin pan!
BEST SWEET POTATO PIE RECIPE
PREP: Preheat the oven to 350 degrees. Lay out the crust into your pie pan and crimp the edges. Make sure to poke the bottom of the crust with a fork to prevent any bubbles from forming.
BOIL: Peel and chop the sweet potato into 2 inch cubes. Place in a pot of water, making sure to cover completely, and bring to a boil. Reduce the heat and simmer 10-15 minutes, or until the pieces are tender and soft when poked with a fork.
MIX: Drain the sweet potato, allowing them to steam dry for about 5 minutes inside a colander. Transfer to a mixing bowl and whisk with the butter and sugars until all of the lumps are gone. I find it easiest to use a hand mixer for this part. Slowly stir in the flour, milk, eggs, spices, and vanilla until the batter is smooth. It's ok to have some smaller lumps.
BAKE: Pour the filling into the prepared pie shell and bake for 55-60 minutes, or until the center of the pie is set.
TIP: About 20 minutes into baking, check the pie and cover the outside crust to prevent burning.
HELPFUL TOOLS
Pie Dish: Ok, I have an insane amount of pie dishes in my home, however you cannot go wrong with a clear pie plate (affiliate) or white pie dish (affiliate). They both give you a beautiful display and compliment any pie flavor.
Crust Shield: My secret kitchen tool that saves me from burning my crust. A pie shield (affiliate) is a silicone circly that places over the edges of your crust. This keeps them from burning while letting the center cook fully.
Silicone Spatulas: I have said it before, and will continue to say, I LOVE my silicone spatulas (affiliate). They are so good for so many things, including pie batter.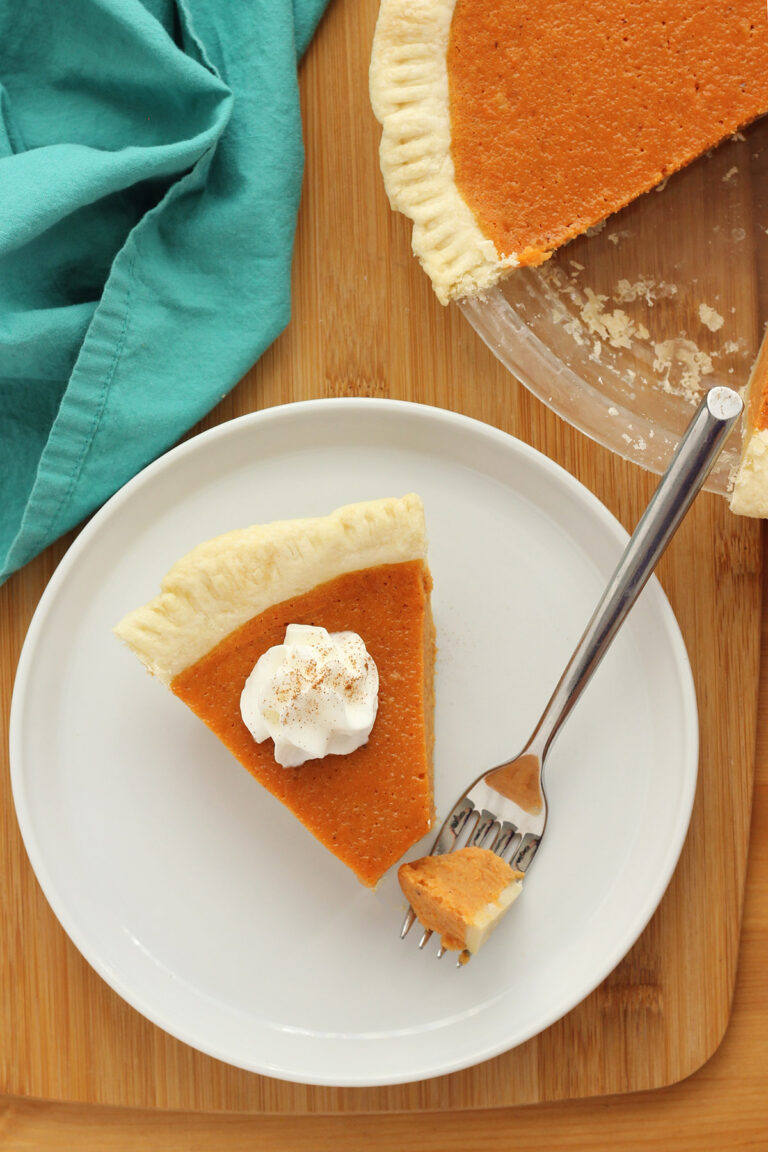 Recipe Notes:
Can you make sweet potato pie with a graham cracker crust?
Yes. This recipe can be made with either a traditional or graham cracker crust.
Can I bake the sweet potatoes instead of boiling?
Yep! You can opt for baking the sweet potatoes until they are soft instead of boiling for this recipe. I find boiling to be quick and easy, but we have definitely used leftover baked sweet potatoes for this pie recipe.
Can you make sweet potato pie ahead of time?
The beauty about this recipe is that it can be made up to 3 to 4 days before you are ready to serve. We typically make it the day before, to give it time to chill in the refrigerator. This also gives us a few days to enjoy any leftovers.
How do you store this pie?
The best way to keep your pie tasting great is to allow it to cool completely, cover with plastic, and keep stored inside the refrigerator until ready to serve.
Is this pie freezer friendly?
Believe it or not, this pie freezes amazingly well. Follow the directions for baking the pie and allow it to cool completely. Place in a freezer safe container, or zip top bag, and freeze for up to three months. When you are ready to enjoy, thaw the pie inside the refrigerator overnight.
MORE MUST-TRY PIE RECIPES
Still Hungry? Follow One Sweet Appetite on Instagram, Pinterest, and Facebook!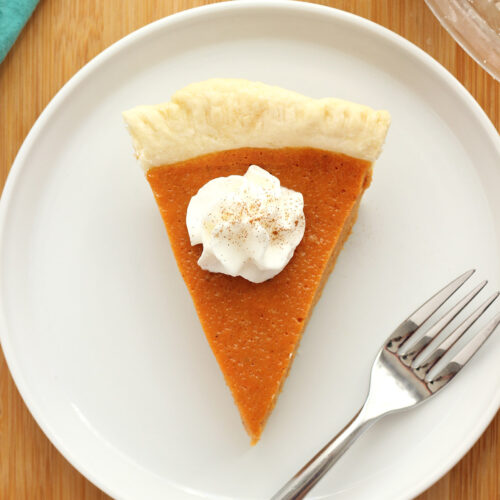 Sweet Potato Pie Recipe
This Easy Sweet Potato Pie has so much flavor and a beautiful balance of spices. A southern favorite made with simple ingredients and easily my personal favorite pie recipe.
Ingredients
1 pound sweet potato peeled and chopped into 2 inch pieces
1 pie crust
1/2 cup butter softened
1/2 cup granulated sugar
1/2 cup brown sugar
1/2 cup milk
2 large eggs
3 tablespoons flour
1/2 teaspoon ground cinnamon
1/2 teaspoon ground nutmeg
1 teaspoon vanilla extract
Instructions
Add the cubed sweet potato pieces to a pot. Fill with water until all of the pieces are fully covered.

Bring to a boil and allow to simmer for 15-20 minutes, or until the potato pieces are soft when pressed with a fork. Strain and set aside.

Preheat the oven to 350 degrees.

Roll the pie crust out and place into a prepared pie plate. Prick the bottom with a fork to prevent bubbles while baking. Set aside.

Place the cooked sweet potato into a mixing bowl. Mash until all big pieces are broken down.

Whisk in the softened butter and both sugars until combined, about 20 seconds.

Add the milk followed by the eggs, stirring each into the batter well.

Mix in the flour, nutmeg, cinnamon and vanilla extract. Pour into the prepared pie crust.

Bake for 50-60 minutes, or until the center is mostly set.

Bring to room temperature then chill until ready to serve.
Notes
I use a pie shield or tin foil to cover the crust edges to keep them from burning. 
Nutrition
Serving: 1slice | Calories: 390kcal | Carbohydrates: 51g | Protein: 5g | Fat: 19g | Saturated Fat: 10g | Polyunsaturated Fat: 1g | Monounsaturated Fat: 6g | Trans Fat: 0.5g | Cholesterol: 79mg | Sodium: 226mg | Potassium: 357mg | Fiber: 3g | Sugar: 30g | Vitamin A: 11344IU | Vitamin C: 11mg | Calcium: 68mg | Iron: 1mg
Reader Interactions