This post was updated on by Jesseca
This Graham Cracker Pie Crust is the perfect base for any pie recipe you have got planed.
Pie crusts…
At least once a year they are the star of the show.
Building a base for your pie is key to a delicious dessert! You want it to either be butter filled and flaky OR you want it to be like this crust.
THIS crust is a winner. Great with custards, chocolate, puddings, fruit… You name it, we love it. You can never go wrong with this:
Graham Cracker Crust Recipe
If you have made my cheesecake the recipe probably sounds familiar.
All you need to do is crush the crackers, stir in a little sweet and butter, and smash it into your pan.
PRO TIP: I like to use the bottom of a measuring cup to help give it a nice packed and smooth finish.


The great thing about this recipe is that you can get pretty creative with spices. We always add a touch of cinnamon but a little ginger, nutmeg, or pumpkin pie spice would add a unique flavor that would compliment any pie.
PRO TIP 2: How to crumble those crackers… Use a blender OR place a few into a large Ziploc bag. Smash away with a rolling pin until they are a nice crumbly texture. That step is particularly fun if you have little ones helping in the kitchen.
What kind of pies do you have on the menu this year? I would love to hear how creative you are getting with those desserts! Leave a comment below.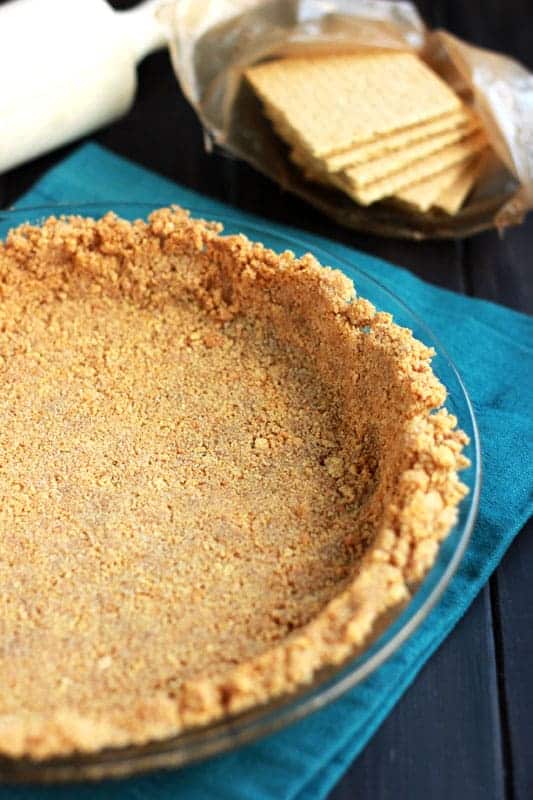 Like this recipe? You will love my Cheesecake Bars, Banana Cream Pie, and Banana Cream Pie Bars! 
Graham Cracker Crust
Ingredients
1 1/2

cup

graham cracker crumbs

1/4

cup

granulated sugar

1/2

teaspoon

cinnamon

6

tablespoons

melted butter
Instructions
Whisk the graham cracker crumbs, sugar, and cinnamon together in a bowl. Use a fork to cut in the melted butter. Press into your pie pan using the back of a large spoon or measuring cup.

If you pie recipe calls for an unbaked crust you are good to go. If you need a baked crust cook for 5-7 minutes at 375 degrees.
(Visited 2,897 times, 1 visits today)
7