This easy stuffing recipe is the BEST. Made with simple ingredients and minimal effort, leaving you with an easy side dish that is full of flavor. This will become your new go-to side to pair with any meal!
Try serving this along with my Slow Cooker Turkey Breast and a side of Cranberry Jello Salad!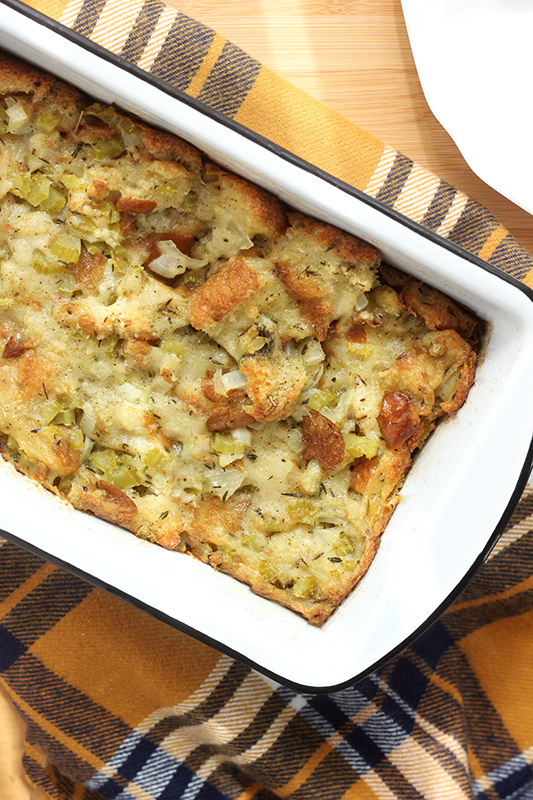 Recipe Features
Minimal Ingredients: You don't need many items to whip up a batch of this dressing.
Make-Ahead: You can prep this dish in advance to make it even easier when the time comes to get dinner together.
Bold Flavor: One of our favorite weeknight meals is roasted chicken breast with a side of stuffing. Enough buttery flavor that it stands on it's own or can be paired with any protein for a quick dinner idea.
I'm a big fan of this homemade stuffing recipe. It's been a staple recipe in our family for generations and just hits all the marks. It's so simple to make, full of bold flavor, and SHOULDN'T be limited to the holidays! While it is a must on Thanksgiving and even Christmas, it's also perfect for a comforting side dish all year long.
While you could make this stuffing inside the bird, this recipe is best cooked on it's own in a baking dish. So, even if you aren't enjoying a delicious turkey dinner, you can whip this up! Perfect with roasted chicken, as a side to chicken cordon bleu, or even as a topping on your favorite casserole!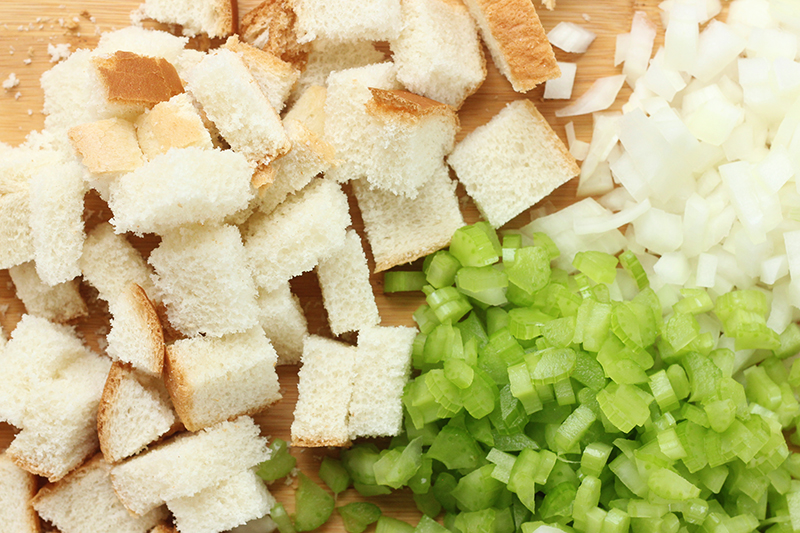 What Is Traditional Stuffing Made Of?
If you are anything like me, you might be thinking "what is stuffing made of?!" After moving out of my parents I opted for the boxed mix version, but boy-oh-boy do I wish I knew how easy this is to make from scratch. You don't need many ingredients and the end result is 100x better. Although I confess I still like Stove Top occasionally.
Butter- Grab salted butter here UNLESS you are using regular chicken broth.
Onion and Celery- Diced or roughly chopped depending on how large you like your veggies.
Bread- Day old is best, although my mom swears by toasting hers first.
Seasonings – Thyme and poultry seasoning are my go-to's, but you could also add a bit of sage.
Eggs- This is the binding agent that will hold you dressing together as it bakes and add a fluffier texture.
Chicken Broth- Here's my suggestion: use Better Than Bullion. It's low sodium which gives you more control over the seasoning. But we have also made it with regular broth in a pinch and it works well. Just be sure to use unsalted butter if your broth is already loaded with sodium.
How To Make Stuffing From Scratch
This recipe is pretty straightforward and easy to make, even if you're a stuffing newbie. All you need to do is saute the onion and celery in a little butter until they are tender and soft.
From there you will toss all of the remaining ingredients with the butter veggie mixture and turn it out into a 9 inch pan.
Cover it and bake for an hour, uncovering the last 20 minutes.
Your entire home will smell incredible and you'll have a beautiful stuffing that is just lightly golden and ready to serve.
Tips and FAQs
What is the difference between stuffing and dressing?
Essentially, stuffing and dressing are the same thing. The only difference is that stuffing is traditionally stuffed into the bird while it cooks where dressing is cooked outside in a dish. We call it stuffing no matter which way it's cooked, just because that is how we grew up referring to it.
Is stuffing better with or without eggs?
When making stuffing, or dressing, you need some sort of binding agent. For this recipe I opted for eggs. Not only does the egg help keep things together, it also adds a nice fluffy texture. However, you could leave the egg out for a more dense dressing recipe.
Can you make this recipe in advance?
Yes. You can prepare this dish the night before. Cover before baking and refrigerate. When ready to bake, check to make sure that the mixture is not too dry. Add additional liquid if needed and bake as directed.
Can you make stuffing in the slow cooker?
YES. This is my golden little secret. You can definitely prepare this recipe as directed and cook it in the slow cooker on low for 4 to 6 hours. Just be sure to check it occasionally and add more liquid if it starts to dry out.
Can you freeze stuffing?
Yep. Another little secret. If you made too much and it doesn't look like you'll finish, freeze it! Once the stuffing has cooled, transfer it to a freezer safe zip top bag. When you are ready to cook remove from the freezer and immediately cook in the oven at 350 degrees until heated through, about 20 to 30 minutes.
How long does this recipe last?
You can keep cooked stuffing for up to 5 days in an airtight container stored in the refrigerator.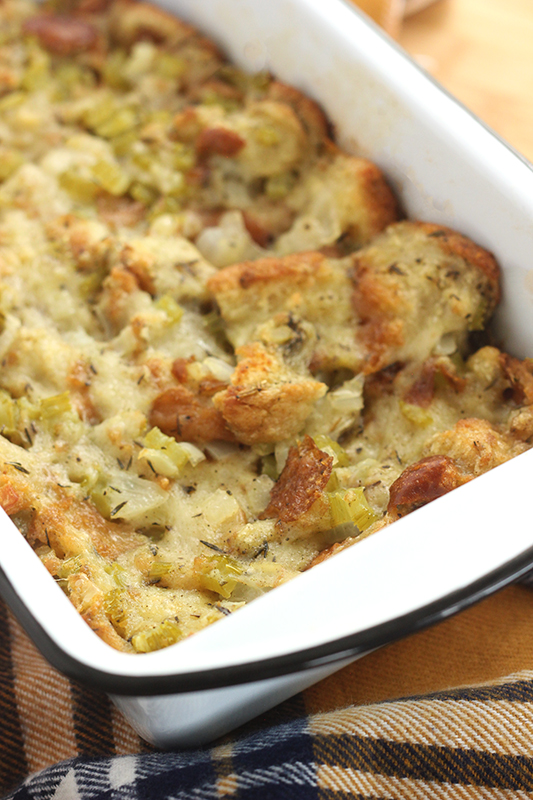 More Thanksgiving Recipes
Still hungry? Follow One Sweet Appetite on Facebook, Instagram and Pinterest for more great recipe ideas!
Thanksgiving Stuffing Recipe
This easy stuffing recipe is the BEST. Made with simple ingredients and minimal effort, leaving you with an easy side dish that is full of flavor. This will become your new go-to side to pair with any meal!
Ingredients
1 cup butter
3/4 cup onion diced
1 cup celery diced
9 cups bread cut into cubes
2 teaspoons salt
1 teaspoon dried thyme
1-2 teaspoons poultry seasoning
2 large eggs lightly beaten
1½ cups chicken broth
Instructions
Preheat the oven to 350 degrees. Prep a 9 inch baking pan with cooking spray and set aside.

Add half of the butter to a pan and melt over medium heat, stirring to avoid burning.

Add the onion and celery to the butter and saute for 3 to 5 minutes or until the vegetables are soft.

Remove from the heat and pour over the bread cubes.

Melt the remaining butter and add to the mixture along with the salt, thyme, poultry seasoning, and eggs. Gently toss to coat,

Stir in the chicken broth and transfer to your prepared baking pan.

Cover with foil and bake for 40 minutes. Remove the foil and continue baking for 20 minutes or until the top is lightly golden.

Serve warm.
Notes
For the bread, use day old if you can and cut into cubes. My mom also swears by toasting the bread first.
Nutrition
Serving: 1g | Calories: 179kcal | Carbohydrates: 13g | Protein: 3g | Fat: 13g | Saturated Fat: 8g | Polyunsaturated Fat: 4g | Cholesterol: 54mg | Sodium: 596mg | Fiber: 1g | Sugar: 2g
Reader Interactions