Cheese Ball Bites are the perfect easy appetizer for holiday parties. A fun new way to serve a classic, these tasty tiny bites can be topped with chopped nuts, dried fruit, or even bacon. Place in a mini pastry cup for the perfect bite sized appetizer.
Everything Bagel Cheese Cheese Ball Recipe or my Jalapeno Popper Cheese Ball are fun twists on this classic!
Recipe Features
Quick and Easy– You can have this holiday appetizer ready in just 20 minutes.
2-Ingredient Appetizer– You can use a store-bought cheese ball to make the process even easier!
Easy to Customize: Add whatever toppings you want to customize this super simple snack.
This is the perfect New Year's Eve appetizer, or really any holiday! You can make the mini bites in advance which leaves you more time to enjoy the party and make some memories.
One of the reasons we love the holidays is because it gives us a reason to serve finger foods. They are so fun and you have about a million different appetizer options to choose from. Why is this one top of our favorites? Cheese.
We love all things cheese and this one does not disappoint. You can use a homemade cheese ball or pick up your favorite one from the grocery store. Since they are served in bite sized portions you won't have to worry about piling up crackers or finding pieces stuck into the dip. It's a win-win.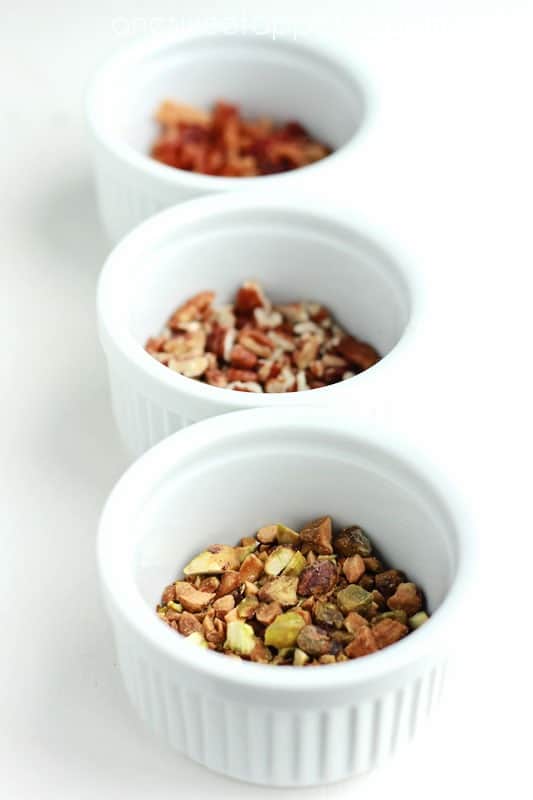 Mini Cheese Ball Ingredients:
Everything was purchased from my local grocer ready to use. How handy is that?
This time of year, they have a huge selection of cheese balls. I played it safe and grabbed the classic green onion flavor, but you really cannot go wrong with any of the flavor options. Or you can even make your own!
The other items on the list are fairly simple. You want to grab some phyllo cups (sometimes called shells) from the freezer section and whatever toppings you might enjoy.
Cheese Ball Toppings:
Here is where you can get super creative. Toppings are easy to customize. You can stick with one flavor or go crazy and give them a variety of options! Here are some of our favorites:
Bacon crumbles
Diced nuts, like pecans or pistachios
Chopped dried cranberries
Diced chives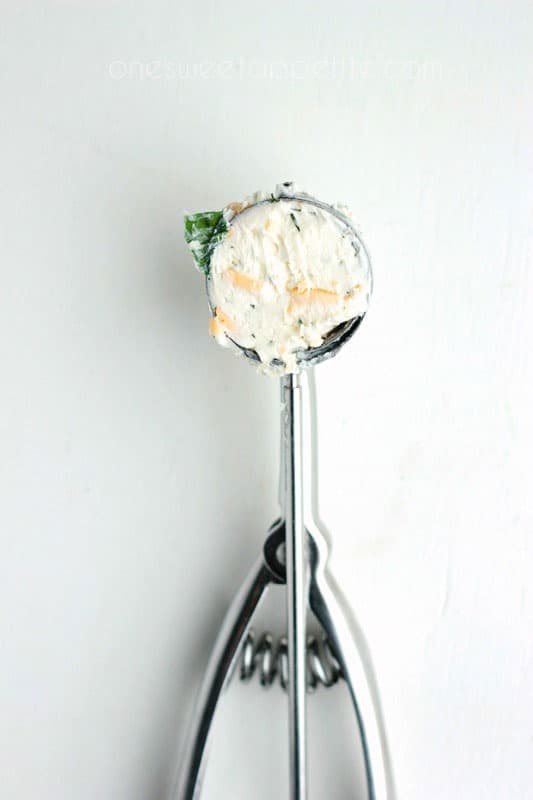 Two Ingredient Appetizer Recipe:
Bacon is always a crowd favorite and one of my go-to's with this dip. Once you have got some of that crumbled, and maybe a few nut varieties, you can get to work!
Roll a few teaspoons of your cheese ball into the topping of your choosing.
I highly recommend using a scoop like this one (affiliate).
Place into a pastry cup and serve!
Easy, right? Your guest will think you slaved for hours to create the cute little concoctions and really it took you no time at all! It really gives you a show stopping treat that looks fancy with minimal effort.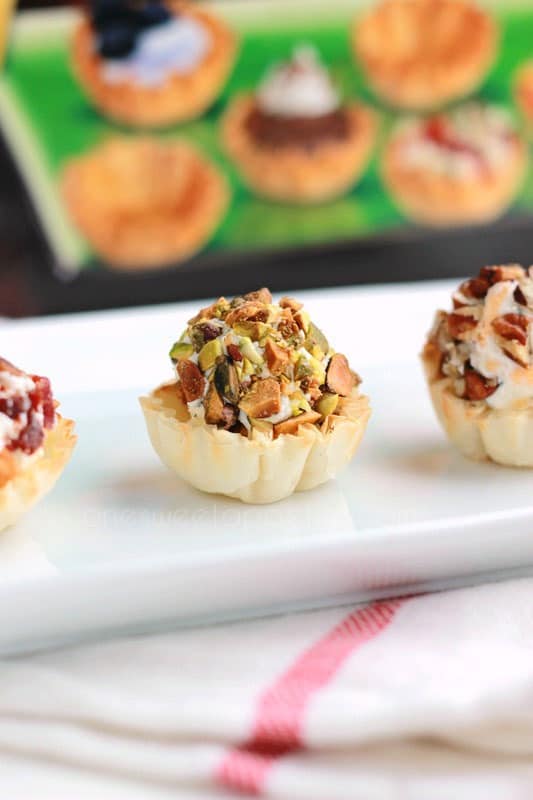 More Must-Try Appetizer Recipes
Cheeseball Bites
Cheese Ball Bites. This bites sized appetizer recipe is a fun new way to serve a classic! Scoop small amounts of a traditional cheese ball, roll in your topping, and serve in bite sized fillo cups!
Ingredients
1 traditional cheese ball
Topping of choice chopped bacon, chopped pecans, chopped pistachios
phyllo cups
Instructions
Roll 2 teaspoons of your cheeseball into the topping of your choice. Place in a filo cup and serve!

If making ahead make sure you store them in the refrigerator.
Nutrition
Serving: 2bites | Calories: 50kcal | Carbohydrates: 1g | Fat: 2g | Saturated Fat: 1g | Polyunsaturated Fat: 1g | Cholesterol: 3mg | Sodium: 21mg
Equipment
Reader Interactions