This is Easy Balsamic Vinaigrette is the perfect topping to your salad! Tangy, flavor packed, and ready in just 5-minutes! You cannot go wrong with this homemade dressing.
Wondering what to serve this dressing with? I've got you! This balsamic salad dressing tastes great on my Apple harvest Salad, Strawberry Salad, and Italian Chicken Pita!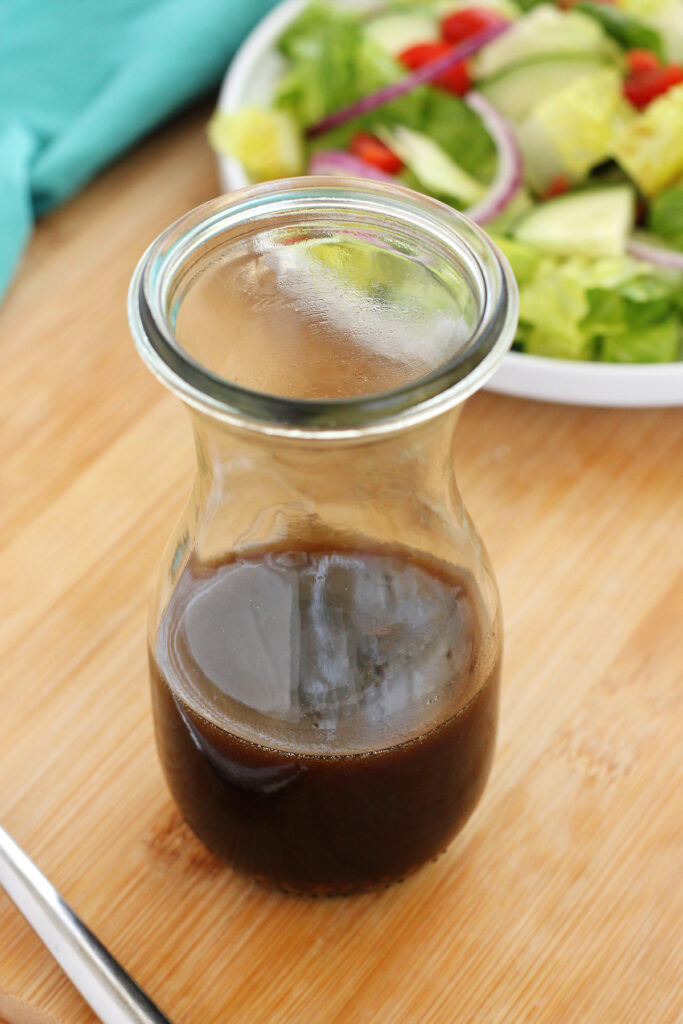 Recipe Features
EASY: You will be amazed how quick this comes together.
Minimal Ingredients: You only need a handful of ingredients, most of which you probably already have in your kitchen.
Long Lasting: One batch will last up to 2 weeks in the refrigerator.
Salads are my obsession. I have a dozen tried and true salads right here on my website. They're so fresh and surprisingly filling. But the real gem is always the dressing.
I started making my own salad dressings years ago and never looked back. Whipping up your own balsamic dressing right at home is as simple as measure and shake, and the flavor is INCREDIBLE. Perfectly tang with a touch of sweet, this is great on almost any salad!
What Ingredients You Need To Make The Best Vinaigrette Dressing
Quality is key in this balsamic dressing. Because the ingredient list is minimal, you need to reach for good ingredients. Having that robust flavor from a good vinegar and oil is going to send you spinach and kale salads over the top. Here is what you need to make this recipe:
Balsamic Vinegar: Here's the deal, I really love the Kirkland brand. It's smooth, tangy, and gives a delicious dressing. Not to mention the price is right. Colavita has a great product that is more affordable, along with Pompeian.
Brown Sugar: A tiny bit of sweet to balance the tang of the vinegar.
Garlic: FRESH garlic. Do not substitute this for powdered versions.
Salt and Pepper: To taste
Olive Oil: Oil snobs, feel free to call me out on this one, but I really like Pompeian Robust Extra Virgin Olive Oil. It's affordable and makes a darn good dressing.
How To Make Balsamic Salad Dressing
This could not be any easier! Here is the skinny on the step by steps of this recipe:
PREP: Measure your ingredients and mince the garlic.
SHAKE: Add everything to a jar or container with a secure lid. Shake until combined.
ENJOY: Drizzle over the salad and enjoy!
Helpful Tools
Salad Spinner: I honestly waited WAY too long to purchase my own salad spinner (affiliate). Let me tell you, this was worth every penny. Having dry greens means the dressing can stick to every bite making it even more delicious.
Salad Dressing Shaker: If you're a fan of vinaigrettes, you know that they start to seperate and need to be shaken. A salad dressing shaker (affiliate) keeps everything together and makes drizzling over top of you salad a breeze.
Salad Container: These are my newest obsession! Salad containers (affiliate) are so handy in preparing salads in advance. They keep the greens, toppings, and dressing separated until you are ready to eat, which keeps everything fresh and crisp!
Salad Recipe Tips
How long does homemade vinaigrette last?
If stored properly, this dressing will last up to two weeks. Keep in an airtight container, like a mason jar, in the refrigerator. Give a good shake before use.
How do you use vinaigrette?
Don't limit your balsamic vinegar dressing to salads! This is amazing drizzled right over cooked vegetables, a light sprinkle over avocado toast, and even on top of cooked peaches.
Don't be afraid to get creative.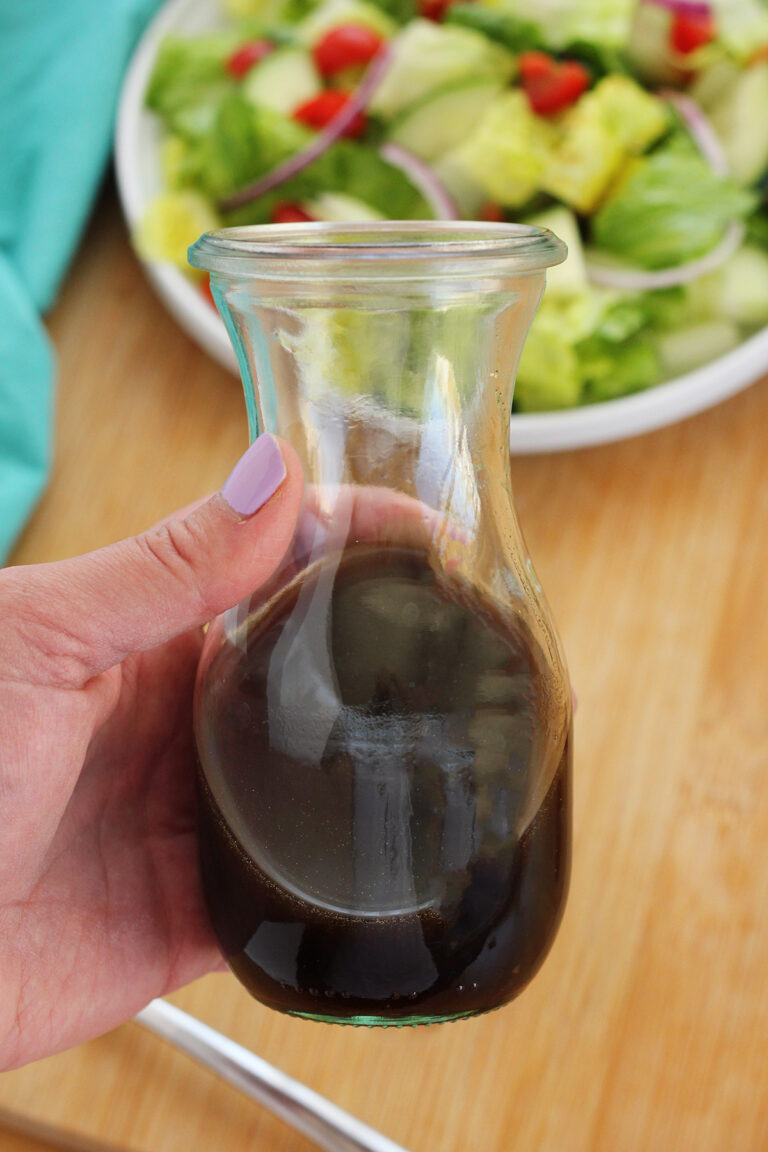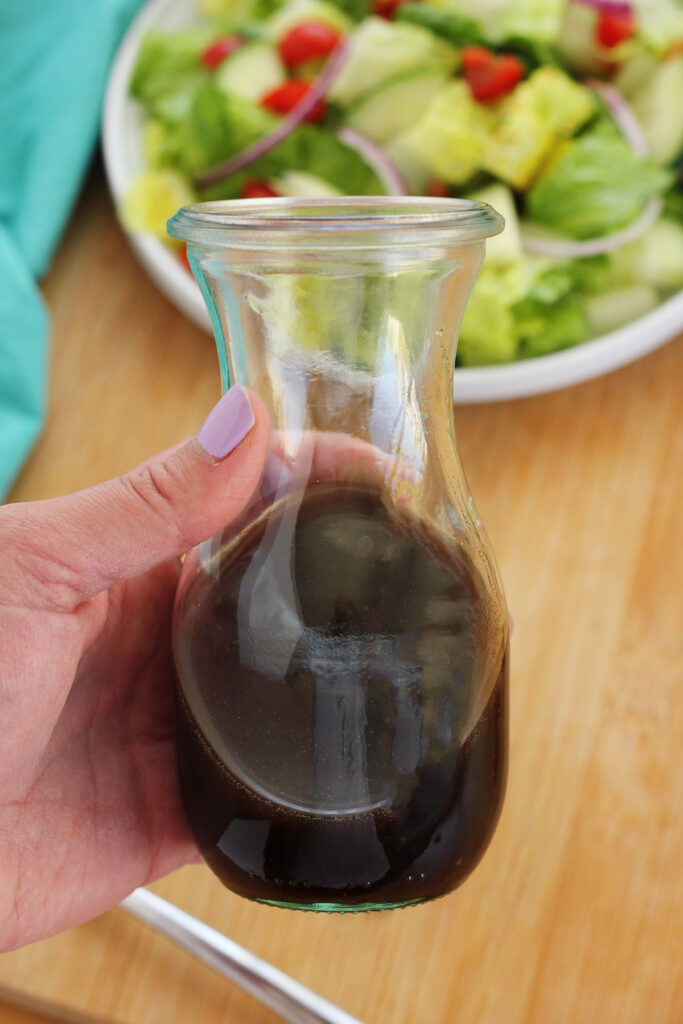 MORE MUST-TRY SALAD DRESSING
Still Hungry? Follow One Sweet Appetite on Instagram, Pinterest, and Facebook!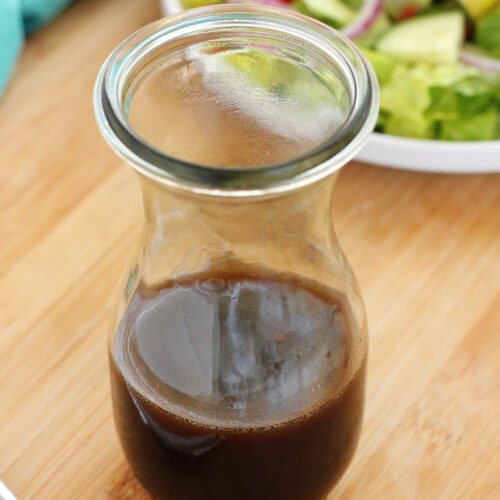 Simple Balsamic Vinaigrette
This is Easy Balsamic Vinaigrette is the perfect topping to your salad! Tangy, flavor packed, and ready in just 5-minutes! You cannot go wrong with this homemade dressing.
Ingredients
1/2 cup Pompeian Balsamic Vinegar
1/4 cup brown sugar
1 tablespoon minced garlic
1 teaspoon salt
1 teaspoon pepper
1 cup olive oil
Instructions
Place all of your ingredients in a jar. Tighten the lid and give it a good shake.
Nutrition
Serving: 1Servings | Calories: 138kcal | Carbohydrates: 4g | Fat: 14g | Saturated Fat: 2g | Polyunsaturated Fat: 11g | Sodium: 135mg | Sugar: 4g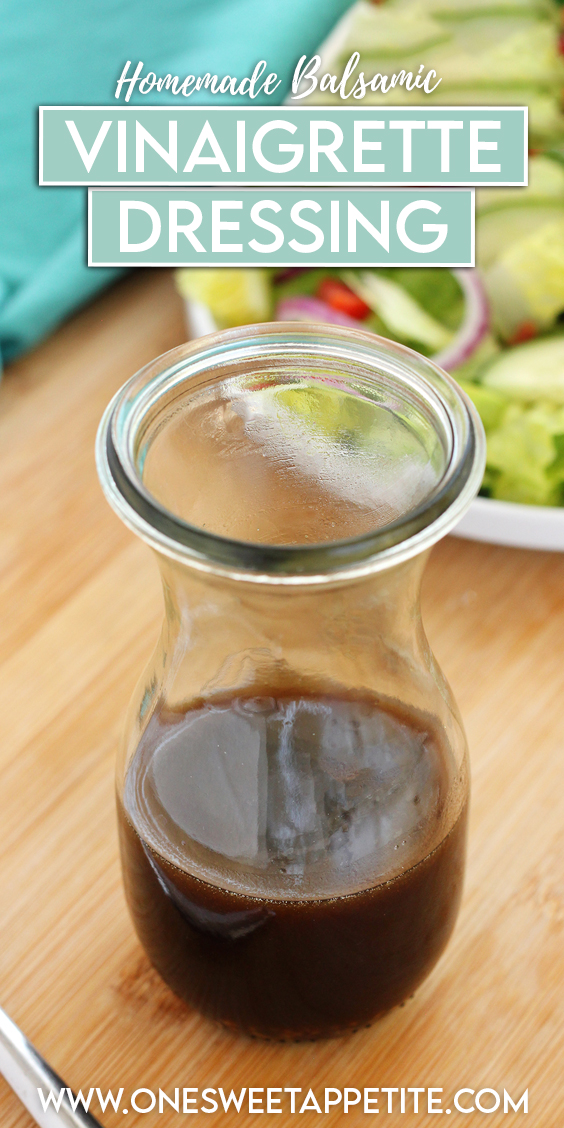 Reader Interactions