I only have one kid. Which means that he is a little spoiled and typically gets a huge birthday bash. Last year we had a big Peter Pan Party and THIS year we were on a bit of a time crunch due to a big decision to move across the country, so his party was toned down. We talked about keeping things simple with only cake and ice cream, but after a plea for minions from my almost five year old, I decided to toss a little something cute together using my Cricut Explore Design-and-Cut System
. The end results were a pretty adorable 10 dollar minion party!
I started by making chocolate and vanilla cupcakes per the birthday boys request. I searched the web and found a couple movie character images online, printed them up, and stuck them onto toothpicks using regular ol' tape. In just a few minutes I had some cute cake toppers ready to go. I snagged the Blue Polka Dot Liners
from amazon and used a Large Star Decorating Tip
top to pipe on the icing. After that you just need to insert the toothpicks directly into the little cakes and you are all set!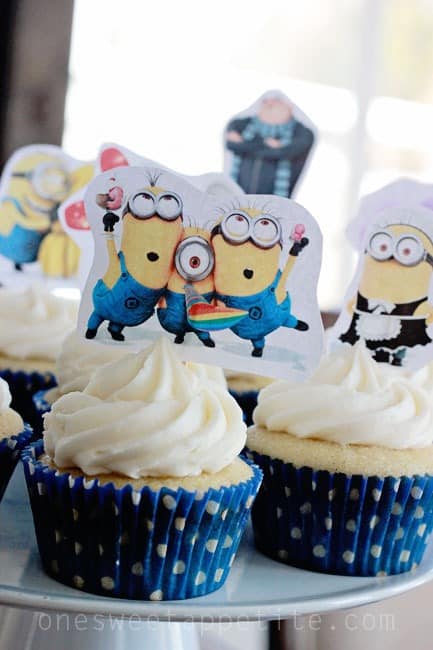 Next I hung some blue balloons ($1.50) tied with a yellow ribbon from the ceiling. They added a fun party appearance without adding a lot to my budget. I skipped the helium to save on money and was ultimately glad I did. I think I might use this method for other parties as well.
I grabbed the same chalk board from his Peter Pan Party and quickly wrote a happy little note. I added a few streamers that I had stored from my waffle bar baby shower that matched the party colors, and tossed in a few little minions to give it the Despicable Me feel.

Let's talk about these little guys. I searched the Cricut
library for a minion and was disappointed to see they didn't have one that I could download. Luckily my husband has a hidden talent for design and quickly drew one out for me on his ipad. One of the new features on the machine is that you can upload your own designs. I LOVE that. How much would you love me if I had the PDF available to download (free) at the bottom of the post?
For assembly I cut one page of blue cardstock and one of yellow ($1) with the little figure. A quick snip and glue job provided us with these adorable party decorations. I also liked them un-layered in the solid colors, so if you wanted to leave them as is and skip the last step I'm sure they would be just as adorable. You could probably even glue them together and create a fun banner!
For the last little touch I wanted to have the number five somewhere in the decorations. I took the leftover cardstock and created some party hat and number 5 confetti pieces (found in the Cricut library) and scattered them around the table.

When it was all said and done we had spent just under $10 for the cupcake ingredients and decorations. My five year old was over the moon excited and all of his cousins thought the party was a huge success! For games we got out a few of his Nerf guns and created a quick "freeze" ray shooting game. Even the adults joined in on the fun! Hopefully this party can help inspired you to create a similar fun party!
Before I offer the download I want to talk to you about a few things… I'm offering this for free under a few conditions. This is for personal use only and is not to be redistributed. Please do the right thing and give credit where credit is due. Thanks in advance and enjoy!