These Strawberry Cupcakes use a cake mix base with the addition of real fruit for an extra punch of flavor!
I know so many people that hate cupcakes. How on earth could you hate something that is so petite and tiny?! While I prefer to have an actual cake on my birthday, I love to make/bake cupcakes. They are quick and easy to decorate. No special skills required (only special piping tips)! My sister raves over the beauty in every cupcake batch I make. If only she knew how easy it really is… I'll have to teach her and maybe write a tutorial or two… These strawberry cupcakes are high on the list of most requested but they have a secret…
These bad boys start from a box mix. INSERT **GASP** HERE. Seriously… I have tried so many Strawberry Cupcake Recipes but these seem to be the ones with the most flavor. It most likely has something to do with the Jell-O packet and pureed berries folded into the batter. I've tried that technique with other basic white cakes and was left with a gooey mess. But really… Doctored cake mix recipes are totally in. They are so simple to make and are almost fool proof.
They puff perfectly and have a gorgeous red color. Top them with a simple strawberry cream cheese frosting and maybe a candied strawberry for presentation and you have yourself a gourmet style cake. This recipe comes from Paula Deen over on Food Network. I found it about two years ago to use for a wedding and got outstanding reviews. A few tweaks with the frosting recipe and I labeled this one a winner for the recipe books!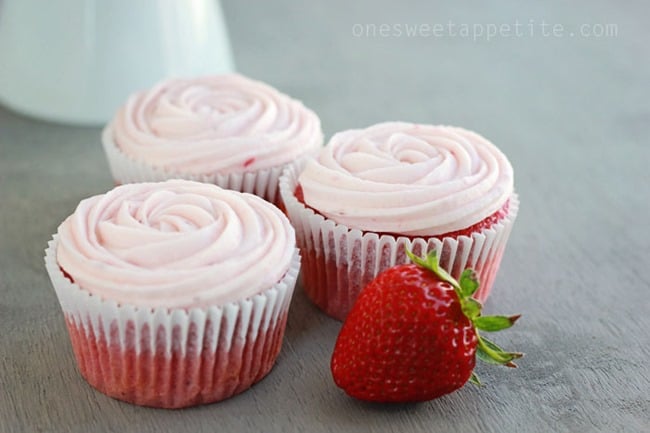 Isn't the pink color perfect for spring? The leftovers filled our house with a wonderful berry smell and had me craving cupcakes for days after! Try them out and let me know what you think!
Strawberry Cupcakes (Doctored Cake Mix)
Ingredients
Cupcakes:
1 box white cake mix (I use Betty Crocker)
1 (3oz) package strawberry Jell-O
1 (15 oz) frozen strawberries, thawed and pureed in a blender. 1/4 cup reserved for the frosting.
4 eggs
1/2 cup vegetable oil
1/4 cup water
Frosting:
8 oz cream cheese, softened
1/4 cup butter, softened
6 cups powdered sugar
1/4 cup pureed strawberries
1-2 tablespoons heavy cream
Instructions
Cupcakes:
Preheat your oven to 350 degrees. Line two muffin tins with paper liners and set aside.
Place all of your ingredients into the bowl of an electric mixer. Blend on medium speed until smooth. Divide into you prepared cups filling 3/4 full. Bake for 15 minutes or until cooled.
Frosting:
Cream together the cream cheese, butter, and powdered sugar. Add the pureed strawberries and mix until combined. Stir in the heavy cream a little at a time and whip until a thick consistency is formed.
https://onesweetappetite.com/2014/04/box-mix-strawberry-cupcakes/
PS, if you liked this recipe you will LOVE these: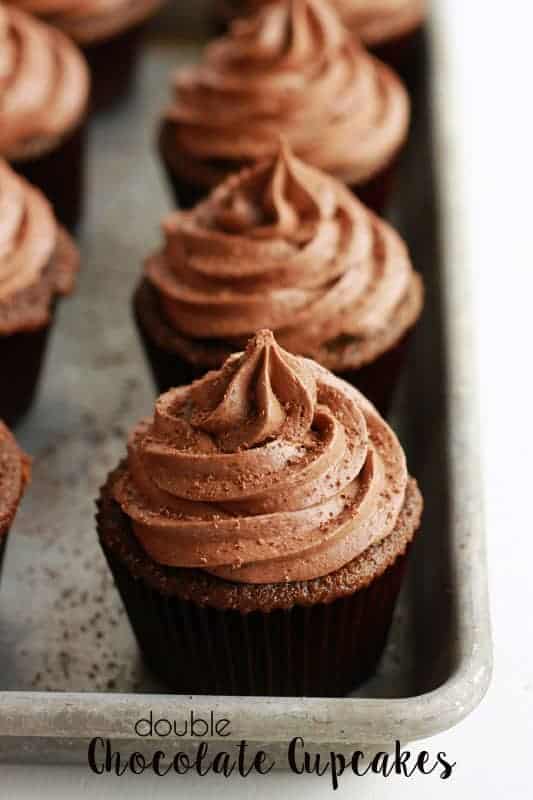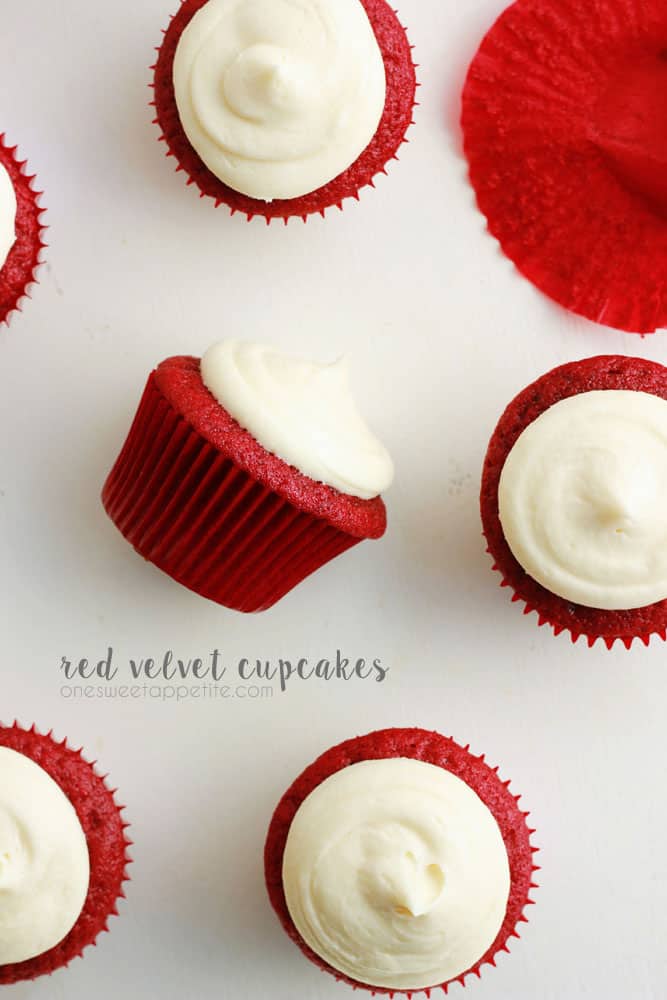 This post may contain affiliate links. I include these links to help you find specific products that are used in my recipes. If you purchase an item from the link on One Sweet Appetite, I will receive a small commission helping keep my recipes free for you.
One Sweet Appetite is a participant in the Amazon Services LLC Associates Program, an affiliate advertising program designed to provide a means for sites to earn advertising fees by advertising and linking to amazon.com
(Visited 183,624 times, 1 visits today)
231