These soft and moist carrot cake cupcakes are made completely from scratch! Real carrots are grated and the sweet cake is topped with cream cheese frosting!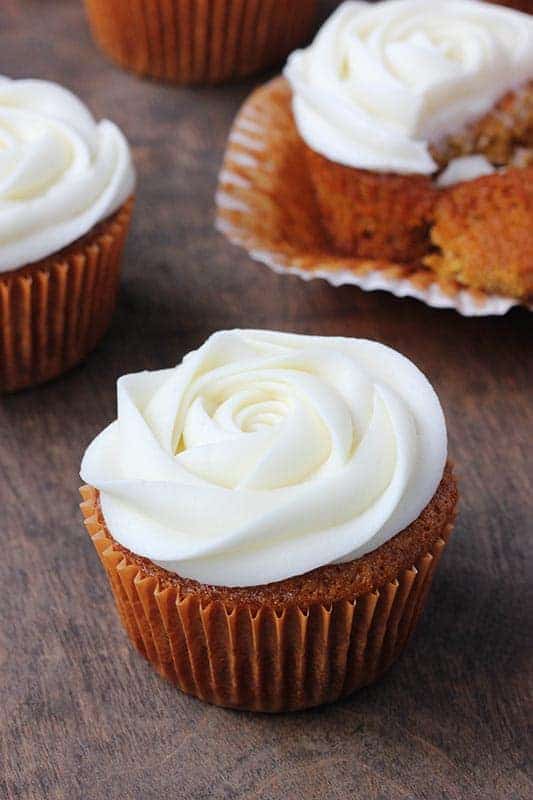 Carrot Cake Cupcakes with Cream Cheese Frosting
Ya'll… These carrot cake cupcakes are about to change your life. They. Are. AMAZING.
I am not a super big carrot lover, but when you mix those crazy veggies into your favorite cake batter and top it with a sweet cream cheese frosting… There is just something about them that is irresistible.
The carrots add moisture and flavor that pairs beautifully with the nutmeg, cloves, and cinnamon.
It is an all-around perfect cupcake recipe!
How do you grate carrots for cake?
This is a very important step to consider before making your batter. In a pinch, you can purchase pre-shredded carrots in the produce department of your grocery store. However, we get the best results when we shred our own. Follow these easy steps.
Use a peeler to remove the outside of each carrot.
Use the smallest holes in your cheese grater and carefully move the carrot along the grater until you have enough carrot shredded for your needs.
Alternatively, you can use a food processor.
How long do carrot cake cupcakes last?
If stored properly, homemade cupcakes will last 1 to 2 days at room temperature. Since these are topped with cream cheese frosting I highly suggest you follow the next suggestion.
Does cream cheese frosting need to be refrigerated?
Yes. It is suggested that any cake topped with cream cheese frosting should be refrigerated. Be sure to pull your cupcakes out of the refrigerator one hour before serving.
I make these cupcakes for almost every big holiday.
They are a crowd pleaser and incredibly simple to whip up. I occasionally substitute the oil for applesauce.
This quick substitute gives them a slightly healthier finish with the same moist and decadent taste.
Use a 1M tip and a super simple, yet insanely delicious, cream cheese frosting and you have got a beautiful rose finish. #ad
What is the best frosting for carrot cake?
There are so many amazing options to pair with this cake. It is very versatile but here are a few of our favorite frostings to compliment the carrot flavor:
Cream Cheese Frosting
Cinnamon Buttercream
Eggnog Buttercream
Carrot Cake Cupcakes
These soft and moist carrot cake cupcakes are made completely from scratch! Real carrots are grated and the sweet cake is topped with cream cheese frosting!
Ingredients
2½ cups flour
1¼ t. baking powder
1 t. baking soda
1¼ t. ground cinnamon
½ t. grated nutmeg
1/8 t. ground cloves
½ t. salt
3 cups finely shredded carrots
1½ cups granulated sugar
½ cup packed brown sugar
4 large eggs
1½ cups oil
Instructions
Preheat your oven to 350 degrees. Line 1 cupcake tins with paper liners and set aside.

Whisk together the flour, baking powder, baking soda, cinnamon, nutmeg, cloves, and salt. Toss the carrots in your flour mixture.

Add the sugars and eggs to the bowl of a food processor fitted with the blade attachment. Pulse until foamy.

Slowly drizzle the oil in and mix well.

Pour the liquid mixture into the dry ingredients and stir until no flour can be seen.

Fill liners 3/4 full and bake for 15-20 minutes.

Cool completely and frost with cream cheese frosting.
Nutrition
Serving: 1Servings
Pin this recipe for later:
Still hungry? Follow One Sweet Appetite on Facebook, Instagram and Pinterest for more great recipe ideas!
Reader Interactions