Every single one of these BEST Valentine dessert recipes is a winner in my book. Shower your special someone with love this Valentine's day AND a special treat!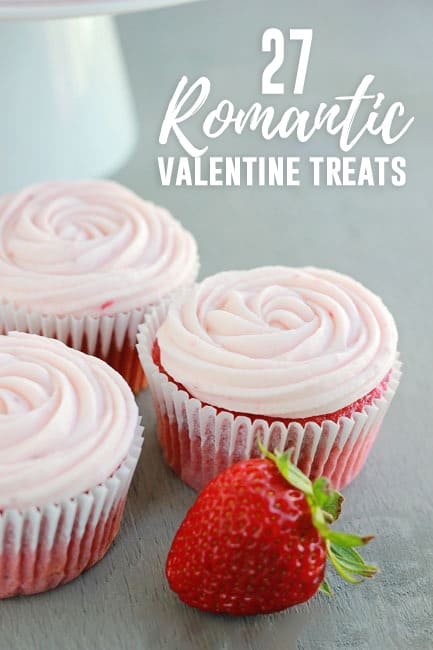 Valentine's Day is just around the corner.
I am always looking for great Valentine's recipes to serve the people I love. Which is why I decided to create a massive list featuring all of our favorite Valentine dessert recipes!
The criteria?
MUST be a dessert that screams romance (chocolate Valentine's desserts, Valentine's day cheesecake recipes, strawberry…)
Has to be absolutely delicious
Every single one of these recipes is a winner in my book. Shower your special someone with love this Valentine's day AND a special treat!
Looking for a treat that is SUPER quick and easy? Try my Chocolate Covered Strawberries or 2 Ingredient Strawberry Fudge!
IF I had to pick only one of these delicious treats to make it would be the five minute strawberry cake. SO EASY and light. It's the one treat I like to make every year for my birthday, and you can make it look incredibly beautiful with sliced strawberries.
This Classic Red Velvet cake is made with buttermilk and topped with a rich and creamy cream cheese frosting. Delicious and beautiful! 
This is the best cheesecake recipe. Smooth, rich, and creamy cheesecake filling is topped on a buttery graham cracker crust. Amazing with or without a fruit topping!
This simple carrot cake recipe is topped with a sweet cream cheese frosting. Perfect for beginner bakers and unbelievable flavor! 
This Banana Cream Cheesecake is loaded with flavor. Made on a vanilla wafer crust with a creamy and rich cheesecake topping! It is the perfect twist on classic cheesecake.
This is the very best pound cake recipe. Comes together quickly and has a secret ingredient that leaves it moist and the perfect crumb! Great when served with whipped cream and fresh berries!
This rich and decadent Flourless Chocolate Cake Recipe is easy to make and the perfect dessert for any occasion! Made with bittersweet chocolate, sugar, butter, and eggs.
This chocolate whipped cream cake is the perfect way to celebrate any occasion. Light chocolate cake is layered between a sweet whipped cream for the perfect cake recipe.
This is the very best chocolate cake recipe. Made with quality cocoa powder and fresh brewed coffee for boosted flavor and frosted with chocolate buttercream!
This classic white cake recipe is a staple to every bakers collection! Light, fluffy, and perfect. Perfect when paired with vanilla buttercream!
Nothing helps fix a chocolate craving like a pan of the best brownies! With just a few simple ingredients you are left with a rich dense homemade brownie that is unbelievably delicious!
These perfect Lemon Bars have just the right amount of citrus flavor and are topped on a buttery crust! Easy to make and the best dessert recipe for spring!
This easy brownie recipe tastes EXACTLY like the cosmic brownies you grew up loving. Moist, fudgy, and a family favorite!
Easy Cheesecake Bars. This no-fail cheesecake bar recipe is the perfect alternative to the classic dessert! In just 45 minutes you have perfect bars ready to serve! 
Snickerdoodle Blondies. You heard that right. A beautiful blend of cookies and brownies leaves you with the ultimate dessert recipe!
Banana Cream Pie Bars. Fresh sliced bananas are placed on a vanilla wafer cookie crust and topped with vanilla pudding for a super simple and delicious dessert recipe.
The absolute BEST banana bars. Made with ripe bananas and topped with brown butter frosting for the perfect banana bar recipe.
Chocolate hazelnut spread is the secret ingredient in these decadent brownies! Even Nutella haters are falling in LOVE with this easy Nutella brownie recipe. So simple to make and incredibly delicious!  
These lemon pie bars are topped with a sweet meringue topping giving them the perfect combination of tart and sweet! 
These are the absolute BEST rice krispie treats! Quick and easy to make with only THREE ingredients! Get all of our favorite tips and tricks to make these gooey delicious bars. 
These easy peanut butter bars combine a sweet peanut butter crust with a thin layer of chocolate! Only 5 ingredients and ready in under 30 minutes! 
These super simple no-bake cheesecake bars are a summer staple! Light, fluffy, and full of flavor. Perfect when paired with your favorite fruit topping.
These double lemon cheesecake bars are the perfect combination of sweet and citrus! Made with an easy graham crust and topped with two layers of lemon! Perfect make-ahead recipe and freezer friendly
Candied strawberry slices are gorgeous and easy to make. They are the perfect addition to your cupcake and cake recipes!
These Strawberry Cupcakes use a cake mix base with the addition of real fruit for an extra punch of flavor!
Whip up this incredibly simple Five Minute Strawberry Dessert for any spring or summer celebration! Fresh strawberries and ladyfingers combine to make this a no-fail dessert recipe.
This delicious Strawberry Cheesecake French Toast is the perfect breakfast or brunch recipe. Sweet challah bread is sliced, stuffed with cheesecake, and topped with glazed strawberries.
This super simple no-churn strawberry ice cream is the perfect summer recipe. The best part? No ice cream machine needed!
This light and fluffy strawberry whipped cream needs just 4 simple ingredients and is ready in minutes. Perfect on top of your favorite cake or served as a fruit dip!
This simple 2-Ingredient Strawberry Fudge comes together in just 10 minutes! The perfect no-fuss Valentine's Day treat recipe.
A quick and simple step-by-step tutorial for how to make Chocolate Covered Strawberries. All you need are three ingredients and 20 minutes!
Easily the best frozen strawberry margarita recipe. Made with only 4-ingredients and in 5 minutes! Simple to double or even triple and full of berry flavor!
This easy Strawberry Frappuccino is the perfect Starbucks copycat! Made with only 4 simple ingredients and tastes exactly like the original, if not better
This 3-Ingredient Strawberry Champagne Punch is a must-make! Ready in minutes, sparkly, and full of sweet strawberries. Perfect all year long and can be made using fresh or frozen berries! My go-to fizzy drink that will have everyone begging you for the recipe.
Tips and Tools:
It's always easier to make things in advance. That way you can have your special treat prepared and ready to go. Which gives you more time to focus on the love of your life. Here are a few containers I love and couldn't live without!
This cake stand is about $25 but has so many uses. Cover your cake, use it as a dip tray, or even a punch bowl!
A 5 pack of glass containers. I'm not against plastic completely, but I've had these for years and never needed to replace them. My plastic ones have slowly made their way to the garbage.
10 cup container. This one is AMAZING for cake slices or cookies.
Still hungry? Follow One Sweet Appetite on Facebook, Instagram and Pinterest for more great recipe ideas!