Prepare for your camping menu with these 30 Camping Tin Foil Dinners! These recipes contain everything from breakfast, dinner, and dessert recipes!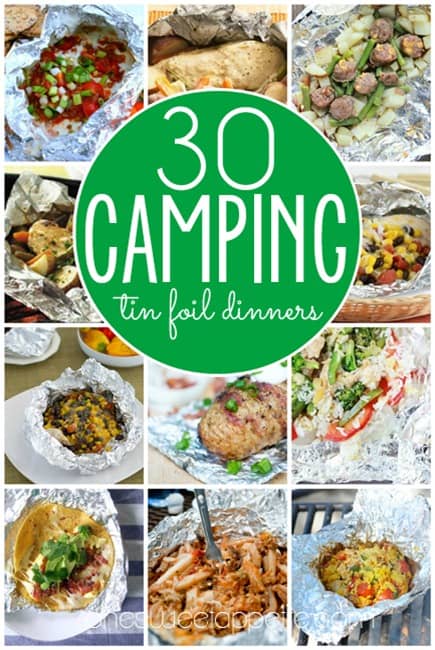 You all certainly love your camping recipes!
Last weeks 45 Easy Camping Recipe Round Up was a huge success. It quickly jumped to my most viewed post for the week and emails started pouring in with requests. Today's post is for all of you on the hunt for some amazing
Tin Foil Dinner Recipes
These are a few of our personal favorites.
Most are super simple recipes. Add all of your ingredients to a foil pack and cook!
Did I mention how easy the clean up is?? Wad up that paper and toss it into the garbage.
All super important things to consider when you are in the great outdoors where resources are limited.
Tips for creating perfect tin foil dinners:
Use heavy duty foil. The last thing you want to happen when you are handling a tin foil dinner is to have the foil give out or rip. Heavy duty foil ensures that your dinner will stay safe and sound during the cooking process.
Know how to fold a tin foil packet. You want to fold your packet in a way that allows the cooking to be even. Follow this super simple tutorial. As a result, you will have perfect recipes every time!
Prep before you leave. Chop your veggies, slice the chicken, or even put the packets together before you head out. This makes for a more enjoyable camping experience. Less stress while you cook means more time to enjoy your vacation!
Don't skip the non-stick spray!
So without dragging this on further… Here are the recipes!
30 Camping Tin Foil Dinners Round Up!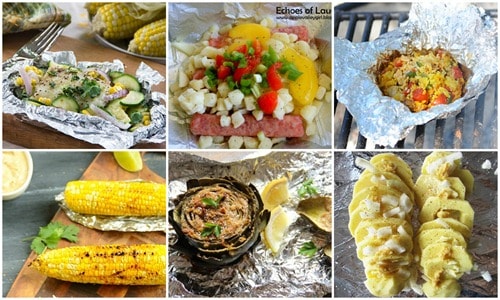 Coconut Lime White Fish Packets @ The Scrumptious Pumpkin
Lumberjack Breakfast @ Echoes of Laughter
Campfire Paella @ Zestuous
Grilled Corn on the Cob @ From Brazil to You
Roasted Artichokes @ Alaska From Scratch
Campfire Baked Potatos @ Noms for the Poor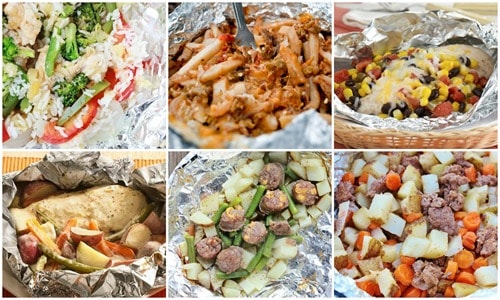 Hawaiian Chicken Stacks
Chili Cheese Fries @ Buried Carrots
Sante Fe Style Chicken Packets @ Ready Set Eat
Parmesan Ranch Chicken @ Betty Crocker
Italian Sausage and Potato Packets
Classic Tin Foil Dinners @ High Heels and Grills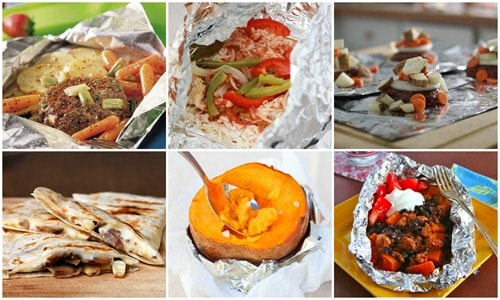 Cheddar Burgers & Veggies @ Betty Crocker
Tin Foil Chicken Fajitas
Hobo Dinners @ Literally a Spoonful
Campfire Quesadillas @ Dirty Gourmet
Baked Sweet Potato @ Labna Amore
Sweet Potato Tacos @ Mama Grubbs Grub

Bacon and chive baked potatoes @ BS in the Kitchen
Chive Oil Potato Packs @ The Scrumptious Pumpkin
Lemon Pepper Salmon Packs @ Diethood
Breakfast Tacos @ Bowl Of Delicious
Meatball Subs
Southwestern Chicken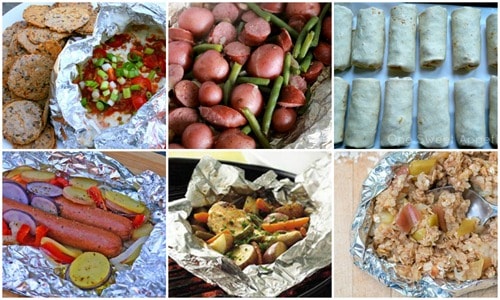 Melty Cheese Dip @ Echoes of Laughter
Italian Sausage and Green Bean Foil Dinner
Tin Foil Breakfast Burritos
Hot Dog Packets @ Growing Up Gabel
Paprika Chicken @ Spoonful
Apple Crisp @ BS in the Kitchen
Love these recipes? You will LOVE my cookbook! Foiled! Easy, Tasty, Tin Foil Meals is packed with great ideas for the great outdoors! Pick up your copy now on Amazon and prepare for a delicious camping season!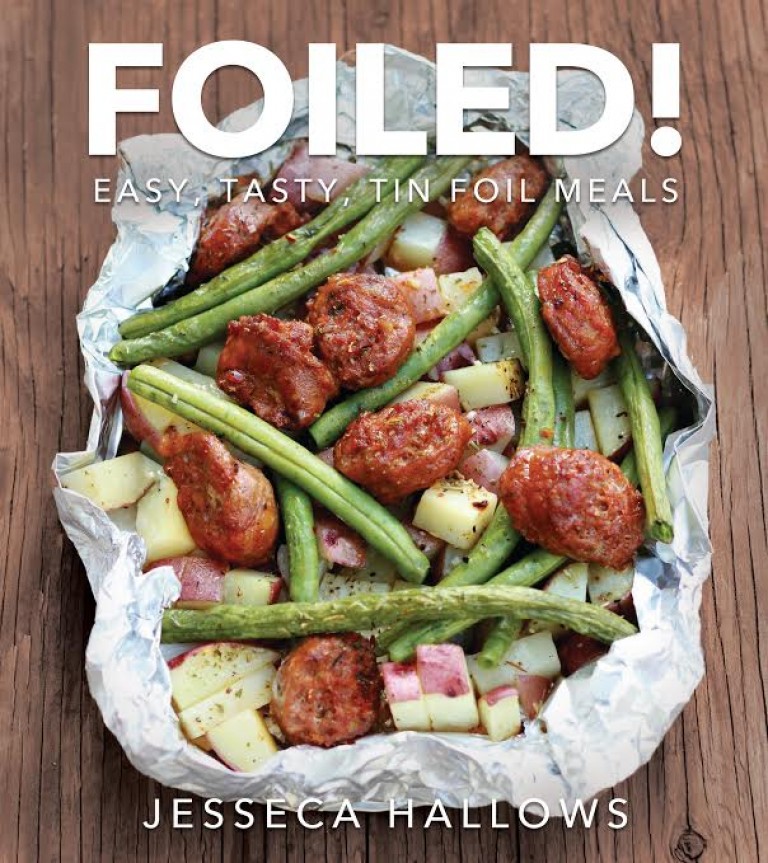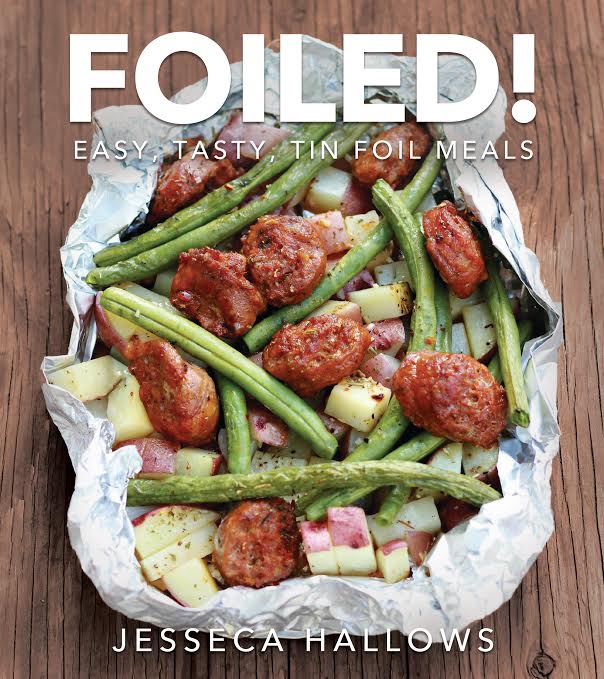 If you liked this post you will LOVE these: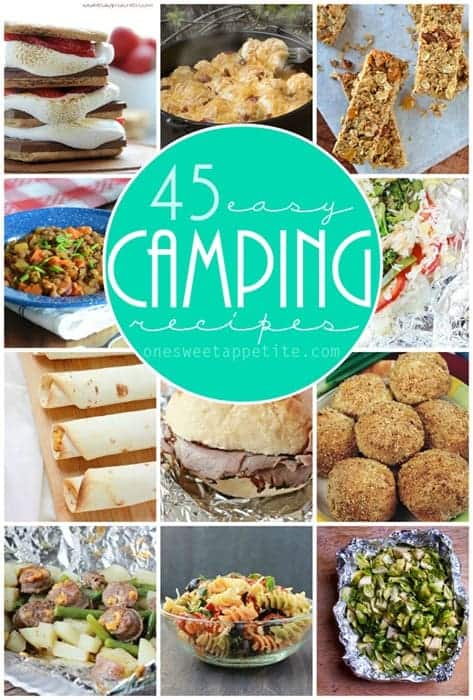 Tips for Camping with Toddlers
If you're looking for some great inspiration on what kind of meals to add to your camping menu make sure to check out my cookbook! Foiled! Easy, Tasty, Tin Foil Meals is packed with great ideas from breakfast to desserts! Make sure to give me a shout out on social media if you give any of them a try! I'd love to feature you and your cooking adventures!