This easy Air Fryer French Toast whips up in less than 10 minutes and is loaded with flavor! One of the easiest breakfast recipes that is also picky eater approved!
They say breakfast is the most important meal of the day. Be sure to browse the 100+ Breakfast Recipes I have right here on my site. Including my personal favorite Biscuits and Gravy, Sheet Pan Pancakes, and Breakfast Casserole.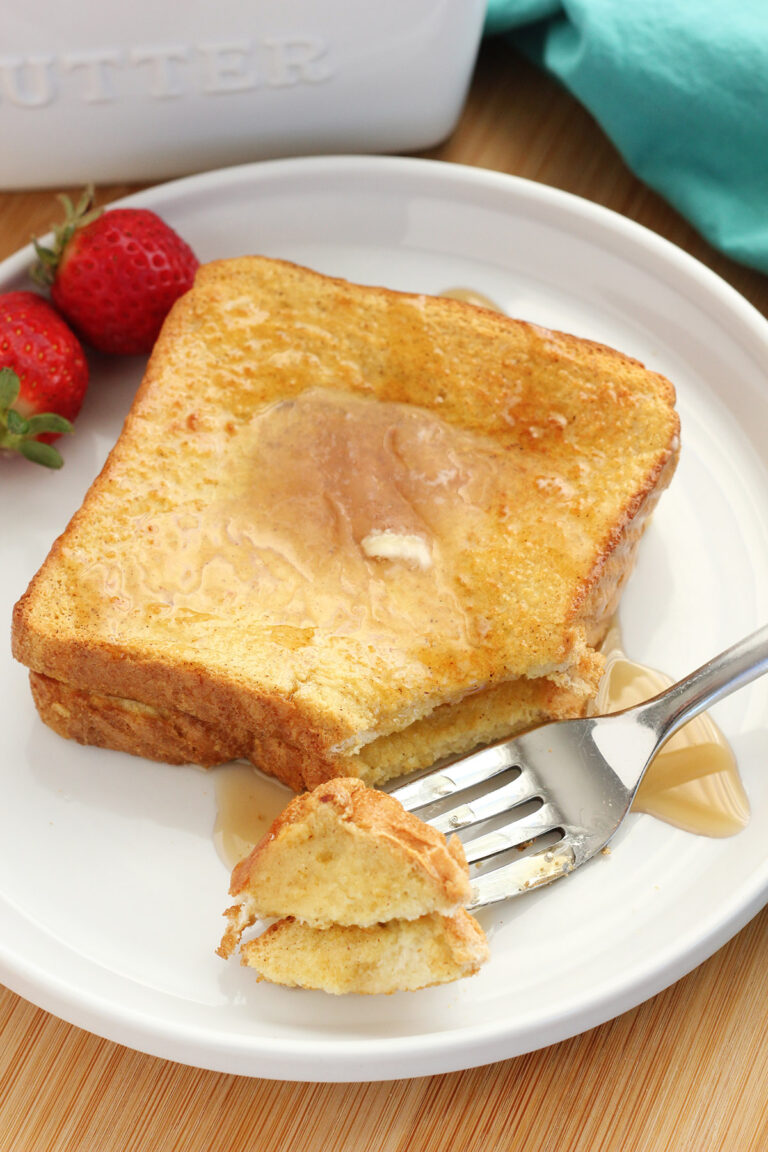 RECIPE FEATURES
Easy: Depending on the size of your air fryer, you can cook 4-6 pieces at a time!
Customizable: I talk a little bit more about this below, but you can add a few different ingredients to change the flavor towards your preferences.
Freezer Friendly: I love doubling this recipe for extras to keep in the freezer. Life savers on busy weekdays.
I may be slightly obsessed with our air fryer. There are so many recipes you can make in that thing, and I am kicking myself for not trying breakfast until now. This fried French toast comes out perfect every single time and gives you the most amazing texture. A slight crisp outside with a super soft center? You cannot beat that.
Top with a slather of butter and syrup, fresh fruit, or whipped cream. Any way you decide to serve this everyone will be raving over how delicious it is.
FRENCH TOAST INGREDIENTS
So what ingredients do you need to make French toast in the air fryer? Turns out, the exact same ones you need for stovetop. Here is what you will need to get started:
Eggs: Regular large eggs work best in creating the custard.
Cream: Trust me on this, cream is going to make all the difference and is why I can call this the BEST French toast recipe. You can, however, make a swap for milk in a pinch.
Vanilla: This works as a flavor enhancer and makes this almost restaurant worthy.
Honey: Optional, but I find that honey adds the perfect sweetness and slightly helps to crisp the outside.
Cinnamon: Another optional item, but cinnamon really does enhance the flavor of this recipe.
Bread: The best is day old bread. We sometimes leave the bread out in a single layer overnight to let it slightly stale. This helps it soak up the custard giving you the most incredible finished toast.
FRENCH TOAST TOPPINGS
What is the best toppings for French toast? Turns out there are dozens of ideas. Pick whichever sounds best to you and go for it! Here are some of our favorites:
Butter: Hear me out, salted butter is king when it comes to topping toast and pancakes. You can use unsalted, but I feel like salted is going to elevate this dish.
Syrup: Store bought or homemade. Pro tip, heat the syrup in a small heatproof container for a few seconds before adding to your toast.
Peanut Butter: I might be alone here, but there is something about peanut butter and syrup combining forces on top of a warm piece of French toast.
Fresh Fruit: Strawberries, bananas, raspberries… You can't go wrong with any of your favorites.
Powdered Sugar: If I'm using fresh fruit, I like to opt for powdered sugar instead of syrup. It is so delicious, especially if you start with a slather of butter.
Jams and Jellies
HOW TO MAKE FRENCH TOAST IN THE AIR FRYER
PREP: Gather all of your ingredients and make the custard batter by whisking the eggs, cream, honey, vanilla, and cinnamon. I like to use a shallow bowl that is wide enough for dipping.
PREHEAT: Heat the air fryer to 350 degrees and plan to cook a total of 6-8 minutes, depending how crispy you want your toast.
DIP: While the air fryer is heating, start to dip each piece of bread into the egg mixture, making sure to turn and fully coat each side.
COOK: Once preheated, add the dipped bread into the air fryer basket, making sure not to overlap. Cook 3 minutes, flip and cook 3 minutes more.
ENJOY: Serve warm with butter and syrup.
HELPFUL TOOLS
Air Fryer Liners: Pro tip, use basket liners (affiliate) to keep the French toast from sticking and making a bit of a mess.
Spatula: I'm obsessed with my OXO Small Spatula (affiliate). It's the perfect size to squeeze between slices and is made of silicone, so it won't melt!
Shallow Dish: Having a large shallow bowl (affiliate) is so helpful when dipping each slice of bread. It makes sure the entire piece is coated in the egg mixture giving you an evenly golden French toast.
Recipe Notes:
Can you freeze this recipe?
Place the cooked French toast on a wire cooking rack.
Once it has cooled to room temperature, transfer to a freezer safe zip top bag.
Transfer to the freezer.
Frozen French toast can last up to 2 months if stored properly.
To reheat, place the French toast in the microwave for 20 to 30 seconds. Flip and heat an additional 15 to 20 seconds.
What is the best bread to use for French toast?
The short answer? Almost any bread type will work with this easy pumpkin recipe. Here are a few of our favorites:
Brioche– It is thick, sturdy, and still tender. Slice it thick for the best results.
Sourdough– The slight tang you get with this bread helps tone down the sweetness.
French Bread– It is typically thicker and holds up well after soaking in your custard.
Challah– The braided top will give you a stunning finished dish that is sure to impress!
Regular Sandwich Bread– No time to run to the store? No problem! Just use the regular bread you have on hand.
How do you store leftovers?
There are two options for leftovers. First, you can freeze and keep stored for months. Or you can put into an airtight container inside the refrigerator. To reheat, simply microwave for 30 seconds to 1 minute, or until heated through.
MORE MUST-TRY FRENCH TOAST RECIPES
Still Hungry? Follow One Sweet Appetite on Instagram, Pinterest, and Facebook!
Air Fryer French Toast
This easy Air Fryer French Toast whips up in less than 10 minutes and is loaded with flavor! One of the easiest breakfast recipes that is also picky eater approved!
Ingredients
4 large eggs
1/4 cup heavy cream
1/2 teaspoon vanilla extract
2 tablespoons honey
1 teaspoon cinnamon
8 slices bread
Instructions
Whisk together the eggs, cream, vanilla, honey, and cinnamon in a large shallow bowl- like a pie plate.

Preheat the air fryer to 350 degrees, setting the time for 6 minutes.

Dip the bread, one or two pieces at a time, into the mixture. Flipping once to fully coat.

Once preheated, add the dipped bread into the air fryer basket, making sure not to overlap. Cook 3 minutes, flip and cook 3 minutes more.

 Serve warm with butter and syrup.
Notes
For a crispier bread, cook for 2 additional minutes.  Calorie count is without any toppings. 
Nutrition
Serving: 2slices | Calories: 310kcal | Carbohydrates: 37g | Protein: 13g | Fat: 13g | Saturated Fat: 5g | Polyunsaturated Fat: 2g | Monounsaturated Fat: 4g | Trans Fat: 0.04g | Cholesterol: 203mg | Sodium: 340mg | Potassium: 170mg | Fiber: 3g | Sugar: 13g | Vitamin A: 491IU | Vitamin C: 0.3mg | Calcium: 114mg | Iron: 3mg
Reader Interactions