Apparently I've got a morning sweet tooth lately. Waffles have been making an appearance pretty frequently which has started to show in my waistline >insert super embarrassed face here<. Something about those sweet, crispy, delicious treats have been calling my name. Maybe because my waffle iron was MIA over the summer so I've been compensating by making them 2 or 5 times a week. You can't have waffles without an easy buttermilk syrup recipe and this one is the best!
You want to start with buttermilk (of course), corn syrup for thickening, a touch of sugar, and a splash of vanilla. All things that could be in your pantry at this VERY moment. It's almost calling for you to give it a try. If you are in a pinch you can use whole milk with a splash of vinegar. The combo creates a buttermilk type drink that works just as well, but always try to go with the real stuff.
I have to warn you, this is SWEEEEEET. Cooking it on the stove gives it an almost caramel like quality. You'll want to store it in the fridge which will eventually force it to become super thick. Just toss it into the microwave for a second or two and it will return to the original liquid state. Just a little hint, I cut back on the sugar in my waffles if I'm topping with this goodness. They are the perfect pair.
Banana Bread Waffles // Fresh Strawberry Syrup // Chocolate waffles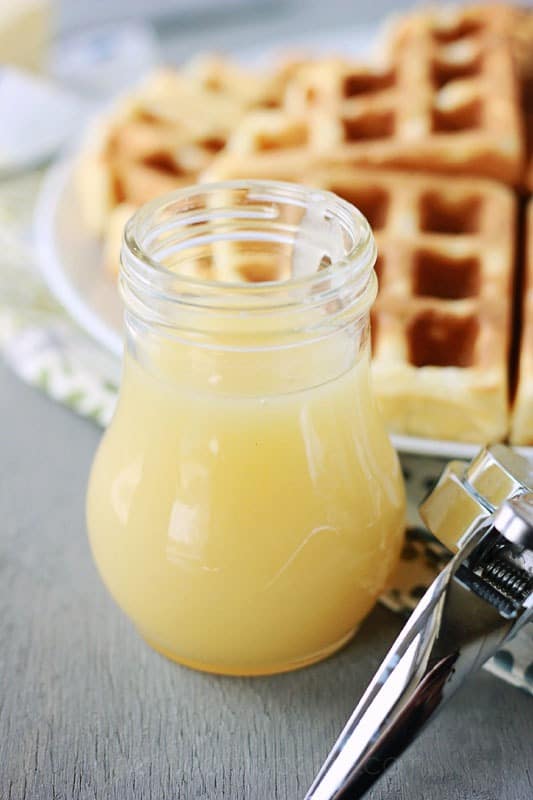 easy Buttermilk syrup
Ingredients
1 cup granulated sugar
3/4 cup buttermilk
2 tablespoons corn syrup
2 teaspoons vanilla extract
Instructions
Whisk together the sugar, buttermilk, and corn syrup in a medium sauce pan. Bring to a boil. Cook for 7 minutes. Remove from the heat and stir in the vanilla extract.