This easy Cranberry Vinaigrette is a healthy salad dressing that is perfect for dressing up fall and winter salads. Made with fresh cranberries, olive oil, and a blend of red wine vinegar with garlic, you will want to keep this one handy for the holiday's!
Add more cranberry flavor to your holiday menu with some of our favorite recipes! Try my Starbucks Cranberry Bliss Bars, Cranberry Meringue Pie, and Cranberry Cocktail!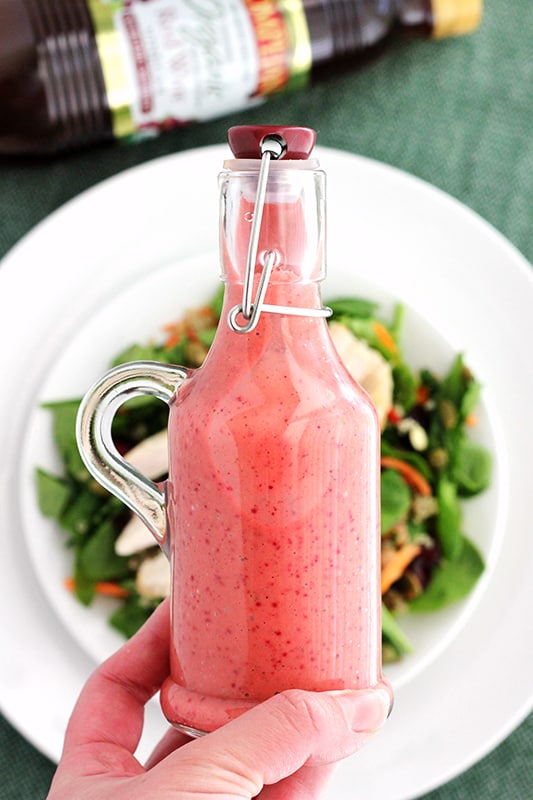 Recipe Features
Easy: Homemade vinaigrette dressings are the easiest and most impressive at dinner parties!
Perfect Thanksgiving Recipe: The undervalued gem of the table is the cranberry sauce. Incorporate it into more side dish recipes!
Make Ahead: This recipe can be made up to 3-4 days in advance.
This creamy cranberry vinaigrette was made for a turkey topped salad. Naturally tart with the perfect balance of spice thanks to a touch of Dijon and garlic. Pile a plate high with spinach, a sprinkle of cheese, and leftover Thanksgiving turkey for the most delicious and filling salad recipe.
If you like your salad dressing a little more on the sweet side, add a touch of honey! This recipe is insanely easy to customize and is always the favorite on the table.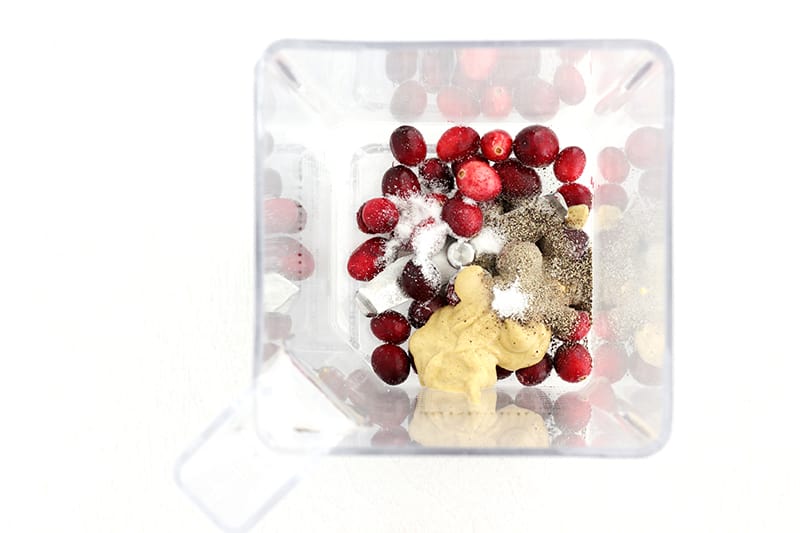 Cranberry Vinaigrette Ingredients
Turns out, this dressing is super simple to make and packs a bold flavor punch.
All you need to do is gather a few simple ingredients (most of which you probably already have), toss them into your high powered blender, and pulse to your little hearts content!
Red wine vinegar: Just a touch of vinegar is all that you need for this naturally tart dressing. I opted for red wine because it has a natural fruity flavor.
Olive oil: I really enjoy a light olive oil in my homemade vinaigrettes. It lets the flavor of the cranberry shine through but still provides the perfect thickness.
Fresh cranberries: You can find cranberries in the freezer section all year long! Just let them thaw before starting this recipe.
Dijon mustard: Dijon provides a slight spice that's needed to help balance the berry and vinegar flavor.
Garlic, Salt + pepper: I always like to say, measure with your heart. If you are not a huge fan of garlic, add a little less.
Water: just a touch to help thin the dressing enough to coat your salads.
Sugar: Or honey. This helps to balance the tang and tart of vinegar and cranberry.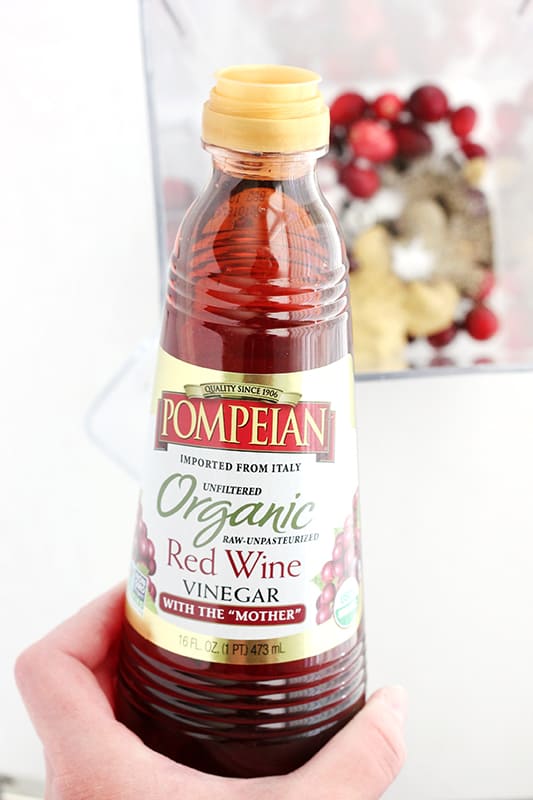 How To Make Cranberry Salad Dressing
It is super important that you use a good quality olive oil and vinegar which is why I always use Pompeian. Their Organic Red Wine Vinegar is made with carefully chosen premium domestic red wine vinegar with imported aged Spanish wine vinegar which makes it a perfect pair for any salad dressing!
BLEND: Blend all of the ingredients in a high power blender until smooth.
TASTE: Add sugar to taste.
Our picky eater gave this five stars and has already tried it out on a salad, in a sandwich, and on a spoon (insert embarrassed mom face here). We cannot wait to give it a try on pork! You really could even use this as a quick holiday inspired marinade. It's the ultimate must-have condiment at all of your gatherings this season.
Helpful Tools
Salad Dressing Shaker: This shaker bottle (affiliate) is perfect for vinaigrettes!
Cutting Board: I own dozens of cutting boards but this wood cutting board (affiliate) is by far my favorite.
Chef's Knife: If you only invest in one fancy knife, let it be a chef's knife (affiliate). This is the most versatile and can be used for almost anything.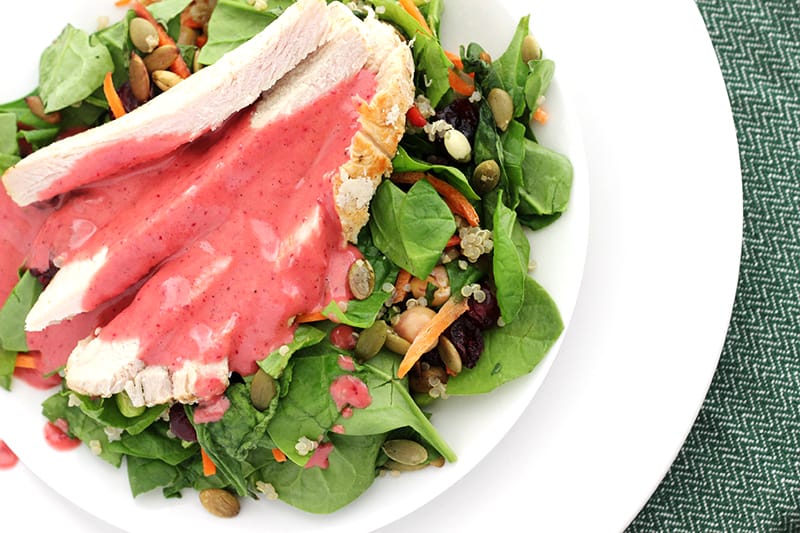 MORE MUST-TRY SALAD DRESSINGS
Still Hungry? Follow One Sweet Appetite on Instagram, Pinterest, and Facebook!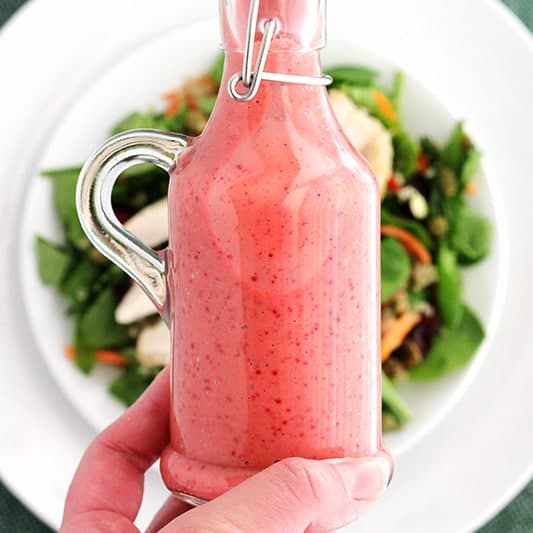 Cranberry Vinaigrette
Cranberry Vinaigrette recipe. Fresh cranberries, red wine vinegar, olive oil, Dijon mustard and garlic blend together the perfect holiday salad dressing recipe. 


Ingredients
3 Tbsp Pompeian organic red wine vinegar
1/3 cup Pompeian olive oil
1/4 cup fresh cranberries
1 Tbsp Dijon mustard
1/2 tsp minced garlic
1/2 tsp salt
1/2 tsp pepper
2 Tbsp water
1-2 Tbsp sugar
Instructions
Blend first 8 ingredients in a high power blender until smooth.

Add sugar to taste.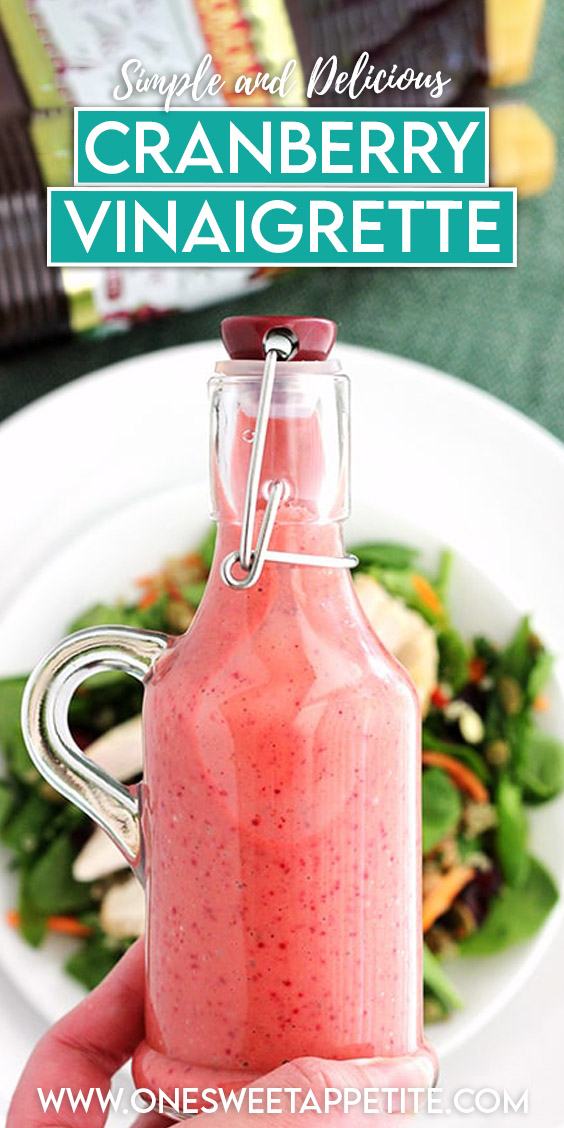 Reader Interactions