This copycat Strawberry Champagne Vinaigrette will brighten up any salad! Inspired by the Cafe Zupas strawberry harvest salad. Filled with berries, olive oil, and champagne vinegar for an irresistible salad topping.
This post was originally published March 10, 2015. It has since been updated with helpful tips and new photos.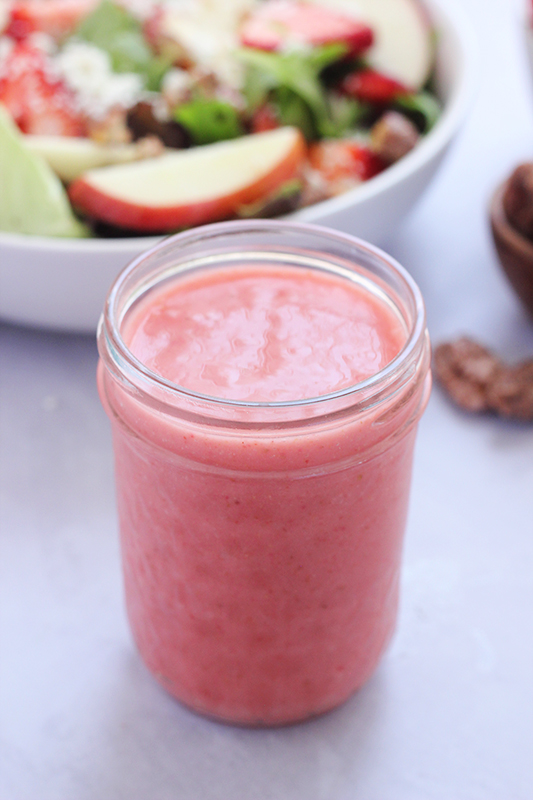 Recipe Features:
Quick and easy- You can have this vinaigrette ready in 10 minutes!
Perfect with any salad combo- Try it with chicken salad and you'll fall in love.
Make-ahead- You can keep this stored in the refrigerator for up to 5 days.
If you are anything like me, having a great stack of salad recipes to get you through the summer is life changing. I'm talking about hefty salads that will have you full for the entire day. Loaded with chicken, bacon, veggies… Anything goes to keep that oven off and the temperature of our home cool.
Often overlooked, salad dressings can be the star of the show and really make-or-break the meal. That's where this strawberry vinaigrette recipe comes in. It is dreamy.
I kid you not when I say it takes zero time to make and is loaded with flavor. Even my pickiest salad eater becomes giddy when he finds this on the menu!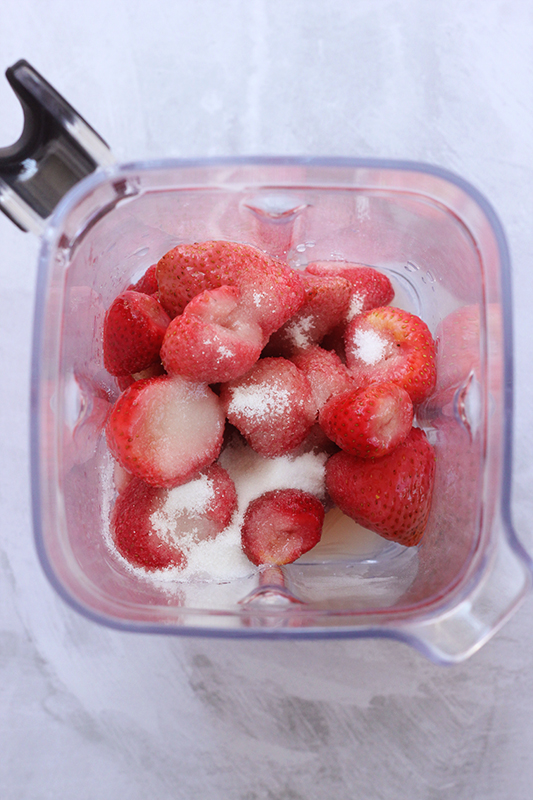 Strawberry Vinaigrette Ingredients:
Inspired heavily by the Cafe Zupas strawberry vinaigrette dressing, this one follows a list of simple ingredients:
Strawberries- We always have frozen berries on hand, which makes it convenient to whip this up in a pinch, but fresh will work too.
Lemon- Fresh lemon juice or bottled will work with this dressing. Of course, I do recommend fresh when possible. Not only is it loaded with extra vitamin C, it tends to taste a little less tart.
Sugar- You can always substitute this with honey if desired.
Vinegar- See notes below.
Olive Oil- Reach for a light olive oil, or something with a more mild flavor. This helps it to not overpower the berries and still give you great salad coverage.
Champagne Vinegar Substitute
If you can find it, try the champagne vinegar. It is unbelievable and one that we use for more than just this strawberry dressing recipe. It's ideal for marinades, sauces, pan de-glazing, and even savory dips!
However, I know it can be tricky to find in store. In that case, make an even swap for white wine vinegar. Equally as delicious and more common in grocery stores.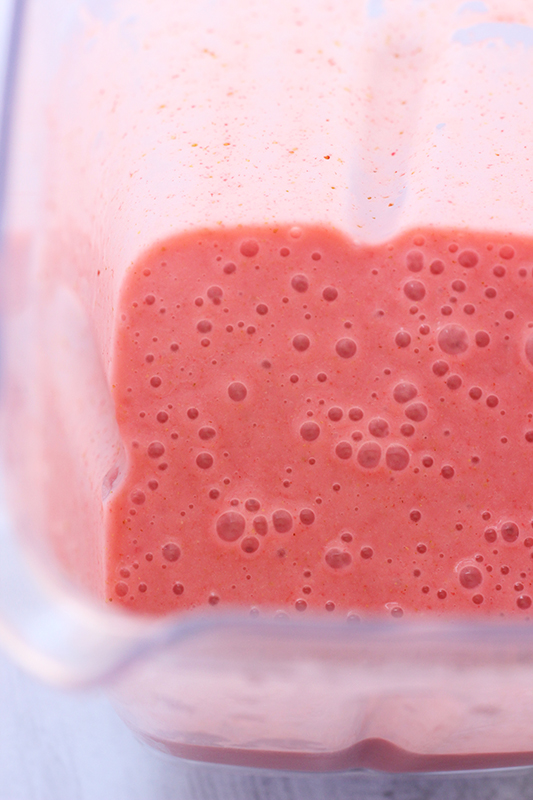 How to Make Strawberry Champagne Vinaigrette:
This strawberry champagne dressing is sweet, a little tart, and oh-so elegant. Like most of my recipes, I tried to keep this as simple as possible. Let's walk through the steps…
Combine the strawberries, lemon juice, sugar, and vinegar in a high powered blender.
Pulse until smooth, about 5 pulses.
Drizzle in the oil and pulse until just combined.
Taste, add additional sweetener if desired.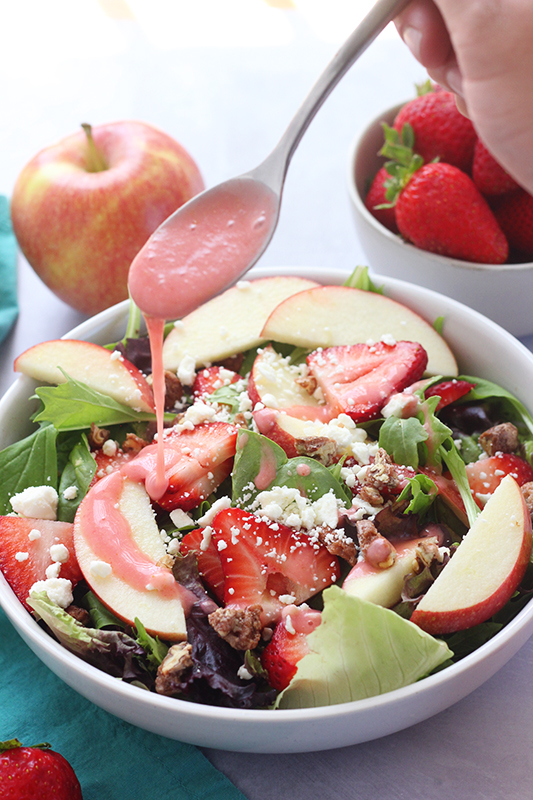 Recipe Tips and FAQs
It is best to use a high powered blender or food processor (affiliates) for this recipe. You want a nice drizzle without all of the teeny tiny strawberry seeds so a quality mixer is key.
We love this brand of champagne vinegar, found on Amazon or specialty grocery stores.
You can substitute the frozen strawberries for an equal amount of fresh berries.
White wine vinegar is a good substitute for the champagne in a pinch.
Does champagne vinegar have champagne in it?
No, champagne vinegar does not contain alcohol. It is, however, made from the same grapes that are used to make champagne and pinot noir.
What does champagne dressing taste like?
This strawberry vinaigrette dressing recipe has a very light and mild flavor. The biggest taste you will pick up on is the berries. A very light tartness is added by the vinegar and it pairs perfectly with the sweet berries.
What is the difference between vinaigrette and dressing?
While both are similar, as they are made to coat a salad with flavor, they are equally as different.
Vinaigrette is mainly a mixture of oil and acid (vinegar). They coat the salad easily and provide a robust flavor. Dressings lean more towards the consistency of a sauce. Most are mayonnaise based and include milk.
Is oil and vinegar the healthiest salad dressing?
Yes, and no. A simple vinaigrette can be the healthier option. Especially when it includes a base of just oil and vinegar. However, this recipe contains a fair amount of sugar and fruit. I would not consider this the healthies option.
How long does homemade vinaigrette last?
This salad dressing will last up to 4 to 5 days if stored properly. Keep sealed tightly in the refrigerator. We find that mason jars are a great way to keep the vinaigrette fresh. Optionally, you can purchase a salad dressing container.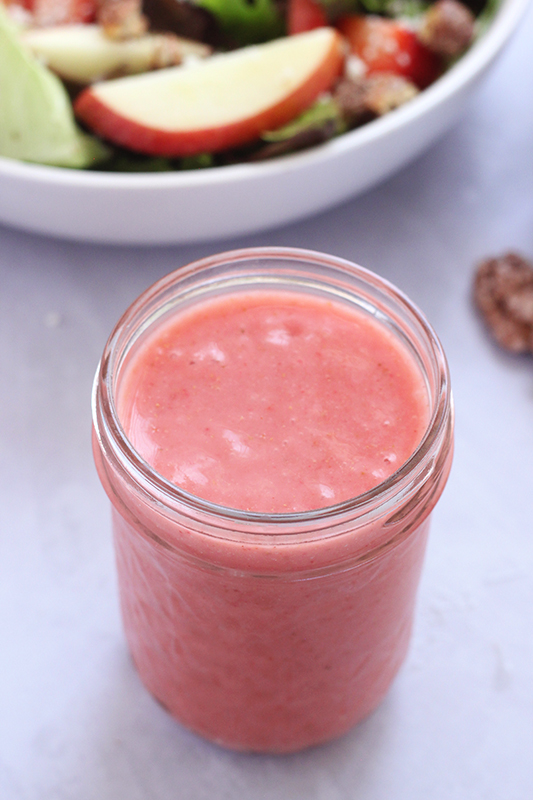 More Strawberry Recipes:
More Vinaigrette Recipes:
Strawberries and champagne were meant to go together. If you want a really decadent treat add some of those candied pecans to your salad.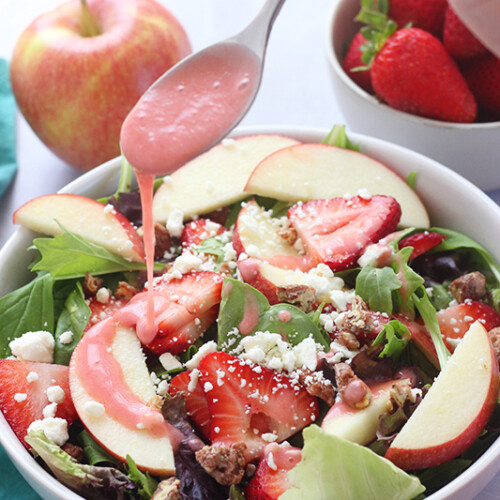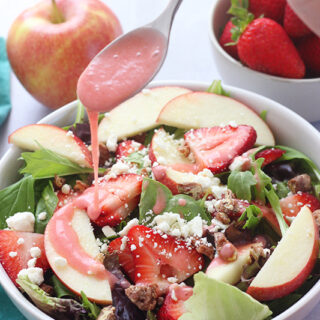 Strawberry Champagne Vinaigrette
This homemade Strawberry Champagne Vinaigrette will brighten up any salad! Inspired by the Zupas strawberry harvest salad!
Ingredients
16 oz frozen strawberries thawed
1/4 cup plus 2 tablespoons lemon juice
1/4 cup sugar
2 tablespoons champagne vinegar
2 tablespoons olive oil
Instructions
Combine the strawberries, lemon juice, sugar, and vinegar in a blender and puree until smooth.

Add the olive oil and pulse until combined.

Serve over your favorite salad.
Nutrition
Serving: 1Servings | Calories: 50kcal | Carbohydrates: 8g | Fat: 2g | Polyunsaturated Fat: 2g | Sodium: 2mg | Fiber: 1g | Sugar: 6g
Pin for later: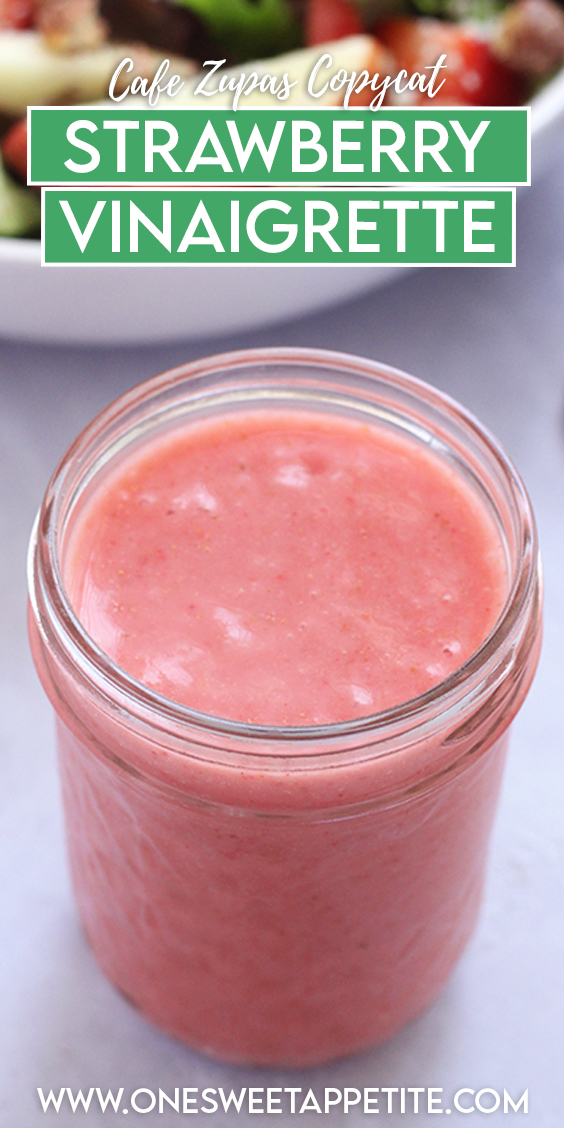 Reader Interactions