These Funfetti Cookies start with a cake mix and are ready in under 20 minutes! Soft and chewy with an amazing cake mix flavor and SPRINKLES!
Want even more ways to update a cake mix? Try my Chocolate Whoopie Pies, Strawberry Cupcakes and Red Velvet Whoopie Pies. All fan favorites, and for good reason!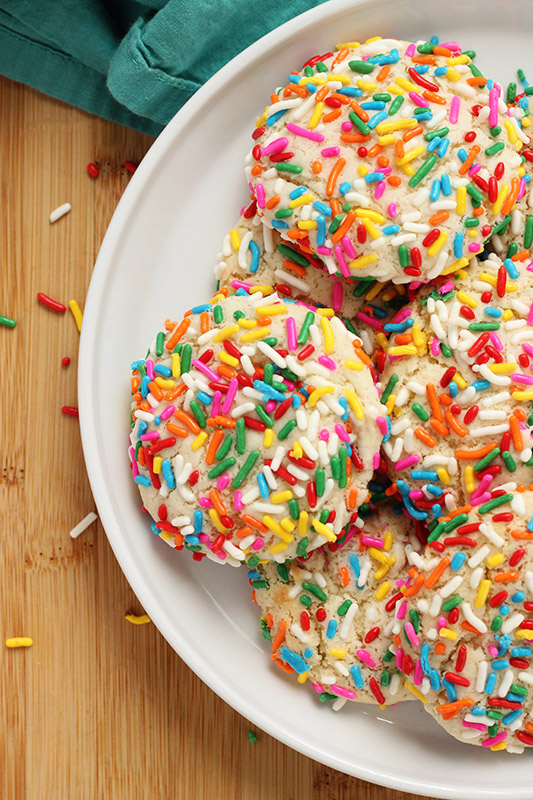 RECIPE FEATURES
Easy: You only need 5-ingredients for this simple cookie recipe.
Soft and Fluffy: These cookies are incredibly soft and fluffy. Almost cake-like but more cookie structure.
Easy to Customize: Switch up the flavor of cake or add your favorite mix-in's for more fun flavors!
I am a huge fan of baking hacks. Using a cake mix to make cookies is not new here, and one of the easiest cookies you can make. Minimal ingredients and yet you still get a flavor packed cookie that is soft and tender. This funfetti version is a family favorite and for good reason! So many sprinkles and a buttery flavor that cannot be beat.
Impossible to mess up, you'll love how quick and easy this dessert really is.
CAKE MIX COOKIE INGREDIENTS
While the sprinkles are optional, they add a pop of color that is perfect for any celebration. Add in the classic cake batter flavor and you have an instant winning recipe. Here is what you need to get started:
Cake Mix: Specifically, a white cake mix or funfetti cake mix. I almost always have white cake mix on hand, thank you Smith's case lot sale, but occasionally like to shake things up and opt for a funfetti.
Oil: Vegetable or canola oil are the only two we've tried. They work interchangeably and give a moist cookie that is irresistible.
Eggs: Two large eggs, preferably at room temperature. Having room temp ingredients helps everything to mix evenly.
Sprinkles: I love to roll the cookie dough in the sprinkles before baking, but you can fold them directly into the batter. Jimmies work best, although you can use the small nonpareils. They tend to be a little more difficult to chew.
HOW TO MAKE FUNFETTI COOKIES
Here's the secret, you don't have to add the sprinkles, but it adds an extra dose of fun. Use rainbow sprinkles for everyday celebrating OR switch out the colors for different holidays.
PREP: Preheat the oven to 350 degrees. Line two baking trays with parchment paper or, silicone baking mats, for easy cleanup.
MIX: Stir together the cake mix, oil, eggs, and sprinkles if using inside the batter.
SPRINKLE: Use a cookie scoop or measuring spoon to create 1 inch dough balls. If you haven't added sprinkles, roll each dough ball in the sprinkles now. Place 2 inches apart on a baking tray.
BAKE: Bake the cookies for 8 to 10 minutes or until the edges curl and just lightly brown.
HELPFUL TOOLS
Baking Trays: I am a big fan of my Nordic Ware pans (affiliate). I have both the half sheet and full pan sizes and they are amazingly easy to clean.
Silicone Baking Mats: Parchment paper is king in my kitchen, but only when both of my silicone baking mats (affiliate) are dirty. They are SO great for so many things and worth the $13 for a set of 3.
Cookie Scoop: You can use a measuring spoon. However, a 1 tablespoon cookie scoop (affiliate) is so handy and makes the process extra speedy.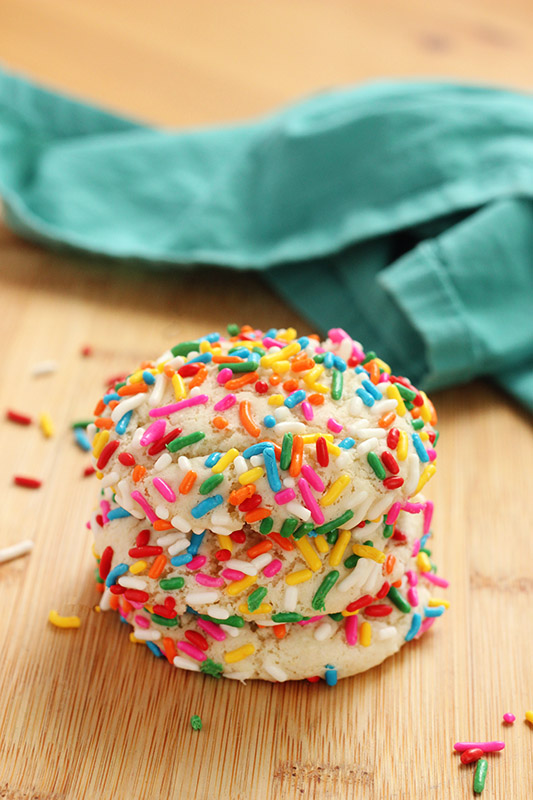 FUNFETTI COOKIE RECIPE TIPS
Can you freeze cake mix cookies?
Yes. These cookies freeze amazingly well. Bake and cool completely. Transfer to a freezer safe bag or container and keep stored in the refrigerator for 2 to 3 months. When ready to enjoy, remove from the freezer and allow to come to room temperature on the counter.
How long will this recipe last?
If stored in an airtight container, these cookies should last up to five days.
Do I need to chill the dough before baking?
Nope. However, it will help make these cookies easier to handle. I used a cookie scoop which means I didn't need to handle the dough too much.
Can I use other flavored cake mixes?
Yes! Use any cake mix flavor that sounds good to you. Our favorites? Chocolate, red velvet, and lemon!
MORE MUST-TRY CAKE BATTER TREATS
Still Hungry? Follow One Sweet Appetite on Instagram, Pinterest, and Facebook!
Cake Mix Funfetti Cookies
These Funfetti Cookies start with a cake mix and are ready in under 20 minutes! Soft and chewy with an amazing cake mix flavor and SPRINKLES!
Ingredients
1 box funfetti or white cake mix
1/3 cup oil
2 eggs
3 tablespoons sprinkles like jimmies
Instructions
Preheat the oven to 350 degrees. Line two baking trays with parchment paper or a silicone baking mat for easy cleanup.

Mix the cake mix, oil, and eggs until a batter forms.

Scoop the batter into 1 inch dough pieces and roll into palls.

Roll each ball in sprinkles and place on the prepared trays, spacing 2 inches apart.

Bake 8 to 10 minutes, or until the edges curl and are very lightly browned.
Notes
Optional: You can fold the sprinkles directly into the batter instead of rolling the dough.
Nutrition
Serving: 1g | Calories: 153kcal | Carbohydrates: 3g | Protein: 1g | Fat: 4g | Polyunsaturated Fat: 4g | Cholesterol: 16mg | Sodium: 16mg | Sugar: 2g
Reader Interactions