You cannot go wrong with these easy Turtle Thumbprint Cookies! Chocolate cookie dough rolled in chopped pecans and filled with the most delicious caramel filling. The perfect balance of sweet and a great addition to your cookie tray!
Looking for more delicious chocolate and nut recipes? You will love my German Chocolate Cupcakes, Easy Buckeye Recipe, and No-Bake Peanut Butter Bars!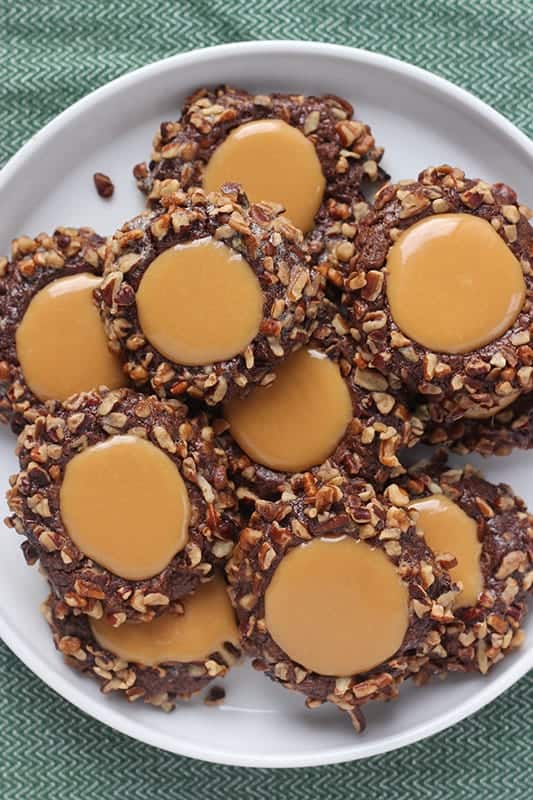 RECIPE FEATURES
Rich and Decadent: These cookies combine chocolate, caramel, and pecans for a rich and flavorful cookie.
Sweet and Salty: The pecans add a touch of salt, but these are especially delicious with a sprinkle of finishing salt.
Freezer Friendly: You can make the chocolate cookie in advance and freeze. When ready, remove from the freezer and allow to come to room temperature. Add the caramel and serve.
These turtle cookies… man… they are unbelievable rich and decadent.
If you are planning any sort of cookie swap, or just going to be nice and make up plates of treats for your loved ones, these need to be on your baking list. They look beautiful and taste divine. The caramel blends so well with the chocolate pecan cookie. What's not to love?
CHOCOLATE PECAN THUMBPRINT COOKIE INGREDIENTS
Flour: I've had success using all-purpose flour as well as white whole wheat.
Cocoa and Salt: Classic cocoa powder is best. Try to stay away from Dutch for these cookies. If you use salted butter, skip the added salt in the dry ingredients.
Butter: Unsalted butter is best for baking. It gives you control of how much added salt gets into your baking. However, you can use salted butter. Simply emit any extra salt called for in the dry ingredients.
Sugar: White, or granulated, sugar.
Egg: One large egg. That is all you need. Pay close attention to the instructions. You separate the egg but use both at different times.
Milk: Just a touch of milk is used to pull the cookie dough together. I like to use 2% milk or higher. You could also use half and half or heavy cream.
Vanilla: I recommend pure vanilla extract. Imitation vanilla can leave a chemical aftertaste in your baked cookies.
Pecans: Use unsalted baking nuts. Chop the pecans fairly small to help them stick to the cookies.
Caramels: Specifically, individually wrapped caramels that are used for apple dipping. You can find these in most candy aisles.
Cream: Heavy cream added to the caramel makes them a smooth softer caramel that is ideal for the center of these cookies.
HOW TO MAKE TURTLE THUMBPRINT COOKIES
PREP: Preheat the oven to 350 degrees. Line two cookie trays with parchment paper or a silicone baking mat and set aside. Separate the egg whites, saving the yolks for later, and lightly whisk. Set aside.
DOUGH: Whisk the dry ingredients in a medium sized measuring cup. Set aside and beat the butter and sugar in the bowl of an electric mixer with a paddle attachment. Stir until light and fluffy, about two minutes. Add the saved egg yolks, milk, and vanilla. Slowly stir in the dry ingredients.
PRESS: Shape the dough into 1 inch balls. Roll each in the egg whites followed by chopped pecans.
BAKE: Place each cookie two inches apart on a baking tray. Lightly press the tops with the back of a tablespoon, creating a well into each cookie. Bake 10 minutes, or until the edges of the cookies are firm.
FILL: While the cookies are baking, create a caramel sauce by melting the caramels and cream in a pan. Spoon on the top of each baked cookie and enjoy!
HELPFUL TOOLS
Baking Trays: I am a big fan of my Nordic Ware pans (affiliate). I have both the half sheet and full pan sizes and they are amazingly easy to clean.
Silicone Baking Mats: Parchment paper is king in my kitchen, but only when both of my silicone baking mats (affiliate) are dirty. They are SO great for so many things and worth the $13 for a set of 3.
Cookie Scoop: You can use a measuring spoon. However, a 1 tablespoon cookie scoop (affiliate) is so handy and makes the process of rolling these turtle thumbprint cookies extra speedy.
Recipe Notes:
Can these turtle thumbprint cookies be made nut free?
If you are not a pecan fan you can leave them off. The base cookie tastes just like a brownie and is divine with or without the crunch nut exterior.
Do you need to chill this cookie dough?
Nope! This recipe does not require any chilling. The cookies turn out perfectly puffed every time without the need to let the dough rest in the refrigerator.
How do you separate an egg?
The easiest way, that I have found, to separate an egg is to crack the egg and break the shell in half. Carefully transfer the yolk back and forth between the two shells, letting the whites fall into a bowl.
Can you freeze these cookies?
Yes! Freeze the cookies before you roll them into the pecans. When ready to bake, let them sit at room temperature for 30 minutes. Roll each dough ball into an egg wash followed by chopped pecans. Follow the directions for baking in the recipe card.
You can find more information about freezing cookie dough in this post.
MORE MUST-TRY PECAN RECIPES
Still Hungry? Follow One Sweet Appetite on Instagram, Pinterest, and Facebook!
Caramel Pecan Thumbprint Cookies
Caramel Pecan Thumbprint Cookies. These chocolate cookies are rolled in diced pecans and filled with soft caramel. We like to call them Turtle Cookies!
Ingredients
1 large egg
1 cup all-purpose flour
1/3 cup cocoa powder
1/4 teaspoon salt
1/2 cup unsalted butter softened
2/3 cup sugar
2 tablespoons milk
1 teaspoon vanilla
1/4 cup pecans diced
16 caramels unwrapped
3 tablespoons heavy cream
Instructions
Separate the egg, saving the egg yolk, and lightly beating the white. Set the egg white to the side for later.

Preheat your oven to 350 degrees and line two baking sheets with parchment or a reusable baking mat. Set aside.

Whisk the flour, cocoa, and salt in a medium bowl or measuring cup. Set aside.

In the bowl of an electric mixer, cream together the butter and sugar using the paddle attachment. This should take 2 minutes on medium speed.

Add the egg yolk, milk, and vanilla. Slowly stir in the dry ingredients.

Shape dough into one inch balls. Roll into the egg white followed by the pecans.

Place each ball two inches apart on a baking sheet. Lightly press with your thumb or a measuring spoon.

Bake 10 minutes or until the edges are firm. Remove from the pan and place onto a cooling rack.

While your cookies are cooling, heat the caramels and cream in a heavy saucepan until melted.

Spoon filling on top of the cookies and into the indentation you made before with your thumb.

Drizzle with chocolate if desired.
Notes
If you are not a pecan fan you can leave them off. The base cookie tastes just like a brownie and is divine with or without the crunch nut exterior.
Nutrition
Serving: 1cookie | Calories: 235kcal | Carbohydrates: 31g | Protein: 3g | Fat: 11g | Saturated Fat: 6g | Polyunsaturated Fat: 4g | Cholesterol: 41mg | Sodium: 87mg | Fiber: 1g | Sugar: 20g
Reader Interactions