Learn How to Freeze Cookie Dough with this easy step by step guide. Whether you're looking to freeze dough balls, disks, or cut out shapes, this tutorial covers them all.
This helpful tip comes in handy all-year long, but is especially nice around the holidays. Be sure to check out my list o f 15 must-make holiday brunch ideas!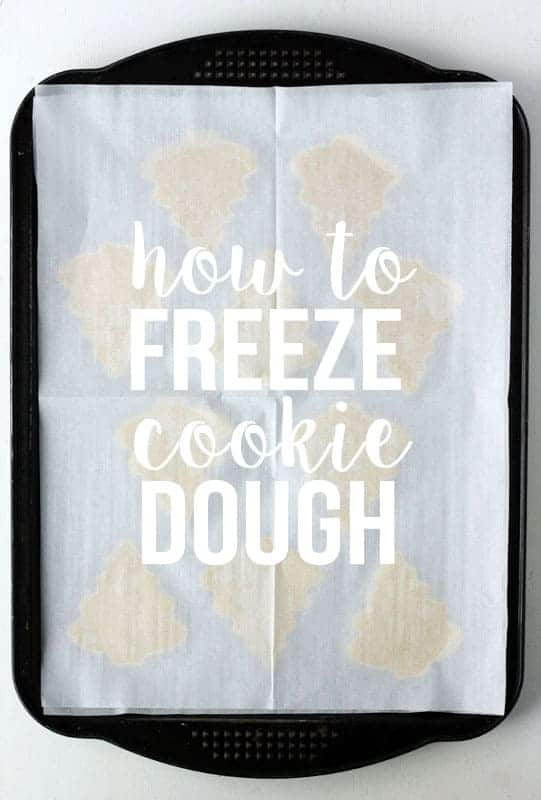 CAN I FREEZE HOMEMADE COOKIE DOUGH?
Frozen cookie dough is a game changer. It makes it SO easy to have fresh baked cookies at your fingertips in a matter of minutes. Here are a couple reasons why I am a big believer in freezing your cookie dough and why YOU should do it too:
You will always have a stash of cookies ready to bake and devour. So handy when you have unexpected guests drop by.
Making batches of cookies in advance can free up your time during the holidays! Pull out a few different flavors and bake together for a quick neighbor cookie tray!
So let's get started! I want to answer a few questions before we dive in…
DOES FREEZING COOKIE DOUGH RUIN IT?
Not even a little. Freezing the dough actually helps solidify the butter, which in turn gives you super fluffy cookies after baking. The best cookies to freeze are drop cookies, like chocolate chip, log cookies (Cherry Shortbread), and roll out cookies (sugar cookies or gingerbread).
I have only found a handful of cookie recipes that should not be frozen. Basically, anything delicate like French macaron, pizzelle, or madeleine cookies.
Get this, homemade cookie dough can last 3 to 6 months in the freezer. Make sure you store it properly in either an air tight container or freezer safe bag.
CAN YOU BAKE FROZEN COOKIE DOUGH WITHOUT THAWING?
This is a personal preference. Technically,you do not have to thaw your cookie dough. Simply add 2-3 minutes to the baking time.
However, I prefer my cookie dough to be partially thawed before baking. I remove mine from the freezer and place on a parchment lined tray about 20 minutes before baking. Follow the baking instructions from there.
HOW TO FREEZE COOKIES
There are three different types of cookies, which means three different freezing techniques. I'll cover how to freeze drop cookies, slice or log cookies, as well as roll-out cookies. Each is as easy as pie and will make your baking super simple to prep in advance!
FREEZING DROP COOKIES
Drop cookies are by far the easiest to freeze and bake. Examples will be chocolate chip, M&M cookies, and snickerdoodle.
Scoop and shape your cookie dough into rounds.
Place close together on a parchment lined baking tray, making sure the dough balls do not touch.
Freeze for 1 hour. This is called "flash freezing." It allows the dough to become solid before placing in a container, which makes sure they do not stick together and are easy to pull out for baking.
Remove and store in a freezer safe bag or air tight container. Be sure to label and date.
FREEZING SLICE AND BAKE COOKIES OR COOKIE LOGS
Slice and bake cookies are a popular variety. We also use this method for sugar cookies (before shaping) or roll cookie dough!
Form your dough into one or two logs by gently rolling between parchment paper.
Wrap tightly in parchment or plastic wrap to avoid freezer burn.
Place in a freezer safe bag and freeze solid. Don't forget to label and date.
FREEZING CUT-OUT COOKIES
All of the fun of cookie decorating without the stress! Have your rolled cookies ready to go for your decorating day.
Make and roll out your cookie dough. Cut your desired shape.
Place each cut out onto parchment paper and place on a cookie tray. Line an additional layer of parchment on top of you cutouts.
Freeze solid.
Store in an airtight container or freezer safe bag until ready to use. I stack mine, using parchment in between to keep them from sticking.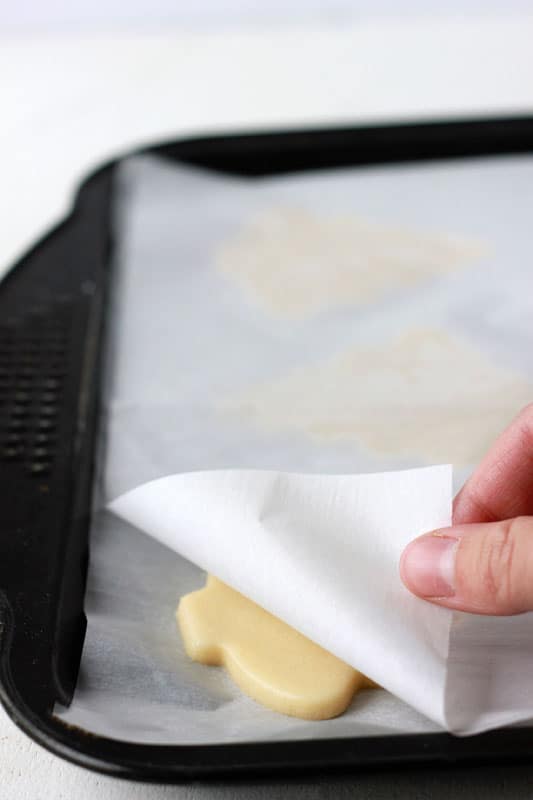 IS IT BETTER TO FREEZE COOKIE DOUGH OR BAKED COOKIES?
Here's the secret, it doesn't really make a difference if you freeze dough vs baked cookies. If you want a warm, fresh baked cookie I would stick with dough. However, baked cookies can last up to 12 months in the freezer if stored properly.
So, heck to the yes. You can definitely freeze baked cookies. Baked cookies can stay fresh, if stored properly, for up to 4 weeks in the freezer. That means you can make all of your holiday cookie tray treats a month in advance and pull them out when you are ready to serve!
HOW TO FREEZE BAKED COOKIES
Let the cookies cool completely.
Place in a single layer on a baking tray lined with parchment paper. Freeze 1 hour.
Store in freezer safe zip top bags that are labeled and dated.
To give your frozen cookies a fresh taste, bake at 350 degrees for 5 minutes. Your house will smell amazing and the cookie will be perfectly warmed.
MORE MUST-TRY COOKIE RECIPES:
Still Hungry? Follow One Sweet Appetite on Instagram, Pinterest, and Facebook!
The BEST Sugar Cookies
These are easily the BEST cut out sugar cookies. Made with simple ingredients and no chilling!
Ingredients
2½ to 3 cups all-purpose flour plus more for rolling
1 teaspoon baking powder
1/2 teaspoon salt
3/4 cup butter softened
1 cup granulated sugar
2 large eggs
1 teaspoon pure vanilla extract
Instructions
Preheat the oven to 350 degrees. Line a cookie pan with parchment paper or a baking mat and set aside.

Whisk together the flour baking powder, and salt in a medium bowl or measuring cup. Set aside.

In the bowl of a stand mixer fitted with the paddle attachment, combine the butter and sugar. Beat until light and fluffy, about 3 minutes on medium speed. Stir in the eggs, one at a time, followed by the vanilla. Stir until incorporated.

Add the dry ingredients and beat on low/medium speed until everything just comes together, about 2 minutes. You will see the dough start to form into a ball.

Roll the dough 1/2-1/4 inch thickness. The thicker the cookie the softer the end result will be. Do not go thicker than 1/2 an inch.

Cut using your favorite  cookie cutter and carefully transfer to the prepared baking tray. Bake for 10 minutes or until the edges are slightly browned.

Enjoy as is or decorated with your favorite icing.
Notes
Do I need to chill the dough?
Technically, no. This cut out sugar cookie recipe is no chill. However, if you are looking for a more precise shape, I do recommend cutting out the shapes and chilling for one hour in the refrigerator.
Why is my dough so sticky?
This sugar cookie recipe can be stickier. You have two options, add a touch more flour or chill for 1 hour before rolling. I find it helpful to roll the dough out between two sheets of parchment paper. This keeps it from sticking to the rolling pin.
Nutrition
Serving: 1Servings | Calories: 196kcal | Carbohydrates: 24g | Protein: 3g | Fat: 10g | Saturated Fat: 4g | Polyunsaturated Fat: 5g | Cholesterol: 22mg | Sodium: 64mg | Fiber: 1g | Sugar: 8g
Reader Interactions