This post was updated on by Jesseca
These Classic Peanut Butter Cookies are the best cookies to put in your recipe box! Made with creamy peanut butter giving you the perfect soft cookie recipe!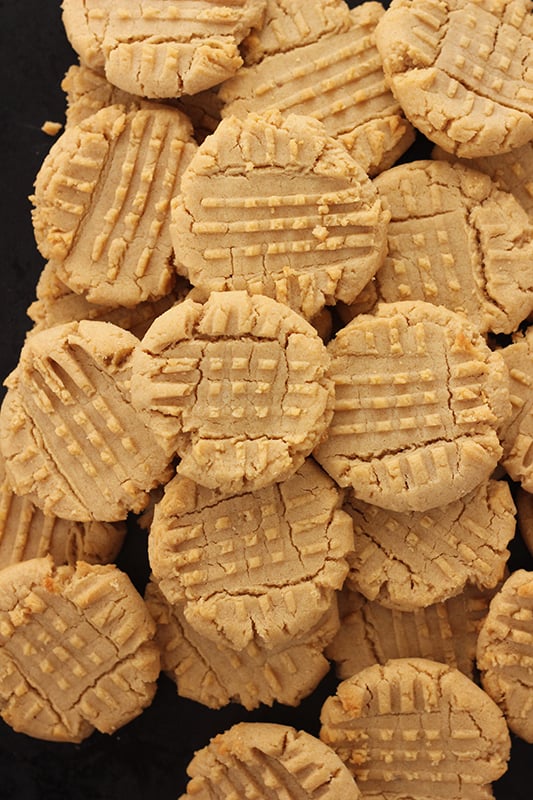 Ya'll… I made peanut butter cookies for you.
And they are INSANELY delicious.
They are soft, chewy, and addictive. Perfect with a tall class of cold milk, as a late night snack, or a special treat. Above all else, they are super simple to make!
Classic Peanut Butter Cookies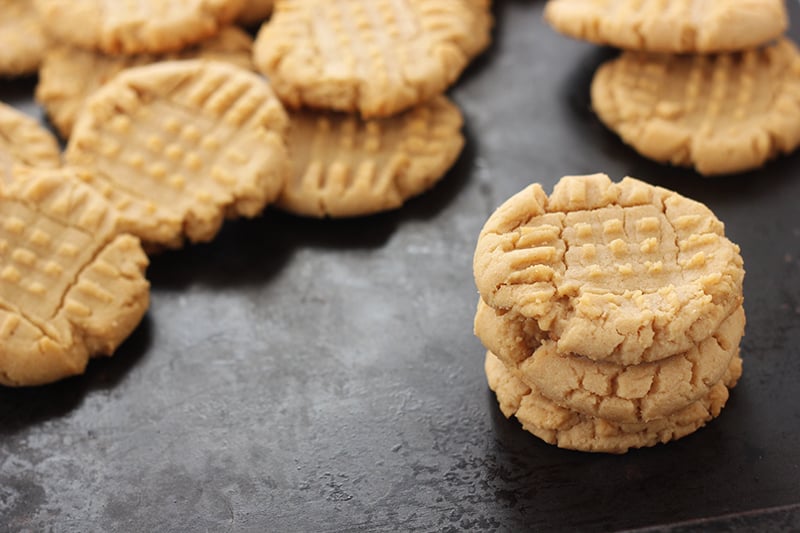 I tried so many recipes before this one made its way to my collection. It is sort of a combination of several. I took all of the things I loved about each and combined them to make the ultimate peanut butter cookie recipe.
Everything really does start with a quality peanut butter. It is the star of the show so you will want to make sure you pick a good one. Use a no-stir version. We tried both varieties and had better success with Jif or Skippy. While I used creamy, you could easily substitute crunchy for a different texture!
Did I mention this dough DOES NOT need to be chilled? It goes directly from the mixer to your oven saving you even more time!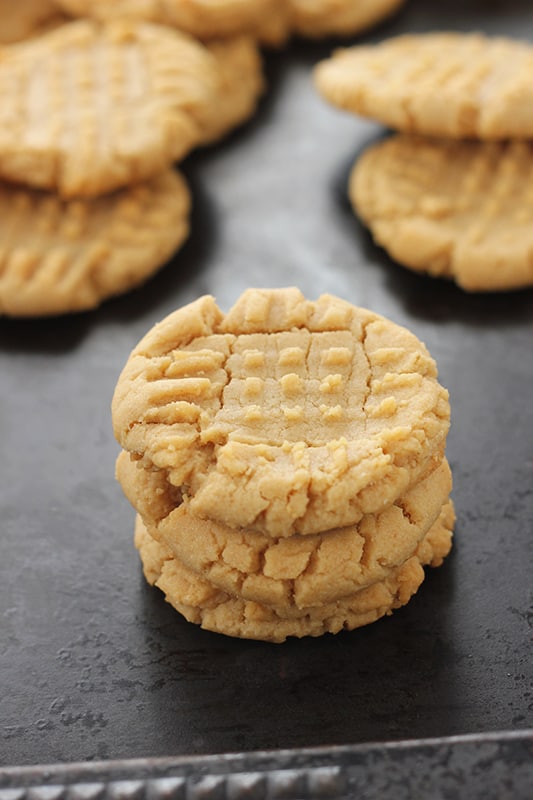 Like this recipe? You will love my Classic M&M Cookies, Soft Gingerbread Cookies, and Salted Brownie Cookies!
Now, there are a few things you should know before you get started on this recipe. It is so easy and basically fool-proof if you follow the tips below!
Tips for baking perfect cookies every time:
Use room temperature ingredients. I stress this in almost all of my cookie posts. Making sure your butter and eggs are at room temp ensures that they incorporate into your recipe giving you a smooth and beautiful dough.
SLOW mixing is key. Keep your mixer on 1 or 2 speed setting. Being gentle with the dough is the secret to keeping them soft and chewy.
Use a cookie scoop for even cookie sizes! Also, it is soooo much easier to get them all onto your tray. I really like this cookie scoop.
Remove the cookies from the tray as soon as they come out of the oven. The hot pan can keep cooking your cookies. Make sure you remove them to a cooling rack as soon as possible.
How to make Classic Peanut Butter Cookies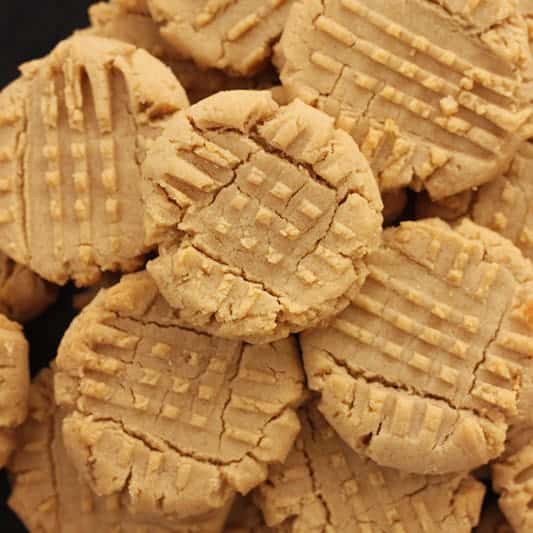 Classic Peanut Butter Cookie Recipe
These Peanut Butter Cookies are the best cookies to put in your recipe box! Made with creamy peanut butter giving you the perfect soft cookie recipe!
Ingredients
3 cups all purpose flour
1 teaspoon baking powder
1/2 teaspoon salt
1-1/2 teaspoons baking soda
1 cup butter, soft
1-1/2 cups good quality creamy peanut butter
1 cup granulated sugar
1 cup brown sugar
2 large eggs
2 teaspoons vanilla extract
Instructions
Preheat your oven to 375 degrees, Line two cookie trays with parchment paper.
Combine the flour, baking powder, salt, and baking soda in a large bowl. Whisk gently to combine and set aside.
Mix the butter and peanut butter until fully combined in the bowl of an electric mixer. 
Add both sugars. Mix on low until fluffy.
Stir in the eggs and vanilla extract until incorporated into the dough. Slowly add the dry ingredients.
Use a spoon or cookie scoop to create 1" dough balls. Place 2 inches apart on your prepared cookie sheets. Gently press down with your fork creating those classic peanut butter cookie marks. 
Bake 10 minutes or just until the bottoms start to lightly brown.
Recommended Products
As an Amazon Associate and member of other affiliate programs, I earn from qualifying purchases.

Pin this for later: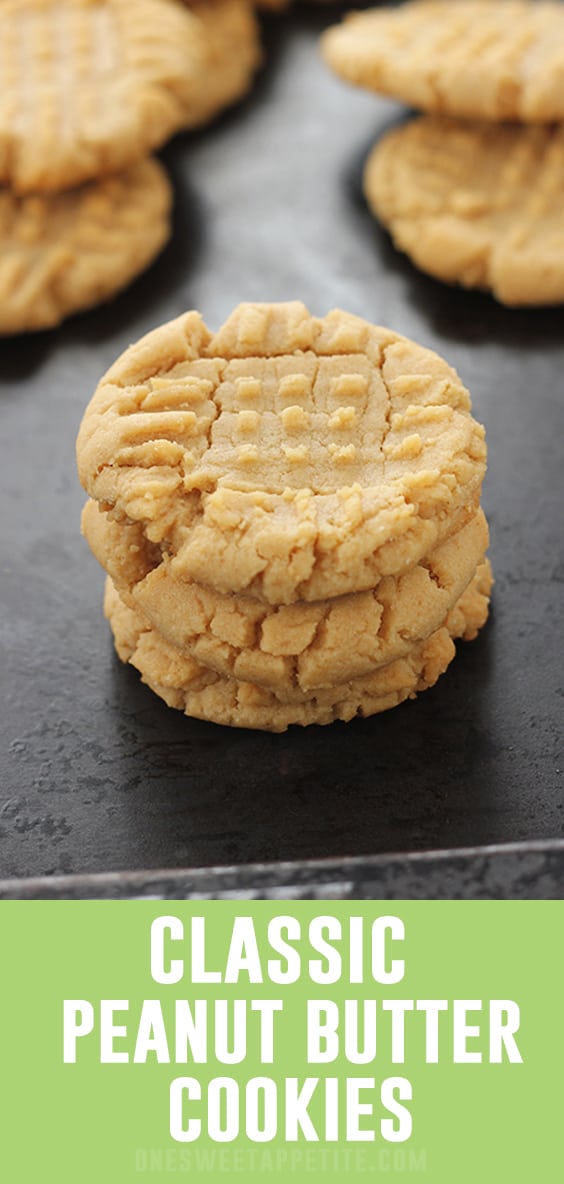 Still hungry? Follow One Sweet Appetite on Facebook, Instagram and Pinterest for more great recipe ideas!
(Visited 365 times, 1 visits today)
3