These Copycat Cosmic Brownies are thick, fudgy, and so much better than the original! Topped with a thin layer of fudge ganache and the classic rainbow chip sprinkles for that classic treat we all know and love!
These brownies are INCREDIBLE, but if you're looking for something even more out-of-the-box I suggest my S'more Brownies, Nutella Brownie Recipe, or my Chocolate Mint Brownies.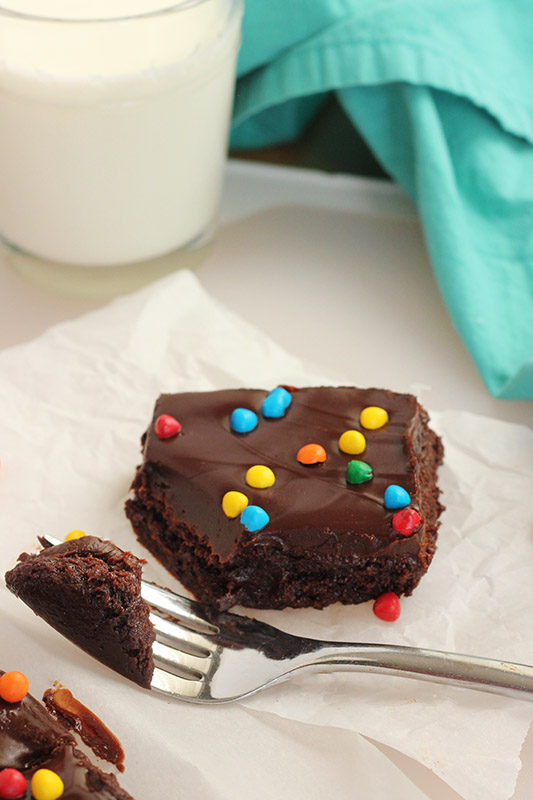 RECIPE FEATURES
EASY: The brownie comes together with one bowl and a spoon. No need for a mixer!
Make-Ahead: These are the most rich and fudgy brownies ever. Make them a day or two in advance and you'll still have a rocking recipe that everyone will love.
Nostalgic Family Favorite: My son requests these as his treat anytime we are celebrating!
Here's the deal with this cosmic brownie recipe, it's super thick, ultra fudgy, and tastes 100x better than the original. Which is tough for me to say because my love for the processed chocolate brownie runs deep. The batter comes together quickly, no mixer required, and the fudgy chocolate topping is an over the top addition that just pulls it all together.
So, skip the store bought and give this simple brownie a try! You will not be dissapointed.
COSMIC BROWNIES INGREDIENTS
I've been making these easy fudge brownies for YEARS. They're one bowl and you cannot mess them up. It takes me less than 10 minutes to have them in the oven. Here's what you need:
Butter: Unsalted butter, no need to have it at room temp. It's actually going to be melted down. IF you need to use salted butter, skip the added salt in the dry ingredients.
Sugar: Regular granulated, or white, sugar.
Cocoa Powder: For a classic brownie, that will be deliciously fudgy, stick with regular cocoa powder. For a darker richer brownie use Dutch processed.
Salt: Not a lot, but just enough to enhance the flavor of the chocolate.
Vanilla: Vanilla enhances the flavor of the brownie. Try to opt for pure vanilla and avoid imitation. It leaves a slight chemical aftertaste that will change the finish of the dish.
Eggs: Large eggs at room temperature.
Flour: I have only made this recipe with all-purpose flour. However, I don't see a reason you couldn't use other varieties.
Chocolate Chips: If you want a super rich finish on the fudge topping, use a semi sweet chip. For a more toned down version you can substitute half for milk chocolate.
Cream: The topping is a ganache. Heavy cream is heated and poured over the top of chocolate to melt it into a spreadable consistency.
Sprinkles: Not just any sprinkles, cosmic brownie sprinkles (affiliate). These aren't the easiest to find, but pro tip: you can just use sixlets (affiliate)!
COPYCAT COSMIC BROWNIES
PREP: Mist an 8×8 inch cake pan with baking spray. Set aside and preheat the oven to 325 degrees. Optionally, I like to line my pan with parchment paper for easy removal.
MIX: Whisk the melted butter, sugar, cocoa, salt, and vanilla in a large mixing bowl until combined. Add the eggs, one at a time, followed by the flour.
BAKE: Spread into the prepared pan and bake 25-35 minutes, or until a toothpick poked into the center comes out clean.
FROST: While the brownies are cooling slightly, place the chocolate chips in a small heatsafe dish. Heat the cream in the microwave, in 30 second intervals, until warm but not boiling, about 45 seconds. Pour over the chocolate chips and allow to sit for 5 minutes. Stir until the chips are melted and the mixture is smooth.
ENJOY: Pour the chocolate over the brownies and sprinkle with candy coated chocolate chips. Let the topping firm for about 20 minutes before cutting.
HELPFUL TOOLS
Baking Pans: For these brownies, I use 8-Inch Square Cake Pans (affiliate). They give you the perfect thickness which leaves you with an insanely delicious fudge finish.
Brownie Knife: Did you know that a plastic knife (affiliate) is actually best for brownies? I don't know what kind of magic happens, but almost zero brownie sticks to the plastic!
Airtight Containers: Keep your brownies fresh longer with a quality container (affiliate). This set is my go-to for brownies, cakes, and cookies.
BROWNIE RECIPE TIPS
Do I need a mixer?
No. In fact, brownies are actually better when mixed by hand. This keeps too much air from entering the batter during the mixing process. You can use a mixer, but make sure to keep it on low speed.
Do these need to be refrigerated?
Yes and no. If you add the chocolate ganache topping, they should be refrigerated to keep the topping firm. If you make the brownies only, or don't mind a melty topping, they can be stored in an airtight container on the counter.
How long do these brownies last?
If stored inside an airtight container, these brownies should last 3 to 4 days.
Can I freeze homemade brownies?
Yes! You can freeze frosted or unfrosted brownies for up to 2 months. When ready to enjoy, take out of the freezer and allow to come to room temperature.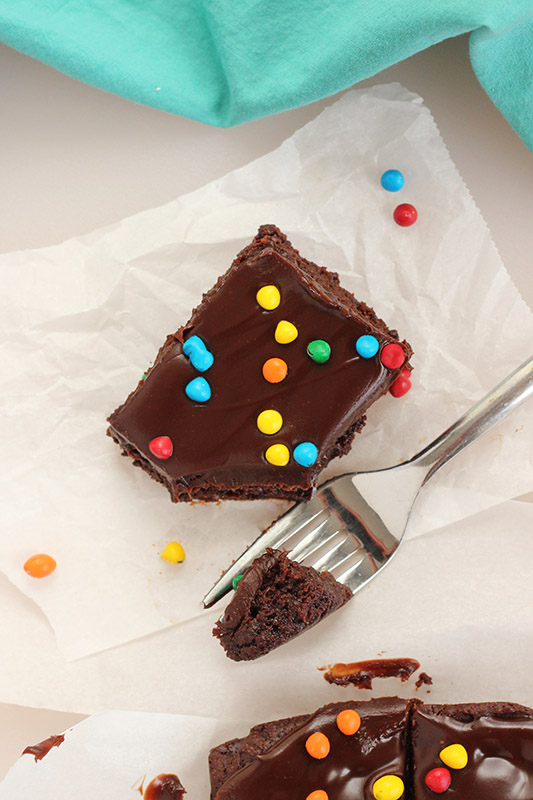 MORE MUST-TRY COPYCAT DESSERT RECIPES
Still Hungry? Follow One Sweet Appetite on Instagram, Pinterest, and Facebook!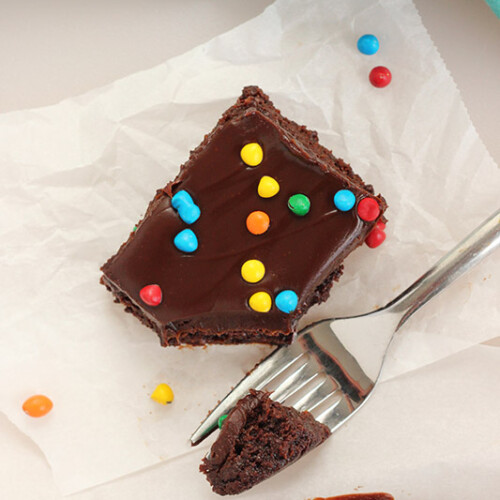 Copycat Cosmic Brownie Recipe
These Copycat Cosmic Brownies are thick, fudgy, and so much better than the original! Topped with a thin layer of fudge ganache and the classic rainbow chip sprinkles for that classic treat we all know and love!
Ingredients
For the Brownies:
10 tablespoons butter melted
1-1/4 cup sugar
3/4 + 2 tablespoons cocoa powder
1/4 teaspoon salt
1 teaspoon vanilla extract
2 large eggs
1/2 cup flour
For the Topping:
4 oz about 1/2 cup chocolate chips
1/4 cup heavy cream
Sprinkles OR candy coated chocolate chips for the top
Instructions
Brownies:
Preheat the oven to 325 degrees. Mist an 8 inch baking pan with baking spray. Set aside.

Whisk together the melted butter, sugar, cocoa powder and salt.

Stir the vanilla and eggs into the chocolate mixture.

Fold in the flour until combined with the remaining ingredients. It's ok if it looks slightly grainy.

Pour the batter into the prepared baking dish. Bake 25-35 minutes, or until a toothpick poked into the center of the brownies comes out clean.
Topping:
Place the chocolate chips into a heatproof bowl.

Heat the cream in the microwave for 30 seconds to 1 minute, or until hot but not boiling.

Pour over the chocolate chips. Let the mixture sit for 5 minutes.

Stir the chocolate chips until melted and smooth.

Pour over the top of the brownies and spread with the back of a spoon or spatula.

Sprinkle the candy coated chocolate chips on top of the ganache.

Cool before cutting, or enjoy an extra messy brownie right from the oven!
Notes
For a rich topping use semi sweet chocolate chips. For a toned down topping swap half of the chips with milk chocolate. Want more fudge topping? Double the cream and chocolate chips!
Reader Interactions