These easy Peanut Butter and Jelly Granola Bars transform the lunch box classic into a portable snack that everyone will love! Perfect for kids, a quick breakfast, and snacking on the go.
Looking for more quick healthy snacks? Try my PB&J Apples, Chips and Guacamole, or Honey Cinnamon Yogurt Fruit Dip.
This yummy granola bar recipe was originally published August 26, 2013. It has since been updated to include fresh photos and helpful recipe tips.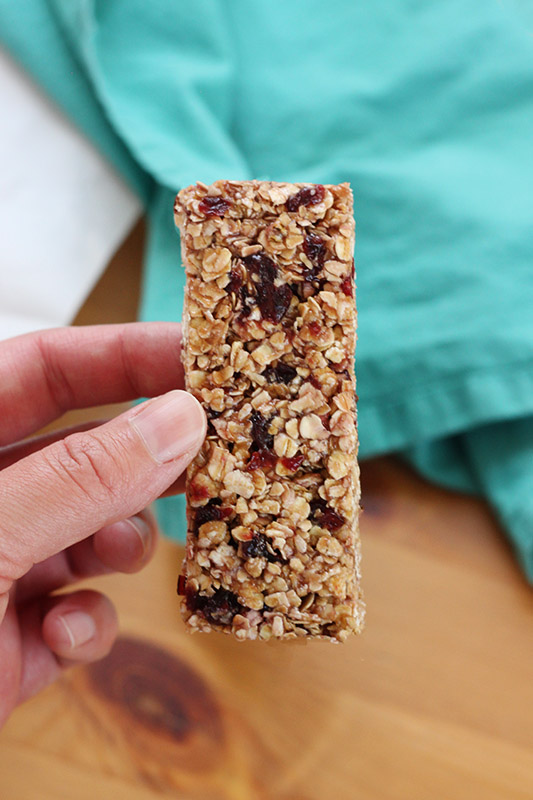 RECIPE FEATURES
Easy Snack Recipe: This recipe takes roughly 10 minutes to prep.
Customizable: Add your favorite granola mix-in's or swap the jelly for your favorite flavor.
Flavor Packed: The peanut butter mixed with the jelly is simply delicious. One of my favorite bars!
I am constantly looking for great snack and lunch box recipes. I have a semi picky eater so getting him to munch on anything past chicken nuggets is a struggle. These granola bars are LIFE CHANGING. Not only does he love them but they are requested regularly.
They do not last long in our home. Perfect after school snack and lunch box addition. They are quick and easy to make, like my protein granola, and a perfect after school or hiking snack! You cannot go wrong with the classic peanut butter and jelly flavor that comes with every bite.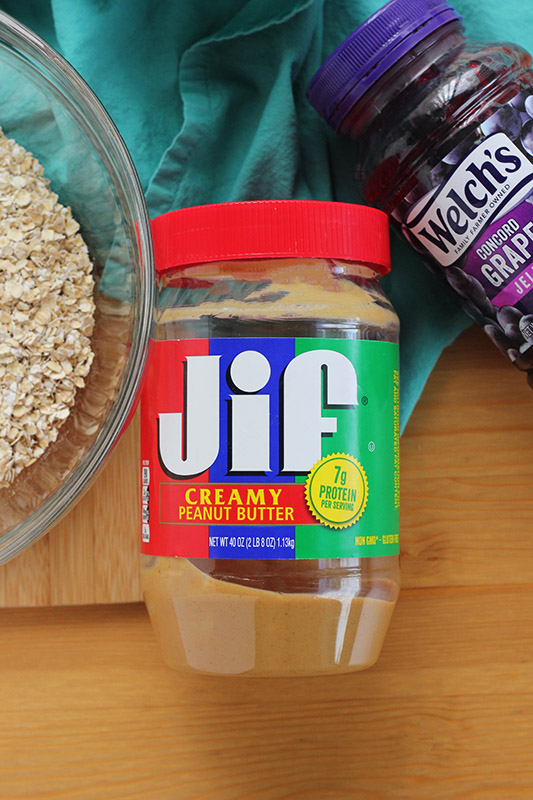 GRANOLA BAR INGREDIENTS
I like recipes that use simple ingredients and this one follows suit. You only need a handful of items and most of them are probably already in your pantry.
Oats: I like quick oats for these granola bars. They are a little less chewy and hold together better than rolled oats.
Honey: Try local honey. It has a surprising amount of health benefits including helping with seasonal allergies. Plus it's always nice to support local.
Brown Sugar: This adds a sweetness and slight molasses flavor that cannot be beat.
Peanut Butter: Creamy peanut butter works best. If you want a little added crunch, you can add chopped nuts to the oat mixture.
Vanilla Extract: Just a touch to help bring in the aromatic flavor of vanilla and help blend the flavors.
Grape Jelly: Really, any jelly works in this recipe. Grape had a prominent flavor that worked well with the peanut butter, but we also like to use strawberry.
Salt: Just a pinch to balance flavors.
Craisins: Optional, but a fun add-in ingredient.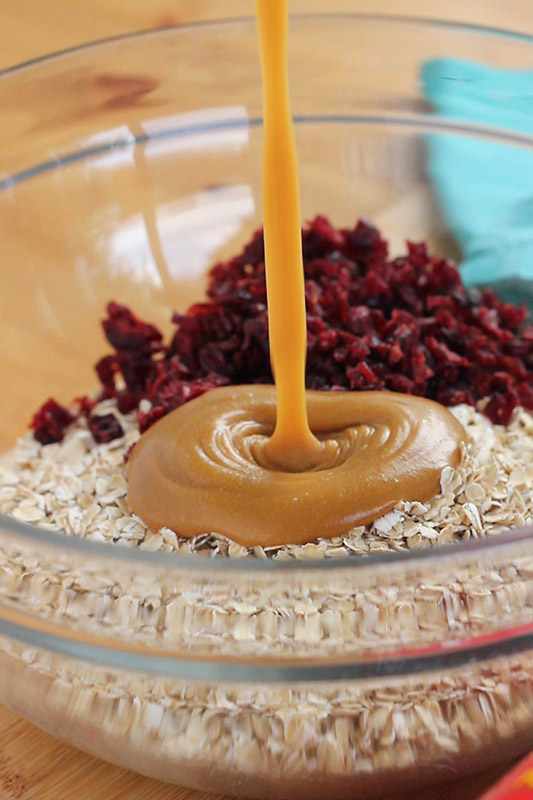 HOW TO MAKE PEANUT BUTTER AND JELLY GRANOLA BARS
PREP: Gather and measure your ingredients. Preheat the oven to 350 degrees and line a tray with parchment paper.
TOAST: Spread the quick oats in an even layer over the prepared baking tray. Bake 10 minutes, stirring once halfway through, to lightly toast the oats.
COOK: Combine the honey, peanut butter, and brown sugar in a small pot. Heat over low/medium heat until melted, about 2 minutes. Remove from the heat and stir in the vanilla extract. Set aside.
MIX: Toss the toasted oats and chopped craisins, if using, into a mixing bowl. Drizzle with the peanut butter mixture and stir to combine. Heat the jelly for 20 seconds in the microwave and stir into the oat mixture.
CHILL: Press the granola tightly into a greased baking dish. Chill until firm. Cut into 9-12 rectangles and enjoy.
HELPFUL TOOLS
Silicone Mold: Want perfectly shaped bars? Try using a granola bar mold (affiliate). These will give you perfectly shaped bars every single time.
Mixing Bowls: A quality set of mixing bowls needed in every kitchen. This nesting set of bowls (affiliate) is one of my favorites. The different sizes are incredibly handy and it doesn't take up too much space.
Silicone Spatula: Silicone spatulas (affiliate) are amazing. You can use them for mixing, cooking (since they are heat resistant) and everything in between.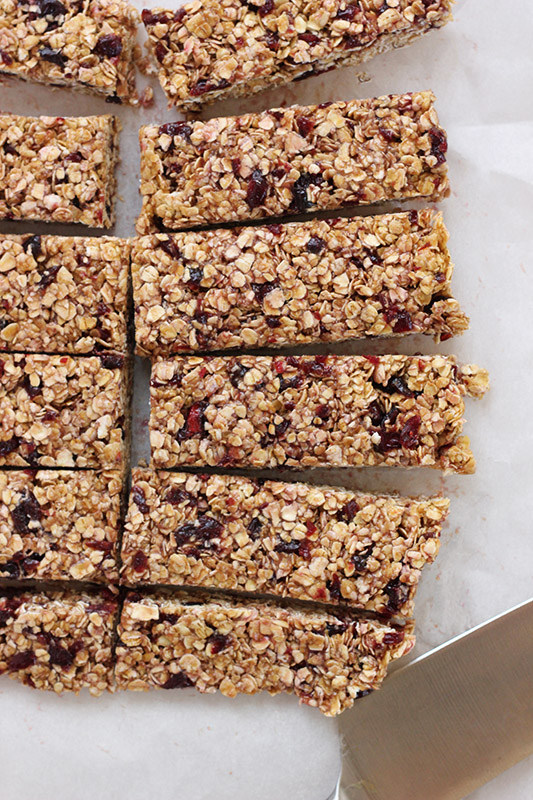 GRANOLA BAR RECIPE TIPS
How do you store granola bars?
Keep these bars stored in an airtight container on the counter or in the refrigerator.
How long do homemade granola bars stay good?
Stored on the counter, these will last roughly one week. For a longer lasting bar, keep stored in the refrigerator for up to 2-3 weeks.
Can these be gluten free?
Looking for a gluten free granola bar? With a few simple adjustments to the ingredients you can make a batch of gluten free bars, no problem! Pick up gluten free oats, like Bob's Red Mill (affiliate) along with homemade peanut butter or a gluten free PB and Jelly.
What helps granola bars stick together?
The best way to keep granola bars together is honey. It acts as a glue and slight sweetener, holding things together while adding a subtle flavor that is unbeat!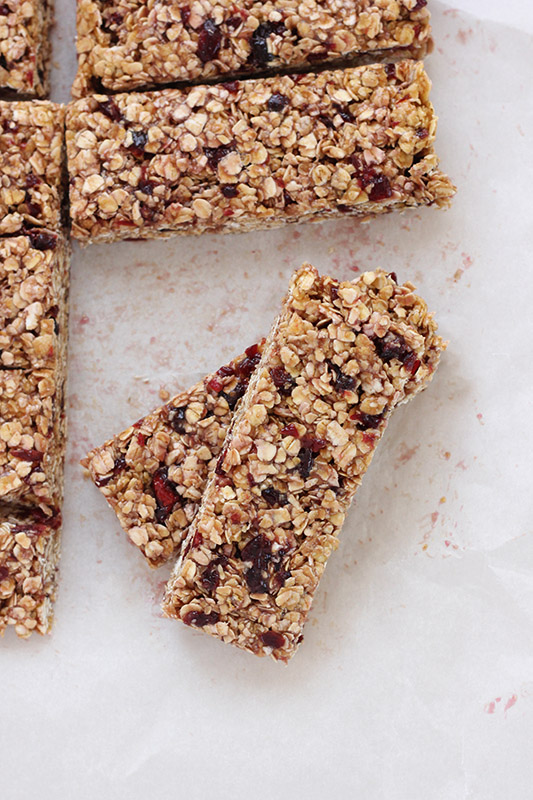 MORE MUST-TRY GRANOLA RECIPES
MORE MUST-TRY PEANUT BUTTER RECIPES
Still Hungry? Follow One Sweet Appetite on Instagram, Pinterest, and Facebook!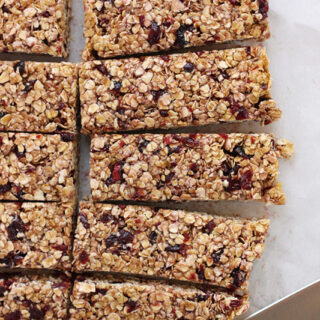 Peanut Butter And Jelly Granola Bars
These easy Peanut Butter and Jelly Granola Bars transform the lunch box classic into a portable snack that everyone will love! Perfect for kids, a quick breakfast, and snacking on the go.
Ingredients
2½ cup quick oats
1/3 cup honey
1/4 cuo peanut butter
1/4 cup brown sugar
1/2 teaspoon pure vanilla extract
1/4 cup grape jelly
1/4 teaspoon salt
1/2 cup crasins slightly chopped
Instructions
Preheat your oven to 350 degrees. Spread your oats onto a cookie sheet. Toast in the oven for 5 minutes.

Combine the honey, peanut butter, brown sugar, and vanilla in a small saucepan. Heat until just melted. 

Drizzle the honey mixture over the toasted oats in a large bowl. Stir quickly until mostly combined.

Microwave the jelly for 20 seconds. Pour it over the oats with the salt and mix until combined. Press into a 8 inch pan with the back of a spatula. Refrigerate 4 hours.

Cut into squares and enjoy!
Notes
Homemade granola bars will last one week if stored in an airtight container on the counter, two weeks stored in the refrigerator.
Nutrition
Serving: 1bar | Calories: 122kcal | Carbohydrates: 28g | Protein: 2g | Fat: 1g | Polyunsaturated Fat: 1g | Sodium: 80mg | Fiber: 2g | Sugar: 19g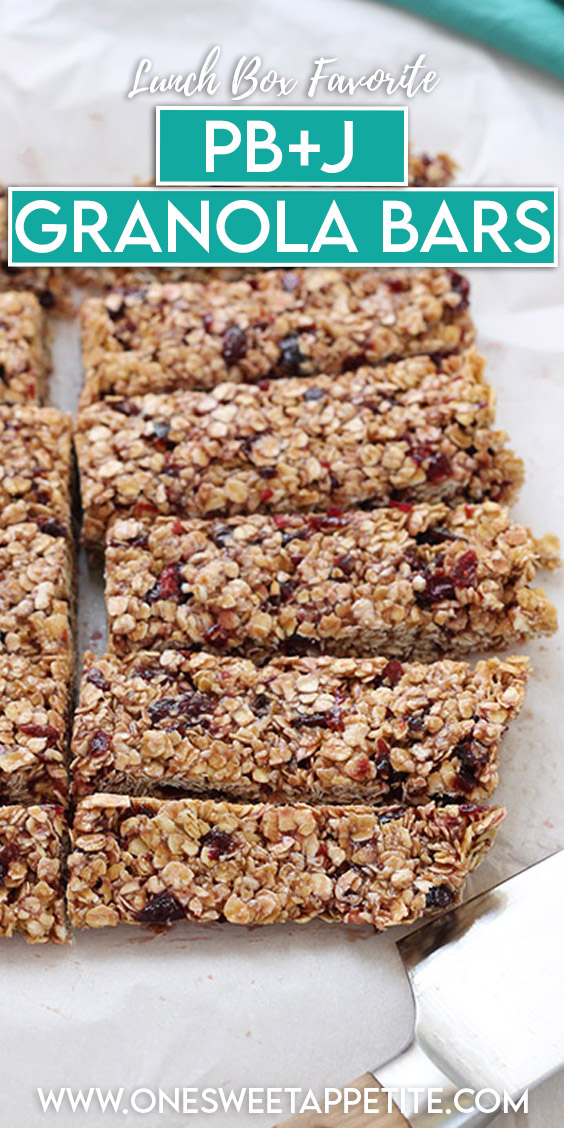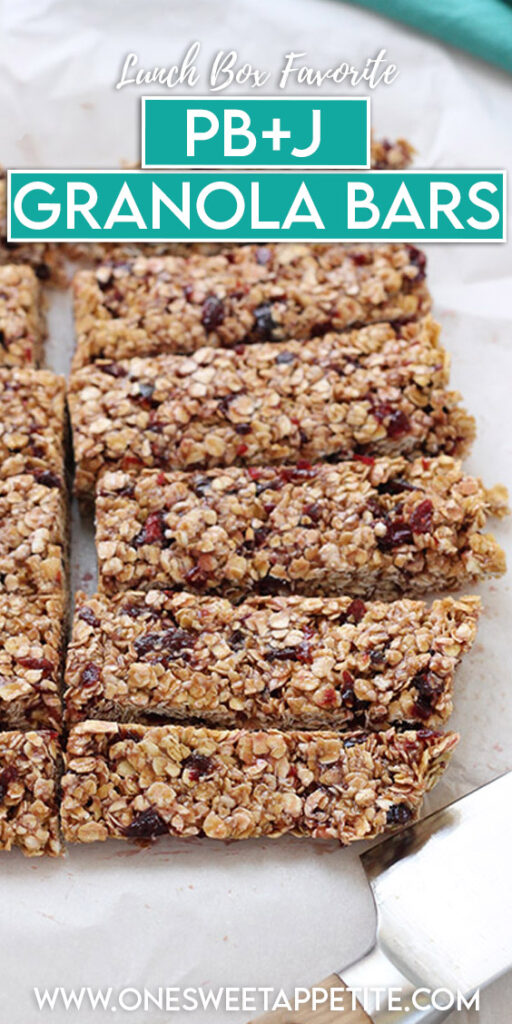 Reader Interactions