One of the reasons I decided to work with Mighty Nest was because of the amazing campaigns and projects they do with moms and schools. This year they are focusing on getting your kids into the kitchen to help pack healthy lunches. I love having my little guy help me with lunchtime prep because it gives me a chance to really explain some of the fun health benefits of the foods we chose to eat. Homemade lunchables are the perfect way to have the super littles get their hands into the mix.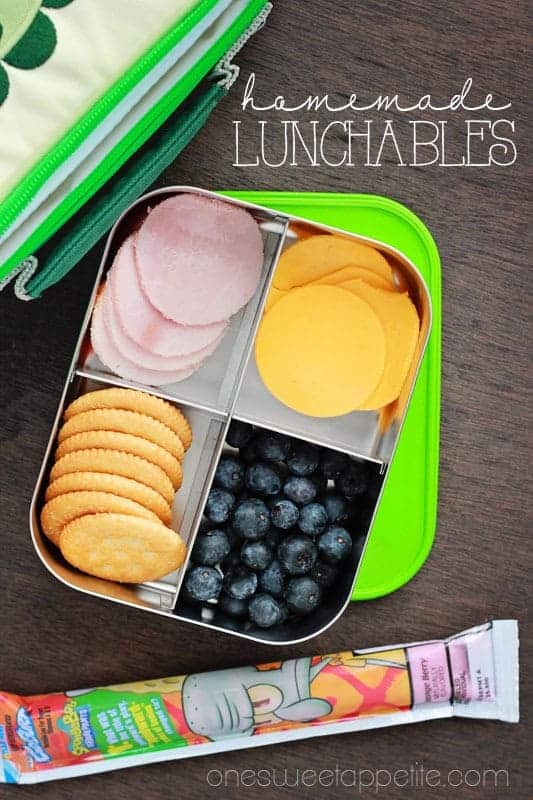 These are so customizable. We just head into the deli and have them help us decide on what type of meats and cheeses should be used that week. I swear the deli man from Harmons knows us by name and is always prepared to dish up some samples of his current favorite. He even has a pretty great idea of what my five year old will and will not like. Once you have your base ingredients it's all a matter of finding a cup that's the right size.
That's right, a cup. We found a small glass one that is the exact same size as a round butter cracker. I get a cutting board out and place it on the table and my five year old lays out his chosen meats and cheeses and just goes to town. A simple push and twist reveals perfectly cut circles ready for packing! I'm a happy momma because he does all of the prep himself, and he is excited to be involved in the whole process from beginning to end.
2 thick sliced pieces of ham, or meat of choice
3-4 thick slices of cheese, flavor of your choice
6-8 crackers
Use a circle cookie cutter or cup to cut your meat and cheese. Pack into a container like the one above or into sealable bags.
We paired this meal with some fresh blueberries. Another thing that Dax got to do on his own. We found a local farm that offers the option to pick your own fruits and veggies. They are so great with my little guy and will take the time to talk to him about the growing process. It's even fun as an adult to learn where your food comes from and what they have to do to get it to the stores!
Don't forget to enter the giveaway! You can win gear for you AND your school!