These are the BEST Buttermilk Waffles. Easy to make and turn out fluffy and crisp every time. Freezer friendly and a delicious addition to your breakfast or brunch menu. You will fall in love with this waffle recipe!
This recipe is perfect for a Waffle Bar party! Serve with Buttermilk Syrup, Butter Pecan Syrup, Strawberry Sauce, or fresh fruit!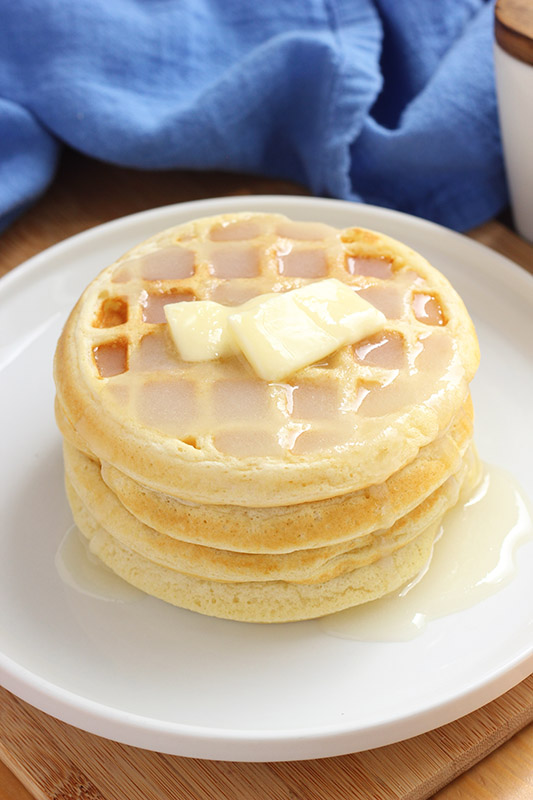 RECIPE FEATURES
Easy: This recipe is mixed by hand and calls for basic ingredients.
Freezer Friendly: Make a large batch and freeze the extra for up to 3 months.
Easy to Double: Cooking for a crowd? Double the recipe!
Growing up, fluffy and crispy buttermilk waffles were a treat. My parents did not own a waffle iron, which meant we had to wait for sleepovers at my grandma's to enjoy the crisp little breakfast cakes. We looked forward to breakfast and would run to the kitchen when she requested helpers. Those stacks of waffles piled high with fresh fruit and homemade syrup was the highlight of our visit.
For years I used boxed waffle mix, which is totally adequate, until I discovered how easy this homemade buttermilk waffles recipe truly is. It is so simple to make, practically one bowl, and makes the most delicious waffles that everyone loves.
WAFFLE INGREDIENTS
You might be surprised to find out that most of the ingredients called for are basic. All items we have on hand, which means you probably do too!
Flour: I like to use all purpose flour. However, you can make this substituting 1 cup of whole wheat for a more filling breakfast.
Sugar: Just a touch to sweeten the batter.
Baking Powder, Baking Soda, and Salt: I always suggest this, but check the dates of your leavening agents. Baking powder goes bad quicker than you think, and if you have had your baking soda open for more than 6 months it is time to replace.
Buttermilk: The use of buttermilk adds so much flavor to the batter. I have used low fat and regular, both work in this recipe.
Butter: Salted butter is my go-to. I like the added flavor, but you can use unsalted if that is what you have on hand.
Eggs: Large eggs hold everything together.
Vanilla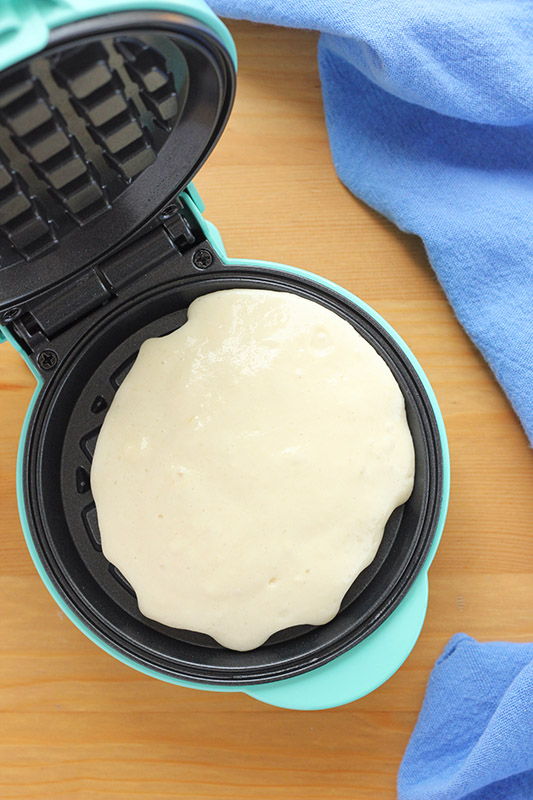 HOW TO MAKE BUTTERMILK WAFFLES
PREP: Like most of my recipes, I like to measure all of my ingredients before I get started. This helps make sure I don't accidentally miss anything and the recipe comes together smoothly.
MIX: Mix the ingredients by hand. This will help prevent over mixing and gives you a perfect waffle batter.
COOK: Pour the batter onto a greased waffle iron and cook according to the instructions.
SERVE: Serve warm slathered in butter and your favorite syrup recipe.
HELPFUL TOOLS
Waffle Maker: Truth be told, I am obsessed with this $12 mini waffle maker. It's so adorably cute and makes the perfect sized waffle for the freezer.
Batter Dispenser (affiliate): Necessary? No. Helpful? Definitely. I use this for waffles, pancakes, and cupcake batter.
Tongs: As someone who has burned her fingers on a waffle iron more times than she can count, or cares to admit, these silicone tongs (affiliate) are a lifesaver!
WAFFLE TIPS AND FAQS
What is the difference between buttermilk and homestyle waffles?
Buttermilk waffles tend to have more flavor than homestyle. They are also a little more chewy and less crisp than a milk based recipe.
Can I substitute buttermilk for milk?
Yes. Substitute equal amounts regular milk, or your favorite milk substitute, for the buttermilk called for in this recip.
Can you freeze this recipe?
Freezing waffles is not only super simple, but convenient! Make a double batch and freeze half for later. It's a life saver on busy weekdays. Spread on a little peanut butter for protein and some fresh fruit.
How do you keep waffles warm?
We turn our oven onto the warm setting, or the lowest temperature possible, and keep cooked waffles stored inside on a baking tray until ready to serve.
Is there a buttermilk substitute?
You can use sour milk in place of buttermilk. Add 2 tablespoons of lemon juice or white vinegar in the bottom of a measuring cup. Fill the remainder with milk to the 1 cup line. Let sit 5 minutes before using.
MORE MUST-TRY WAFFLE RECIPES
Still Hungry? Follow One Sweet Appetite on Instagram, Pinterest, and Facebook!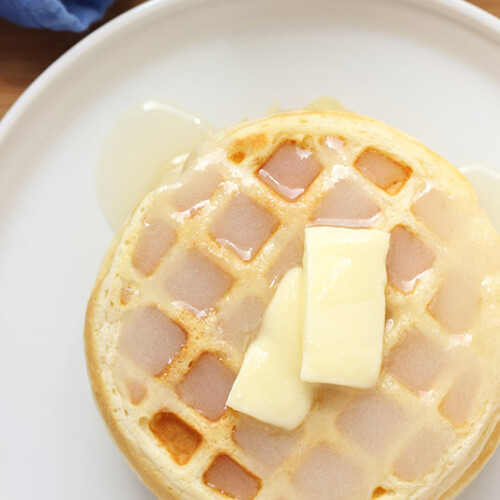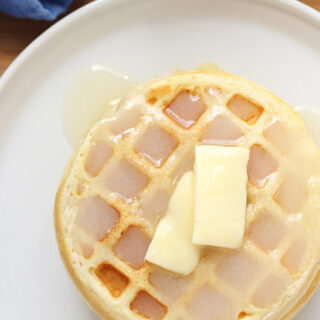 Buttermilk Waffles
These are the BEST Buttermilk Waffles. Easy to make and turn out fluffy and crisp every time. Freezer friendly and a delicious addition to your breakfast or brunch menu. You will fall in love with this waffle recipe!
Ingredients
2 cups all-purpose flour
2 tablespoons granulated sugar
2 teaspoons baking powder
1 teaspoon baking soda
1/2 teaspoon salt
2 cups buttermilk
2 large eggs
1 teaspoon vanilla extract
1/3 cup melted butter
Instructions
Preheat your waffle iron according to the manufacturer's instructions.

Whisk the flour, sugar, baking powder, baking soda, and salt in a medium mixing bowl. Set aside.

Stir together the buttermilk, eggs, and vanilla in a medium measuring cup. Pour into the dry ingredients and whisk until combined.

Fold in the melted butter until incorporated.

Spoon the batter into a greased waffle iron. Cook until crisp and serve.
Notes
Serve with fresh fruit or homemade syrup. Keep waffles warm by storing in the oven at the lowest temperature.
Nutrition
Serving: 1g | Calories: 317kcal | Carbohydrates: 41g | Protein: 9g | Fat: 13g | Saturated Fat: 7g | Polyunsaturated Fat: 4g | Cholesterol: 92mg | Sodium: 809mg | Fiber: 1g | Sugar: 8g
Equipment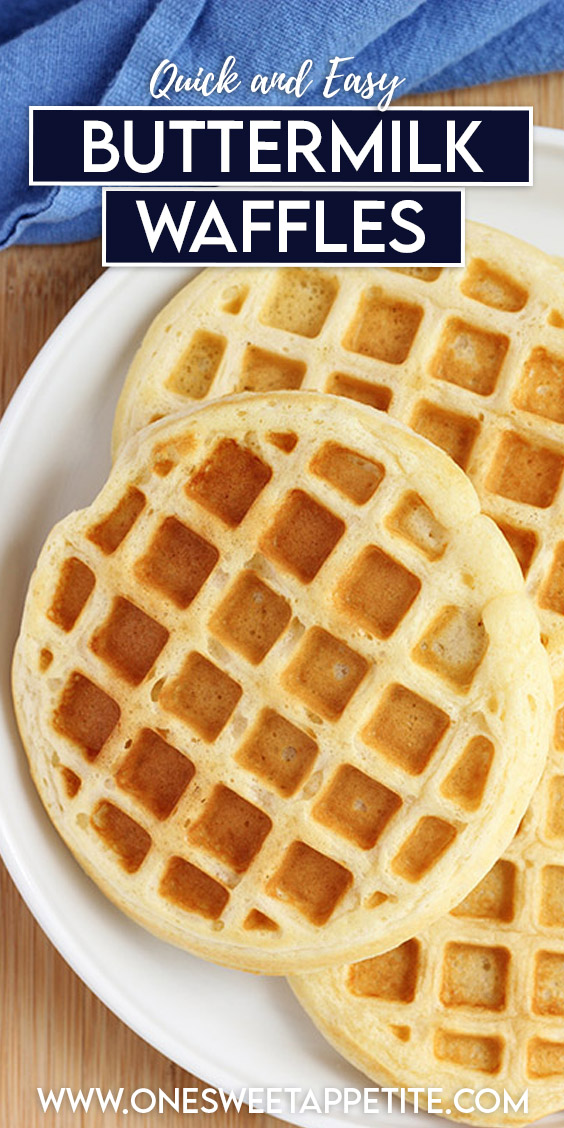 Reader Interactions