Well, hold onto your spatula, because I'm about to introduce you to the pancake that's taking the brunch world by storm—the Puff Pancake! This puffy masterpiece is like a magical blend of pancake and soufflé, rising from the depths of your skillet to become a golden, fluffy cloud of breakfast bliss. It's a culinary feat that will have you shouting, "Move over, boring pancakes, there's a new hotcake in town!"
This breakfast is so delicious all on it's own, but try serving with warm pancake syrup, whipped cream and fresh fruit!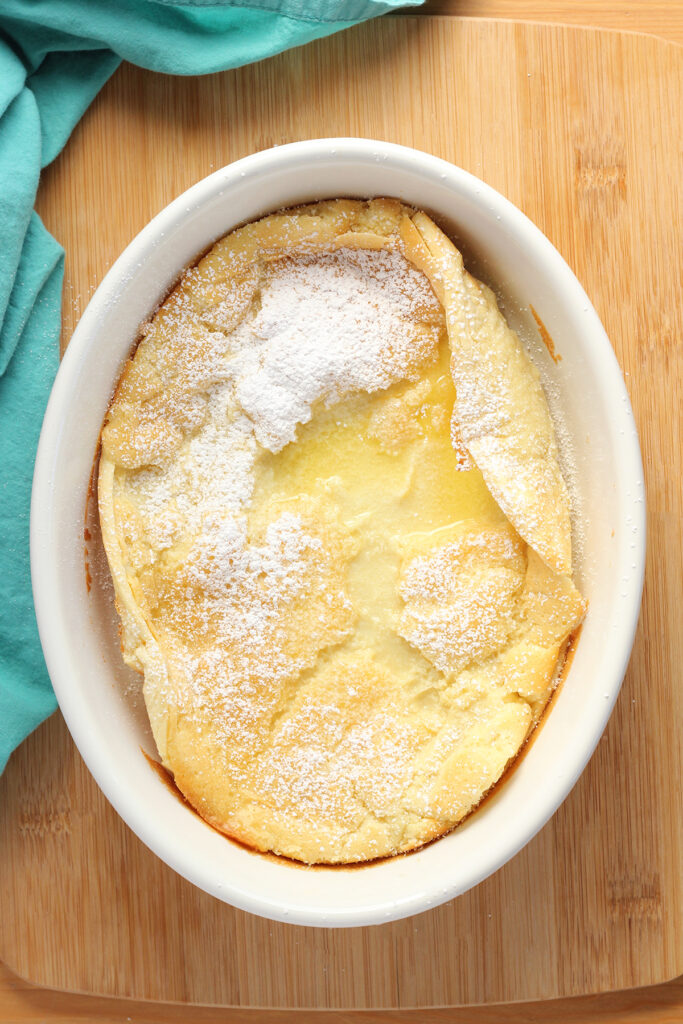 Why You'll Love This Oven Pancake
Easy Breakfast Recipe: It could not be any simpler. Add all of the ingredients to a blender, pour, and bake!
Minimal Ingredients: You only need a handful of ingredients, and a few minutes of prep, to make this dish.
Customizable: Make this sweet OR savory with nearly endless topping options.
Have you ever tried a Dutch pancake? My in-laws were the first to introduce me to the giant pancake. It's rich, buttery, and incredible to watch bake. As the ingredients begin to cook the edges slowly begin to rise which creates a puff pastry that is not only beautiful, but delicious as well!
Think of it as a giant popover. These pancakes are also known as a Dutch baby pancake or a German pancake, are a delightful combination of a pancake, crepe, and popover. Their unique texture and size make them an eye-catching and delicious breakfast treat.
Searching for more fun ways to serve pancakes? I've got you! Try my Blueberry Cream Cheese Pancakes, Buttermilk Pancakes, Cornmeal Pancakes (my favorite), Chunky Monkey Pancake Bites or Coconut Blueberry Pancakes!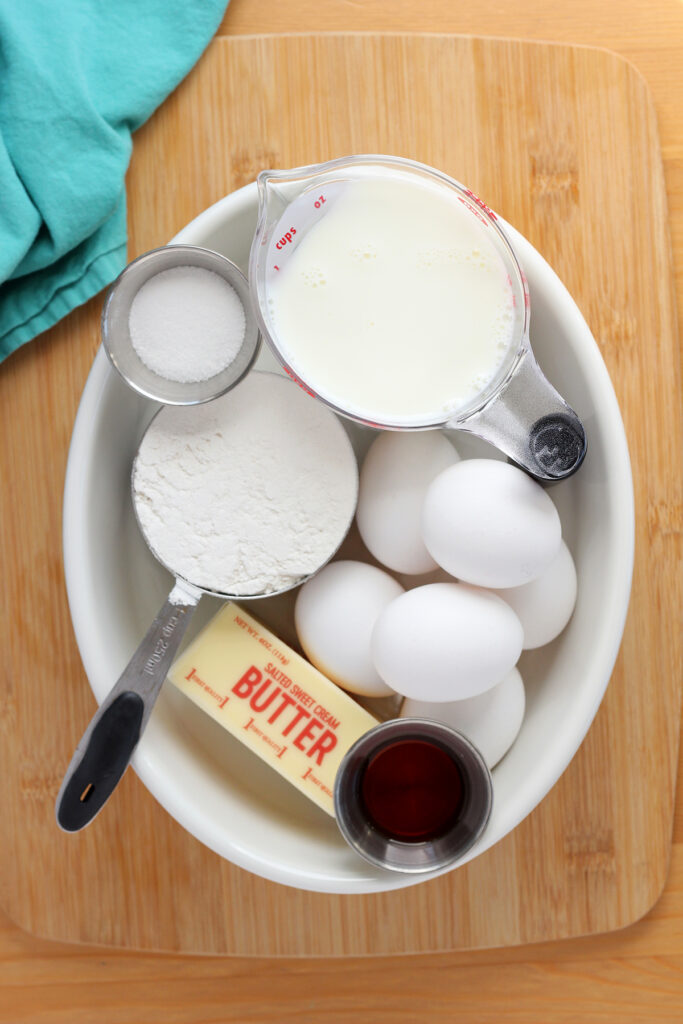 Puff Pancake Ingredients
My mother in law actually introduced me to German Pancakes. She made a version of this recipe for me one morning and I have been hooked ever since! The ingredients are all kitchen staples, which means you most likely have them all on hand RIGHT NOW.
Butter: I like to use salted butter for this recipe. There is no salt in the dry ingredients so this adds just a touch more flavor.
All-purpose flour: We have also tried this with wheat. Both worked well but we prefer the flavor of all-purpose.
Sugar: Granulated is best for this recipe.
Cinnamon: Optional, but a great addition to add into the dry ingredients!
Eggs: The base for you pancake. Make sure to use large eggs.
Milk: Whole milk is our go-to, but a lower fat version or soy should work fine.
Vanilla: Be sure to select pure vanilla extract or vanilla bean paste. Stay clear of the imitation.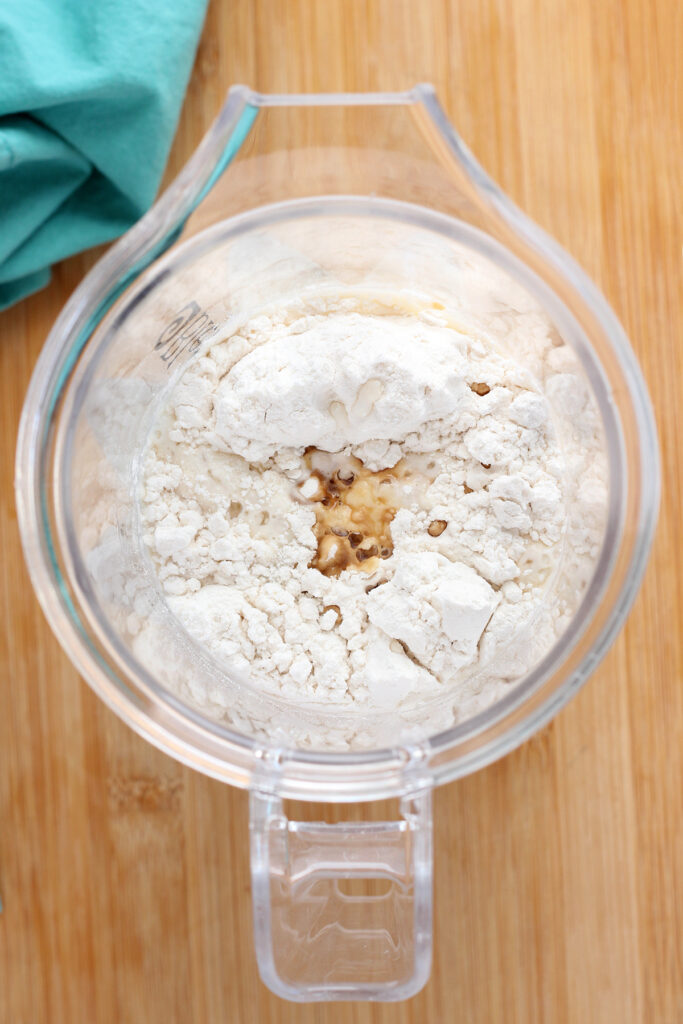 How To Make A Dutch Pancake
Did I mention how incredibly simple these Dutch pancakes are? Prep time is FIVE minutes. Why? Because you toss everything into a blender, pulse, pour, and bake.
PREP: Preheat the oven to 425 degrees.
MELT: Place the butter into a 10″ cast iron skillet or 9 inch baking pan. Heat in the oven for 1-2 minutes, or just until the butter has melted.
BLEND: Add the flour, sugar, cinnamon, eggs, milk, and vanilla extract into a blender. Pulse or blend until fully combined.
BAKE: Pour the batter right over the top of the melted butter. Do not stir. Bake 15-18 minutes, or until the pancake is just starting to brown around the edges and the middle has set.
ENJOY: Serve with fresh fruit, powdered sugar, or warmed syrup.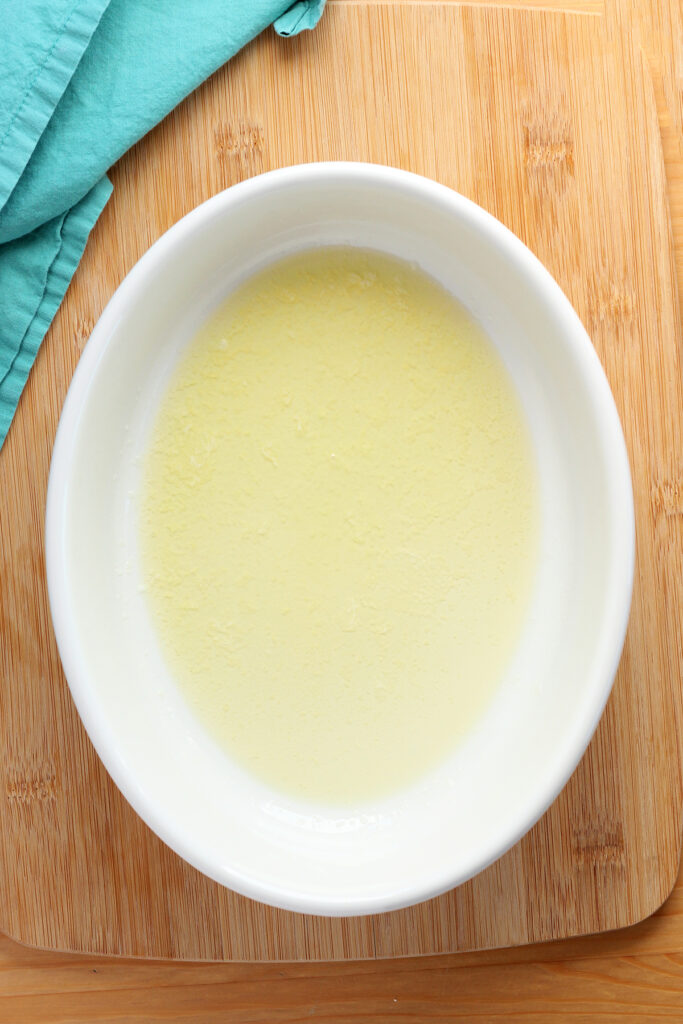 Helpful Tools
Blender: I like my KitchenAid blender but have also been known to use my single serve (which is pretty tiny) in a pinch.
Cast Iron: 10″ Cast Iron Skillet– I heat my skillet in the oven as it preheats. This gives you an even bake and produces the best pancake.
Baking Dish: No cast iron? No problem! You can easily swap to a 9 inch baking pan.
Recipe Notes:
Can I make a puff pancake in advance?
While it's best to enjoy a puff pancake immediately after it's baked for maximum puffiness, you can prepare the batter in advance and refrigerate it. Just be sure to give it a good whisk before pouring it into the hot skillet.
What do you serve with Dutch pancakes?
Puff pancakes are versatile and can be served with a variety of toppings such as fresh fruit, powdered sugar, maple syrup, whipped cream, or a sprinkle of cinnamon. Get creative and experiment with your favorite flavors!
Can I make a savory puff pancake?
Absolutely! Puff pancakes can be adapted to savory versions by adding herbs, cheese, cooked bacon, or other savory ingredients to the batter. They make a delicious brunch or breakfast option.
Why did my puff pancake deflate quickly?
These pancakes tend to deflate after being removed from the oven. This is normal and occurs as they cool. The dramatic rise and puffiness are part of their charm!
Can I freeze a puff pancake?
Puff pancakes are not typically frozen since their texture is best when freshly baked. It's recommended to consume them immediately or store any leftovers in the refrigerator for a day or two.
More Must Try Pancake Recipes
Still Hungry? Follow One Sweet Appetite on Instagram, Pinterest, and Facebook!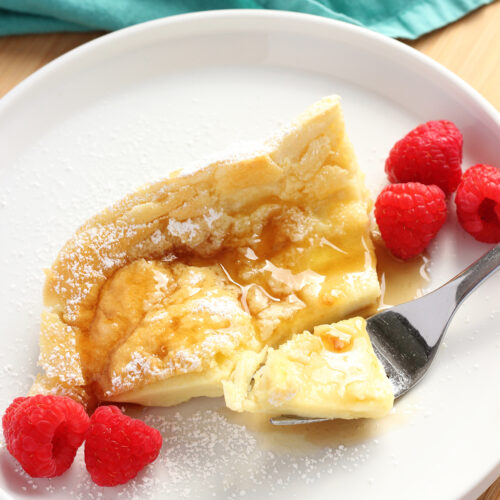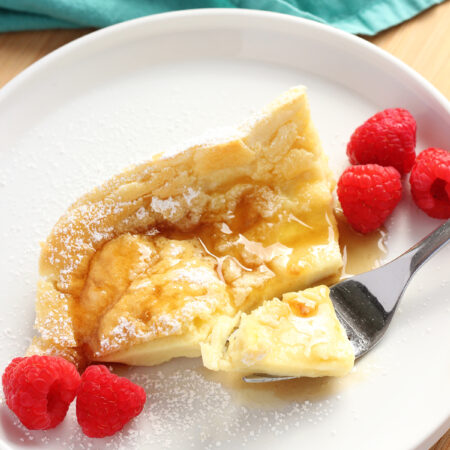 Dutch Baby Pancake Recipe (Puff Pancake)
German Pancakes, Puff Pancake, Old-World, Or Dutch Baby Pancake… Whatever you call them, they are delicious! Easy to make with minimal ingredients and big flavor. 
Ingredients
1/4 cup salted butter
1 cup milk
1 cup all-purpose flour
6 large eggs
1 tablespoon sugar
1 teaspoon vanilla extract
1/2 teaspoon cinnamon optional
Instructions
Place the butter in the center of a 9×13 baking dish and place it in a cold oven. Turn the oven on to preheat to 425 °F.

While the oven is preheating, combine the milk, flour, eggs, sugar, vanilla, and cinnamon (if using) into a blender. Pulse 3 to 5 times or until mixed together fully.

Once the butter is melted in the baking dish, remove from the oven and pour the batter directly on top of the melted butter. Don't mix.

Bake for 20 to 25 minutes, or until the sides are puffed up and the center has set.

Serve with fresh fruit or maple syrup.
Nutrition
Serving: 1g | Calories: 250kcal | Carbohydrates: 20g | Protein: 10g | Fat: 14g | Saturated Fat: 7g | Polyunsaturated Fat: 1g | Monounsaturated Fat: 4g | Trans Fat: 0.3g | Cholesterol: 211mg | Sodium: 88mg | Potassium: 156mg | Fiber: 1g | Sugar: 4g | Vitamin A: 573IU | Vitamin C: 0.01mg | Calcium: 85mg | Iron: 2mg
Reader Interactions