This post was updated on by Jesseca
Happy National Pancake Day! Let's celebrate with a batch of these Perfect Buttermilk Pancakes.
Pancakes aren't new here. We make them at least once a week (which isn't a surprise since I am the mother to a seven year old with a serious sweet tooth) and have tried SO many variations. A few of our favorites? I'd say top three are the Cornmeal, Gingerbread, and Chunky Monkey versions with the cornmeal being my go-to (seriously, it's a salty sweet combo that needs to be in your life).
When I gave this buttermilk version a try my son wasn't too thrilled. I almost always make wacky flavors or out of the box versions so how was he supposed to settle for a plain ol' boring pancake??? Good news is that one bite in and he proclaimed these "the best every" and even says they beat out McDonald's (Don't judge. You know there breakfast is irresistible). That's about the highest compliment I've received in the history of his short life.
The secret to these fluffy and flavorful breakfast cakes are in the ingredients. I have seen people use substitutes in place of buttermilk but this is not the time for one of those. You want to use the real stuff and don't reach for the fat free. Another secret is to make sure you don't over mix. Use a gentle hand while stirring to avoid your pancakes from falling flat. OH, and try to use a cast iron skillet but that isn't required.
Buttermilk Pancakes
Ingredients
1-1/2

cups

all-purpose flour

2

tablespoons

granulated sugar

1-1/2

teaspoons

baking powder

3/4

teaspoon

baking soda

1/4

teaspoon

salt

1-1/2

cups

buttermilk

1/4

cup

whole milk

2

large eggs

3

tablespoons

butter

melted

1/2

teaspoon

pure vanilla extract
Instructions
Whisk together the flour, sugar, baking powder, baking soda, and salt in a large bowl and set aside.

Combine the buttermilk, milk, eggs, butter, and vanilla in a large measuring cup and mix to combine. Pour and fold into your dry ingredients until just combined being careful not to over mix.

Scoop 1/2 cup of your batter onto a preheated skillet. Cook over medium/low heat until bubbles begin to form. Flip and cook an additional 2-3 minutes or until golden brown.

Serve with syrup, jam, or fresh fruit.
Recipe Notes
Use room temperature ingredients for fluffy pancakes. I take my eggs and milk out of the refrigerator 20 minutes before starting. Do not over mix the batter. This recipe turns out best if you gently fold the ingredients together. Clarified butter is what I use when greasing my pan. It tends to brown less quickly and gives my pancakes a beautiful golden color.
This post is part of a Holiday Recipe Round Up I participate in with some other crazy talented food bloggers so make sure you scan down the list and bookmark some of these other delicious ideas! I know I can't wait to try each and every one!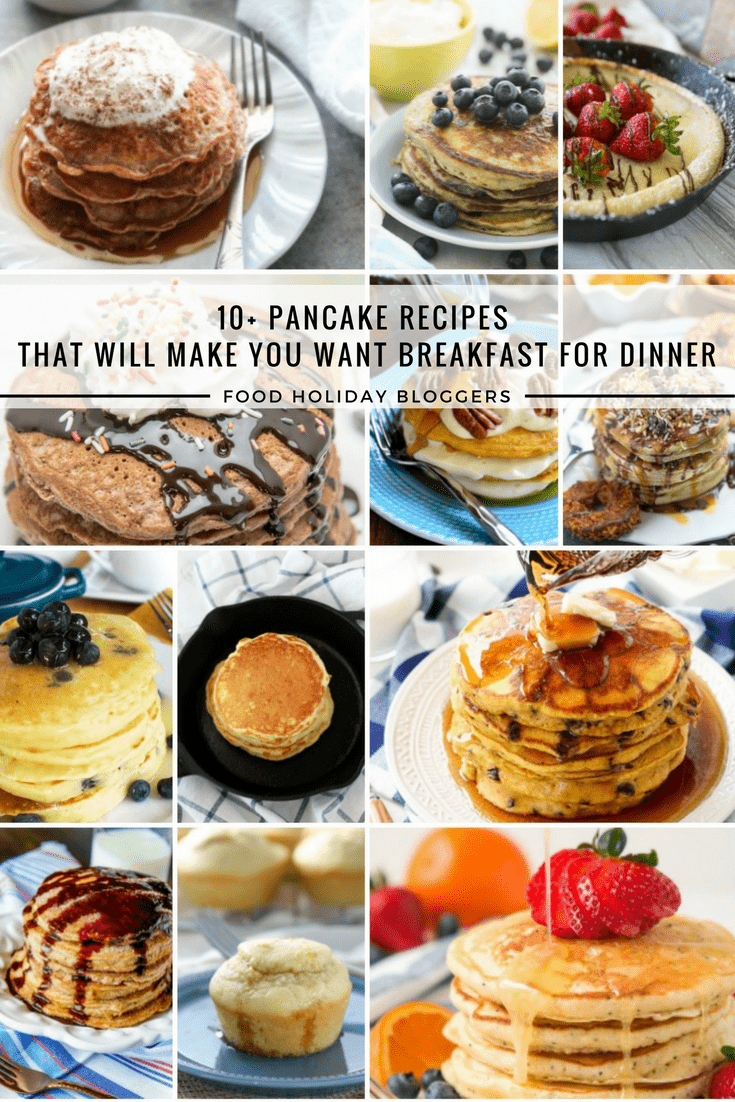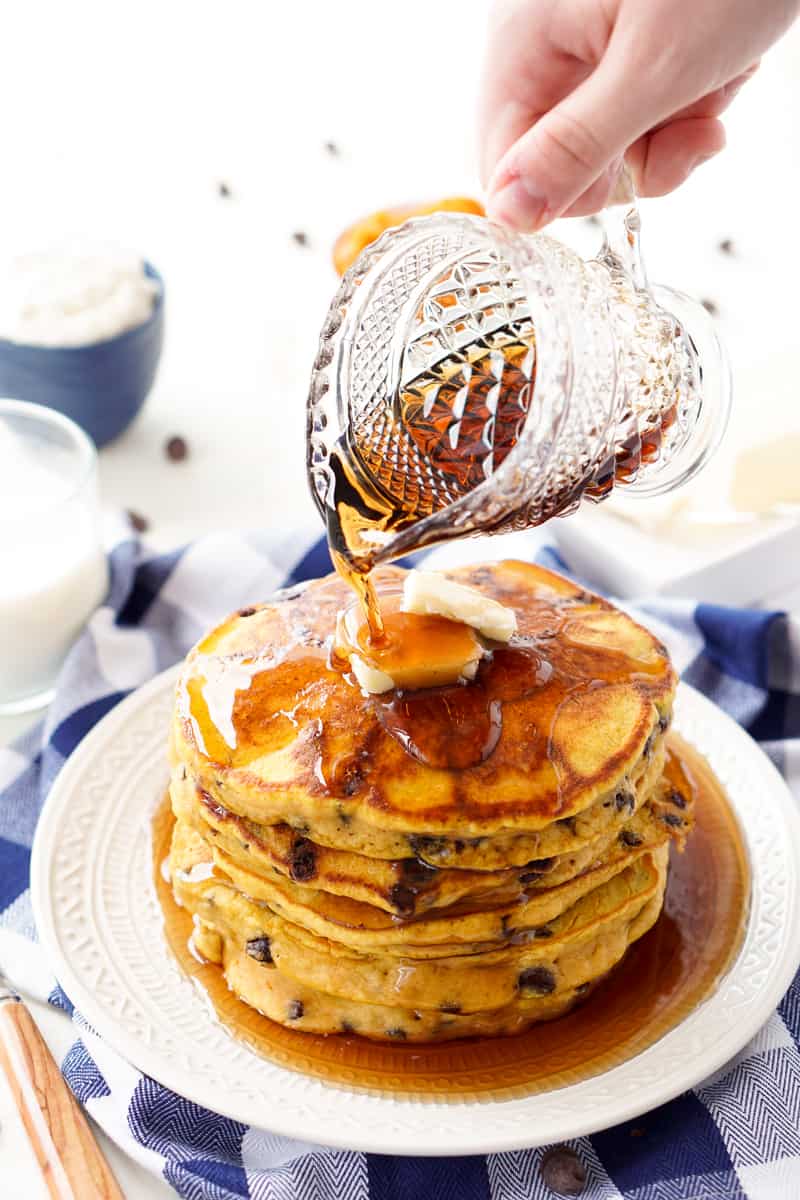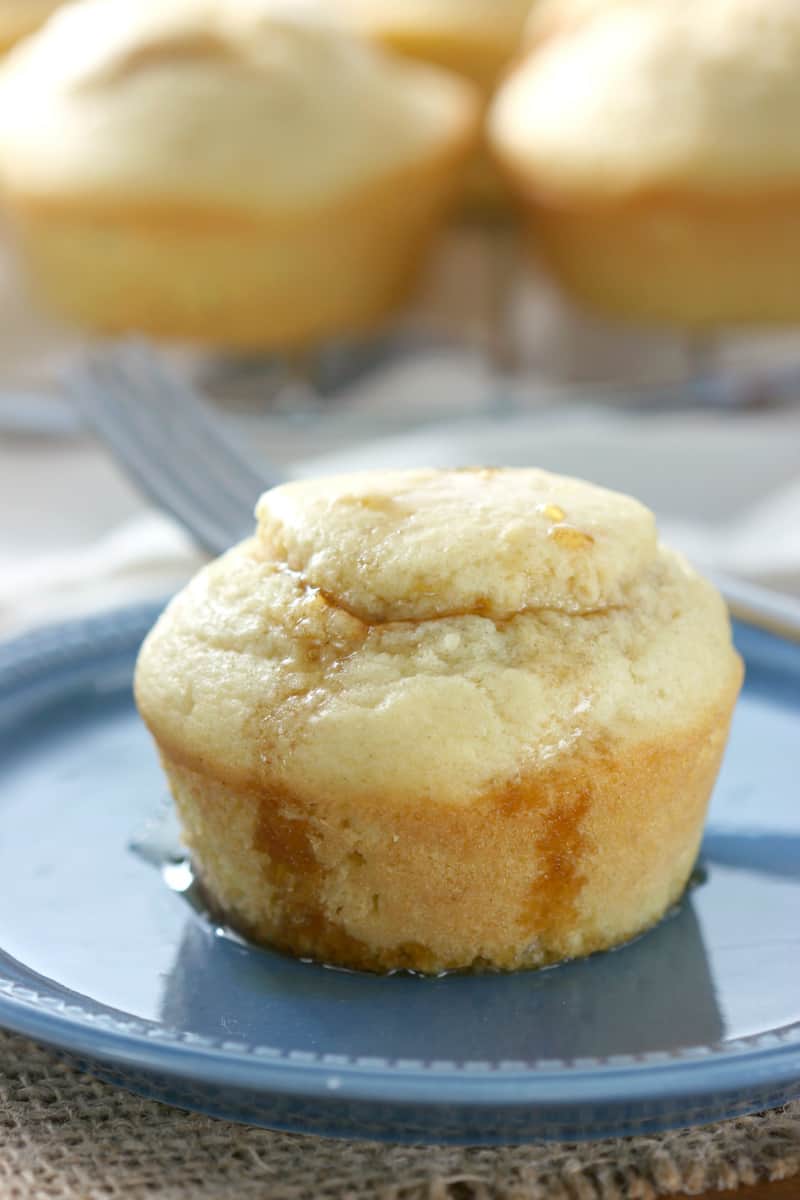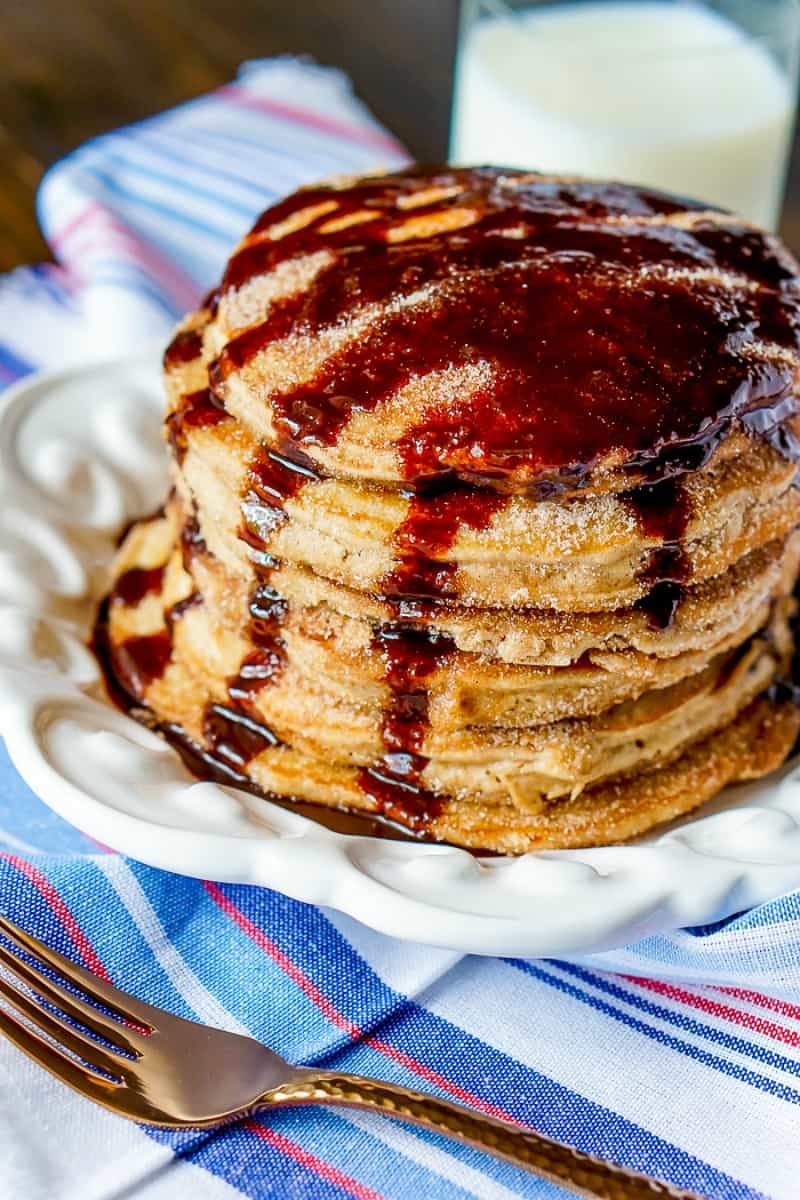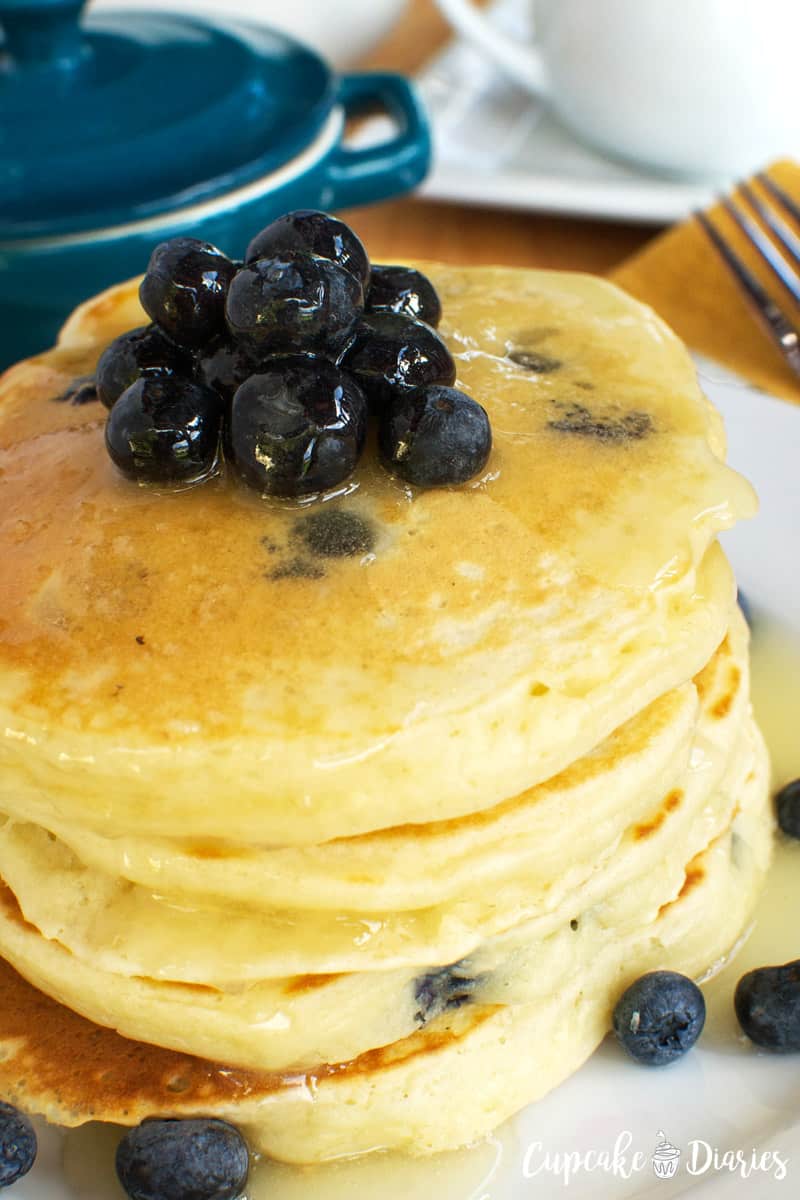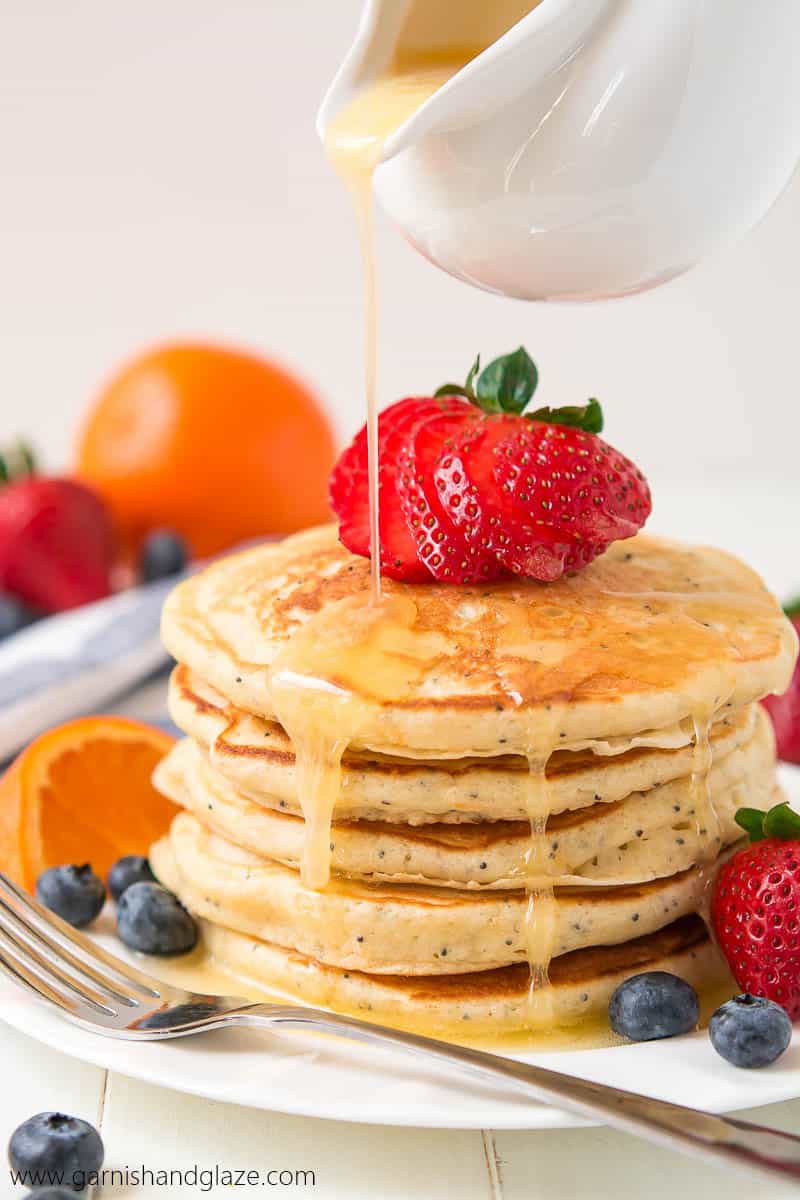 This post may contain affiliate links. I include these links to help you find specific products that are used in my recipes. If you purchase an item from the link on One Sweet Appetite, I will receive a small commission helping keep my recipes free for you.
One Sweet Appetite is a participant in the Amazon Services LLC Associates Program, an affiliate advertising program designed to provide a means for sites to earn advertising fees by advertising and linking to amazon.com
(Visited 2,631 times, 1 visits today)
5