This easy Homemade McGriddle Recipe tastes exactly, if not better, than the McDonald's version. Two fluffy pancakes as buns, grilled sausage patty, and fluffy folded eggs. Full of flavor and easy to freeze for later.
If you love this McDonald's Copycat, you have to try my Breakfast Crunchwrap Recipe! Serve these with Sheet Pan Pancakes and a Latte for the perfect meal.
RECIPE FEATURES
Easy: This recipe comes together quickly and can be served as individual items.
Make-Ahead: All of the ingredients last up to 4 days, if stored separately. That makes this an ideal breakfast meal prep recipe!
Freezer Friendly: Double or even triple to recipe and keep these sandwiches stored in the freezer. Frozen breakfast sandwiches will last up to one month.
The Mcgriddle is my husbands go-to anytime we get McDonalds for breakfast. It has the savory egg and sausage (or bacon) and sweet maple filled pancakes. The ultimate combination of sweet and savory. So it only made sense that we'd try making our own version.
This sandwich is SO DANG GOOD. Perfectly browned sausage patties, soft and fluffy folded egg, and pancakes in place of a bun. It is probably close to the top of the best breakfast sandwich of all time.
The bonus of making these at home means you get that classic McD's flavor without having to change out of your pajamas!
WHAT IS A MCGRIDDLE MADE OF?
To find the right balance of sweet and savory, I sacrificed myself and at not one, not two, but three McGriddles picked up from the drive thru. I carefully evaluated the sandwich and ultimately decided it was fairly basic! Here's what you need to get started:
Pancakes: You can use store bought, they have some that call only for the addition of water, or homemade buttermilk pancakes. We opt for the second, as they tend to get nice and fluffy with a bold pancake flavor.
Syrup: Just a drizzle to give the pancake buns that maple flavor.
Eggs: Large eggs whisked with a dash of cream and seasoned with salt and pepper. These don't have to look perfect. Just lightly folded as they cook for that fluffy egg filling.
Breakfast Meat: Bacon, cooked in the oven, or sausage patties. I lead towards the latter while my kid lands firmly in the "bacon is best" category.
Cheese: American Cheese Slices.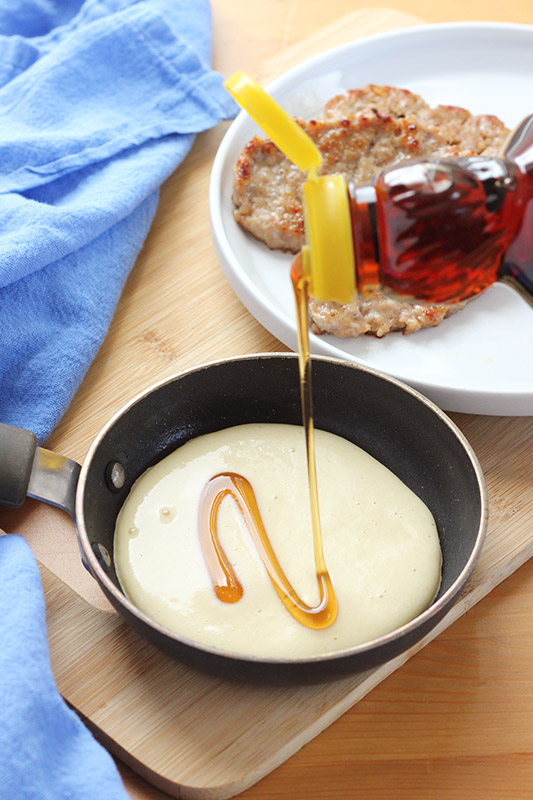 HOW TO MAKE A MCDONALD'S MCGRIDDLE RECIPE AT HOME
PREP: Cook the sausage (or bacon) and set aside, keeping warm in the oven if possible. Whisk together a pancake batter and whisk the eggs with cream plus a dash of salt and pepper.
COOK: Start cooking the pancakes. Measure 2-3 tablespoons of batter per pancake, to get that perfect sandwich size, and don't forget to drizzle the batter with a small amount of syrup. Cook the egg, gently folding, to get that classic folded egg look.
ASSEMBLE: Place a slice of cheese onto a warm pancake, top with sausage, or bacon, egg, and top pancake.
ENJOY: Serve warm or save for your weekly meal prep!
HELPFUL TOOLS
Pancakes: For same size pancakes, I like to use a egg pan (affiliate) or round cooking rings (affiliate). Be sure to mist the rings generously with cooking spray before adding the batter.
Silicone Spatulas: I've said this time and time again, get yourself a set of silicone spatulas (affiliate). They are good for so many things and heat resistant!
Non-Stick Pan (affiliate): This will be a saving grace for egg cooking. A light pat of butter and you're going to be an egg flipping master. Be sure to hand wash these to keep the non-stick coating intact.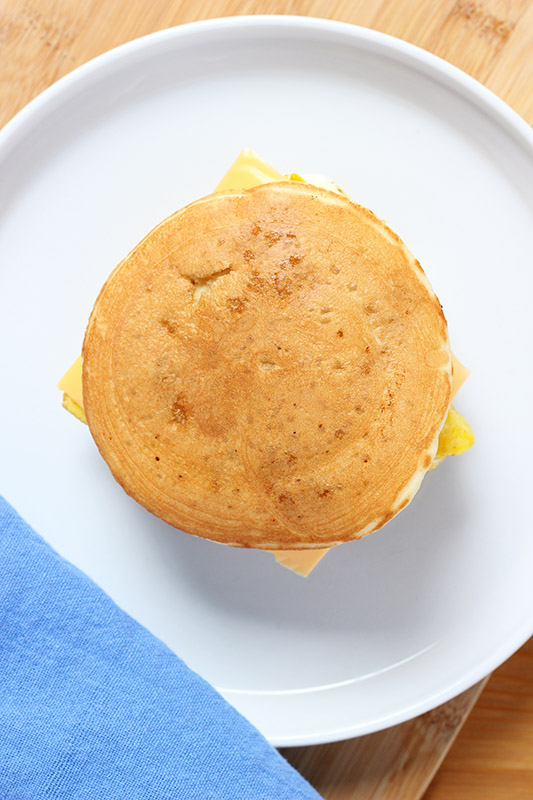 DIY MCGRIDDLE TIPS
Do McGriddles have syrup in them?
Yes! I small drizzle of syrup on the pancakes before flipping is key to that classic pancake bun.
How do you freeze this recipe?
The best way to freeze these sandwiches is to fully assemble, wrap in plastic, and transfer to an airtight container or zip top bag. Label and freeze for up to 1 month.
How do you meal prep McGriddle Sandwiches?
This is the perfect breakfast meal prep. Store everything individually in airtight containers or zip top bags in the refrigerator. Heat and assemble when ready to eat. The ingredients will last up to 4 days stored this way.
MORE QUICK BREAKFAST RECIPES
Still Hungry? Follow One Sweet Appetite on Instagram, Pinterest, and Facebook!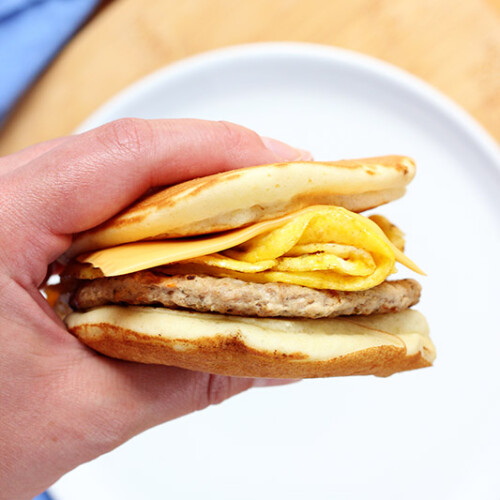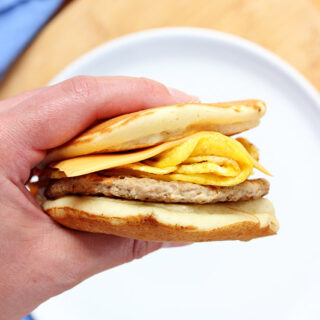 Copycat McDonalds McGriddle
This easy Homemade McGriddle Recipe tastes exactly, if not better, than the McDonald's version. Two fluffy pancakes as buns, grilled sausage patty, and fluffy folded eggs. Full of flavor and easy to freeze for later.
Ingredients
4 frozen sausage patties or homemade
4 slices american cheese
Pancakes: Pancake mix + ingredients called for on the box OR
1 cups all-purpose flour
1-1/2 tablespoons granulated sugar
1/2 teaspoons baking powder
1/2 teaspoon baking soda
1/4 teaspoon salt
1 cup buttermilk
1 large eggs
1/4 teaspoon pure vanilla extract
2 tablespoons butter melted
Egg:
6 large eggs
2 tablespoons cream or milk
salt and pepper to taste
Instructions
Heat the sausage patties according to the package directions.

Move to a baking tray to the oven set at the lowest temperature to keep warm.
Pancakes:
If using box mix, follow the directions on the box until the batter is formed.
For homemade:
Whisk together the flour, sugar, baking powder, baking soda, and salt in a large bowl and set aside.

Combine the buttermilk, eggs, and vanilla in a large measuring cup. Whisk with a fork to combine.

Pour the wet ingredients into the bowl with the dry ingredients. Gently stir until the batter is just combined.

Add the melted butter and gently stir into the batter until incorporated.

Let the batter sit for 5 to 10 minutes.

Heat a skillet over low/medium heat. Grease with butter and spoon 3 tablespoons of batter per pancake.

Drizzle the top of each pancake with 2 teaspoons of syrup.

Cook until bubbles start to form on the top and the edges begin to curl, about 1 to 2 minutes.

Flip and cook an additional 2 minutes, or until golden brown.

Repeat with remaining batter.
Folded Egg:
Whisk the egg, cream, and salt and pepper in a large measuring cup.

Heat a medium sized skillet over low heat. Add 1 teaspoon of butter and spread to coat the pan.

Pour 1/4 of the egg mixture into the heated pan, swirling to make sure it covers the entire bottom of the pan.

Cover and cook 1 minute, or until the egg begins to set.

Fold the egg over in half and then in half again, creating the folded egg.
Assemble:
Place a pancake onto a plate.

Top with a single slice of cheese, sausage patty, egg, and top with a second pancake.

Serve warm.
Notes
You can make this with bacon instead of sausage.
Add additional maple syrup for a bolder flavor.
You can skip the maple syrup and add 1/8 teaspoon of maple extract to the pancake batter.
Nutrition
Serving: 1g | Calories: 346kcal | Carbohydrates: 39g | Protein: 27g | Fat: 31g | Saturated Fat: 14g | Polyunsaturated Fat: 14g | Trans Fat: 1g | Cholesterol: 395mg | Sodium: 1224mg | Fiber: 1g | Sugar: 14g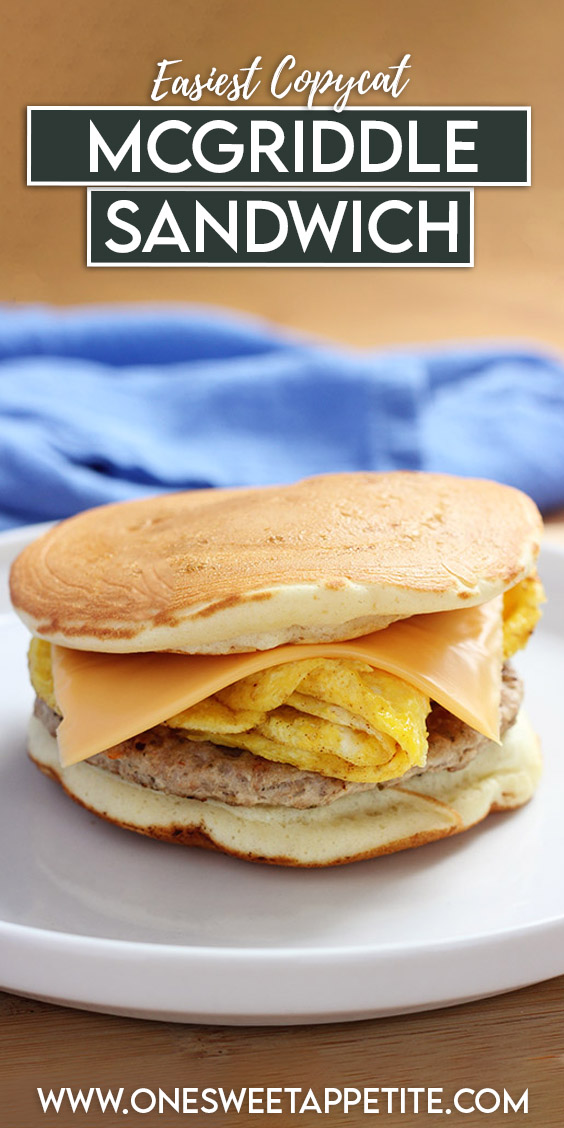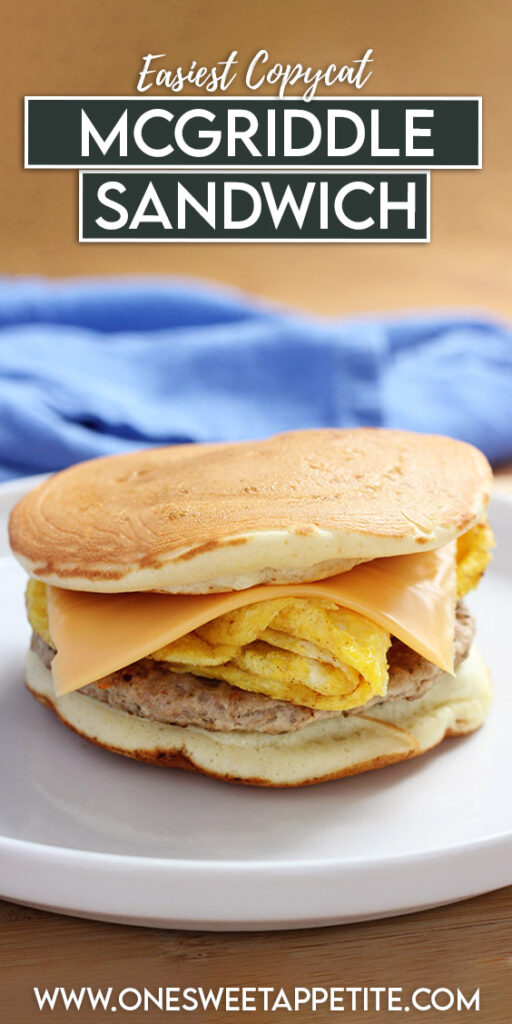 Reader Interactions