This homemade Chicken Alfredo Pizza starts with a soft homemade pizza crust that is topped with creamy alfredo, two cheeses, and sprinkles of chicken and bacon. A must-make for pizza night!
Make it a meal with my easy Garlic Knots and an Italian Chopped Salad.
RECIPE FEATURES
Family Favorite: This rich and filling pizza is requested regularly. Even our pickiest eater is thrilled to see it on the menu!
Make-Ahead: The homemade pizza dough recipe can be made in advance along with the creamy alfredo sauce.
Easy to Customize: While we use chicken, bacon, and spinach as our toppings of choice, you can really add any ingredient!
I am beyond obsessed with homemade pizzas. It not only saves you time and money, but is SO much easier than I ever imagined. While I love a classic pizza sauce, this chicken bacon alfredo pizza comes in a very tight second place, maybe even tying for first!
Something about the creamy rich sauce paired with the chicken is unbeatable. This recipe is ideal for using up leftovers and can be customized to include almost any topping!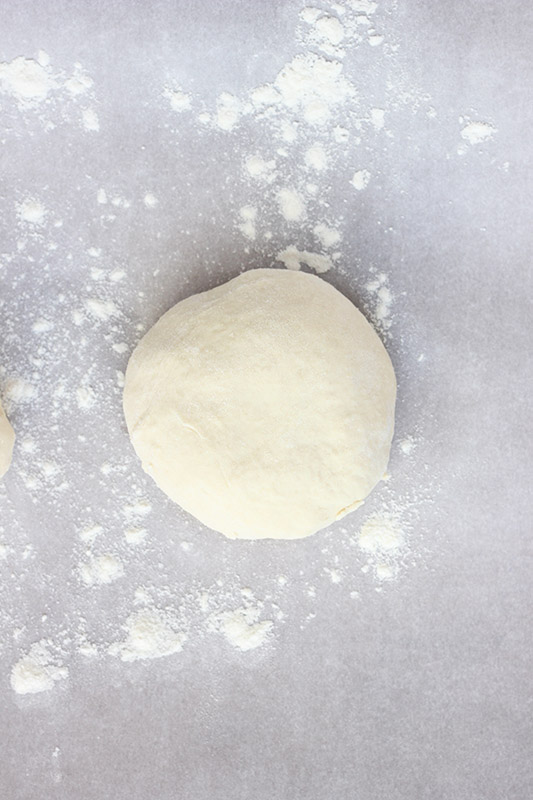 CHICKEN ALFREDO PIZZA TOPPINGS
What are the best toppings for this pizza? We did our research and ordered alfredo pizzas from all of our local pizza shops, and here is what we found out. The most popular toppings are cheese, chicken, and bacon. But that doesn't mean you have to end your topping choices there. Here are a few more ideas we often add:
Fresh Basil
Red Pepper Flakes
Red Onion Slices
Cooked Italian Sausage
Fresh Tomatoes
Bacon
Cooked Spinach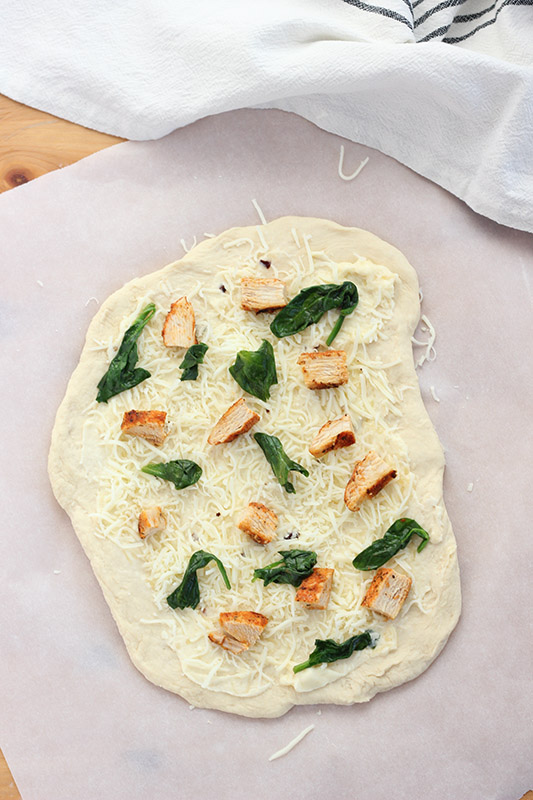 HOW TO MAKE ALFREDO PIZZA
Make The Dough: Start by making a batch of homemade pizza dough, or picking up dough from your local grocer. You'll be surprised how simple my dough recipe is. AND it tastes better the longer it sits. Make it the night before and keep it covered in the refrigerator until you are ready to eat.
Make The Sauce: With just a few simple ingredients you can have a flavor packed sauce that is insanely delicious. This can be made the day before and stored in an airtight container.
Assemble the Pizza: Gently stretch the dough into a circle. Spread a heaping spoonful of sauce and top with a sprinkle of cheese, chicken, and bacon.
Bake: The secret here is to use a quality pizza stone or pan. I live for my Lodge Cast Iron Pizza Pan (affiliate). It is big enough for a 15 inch pizza and cooks the crust evenly. We also use it for almost any frozen foods that need a nice crispy finish (taquitos, pizza bites, corndogs…).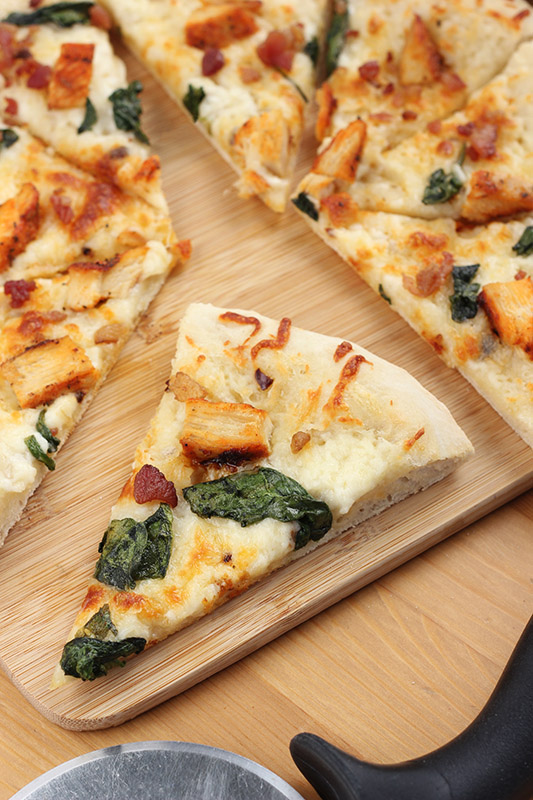 TIPS AND FAQS
Heat the pizza stone or pan in the oven while it heats to the proper temperature. This will help give you that crispy crust that is still soft and chewy.
For a fluffier pizza crust you can let it rest for about 10 minutes after shaping before you add the toppings. This is also helpful since it's not baked as hot as pizza normally is.
Seve immediately after cooking for the best flavor.
MORE PIZZA RECIPES TO TRY
Still Hungry? Follow One Sweet Appetite on Instagram, Pinterest, and Facebook!
Chicken Alfredo Pizza
This homemade Chicken Alfredo Pizza starts with a soft homemade pizza crust that is topped with creamy alfredo, two cheeses, and sprinkles of chicken and bacon. A must-make for pizza night!
Ingredients
Four the Dough:
2 cups + 2 tablespoons + 2 teaspoons bread flour 300g
1 teaspoon salt
Scant 1 cup water lukewarm*
3/4 teaspoon active yeast
1 teaspoon oil
Four the Sauce:
2 tablespoons butter
1 clove garlic
1/2 teaspoon red pepper flakes
1 tablespoon flour
1 cup heavy cream
1/4 cup Parmesan cheese
Toppings:
1/2 cup mozzarella cheese
1/2 cup grilled or cooked chicken sliced
1/4 cup bacon cooked and chopped
Spinach cooked (optional)
Instructions
The Dough

Whisk together the flours and salt in a large mixing bowl, or the bowl of a stand mixer.

Stir the warm water, yeast, and oil in small measuring cup until just combined.

Slowly stir the yeast mixture into the flour until combined, using a wooden spoon or fingers.

Let the dough rest 15 minutes.

Using your hands, or the dough hook of a stand mixer, knead dough until smooth. About 3 minutes.

Divide the dough in half and shape into round balls.

Cover with dampened cloth and rise 4 hours at room temperature 8-12 hours in the refrigerator.

The Sauce

In a small saucepan combine the butter, garlic, and pepper flakes.

Once the butter is melted, whisk in the flour followed by the cream.

Cook for a minute or two or until slightly thickened.

Remove the sauce from the heat and stir in the shredded Parmesan. Mix until the cheese is fully melted.

Baking the Pizza

When ready to bake, preheat the oven to the hottest temperature with a pizza stone inside.

Using your fingers, stretch and shape into rounds on parchment paper.

Spread a heaping spoonful of sauce, adding more as needed.

Sprinkle with cheese and additional toppings.

With a pizza paddle, transfer the pizza to a heated hot stone.

Let cook no longer than 5 minutes and carefully remove parchment.

Finish cooking 5-10 minutes
Notes
This makes 1 – 15" pizza or 2- 10" pizzas.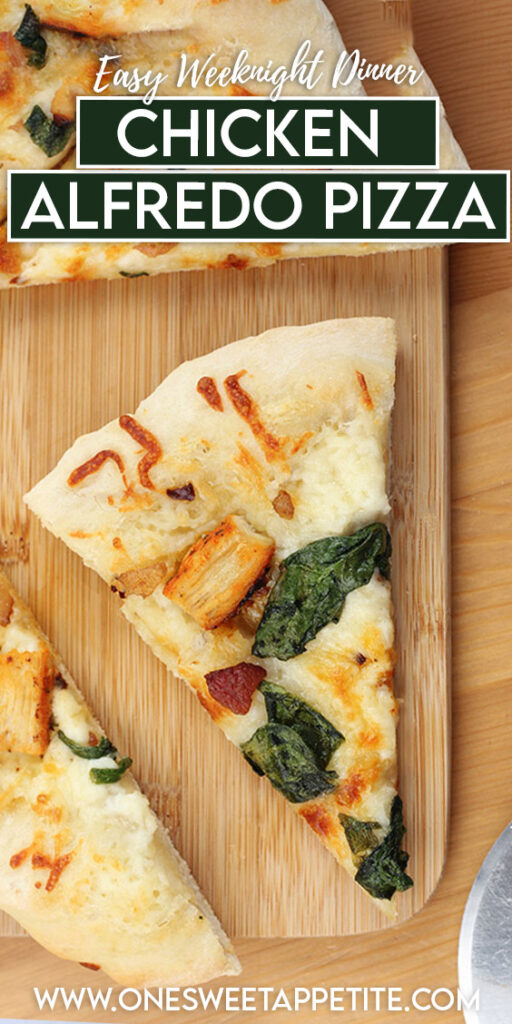 Reader Interactions