Jingle all the way to the kitchen with our mega roundup of over 30 Christmas brunch recipes that promise to make your holiday spread the talk of the season! Whether you're dreaming of a sweet cinnamon roll casserole or a savory egg bake that Santa himself couldn't resist, we've got you covered. So tie on your apron, crank up the carols, and get ready to feast your eyes (and stomachs!) on a festive banquet that's as magical as the season itself.
These recipes go from savory to sweet and even have some drink ideas sprinkled into the mix. Regardless of your taste, you're sure to find christmas breakfast ideas that the whole family will love.
Why You'll Love These Christmas Brunch Ideas
Inspiration Station: Looking for that flash of culinary genius to strike? A list can spark creative holiday meal planning.
New Traditions: Tired of the same old scrambled eggs? Find fresh favorites to start a new holiday morning tradition.
Ease and Efficiency: Many brunch recipes can be made ahead, letting the chef enjoy the festivities too.
Mix and Match: Mix up flavors, textures, and cuisines for a well-rounded and exciting brunch spread.
Looking through a list of Christmas brunch menu ideas is like unwrapping a culinary present—you never know what delightful dishes are waiting to make your holiday morning extra special! Whether you're aiming to impress the in-laws or just spice up your festive routine, diving into a list like this can inspire traditions, introduce new favorite recipes, and guarantee that the most wonderful time of the year is also the most delicious. So, for anyone ready to sleigh their holiday feast, this list is your secret recipe to brunch bliss!
When the time comes for you to start building your holiday menu, keep in mind that a good mix of sweet and savory is key. Serve homemade biscuits with sausage gravy along side the stacks of french toast or sweet rolls. This helps to balance out the day and keep everyone happy. Think fresh fruit and crispy bacon for your side dishes and don't forget the maple syrup!
No need to go overboard, you can get away with picking just one or two of these holiday brunch ideas, OR you can go all-in and make a full spread. The choice is up to you. Before you go, be sure to check out my list of 25 Must-Make Holiday Cookies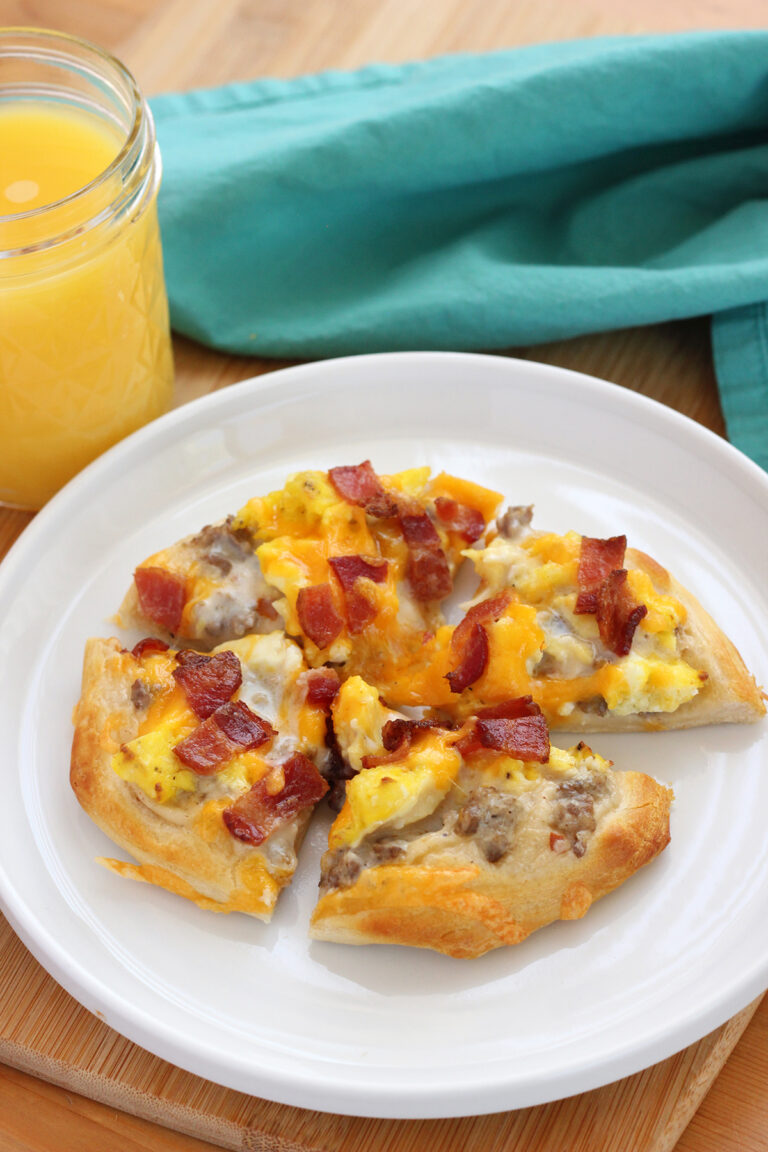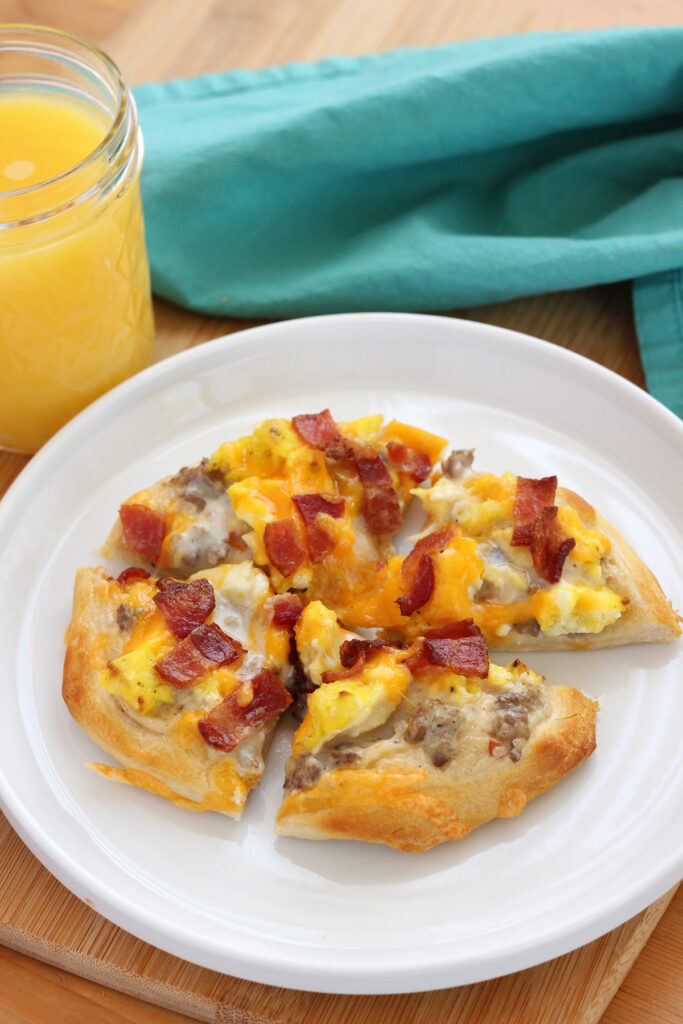 Savory Christmas Brunch Recipes
Savory Christmas brunch recipes are the unsung heroes of the holiday table, perfect for those who prefer to save the sugar for the stockings! They're your ticket to a cozy, comforting spread that'll keep you satisfied through the unwrapping frenzy and beyond. Think: flaky pastries stuffed with leftover ham and cheese, make-ahead breakfast casseroles, or a hearty breakfast sandwiches. Savory dishes offer a balance to the season's sweetness, anchoring your holiday with rich, warm flavors that feel like a Christmas hug for your taste buds.
Sweet Christmas Brunch Dish Ideas

Indulging in a sweet breakfast on Christmas morning is like giving your taste buds their own little presents. It's a day where the usual rules can be paused—so why not swap out the everyday cereal for a stack of fluffy pancakes dripping with syrup or a French toast casserole studded with juicy berries and cream? Sweet breakfasts bring out the festive spirit with every bite, creating a sense of celebration that savory dishes just can't match. Plus, they're a crowd-pleaser, ensuring smiles as bright as the holiday lights.
Helpful Brunch Tips
How far in advance should I start preparing my Christmas brunch?
The early bird gets the… bacon? For a stress-free brunch, start planning your menu about two weeks ahead. Many recipes can be prepped the night before (christmas eve), so you only need to pop them in the oven on the next morning.
Can I accommodate different dietary needs with these recipes?
We've included options for all, from gluten-free gingerbread pancakes to vegan tofu scrambles. Always check with your guests in advance to make sure everyone has something delicious to dig into.
How can I keep my dishes warm if my guests are arriving at different times?
Keep your eats toasty with a low oven setting or a chafing dish. No one likes a cold hash, and everyone deserves a hot plate!
Are there any kid-friendly Christmas brunch ideas?
Kids will go crackers for our mini pancake stacks and reindeer-shaped toast. These fun and festive treats will keep the little elves at bay until it's time to open presents.
What's the best way to plan a brunch menu for a large group?
Think big dishes that can be easily shared—casseroles, large frittatas, and a DIY bagel bar. This way, you'll spend less time in the kitchen and more time rocking around the Christmas tree!
Any tips for a budget-friendly Christmas brunch?
Focus on egg dishes and bulk up with breads and pastries. Eggs are economical and versatile, while homemade breads or rolls can fill plates without emptying your wallet.
What are some quick last-minute Christmas brunch ideas?
When in doubt, scramble it out! Scrambled eggs, quick parfaits, and toast with various toppings can save the day. They're fast, easy, and still bring that special brunch vibe.
Drinks For The Best Holiday Breakfast
Crafting a special drink recipe for Christmas morning is the secret ingredient to true special occasions- and maybe the best part of this list. Imagine sipping on a gingerbread latte, hot chocolate, or a cranberry mimosa as you unwrap gifts—it's about adding a splash of sparkle to your holiday cheer! These drinks aren't just about quenching thirst; they're about toasting to traditions, old and new, and savoring the season's sweetness in a glass.
And there you have it, a sleigh-load of Christmas brunch ideas to make your holiday morning as merry and bright as the twinkle in Santa's eye. From savory quiches to sweet dutch baby pancakes, and festive drinks to cheer up the Grinchiest of guests, there's something here for everyone to unwrap. As you gather 'round the table with your loved ones, remember that the best ingredients for a perfect Christmas brunch are laughter, memories, and a sprinkle of holiday magic. May your forks be merry, your plates be full, and your Christmas be as delightful as the feast you're about to enjoy. Merry Brunchmas to all, and to all a good bite!
Still Hungry? Follow One Sweet Appetite on Instagram, Pinterest, and Facebook!