Celebrate Christmas morning with one of these amazing Christmas brunch recipes. We collected the 15 top recipes for you to pick from to help make your day a little more magical.
Holiday Brunch Recipes:
I was lucky enough to attend a fun gathering with some of my favorite bloggers. We all brought our favorite holiday recipes to share and it couldn't have been more festive.
The bloggers who came were Ashlee from Ashlee Marie, Ruthie from Cooking with Ruthie, Alyssa from The Recipe Critic, Jamie from Jamie Cooks It Up, Kara from Creations by Kara, Aimee from Like Mother Like Daughter.
Below you will find an incredible list of recipes with everything from drinks, muffins, to casseroles! You will surly find something everyone in the family will enjoy.
Before you go, be sure to check out my list of 25 Must-Make Holiday Cookies
Sticky Buns from The Recipe Critic.
Cranberry Orange Loaf from Cooking with Ruthie
Cinnamon crumb muffins from Jamie Cooks it Up
Gingerbread Biscotti from What's Cooking with Ruthie
Caramel Apple Rolls from Like Mother Like Daughter
Liege Waffles from Ashlee Marie
Apple Orange Cranberry Swiss Muesli From Cooking with Ruthie
Breakfast Casserole from The Recipe Critic
Cranberry Chocolate Chip Muffins from Creations by Kara
Gluten Free Breakfast Pizza from Creations By Kara
Chocolate Chip Scones from Ashlee Marie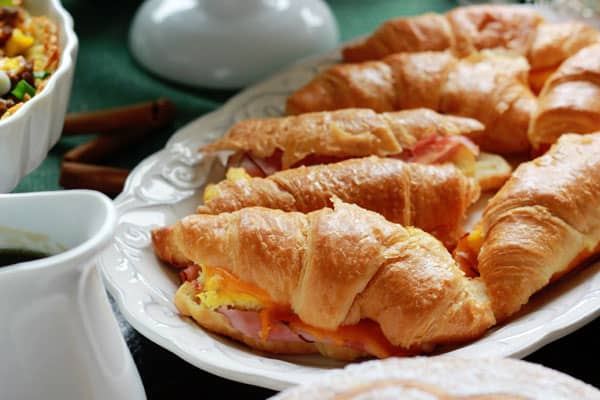 Make Ahead Breakfast Sandwiches from Jamie from Jamie cooks it up
Eggnog from Ashlee Marie
So now that you've seen the list… Which item are you adding to your MUST-MAKE list? Hopefully we have inspired you with many Christmas Brunch Recipes!