I've kind of given up on sharing personal posts here on One Sweet Appetite. I don't see too many responses which leads me to believe you all come here for the food.

WELL, it turns out that not everyone is here JUST for the food. I have received a few requests to see more behind the scenes and life posts including yours truly and my family. I guess you want to make sure that I'm a real life person who has a life beyond cooking and photographing recipes. If you talk to my husband he would probably tell you that 90% of my life IS actually food but that other 10% is packed with cute little dude activities and puppy cuddles. You've probably seen an unbelievable amount of our dog, Harvey, over on Snapchat (username Jesseca0319) but the one thing you don't see too much of is my kid.
Apparently he's developed this new phobia of being photographed. Every time I pull out my phone or camera and point it in his general direction I'm met with "NOOOOO!!! DO NOT TAKE MY PICTURE!" Luckily for me, and you, the absolute only time he IS ok with it is around Halloween. He totally transforms and commits to his character and needs to have this documented.

This year he has chosen to be one of my absolute favorite book characters. This is where I have to admit that I am one of the biggest Harry Potter geeks of all time. I'm one of those people that read all of the books within one week and totally felt like part of my life was over when I finished the very last page. When my son started to show interest in the movies, and they came out with the fully illustrated version of the first book, I knew I had to seize the moment and encourage him to chose this as his costume.

Turns out I didn't have to push too hard because he already wanted to be Harry Potter. He was a little sad that he isn't REALLY going to get a letter to Hogwarts but decided a bucket full of candy would help ease the pain.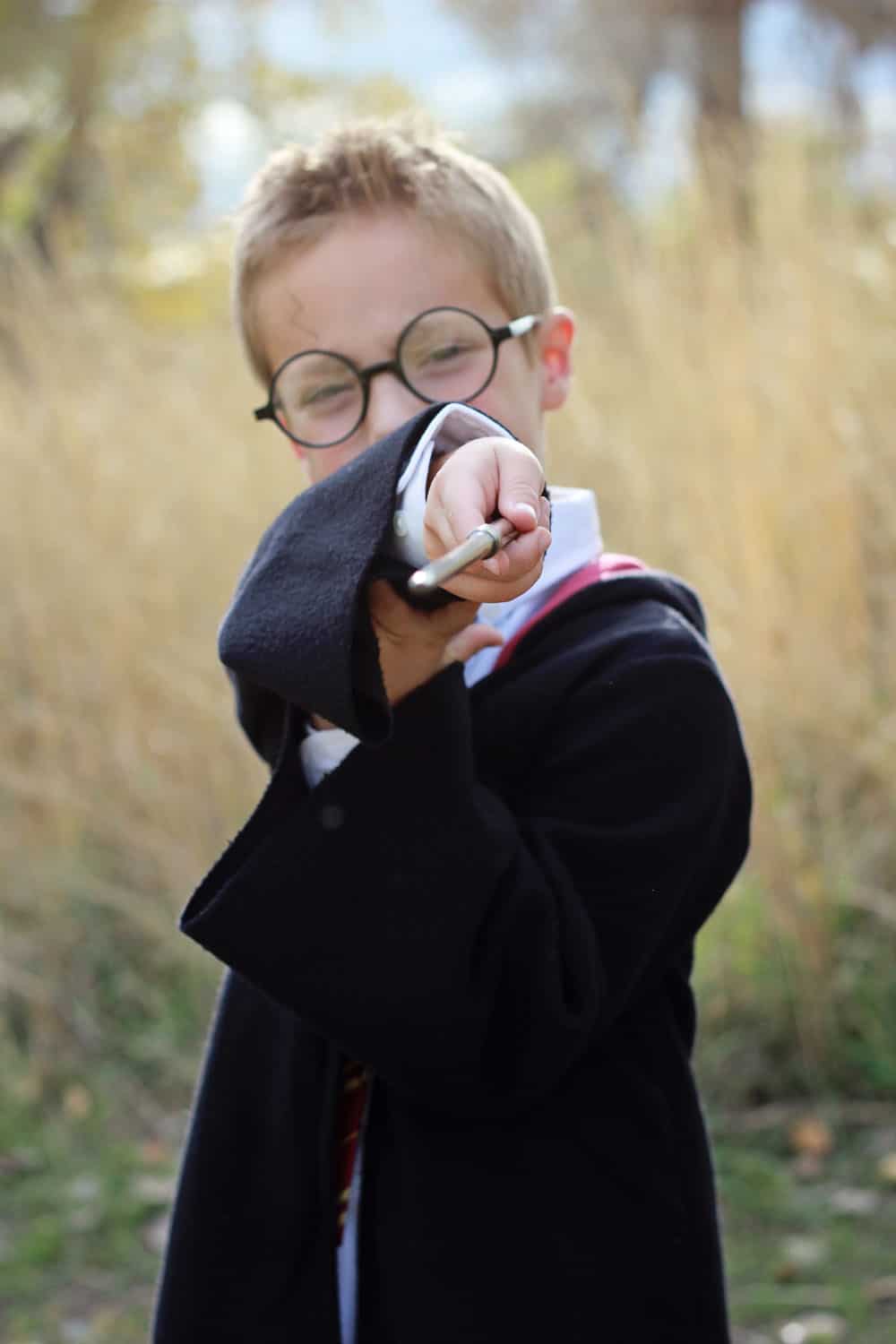 I tried to talk my husband into dressing up as quidditch players. We would have been the perfect compliment to our little Harry but my hubs doesn't share our love for the series. However, he did make this amazing custom wand! I was doubtful he could pull it off with just a wooden dowel and sand paper but he really made something amazing. He even built the custom box! He told my son it was made from the tail of a night furry (any How to Train Your Dragon fans out there?) which made him giddy.
That's all I have for you guys for today. We are getting ready to head out and hit the doors in search of the best candy. What were some of your costumes this year?