This Chunky Avocado Salsa Recipe is insanely easy to make and oh-so delicious! Make-ahead recipe made with ripe avocado, black beans, sweet peppers, and onions – Perfect to take to potlucks!
Try serving with Baked Pita Chips for a sturdy scooping chip that never fails! OR as a topping to my Chicken Fajitas or Sheet Pan Nacho Recipe!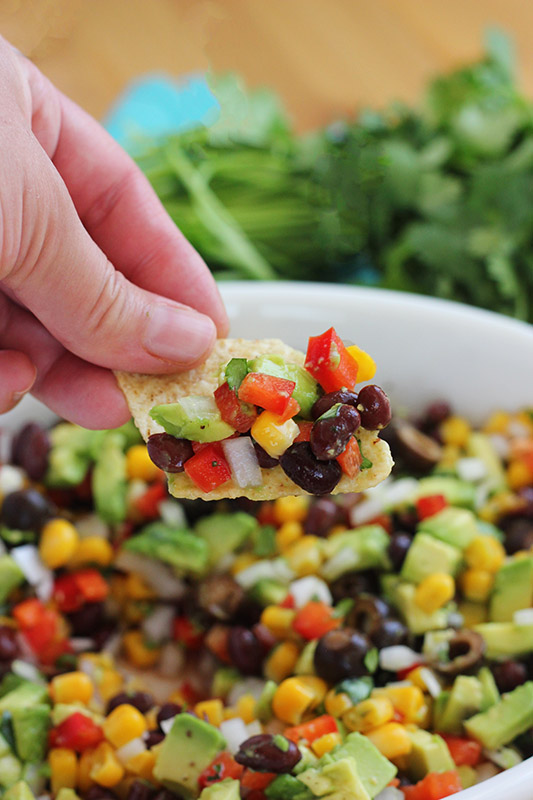 RECIPE FEATURES
Easy: Prep for this recipe takes me less than 10 minutes.
Make-Ahead Recipe: This salsa needs a few hours of rest so the flavors can blend, making it the perfect make-ahead appetizer. Prep in the morning and you're ready for afternoon!
Easy to Customize: While we find all of the flavors are the perfect balance, you could easily substitute tomatoes for peppers or roasted corn in place of frozen.
This avocado corn salsa is so fresh. It is the perfect combination of guacamole meets salsa. Imagine the flavor of guac with the texture of pico! One batch makes enough for a crowd, which makes it ideal for parties. Serve with your favorite tortilla chips OR as a topping to tacos and salad!
Basically, I'm saying you have to try this. It is such a healthy snack option and kid approved. I use it for meal prep. It can turn plain chicken into a flavor packed meal!
WHAT IS AVOCADO SALSA MADE OF?
To make guacamole salsa you need the following:
Corn: I use a frozen bag of corn that I let thaw, but you could use roasted corn or a drained can of corn too.
Olives: Sliced olives. One large can that has been drained.
Bell Pepper: Red bell pepper adds not only color but a delightful crunch to the dip.
Onion: Chop a yellow onion into small pieces. You don't need too much. One small onion, or about 1 cup.
Black Beans: Drained and rinsed. Black beans add protein and fiber which make this a super filling side dish.
Garlic: I always like to say measure garlic with your heart. I LOVE garlic so I tend to add a tad more than called for. However, you could lower the amount to 2-3 cloves if you're not a big fan.
Lime Juice: Fresh is best, however bottled juice will work in a pinch. You will get slightly less flavor, but the acid will work it's magic and help blend the flavors.
Apple Cider Vinegar
Salt and Pepper
Cilantro
Avocados
HOW TO MAKE FRESH AVOCADO SALSA
Making this avocado recipe is incredibly simple. The most time consuming part is gathering ingredients. Once you have everything before you it's easy peasy.
PREP: Gather ingredients, chop veggies, and get a bowl ready.
MIX: Mix the corn, olives, bell pepper, onion, garlic, black beans, lime juice and vinegar. Season with salt, pepper, and cilantro to taste.
CHILL: Cover and chill the mixture for a minimum of 4 hours and up to overnight.
AVOCADO: Just before serving, stir in chopped avocado.
ENJOY: Serve immediately and enjoy!
Make sure you wait to dice your avocado until you are ready to serve. Avocados brown quickly. We take a small cutting board to our event and quickly dice them on site. It makes for a beautiful dip that disappears quickly!
RECIPE TIPS
How do you pick a ripe avocado?
Picking a ripe avocado can be tricky. Follow the tips below to help you find the best in the batch! Check the color. A ripe avocado will tend to be on the dark side. You will be looking for an almost black color with a slight green hue. If you will not be using your avocados for a few days, I suggest purchasing an avocado that is more green than dark in color. Gently press the avocado with your thumb. A ripe avocado will give slightly under the pressure but will not be mushy.
Can you freeze avocados?
Did you know avocados are freezer friendly?? It is one of my all-time favorite foodie tips. We use them frequently in smoothies and loooooove homemade guacamole. Freezing our ripe avocados makes for an easy grab-and-go ingredient! There are several ways to accomplish the task. Here are a few of our favorites:

Freezing avocado halves:
Slice the avocado directly in half. Gently peel and seed, making sure to keep the avocado half in tact.
Dip or brush your avocado in lemon juice.
Tightly wrap in plastic wrap.
Place in a zip top bag. Label and freeze.
Pull one out whenever you are ready to use.

How to freeze mashed avocado:
Peel, seed, and slightly dice your avocados.
Place in a medium sized bowl. Squeeze the juice of half of a lemon into the bowl.
Mash to your desired consistency.
Place in a freezer safe zip top bag. Squeeze out all of the air, label, and freeze.
This way is ideal for quick avocado toast or guacamole!
MORE MUST-MAKE DIPS
Still Hungry? Follow One Sweet Appetite on Instagram, Pinterest, and Facebook!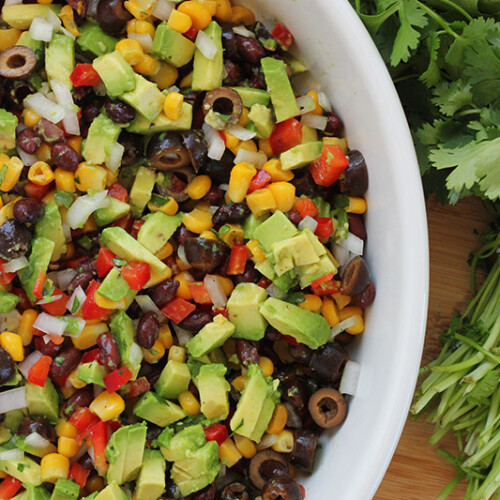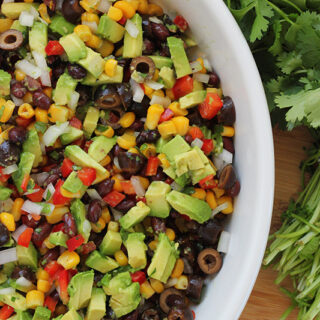 Avocado Salsa
This mouth-watering Avocado Salsa is a summer side dish staple! Made with ripe avocado, black beans, sweet peppers, and onions – Perfect to take to potlucks! 
Ingredients
1⅔ cups frozen corn thawed
1 large can sliced olives drained
1 medium sweet red pepper chopped
1 small onion chopped
1 can black beans rinsed and drained
5 garlic cloves minced
1/4 cup lime juice
3 tablespoons apple cider vinegar
1 teaspoon salt
1/2 teaspoon pepper
1-2 tablespoons finely chopped cilantro optional
4 medium ripe avocados peeled
Instructions
Stir the first 11 ingredients in a large bowl.

Cover and chill overnight or at least 8 hours.

Stir in chopped avocados and serve.
Notes
Wait to add the avocado until just before serving.
Nutrition
Serving: 1cup | Calories: 345kcal | Carbohydrates: 50g | Protein: 10g | Fat: 16g | Saturated Fat: 2g | Polyunsaturated Fat: 13g | Sodium: 487mg | Fiber: 14g | Sugar: 7g
Reader Interactions