This mouth-watering Avocado Salsa is a summer side dish staple! Made with ripe avocado, black beans, sweet peppers, and onions – Perfect to take to potlucks!
Ease and flavor are two of the most important qualities I look for in a recipe. Especially if it is a dish I plan on serving at our summer barbecues or picnics.
THIS avocado salsa is the perfect appetizer or side dish recipe. Making it is as easy as stirring ingredients and serve.
I LOVE that this is made ahead of time. That means I can worry about getting my kid out the door and not fuss over food. The ingredients blend together overnight leaving you with the perfect salsa that has a punch of flavor. Substituting the typical tomato for avocado is a bold choice that you will not regret!
We like to serve this easy salsa with chips.
How to make avocado salsa:
Making this avocado recipe is incredibly simple. The most time consuming part is gathering ingredients. Once you have everything before you it's easy peasy.
Stir together sweet corn, sliced olives, chopped red pepper, onion, black beans, garlic, lime juice, and vinegar.
Season with salt, pepper, and cilantro.
Cover and chill overnight.
Peel and chop avocados into small pieces. Stir in just before serving.
Make sure you wait to dice your avocado until you are ready to serve. Avocados brown quickly. We take a small cutting board to our event and quickly dice them on site. It makes for a beautiful dip that disappears quickly!
How to pick a ripe avocado:
Picking a ripe avocado can be tricky. Follow the tips below to help you find the best in the batch!
Check the color. A ripe avocado will tend to be on the dark side. You will be looking for an almost black color with a slight green hue.
If you will not be using your avocados for a few days, I suggest purchasing an avocado that is more green than dark in color.
Gently press the avocado with your thumb. A ripe avocado will give slightly under the pressure but will not be mushy.
How to freeze avocados:
Did you know avocados are freezer friendly?? It is one of my all-time favorite foodie tips. We use them frequently in smoothies and loooooove homemade guacamole. Freezing our ripe avocados makes for an easy grab-and-go ingredient! There are several ways to accomplish the task. Here are a few of our favorites:
Freezing avocado halves:
Slice the avocado directly in half. Gently peel and seed, making sure to keep the avocado half in tact.
Dip or brush your avocado in lemon juice.
Tightly wrap in plastic wrap.
Place in a zip top bag. Label and freeze.
Pull one out whenever you are ready to use.
How to freeze mashed avocado:
Peel, seed, and slightly dice your avocados.
Place in a medium sized bowl. Squeeze the juice of half of a lemon into the bowl.
Mash to your desired consistency.
Place in a freezer safe zip top bag. Squeeze out all of the air, label, and freeze.
This way is ideal for quick avocado toast or guacamole!

Like this recipe? You will love my:
Avocado Salsa
This mouth-watering Avocado Salsa is a summer side dish staple! Made with ripe avocado, black beans, sweet peppers, and onions - Perfect to take to potlucks!
Ingredients
1-2/3 cups frozen corn, thawed
1 large can sliced olives, drained
1 medium sweet red pepper, chopped
1 small onion, chopped
1 can black beans, rinsed and drained
5 garlic cloves, minced
1/4 cup lime juice
3 tablespoons apple cider vinegar
1 teaspoon salt
1/2 teaspoon pepper
1-2 tablespoons finely chopped cilantro, optional
4 medium ripe avocados, peeled
Instructions
Stir the first 11 ingredients in a large bowl. Cover and chill overnight or at least 8 hours.
Stir in chopped avocados and serve.
Notes
Wait to add the avocado until just before serving.
Recommended Products
As an Amazon Associate and member of other affiliate programs, I earn from qualifying purchases.
Nutrition Information:
Yield:

8
Serving Size:

1 cup
Amount Per Serving:
Calories:

345
Total Fat:

16g
Saturated Fat:

2g
Trans Fat:

0g
Unsaturated Fat:

13g
Cholesterol:

0mg
Sodium:

487mg
Carbohydrates:

50g
Fiber:

14g
Sugar:

7g
Protein:

10g
Pin for later: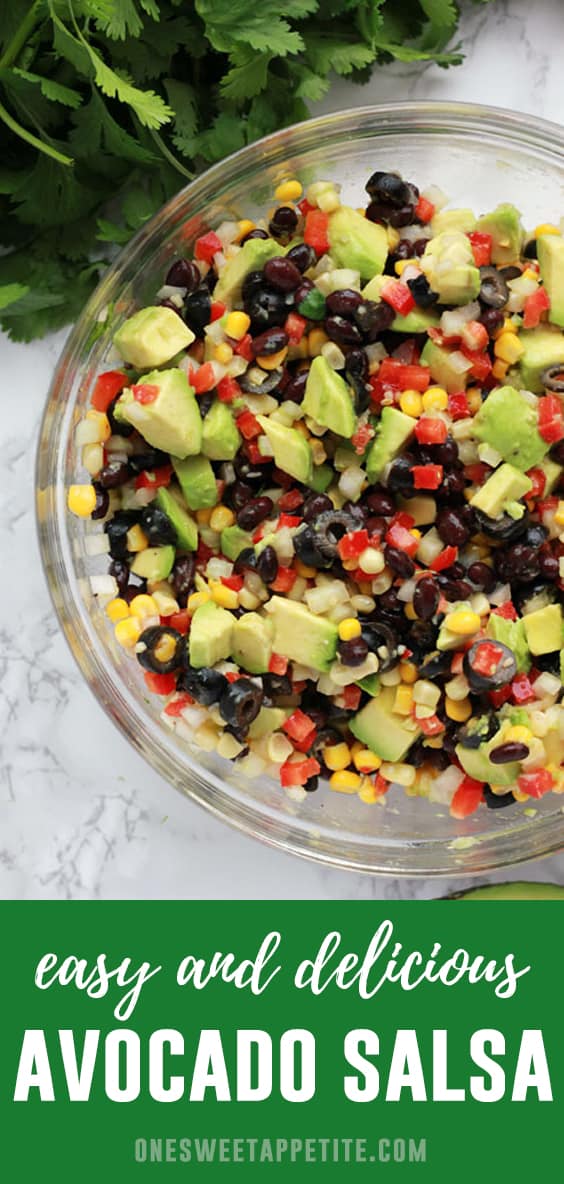 Still hungry? Follow One Sweet Appetite on Facebook, Instagram and Pinterest for more great recipe ideas!