Mini Pancakes are the perfect easy breakfast! A kid favorite recipe AND freezer friendly. Slather with syrup or dust with powdered sugar for a tasty breakfast ready in minutes.
This post was originally published 2013/05/08, It has since been updated to include new photos and instructions.
Having homemade pancakes on hand is SUPER convenient. On busy mornings, when I need to run out the door, all I need to do is grab these from the freezer and pop them in the microwave for 3o seconds.
The original idea came from a box of silver dollar pancakes I picked up at Costco (shout out to all of my fellow Costco shoppers). They pre packed microwave safe bags with a single serving of mini pancakes. I used them once or twice a week as a grab-and-go breakfast or snack recipe for my toddler.
He loved them but I didn't love the price tag.
This homemade version of silver dollar pancakes is light, fluffy, and loaded with butter flavor. I dare say they are better than the version we used to buy in the store and cheaper!
Recipe Features:
Freezer Friendly: Pancakes can be frozen for up to 3 months.
Grab-and-Go Breakfast: Ideal for busy weekday mornings.
Easy to Customize: Add in your favorite flavors like nuts or berries for a fun variation!
What You Need:
The bite sized pancakes are pretty simple to whip up. All you need is a handful of pantry staples and buttermilk.
All-Purpose Flour
Sugar
Baking Powder and Baking soda
Egg
Buttermilk
Butter
I recommend using real buttermilk but I know sometimes you just do not have it on hand. In that case, see below on how to make your own with just a few simple ingredients!
Ingredient Tip: Try serving these with butter pecan syrup!
Step by Step Instructions:
We serve these with homemade syrup, buttermilk syrup, butter pecan syrup, peanut butter, strawberry syrup, fresh fruit, or a light dusting of powdered sugar.
Preheat a skillet over medium heat.
Whisk together the flour, sugar, baking powder, soda, and salt. Slowly mix in the egg, buttermilk, and melted butter.
Spread butter on your preheated pan. Spoon tablespoonfuls of your batter onto the pan. Flip when you start to see bubbles popping on the surface.
Serve warm and with your favorite syrups!
Any way you decided to enjoy these tiny bites of goodness, you won't be disappointed.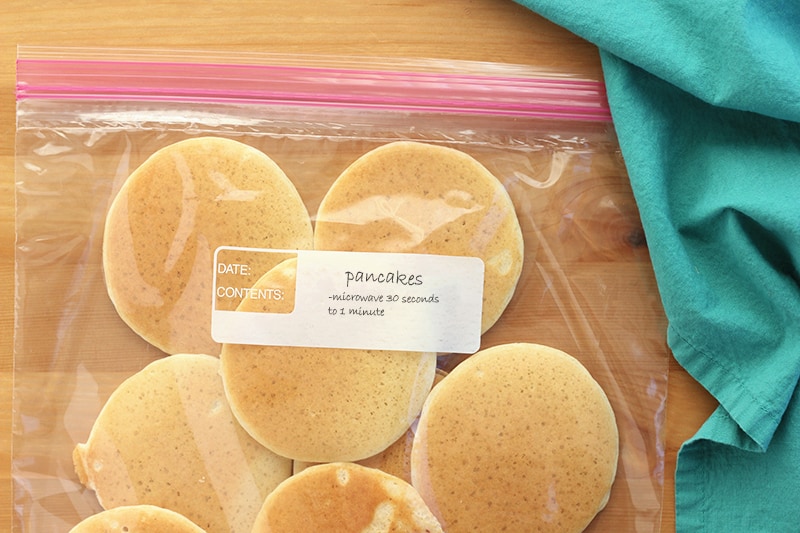 Tips and FAQs:
How do you make light and fluffy pancakes?
The secret to light and fluffy pancakes is simple. Use room temperature ingredients and mix by hand. Having your ingredients out of the refrigerator for 20 minutes should bring them to the right mixing temp. This allows everything to combine seamlessly.
Why are my mini pancakes chewy?
Typically, when you over mix your batter your pancakes will be chewy or rubbery. Try to only mix the batter until the ingredients are just combined. Also, avoid the use of any electric mixer.
How to freeze mini pancakes:
Once your pancakes have cooled, place them on a tray. Flash freeze for 20 minutes.
Place in an air tight container or zip top bag. Label and freeze fully.
When ready to eat, microwave for 30 seconds, flipping halfway through.
Buttermilk Substitute:
Add 1 tablespoon of white vinegar or lemon juice to a measuring cup.
Fill the cup to the one cup mark with milk.
Let it sit for 5 minutes.
Stir and use in your recipe!
Related Recipes:
Like this recipe? You will love my:
Pin for later:
Still hungry? Follow One Sweet Appetite on Facebook, Instagram and Pinterest for more great recipe ideas!