This easy Pancake Syrup Recipe comes together with just five simple ingredients and is ready in under 10 minutes! Perfect for all of your breakfast favorites!
Love to start your day on a sweet note? Try some of my other favorite breakfast favorites; Strawberry Sauce, Pumpkin Spice Creamer, Easy Blueberry Jelly, Buttermilk Syrup!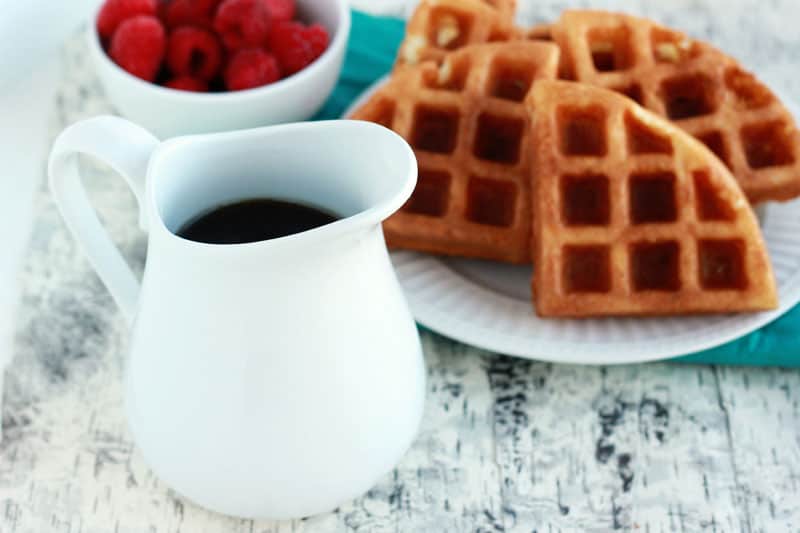 Recipe Features
Quick and Easy: This takes less than 10 minutes to make and tastes better than store bought syrup!
5-Ingredients: Five very basic ingredients give you a perfectly sweet result.
Good on Everything: While the title is pancake syrup, this is actually delicious on all of your favorite breakfast items.
This is the best pancake syrup. Beautiful golden brown color, perfect balance of sweet and buttery flavor, and super cheap to make. It lasts months in the fridge which makes it a real competitor to your favorite store bought brands.
Try it drizzled over my Gingerbread Pancakes or use it as a sweetener to Oatmeal. It adds the perfect finishing touch and is simply dreamy. You get the bold maple flavor with every bite accompanied by the rich flavor of butter. You cannot go wrong with this easy topping.
Pancake Syrup Ingredients
The first batch we made was delicious but was missing the deep rich brown color you associate with a store bought version. The next time around I swapped half of the granulated sugar for brown and voila! One dark colored maple syrup ready to be devoured. We will never be purchasing the store bought again! Here is what you will need:
Sugar: Like I mentioned above, I used a mixture of both granulated and brown sugar. The extra touch of molasses in the brown is needed to give this the perfect finishing touch. That being said, you can use all one sugar if you are in a pinch with delicious results.
Water: To make a simple syrup, a mixture of sugar and water is key. The water helps to break down and dissolve the sugar leaving you with a thick syrup, perfect for pouring.
Maple Extract: I use maple extract, but sometimes I don't have any on hand. In this case, you can easily substitute vanilla extract. It tastes incredible and gives you a new flavor to fall in love with on top of your pancakes!
Butter: Salted butter!! It boosts the flavor slightly and adds a little extra touch of flavor love.
How To Make Homemade Pancake Syrup
This recipe is amazing if you use a vanilla extract instead of maple. No need to run to the store for that ingredient if you don't already have it on hand.
PREP: Gather your ingredients and measure the sugars and water into a small pot.
HEAT: Turn the heat up to medium and bring the mixture to a boil Continue to cook for 5 minutes, or until the sugar has dissolved completely.
BUTTER: Remove the pot from the heat and stir in the maple extract along with the butter.
SERVE: Serve over pancakes, waffles, or French toast!
So what do you think? Willing to give this easy recipe a try next time you make pancakes for breakfast?
Helpful Tools
Syrup Dispenser: Is this necessary? No. But it is extremely helpful for keeping extras readily available for your next sweet fix. I like a dispenser with a lid (affiliate) so I can easily place it right back into the refrigerator when we are done.
Maple Extract: This is so good in this recipe, but maple extract (affiliate) is also a great addition to icings and cakes!
Recipe Notes:
How long does homemade pancake syrup last?
Keep this homemade syrup stored in an airtight container, we use a mason jar, sealed tightly with a lid. Store in the refrigerator for up to 3 months.
Can I make this thicker?
If you'd like your syrup to be slightly thicker, I recommend adding 1/4 cup of corn syrup with the maple extract. The syrup will be slightly thicker as it starts to cool down.
Still Hungry? Follow One Sweet Appetite on Instagram, Pinterest, and Facebook!
Breakfast Syrup Recipe
This easy Maple Syrup Recipe is perfect to top your waffles, pancakes, or French toast! All you need to make syrup are 5 simple ingredients and 10 minutes! 
Ingredients
1 cup granulated sugar
1 cup brown sugar
1 cup warm water
1/2 teaspoon maple extract
2 tablespoons butter
Instructions
Whisk together your sugars and water in a small pan. Heat to a boil. Cook 5-10 minutes whisking constantly until sugar is dissolved.

Remove from the heat and stir in the extract and butter.

Serve over pancakes, waffles, or french toast!
Nutrition
Serving: 2tablespoons | Calories: 35kcal | Carbohydrates: 8g | Cholesterol: 1mg | Sodium: 5mg | Sugar: 8g
Equipment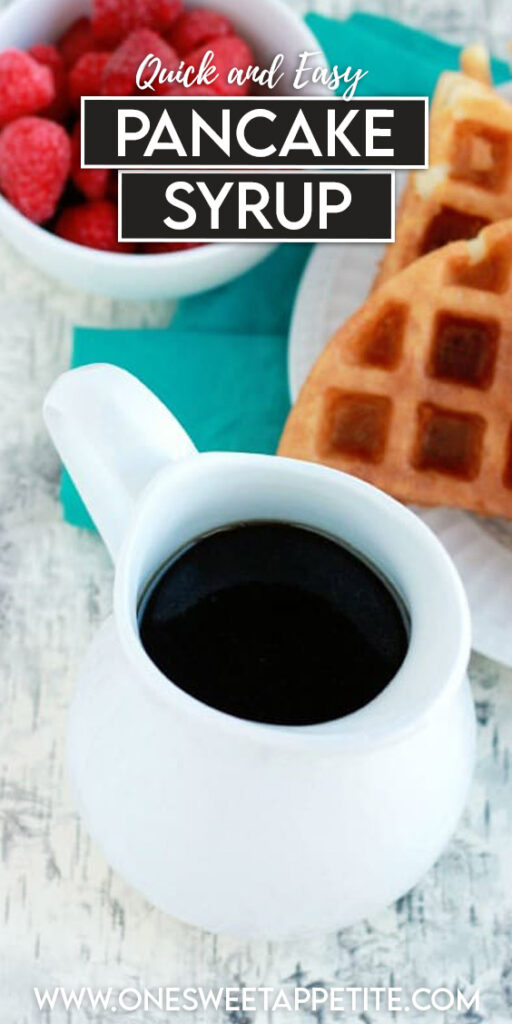 Reader Interactions