Thank you Pacific Foods for sponsoring this post. Check out Pacific Foods to learn more about their great products.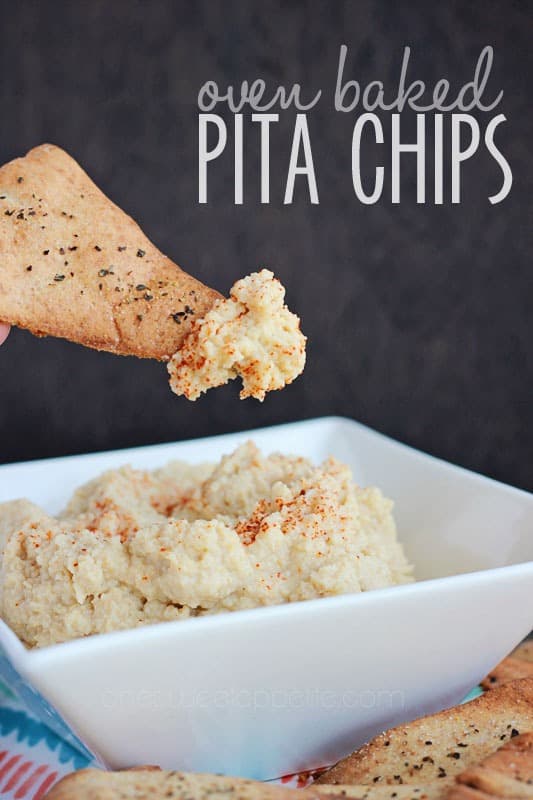 It's summer and the weather is nice. At least it is here in NC which means outdoor parties are a MUST. Every week a few of my girl friends pop by to enjoy our patio furniture, good company, and great snacks. This last ladies night we had roasted garlic hummus on the menu! The only problem? I didn't have anything on hand to serve with that delicious dip. I scanned my kitchen and spotted a bag of pita bread on the counter. Bingo! Oven baked pita chips it is!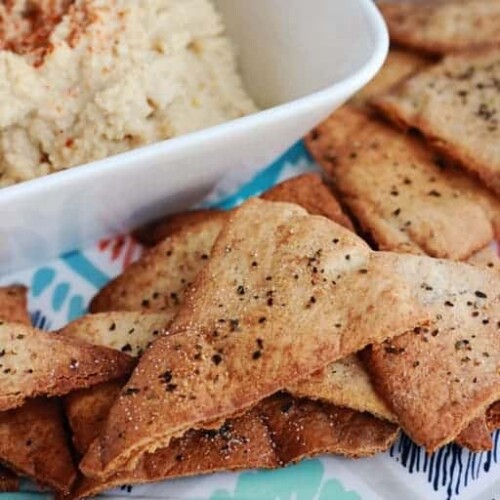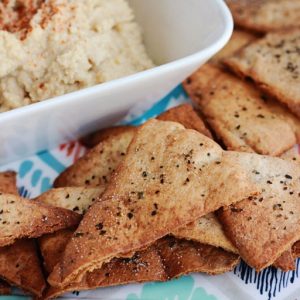 Oven Baked Pita Chips
Ingredients
6 pitas
cooking spray I like coconut oil
1/4 teaspoon pepper
1/2 teaspoon garlic salt
1/4 teaspoon dried basil
Instructions
Preheat your oven to 400 degrees.

Cut your pitas into 8 triangles. You should be able to gently pull each one apart to make two chips. Lay each chip onto a baking sheet. Spray each one with a bit of your cooking spray. Turn them over and spray again.

Mix together your pepper, garlic salt, and basil. Sprinkle over each chip. Bake 5 minutes or until lightly browned and crisp.
Nutrition
Serving: 1Servings
I was pleasantly surprised by two things:
1. Those chips turned out so tasty. They had a nice crispness and the seasonings worked so well together.
2. That hummus? TO. DIE. FOR.
I was a hummus virgin up until that point. Something about it rubbed me the wrong way. I was such a fool. We had the bowl licked clean in no time and couldn't wait to try some of the other flavors like Roasted Red Pepper. The texture is perfect. I think I need to try the second flavor as a pizza sauce!
Once the hummus was gone we broke out the big guns. Queso. Sharp cheddar, monterey Jack cheese, chopped red bell peppers and jalapeños have never tasted so good!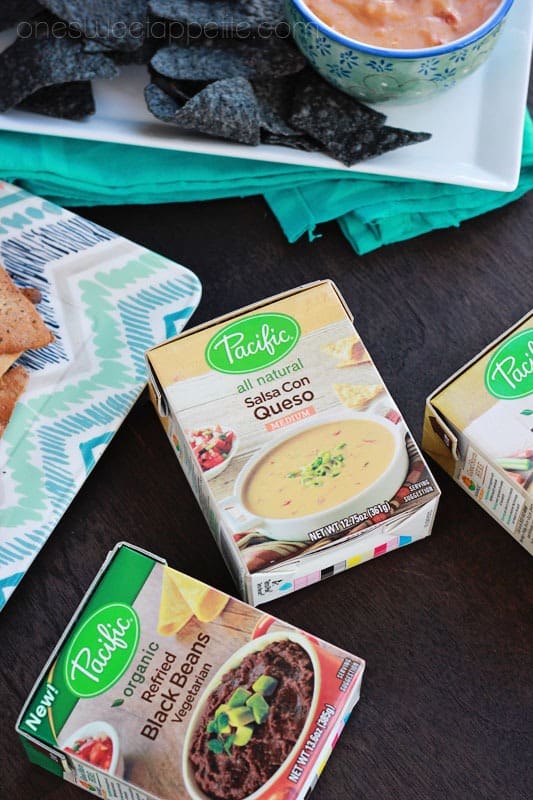 I can't tell you guys enough how much I truly love this brand. I love that Pacific Foods are organic and everything tastes amazing. Check out their site and take a gander at the many, many products they offer! They even have a fun Foodie Party Pinterest Board packed with crowd pleasing ideas!
Like this recipe? You will love my:
Reader Interactions