Celebrate spooky season with these Halloween Ghost Cupcakes! Easy to make and practically no-fail. These start with a delicious dark chocolate cake with pipped ghosts for the perfectly simply Halloween cupcake idea!
If you love Halloween, like I do, you'll want to check out these other insanely popular treats! My Bat Cupcakes, Halloween Ghost Cookies, Frankenstein Oreo's, and Easy Mummy Cookies are all party worthy!
Recipe Features
No-Fail: This recipe doesn't need anything special to look spectacular! Pipe the frosting into swirls on top and add dots for eyes! Any uneven piping only adds character!
Cake Mix Hack: You will not believe that this cake starts from a box mix! My all-time favorite trick for getting a bakery worthy cake from a box!
Freezer Friendly: You can bake and freeze the cupcakes, unfrosted, up to three months in advance.
Halloween is one of my favorite holidays. Getting dressed up, passing out candy, and watching my little guy fill with excitement is the best. We also use the time of year to get a little crazy with our sweet tooth. Enter these ghost cakes.
These could not be easier to make. You can whip up a homemade chocolate cupcake, use a box mix, or opt for store bought. Whichever way you decide to start, you will love the ease of the decoration process. You cannot mess these up. Any crooked lines or poor piping only adds character to your little ghosts!
Ghost Cupcake Ingredients:
How adorable are these little guys? When it comes to making themed desserts I always try to stick with two simple rules: It has to be simple and it has to be cute. These fill both of those categories! It takes a whopping 30 minutes from start to finish.
The best part? Imperfections make these even better. No need to make them all match or worry about your pipping skills. If you can swirl your wrist you can make these cupcakes.
The ingredient list for these cupcakes is short. You need three basic items and about 20 minutes of time!
Chocolate Cupcakes: I provided my favorite cake mix hack, but you can use any chocolate cupcake! If you don't want to bake, call your local bakery and order a dozen unfrosted cupcakes and frosting on the side. My favorite tip for when I'm in a hurry.
Vanilla Frosting: WHITE is key here. I use a classic vanilla buttercream with a few drops of white food color. This helps get that super vibrant shade and avoid the yellow tint you can get from butter. You can also skip the food color and whip the frosting for an extra five minutes.
Black Frosting: I do not make my own. Black is a difficult color to achieve. Luckily, you can find these super small tubes of black in the baking aisle! Alternatively, you can also use mini chocolate chips.
Large Round Piping Tip: I have also had success by snipping the piping bag into a rounded shape. This makes it easy to make the ghosts without an added tip.
How to Make Halloween Ghost Cupcakes:
PREP: If you are making your own cupcakes, bake according to the recipe and cool completely.
PIPE: Take a piping bag with a large round tip (affiliate) and fill with vanilla frosting or buttercream. Start piping by swirling around the bottom, in a large circle covering the base, and move up creating smaller layers until you reach the top. Stop adding pressure and gently pull up to create the perfect curl at the top.
EYES: Using black frosting, or chocolate chips, dot two eyes and a slightly larger mouth towards the top of your ghost mounds.
ENJOY: Once frosted, you're ready to enjoy!
Helpful Tools
Black Frosting: I don't love making my own black frosting (affiliate). You can find small tubes at most grocers for around $1 that are perfect for this project.
Coupler: Using a small round pipping tip and coupler (affiliate) for the black frosting tube makes things super simple!
Piping Bags: I buy my piping bags from Amazon. You can use disposable piping bags (affiliate) or reusable (affiliate). Both are an amazing addition to your baking supplies.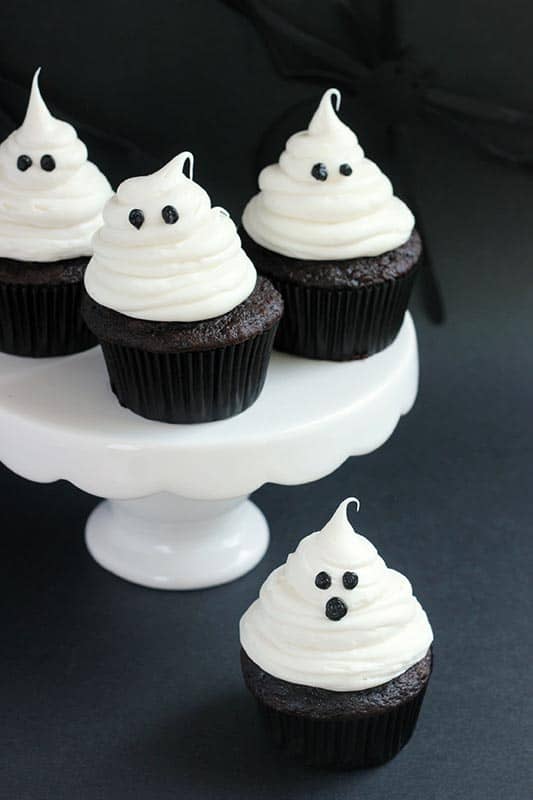 Want to try even more delicious cupcakes? Be sure to check out my German Chocolate Cupcakes, Cookies and Cream Cupcake Recipe, Mocha Cupcakes, and Copycat Hostess Cakes!
Recipe Notes:
Can I use homemade cake?
Yes! Use your favorite chocolate cake recipe to make the cupcakes OR use the one in the recipe card below.
Can I use bakery cupcakes?
Of course! When I'm in a pinch, I call the bakery ahead and request a dozen unfrosted cupcakes with white frosting on the side. Quick and easy.
How do you freeze cupcakes to use later?
Bake and cool the cupcakes completely. Place onto a tray and flash freeze for 30 minutes to 1 hour, or until the tops are frozen to the touch. Wrap each in plastic wrap and place into a larger freezer container or freezer safe zip top bag. When ready to enjoy, remove from the freezer and unwrap. Let sit at room temperature for 1 hour, or until thawed and frost.
Can you freeze frosting?
Yes. However, I do not recommend freezing frosted cupcakes. It is best to freeze the frosting and cupcakes separately and decorate once thawed.
Frosting will freeze well in an airtight container for up to six months. When ready to use, place in the refrigerator overnight to thaw. Mix in a stand mixer, or with a hand mixer, until smooth.
Cream cheese frosting does not freeze well. All buttercreams freeze amazing.
Do these cupcakes need to be refrigerated?
No. Keep the frosted cupcakes in a cupcake container, covered, at room temperature for up to three days.
Still Hungry? Follow One Sweet Appetite on Instagram, Pinterest, and Facebook!
Easy Ghost Cupcakes
Easy Halloween Ghost Cupcakes. Dark chocolate cupcakes topped with vanilla buttercream and black frosting make the perfect spooky Halloween treat! 
Ingredients
1 (15.25oz) box chocolate or devils food cake mix
1 (4oz) box chocolate pudding mix
1 cup sour cream
1/2 cup water
1/2 cup vegetable oil
4 large eggs
2 tsp espresso powder optional
2 cups vanilla buttercream
black frosting
Instructions
Preheat the oven to 350 degrees. Line 2- 12 count muffin tins with paper liners and set aside for later. 

Combine the first seven ingredients in a large bowl. Mix until fully combined. 

Fill the cupcake liners 3/4 full with the batter. Bake 15 minutes or until a toothpick comes out clean. Remove from the pan and cool completely. 

Prep a piping bag with a large round pipping tip. Fill with vanilla buttercream or frosting. 

Pipe the frosting on top of each cupcake until you have a nice tall dome. Don't worry about it being too perfect. The imperfect ghosts look the best! 

Using a small round pipping tip and black frosting, create small eyes directly onto the frosted cupcakes. 
Nutrition
Serving: 1cupcake | Calories: 241kcal | Carbohydrates: 31g | Protein: 2g | Fat: 13g | Saturated Fat: 3g | Polyunsaturated Fat: 4g | Monounsaturated Fat: 5g | Trans Fat: 1g | Cholesterol: 33mg | Sodium: 265mg | Potassium: 102mg | Fiber: 1g | Sugar: 22g | Vitamin A: 100IU | Vitamin C: 0.1mg | Calcium: 42mg | Iron: 1mg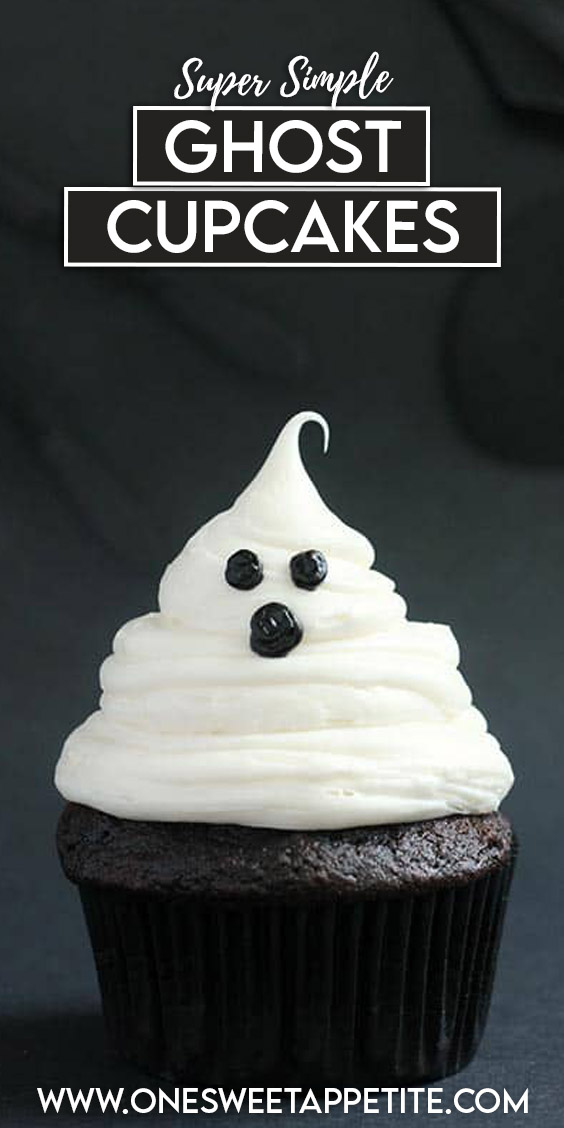 Reader Interactions